12 Best Drugstore Contour Kits And Palettes (Reviews) For 2022
Contouring in makeup will now be easy with these listed drugstore contour kits.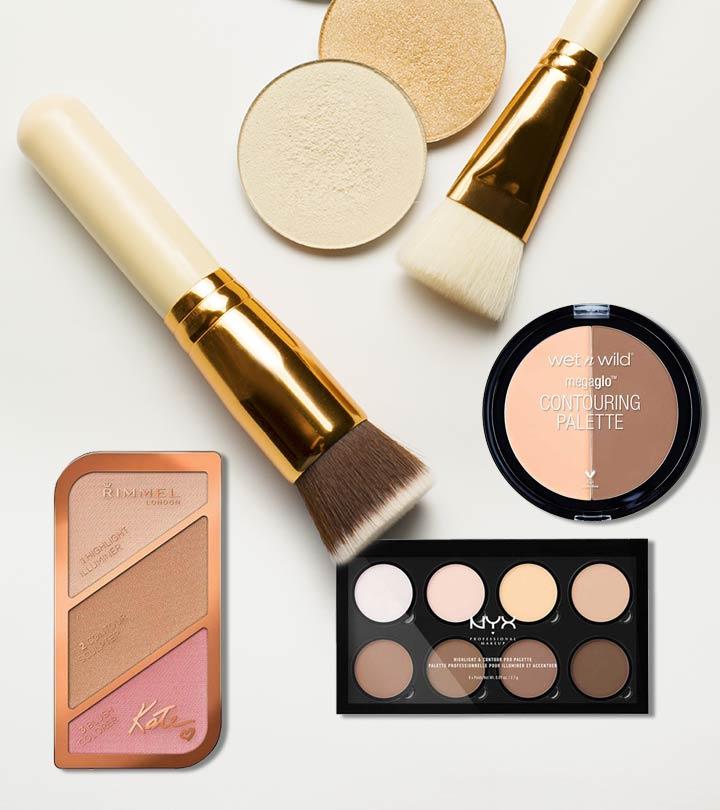 Contouring is a makeup technique that adds dimension to your face. The best drugstore contour kits allow you to highlight and shadow some key features. In addition, the best drugstore contour kits enhance the way you appear. This makeup technique is truly a game-changer if you want your face to appear narrower with sculpted cheekbones. You can create beautiful illusions by defining your nose, making your nose appear straight, or your neck appear longer. Here is a sifted list of the best drugstore contour kits that make you look classic and mind-blowing. Check them out below!
Top 12 Drugstore Contour Kits
Pros
Blends like a dream
Looks very natural
Super pigmented
Good mix of shades for all skin tones
Convenient packaging
Cons
Subtle fallout with certain shades
NYX Highlight And Contour Pro Palette Review
This NYX palette has to be one of my top favorites. I'll tell you why! Let me begin with the packaging – this has eight shades to contour and highlight, and each pan pops right out if you want to take any out of the palette. The shades have a crazy amount of pigmentation, and with a light tap of your brush, you can pick up just the right amount of product for a proper, chiseled contour. Even the lighter shades show up well on my skin! Their texture is incredibly soft and smooth and leaves you with a glorious finish.
This is a powder-based palette, and it's great for all skin tones with the variety of shades it carries. Also, it's one of the best options if you're just starting out with contouring. Click here to check out a detailed personal review of this product.
Pros
Easy to use
Great shade options
Properly pigmented
Gorgeous highlighter
Travel-friendly packaging
Cons
Rimmel Kate Sculpting Cosmetic Set Review
This universally flattering blush, contour, and the highlight is a popular pick amongst celebrity makeup artists and is used to prep actresses like Rashida Jones and Kristen Stewart. I love its light packaging and how easy it is to use. It's available in three shade options – 001 Golden Sands, 002 Coral Glow, and 003 Golden Bronze. The pigmentation and the texture are both beyond amazing for an under $7 palette. Also, it's so convenient to just throw into your purse and carry it with you when you're on the move.
This contour palette, with its shade options, has something for every skin tone. Definitely grab this while you can! Watch this video for a thorough understanding of the product.
Pros
One palette gives you multiple looks
Oil-free and fragrance-free
Blends beautifully
Lightweight
Natural-looking
Cons
CoverGirl TruBlend Contour Palette Review
This palette by CoverGirl, designed by celebrity makeup artist Pat McGrath has a set of ultra-blendable formulas to highlight, contour, and bronze your face. Available in two shade options, these are designed for light, medium, and deep skin tones. I like how this gives me a very natural finish, just the way I like my contour. The bendability is great, and for the price, this is such a great pick!
These shades are cream-based, and one of the shade options will suit your skin tone with ease. Like I said, whether you have light, medium, or a deep skin tone, there's something for everyone. Must try! Watch this YouTuber's honest review in this video to get a better idea about the product.
Pros
Oil-free and fragrance-free
Paraben-free and Gluten-free
Hypoallergenic
Cruelty-free
Great pigmentation
Cons
Physicians Formula Bronze Booster Contour Review
Celebrity makeup artist Monika Blunder, who has a dazzling client list that includes Amanda Seyfried, Molly Sims, and Chelsea Handler, loves this palette to get clients "red-carpet ready"! This powder trio palette has three gorgeous matte shades and is great for daily use as it provides a subtle, natural-looking contour. For minimal makeup lovers, this palette will be your holy grail. The packaging is slightly annoying as the lid opens up awkwardly, but besides that, every aspect of this contour kit is worth raving about!
This will suit all skin tones, and skin types, even those with really sensitive skin could give this a try!
Pros
Blends easily
Soft and smooth texture
Contains Vitamin E
Great pigmentation
Travel-friendly packaging
Cons
e.l.f. Contour Palette Review
This affordable contour kit looks incredibly classy with its minimal packaging. The pans can be removed and replaced, which makes it very customizable if you own other e.l.f products. The shades have rich pigmentation, and they glide smoothly onto your skin. Make sure you use a small brush to pick up the product to avoid wastage.
This will suit all skin tones and is a great contour kit for beginners.
Pros
Leaves you with a natural finish
Nicely pigmented
Good staying power
Does not feel drying on the skin
Comes with a unique brush
Cons
The packaging is messy as the shades overlap and touch each other
L'Oreal Paris Cosmetics Infallible Pro Contour Palette Review
If you're looking for a cool-toned contour powder, this is it. The highlighter in this kit also happens to be a gem! Both the contour and highlighter are really easy to blend, and the lasting power is decent with an average time of 5-6 hours before they start to fade slightly, but this also depends upon your skin type. If you want a natural-looking, matte finish contour, do try this out.
This will suit most skin tones and is really easy to use!
Pros
 Lightweight
 Smooth texture
 Refillable
 Easy to use
 Cruelty-free
 Vegan
Cons
None
Anastasia Beverly Hills Contour Kit Review
Redefine your facial features with Anastasia Beverly Hills Contour Kit. It's an all-in-one kit with 3 highlighter shades and 3 contour shades in shimmer and matte finishes. They come in both warm and cool shades and provide light to medium coverage for your desired look. You can define or highlight the upper cheek plane, eyebrow arch, bridge of the nose, cupid's bow and
jawline using this makeup palette.
This powder-based contour kit matches with all skin tones.
Pros
Perfect for everyday wear
Easy to use
3-in-1 compact kit
Suitable for most skin tones
Sturdy packaging
Cons
Maybelline New York Facestudio Master Contour Kit Review
This Maybelline palette comes in two shades – light medium and medium deep. I particularly liked its packaging. The shades are soft and textured powders with a matte finish. The bendability is great, and it gives you a subtle contour that's great for work or daily wear. The blush, highlighter, and contour have considerable longevity and stay on the face for a good 6-7 hours. A setting spray increases longevity.
This kit would suit most skin tones, and if you have sensitive skin, you could rely on it to not break you out or cause any irritation to your skin.
Pros
Easy to apply
Good pigmentation
Long-lasting
Good value
Good color selection
Cons
Depending on the brush you use, you tend to waste a significant amount of product
Makeup Revolution Ultra Contour Palette Review
This palette has a set of extremely pigmented and blendable shades that don't look too over the top. You have a set of eight shades to work with, and there's minimal to no fall out with most shades. Its packaging is black and sleek with a reflective plastic case and a large mirror inside, which makes it look like a high-end kit. This is an excellent budget option!
It would look great on most skin tones and is one of the best contouring palettes for beginners.
Pros
Blends well
Long-lasting
Value for money
You get a good amount of product
Cons
Wet N' Wild MegaGlo Contouring Palette Review
I feel this is such an underrated contouring kit, and more people should actually give this a try. Let me tell you why! It provides you with a subtle, natural-looking contour. Nothing too intense! The duo consists of perfectly complementary contouring powders that are very pigmented and buttery. I also loved the lasting power.
Overall, this is one of the most affordable drugstore contour kits. It would suit various skin tones and is a great choice if you're only starting out with contouring and highlighting.
Pros
Easy to blend
Colors are fine and silky
Great pigmentation
Functional packaging
Cons
City Color Cosmetics Contour Effects Palette Review
This contour kit comes in a magnetized cardboard pack – It's sleek, lightweight, and simple. It consists of three round pans – for contouring, bronzing, and highlighting. The texture is smooth and blends like a dream. It lasts for more than 6 hours, even on my combination skin, which is a blessing.
It's great for all skin tones and is super easy to use.
Pros
Fragrance-free
Paraben-free
Not tested on animals
Properly pigmented
Cons
Nuance By Salma Hayek Flawless Finish Contour And Illuminate Duo Review
This palette by Hollywood's Salma Hayek is pretty amazing. It defines your best features with much ease and is so lightweight. Once you apply the sheer, buildable formula, you can't even tell if it's there. I love the pearl-infused cream illuminator. This palette allows your natural sheen to shine through without having a full face of makeup on.
It would look perfect on all skin tones, and if you're going for a fresh, flawless, natural look, this one's a must-try!
*Subject to Availability
How To Choose The Best Drugstore Contour Kit? – Quick Tips
Now that you have some solid drugstore options to pick out a contouring palette let me give you a few tips on choosing the right colors for contouring.
Pick a base – powder or cream. It's always recommended to start out with a powder base as this gives you more control over your technique. You can always move on to the cream-based stuff later.
Invest in high-quality brushes. This is the ultimate game-changer because using brushes that blend well is so essential to the whole process of contouring. Remember, blending is key to flawless contouring.
Test out various colors until you find a shade that works best for your skin tone. Use a highlighter that is about two shades lighter than your foundation and a shadow that is two shades darker.
Add a pop of blush to the apples of your cheeks to soften your contoured look.
It's best to avoid warm-toned (orange/golden) products. You're trying to create the illusion of shadows on your face to lift and define it. Look for cool ashy-toned products.
Do not try to carve out and contour your face with something shimmery – this will look messy, unnatural, and really cringe-worthy. Always, always use a matte product!
Are you ready to give yourself a pro-grade contour and see what the rage is all about?
Why Trust StyleCraze?
Esha Saxena, the author of this article, is a makeup fanatic. She loves to explore various products in this domain to provide the best recommendations to her readers. She compiled this list of the best drugstore contour kits after researching all the ingredients keenly and considering customer feedback from various trusted platforms. These kits enhance your look, blend well, and are long-lasting.
Frequently Asked Questions
What type of drugstore contour kit is the best for beginners -powder or cream?
Powder contour kits are best for beginners since they are easier to blend with effective brush strokes. If you use a cream contour kit without the proper skill, it might not look very natural or seamless.
What type of brush do you use for powder contour?
For powder contour, blush and contour brushes can work wonders. These brushes come in angled shapes that provide you with desired effect and definition while helping you sculpt and accentuate your face.
Which contouring is the best among cream and powder?
Both cream contour kits and powder contour kits have their own pros and cons. Cream contours offer better coverage than powder contours, but the latter is easier to use and apply. Cream contours also provide a more natural finish whereas powder contours are most suited for heavy makeup.
How do you contour with a drugstore powder contour kit?
You can easily contour your face with a drugstore powder contour kit. Focus on adding contour to your hairline, temples, sides of your nose, and jawline. Use clean brushes to blend the contour and highlighter with the other makeup products. Add some setting powder to seal your glam look.
What are the best shades for face contouring?
For face contouring, choose a contour shade that is one or two levels darker than your foundation. You can land on the right contour shades by testing different shades that you think can work best for your skin. The key is to always choose shades that can make your cheekbones and other distinct features look natural.
Recommended Articles