13 Best Drugstore Eye Makeup Removers Of 2023
These not only remove the irritating makeup from your eyes but are easy on the pocket too.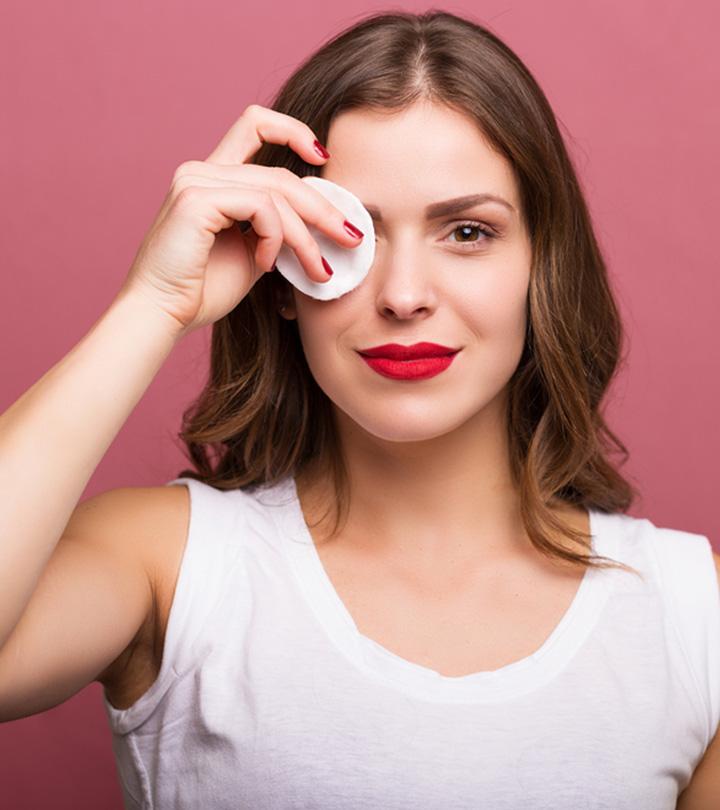 If you know the tricks of taking care of your skin, you must be aware of how important it is to remove your makeup before going to bed. And to remove stubborn eye makeup, you must use only the best drugstore eye makeup remover for the sensitive eye area. Instead of investing in high-end products, you can buy a good eye makeup remover that suits your skin.
Wearing makeup for long, tiring hours can clog our pores and irritate the skin. While skipping makeup removals for a few days might look like a relaxing thing to do, it can become a nightmare. Removing makeup helps your skin remain safe from breakouts, acne, pimples, large pores, etc. See below for the best drugstore eye makeup removers that are gentle and safe for removing facial makeup too. Have a look!
Top 13 Drugstore Makeup Removers Of 2023- A Review Guide
Neutrogena's Makeup Remover Cleansing Towelettes are perfect for mess-free makeup removal. All you need is a pack of these towelettes to ensure you're going to sleep with no makeup on. It helps remove eye makeup, including stubborn mascara. If a makeup remover can get rid of waterproof products, it can remove any makeup on the face. The towelettes are moist and gentle to effortlessly remove dirt and oil off the face without feeling rough or irritating the skin. When you clean your face with this simple makeup remover, the outcome is a clean and moisturized face. Check out this video for a detailed review of the product.
Pros
Removes stubborn waterproof mascara
Suitable for sensitive skin
Doesn't leave behind any residue
You don't have to rinse your face after using these wipes
Alcohol-free formula
Dermatologist and ophthalmologist-tested
Safe for contact lens wearers
Cons
May not be fragrance-free
Price at the time of publication: $10.98
Bioderma's Micellar Water is a great choice for people who have acne-prone skin and look for oil-free makeup removers. It feels light and has a watery consistency without compromising the moisture on your skin after you use it. You can soak cotton pads with Sensibio H2O and use the pads to remove makeup, or even use it as cleansing water. It is infused with the goodness of cucumber extract, which refreshes and soothes the skin. While it does a great job at removing facial makeup, you can also use the micellar water in the morning to clean your face on a busy day before doing your makeup. Take a look at this video to learn more about the product.
Pros
Fragrance-free
Alcohol-free
Paraben-free
Comes in 3 variants for oily, sensitive, and dehydrated skin
Physiological pH; prevents the use of harsh water
Cons
It may take some time to dissolve waterproof mascara.
Price at the time of publication: $10.99
If you're looking for a makeup remover for sensitive skin free from odd ingredients that cause irritation, this micellar cleansing water is what you need. There are only a few makeup removers for acne-prone skin like this one on the market, and it helps make sure you don't end up breaking out despite cleaning your face before hitting the hay. A few rounds of simple wipes are enough to get rid of the makeup without rubbing or scrubbing. It's pretty much like cleansing your face with basic water, with the added benefit of micelles that act like a magnet, pulling the dirt and oil off your face. Though it works on waterproof makeup, it feels very gentle on the face and does not leave any oily residue. Watch this YouTuber's honest review to get a better idea about the product and its features.
Pros
Works well on waterproof makeup
Safe to use around the eyes
Free of parabens, sulfates, and silicone
Suits all skin types
Cons
The bottle needs to be shaken between wipes as it separates quickly.
Price at the time of publication: $7.99
Cetaphil is trusted for its rigorous research in manufacturing skin care products. They collaborate with doctors and healthcare professionals for extensive clinical testing, which makes this product one of the best drugstore eye makeup removers for all types of skin. It has a bi-phase formula that gets activated when shaken, and the activated liquid easily dissolves stubborn makeup. Healthy ingredients like aloe vera, ginseng, and green tea soothe the skin, giving you softer skin upon regular use. It is non-irritating, hypoallergenic, and proven gentle for sensitive skin. This liquid makeup remover is a perfect combination of cleansing agents and botanical ingredients for clean and healthy skin.
Pros
Formulated with soothing botanicals
Clinically-tested
Non-comedogenic
Fragrance-free
Safe to use around the eye area
Cons
Needs to be poured carefully because the top has a relatively bigger hole.
Price at the time of publication: $10.36
If you're looking for a makeup remover for dry skin, Mary Kay's oil-free eye makeup remover will work like magic. It is non-comedogenic, which means your pores stay unclogged and clean, unlike many oil-based makeup removers that tend to get trapped inside the pores, increasing the chance of breakouts. It does not have any fragrance, so you don't have to worry about the product smelling a certain way. It works for both light and heavy makeup. When removing heavy eye makeup, all you have to do is pour a little bit of the product onto cotton balls or pads, place it on your eyes for several seconds, and gently rub them to get rid of the makeup.
Pros
Suitable for sensitive skin
Clinically tested for allergy and irritation
Suitable for contact lens wearers
Does not make your skin feel dry
Cons
Might make the skin oilier if you already have oily-skin
Price at the time of publication: $17.9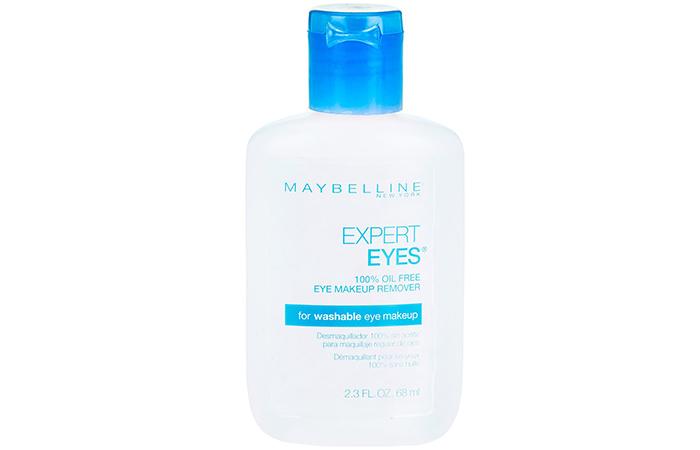 This drugstore makeup for oily skin does a great job in getting rid of waterproof mascara and heavy eye makeup. When you moisten a tissue or a cotton ball with the remover and press it against your closed eyelids, it acts on the makeup, and after a few seconds, you can wipe your eyelids to remove the makeup. If you have dry skin, you can leave the remover on. However, if not, you can wash it off for an oil-free, clean face. While it is an eye makeup remover, you can also use it on your face since the product is gentle.
Pros
Reasonably priced
Gentle on eyes
Works for waterproof mascara
Quantity present is adequate and makes it last long
Cons
You may need to wash your eyes after using the product.
Price at the time of publication: $4.64
Mario Badescu Carnation Eye Makeup Remover Oil is enriched with the goodness of carnation oil and sesame oil. It is a gentle and effective formula that removes all traces of eye makeup without leaving any residue or oiliness. It is infused with a delicate floral fragrance, while its luxurious formula feels ultra-light on the skin, leaving your eyes refreshed, nourished, and radiant. Say goodbye to harsh makeup removers that leave your eyes dry and irritated.
Pros
For all skin types
Removes waterproof makeup
Effortless
Gentle
Cruelty-free
Paraben-free
Cons
None
Price at the time of publication: $7
If you're looking for a moisturizing makeup remover on a budget, Avon's True Color Eye Makeup Remover Lotion is worth it. It has a creamy consistency, and you can use your fingertips to massage the lotion and remove the makeup with a cotton pad or tissue as the makeup starts coming off. You can follow up with your cleanser if you're not a fan of the moisturizing effect, but if that's not a problem, you can leave it on. You get a set of 2 bottles at a very reasonable price, which definitely makes it one of the best drugstore waterproof eye makeup removers if you're not ready for a splurge.
Pros
Moisturizing
A little quantity does the job.
Suitable for sensitive skin
Can be used for foundation as well
Cons
You might need to wash your face after using it if you have oily skin.
Price at the time of publication: $22.79
This oil-free drugstore makeup remover feels gentle on the eyes and can be used for the rest of the face alike. It is dermo-expertise product-tested for its mildness and gentleness. It is ideal for people with oily skin that gets extra greasy upon using a product with even a hint of oil. You can also use it when you're wearing your contact lenses. When you clean your eyes or face with this cleansing water, it will make your face feel fresh and soothe the skin.
Pros
No greasy residue
Dermatologist-tested
Ophthalmologist-tested
Water-based formula
Cons
The top of the bottle has a bigger hole, which might result in a spill.
Price at the time of publication: $13.67
Almay Eye Makeup Remover Liquid is the perfect solution for removing the toughest eye makeup effortlessly. It is a mild yet powerful formula that suits contact lens wearers and those with sensitive eyes. It is a fragrance-free eye makeup remover infused with healing aloe and cucumber extracts. The ingredients in the formula help to soothe and nourish the delicate eye area while completely removing waterproof mascara, eyeliner, and other makeup. The dual-phase formula leaves your skin feeling gently nourished.
Pros
Easy to use
Suitable for dry skin
Works well on waterproof makeup
No added fragrance
Gentle on the skin
Dermatologist and ophthalmologist-tested
Cons
None
Price at the time of publication: $5.32
CeraVe Eye Makeup Remover is the ideal solution to remove stubborn waterproof mascara, heavy eyeliner, and other eye makeup in a breeze. This fragrance-free, non-comedogenic eye makeup remover is suitable for all skin types. It contains ceramides and hyaluronic acid, which strengthen and moisturize the skin's barrier. It encourages a more youthful, luminous complexion while assisting in the reduction of fine lines and wrinkles.
Pros
Fragrance-free
Paraben-free
Alcohol-free
Ophthalmologist-tested
Suits all skin types
Non-comedogenic
Hydrating
Cons
Takes some effort to remove makeup
Price at the time of publication: $9.25
Marcelle Gentle Eye Makeup Remover Pads will make your life easier and your skin happier by effectively and gently removing eye makeup. The product consists of 85 pads, each of which is enriched with soothing and hydrating ingredients like aloe vera and glycerin, which help nourish and protect the delicate skin around the eyes while removing makeup. The product has been examined and approved by ophthalmologists, confirming its safety for usage near the eyes. It is a simple and easy way to remove makeup while on the go.
Pros
Hypoallergenic
Fragrance-free
Paraben-free
Alcohol-free
Dermatological and ophthalmological tested
Cons
Pads may dry out if not stored properly
Price at the time of publication: $14.35
This natural eye makeup remover for sensitive eyes has garnered popularity because Burt's Bees has a reputation for its natural skin care products. The makeup remover pads are shaped such that it is easy to reach the inner corner of the eyes and the under-eyes. These pads are suitable for sensitive skin and contact lens wearers. If you have dry skin, you can use these pads without following it up with facewash. But if you want to eliminate its moisturizing effect, you can either use tissues or wash your face.
Pros
Offers one-step cleansing
Gentle-formula
Moisturizing
Dermatologist-tested
Made with FSC-certified fabric
No added fragrance
Free of parabens, phthalates, SLS, and petrolatum
Cons
May need some scrubbing for waterproof mascara
Price at the time of publication: $12.57
Now that you have a list of the best makeup removers, here's what you should keep in mind to buy the best one that suits your skin type.
Buying Guide For The Best Makeup Removers
If you're confused about the many kinds of makeup removers that are all over the shelves at different stores, you'd have many questions in mind. We're here to help you answer those questions and find a good drugstore eye makeup remover that you can pick with confidence. Read on to find answers to the most common questions about makeup removers.
What Is Micellar Water?
There has been much talk about micellar water in recent years, and many people equate it to a water-based magic potion. Micellar water is an all-purpose skin care product that helps remove the makeup and can also be used as a no-rinse cleanser. While what ingredients go into the micellar water is up to each brand, one thing that's common about this product is micelles.
It contains mild surfactants that combine and form micelles that engulf or pull oil and dirt from the skin. This unique formulation makes it an effective dirt and makeup remover. It contains a negligent amount of oil and no alcohol, which is why many people with sensitive or acne-prone skin prefer working with micellar water over other types of makeup removers.
Are Wipes Better Than Liquid Makeup Removers?
While this is mostly a matter of personal preference, it depends on a few factors. If you're traveling, the lesser number of things you pack, the better. When you carry a liquid makeup remover, you'll also have to carry cotton balls or tissues, which demands extra space. Needless to say, it can get messy if it spills. If you are seated at your dressing table, using a liquid makeup remover can be amazing. However, pre-moistened wipes are hassle-free and a travel-friendly alternative.
What Are Oil-Based Makeup Removers?
As the name suggests, oil-based makeup removers contain a certain amount of oil to make it easier to get rid of stubborn makeup. Oil does a great job at dissolving the makeup without leaving any residue. They're also a better choice if you have dry skin, and products like micellar water worsen the dryness. With an oil-based makeup remover, you won't have to moisturize your face after using the remover, and it may also nourish your skin depending on the type of oil that's used in the product.
Removing Makeup During Travel- What's Most Handy?
Nothing gets as convenient as picking the best drugstore makeup remover wipes when you're traveling. It again comes down to personal preference, but most of us would want a hassle-free cleaning product that is spill-proof, does not require cleansing face and takes up little space in the bag. And you're doomed if you forget your tissues or cotton pads when you're carrying a bottle of makeup remover. So, it is safe to say that wipes make a better travel-companion for removing makeup when you're out and about.
Why Go For Drugstore Makeup Remover?
Drugstore brands have a product for every person of different skin types, and every need— be it waterproof mascara, cruelty-free lip gloss, sunscreens with high SPF, and just about anything. We trust drugstore makeup and skincare products because most people use them, you can find variety, they're tried and tested, and they don't make a hole in our wallets.
So is the case when you're on a hunt for the best drugstore eye makeup remover. You'd easily come across a host of brands or a single brand that offers makeup removers for different skin types.
Why Trust StyleCraze?
The author, Srijita De, is a makeup enthusiast and shares her recommendations for the best eye makeup removers to add to your cosmetic collection. Using these gentle and safe makeup removers will effectively remove any eye makeup without breaking your bank. She compiled a comprehensive and detailed list of the top products after surveying every product review available online. Ensure the sensitive skin around your eyes is protected from breakouts with these products.
Frequently Asked Questions
How do you remove eye makeup for sensitive eyes?
•  Wash your hands properly.
•  Pour a few drops of the makeup remover into a clean cotton ball.
•  Press the cotton balls on the eyelids and keep them on for 10 seconds. The eye makeup will break down eventually.
•  Gently swipe the cotton balls downwards and get the makeup off.
•  Rinse your eyes properly to eliminate excess makeup from the inner corners.
What is the safest mascara remover?
The Maybelline Expert Eyes Oil-Free Eye Makeup Remover is the safest mascara remover. This high-quality makeup remover works effectively on waterproof mascara and wipes it off without hassle.
Is baby oil a good eye makeup remover?
Yes. Baby oil helps remove makeup gently and quickly. However, certain ingredients in baby oil can irritate the eyes of people with sensitive skin. Therefore, check the ingredients before using baby oil to remove the makeup.
Can I remove normal mascara with water, or do I have to use eye makeup remover?
Always use an eye makeup remover to remove your mascara. Splashing water is ineffective, and rubbing the lashes constantly with water can trigger allergies.
What is the most gentle way to remove eye makeup?
Soak the cotton balls with a few drops of makeup remover and press them on the eyelids for 10 seconds. Later, massage the lids in soft circular movements to wipe off the makeup gently.
Recommended Articles: