20 Best Drugstore Eyebrow Pencils For Natural-Looking Brows
Enhance your facial features by flaunting your well-shaped and defined eyebrows.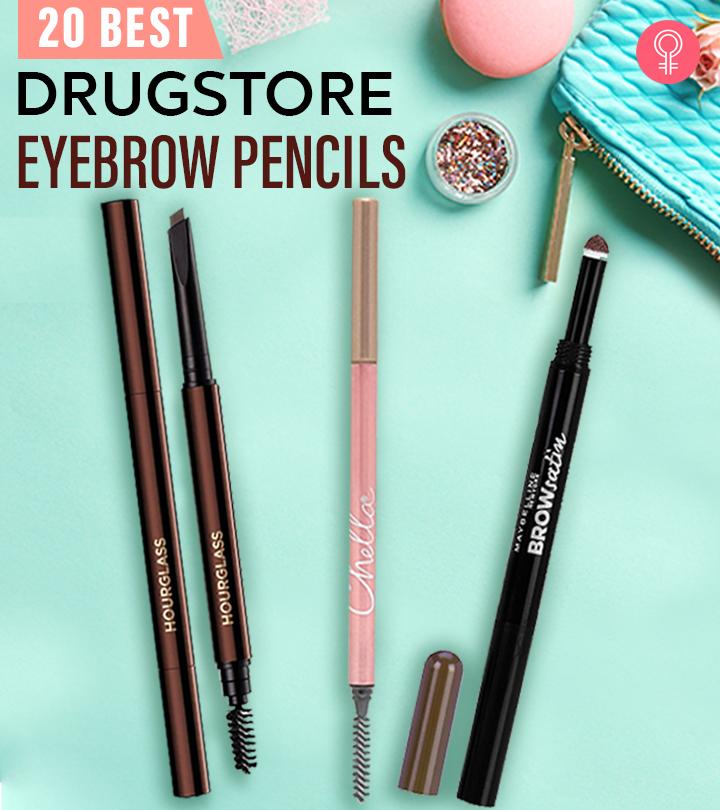 An eyebrow pencil is a great way to fix your brows and make them appeal stunning quickly. The best drugstore eyebrow pencils help sculpt your pair of brows effortlessly. Over-plucking and uneven shape is a problem to many girls, but fret not; the eyebrow pencils work like magic to your brows, making them gorgeous and bold. Some eyebrow pencils are smudge-proof, while some are water-resistant and long-lasting. Some eyebrow pencils are also available in different shades. Try out some of the 20 best drugstore eyebrow pencils to flaunt your well-shaped eyebrows. Check them out below!
20 Best Drugstore Eyebrow Pencils
The Total Temptation Eyebrow Definer Pencil by Maybelline fills in the brows precisely with its teardrop-shaped applicator. It works brilliantly for light, sparse eyebrows. The fluffy spoolie is ideal for blending to create softly-defined, natural-looking eyebrows. This eyebrow pencil is available in 4 shades – blonde, soft brown, medium brown, and deep brown. Here's an honest review of the product.
Pros
Long-wearing
Built-in spoolie
Sweat-resistant
Easy to use
Does not flake
Non-greasy formula
Available in 4 shades 
Cons
None
The Hourglass Arch Brow Sculpting Pencil is an innovative, multi-dimensional powder, pencil, and wax-based formula. The triangular tip lets you create the perfect base for flawless eyebrows. This pencil also features a blending brush to help you groom your brows into perfection. Hourglass offers a range of 9 different shades to suit your desired intensity. Here's a video featuring a detailed review of the product.
Pros
3-in-1 formula
No synthetic fragrances
Built-in blending brush
Cruelty-free
Gluten-free
Sulfate-free
Phthalate-free
GMO-free
Triclosan-free
Vegan
No harsh chemicals
No synthetic dyes
Available in 9 shades 
Cons
None
The Goof Proof Brow Pencil from Benefit is available in 12 stunning shades that fill and shape your brows flawlessly. The custom tapered tip makes it easy and effortless to define your brows. The wide base helps build color with minimum strokes, and the pointed edge adds definition to the sides of your eyebrows. This video will help you understand the product better.
Pros
Long-lasting
Water-proof
Built-in blending brush
Glides on easily
Available in 12 shades 
Cons
The Browluxe Precision Brow Pencil has a range of 8 custom shades to match your natural brows perfectly. This smudge-proof brow pen features an extra-thin tip with a long edge for a powdered fill. It also has a built-in spoolie brow brush on the other end to help you groom your brows perfectly. The powder makeup tip enables natural hair-like strokes while the spoolie helps soften harsh lines for seamless blending.
Pros
Available in 8 shades
Long-lasting
Water-proof
Smudge-proof
Sweat-resistant
Built-in spoolie
Provides buildable coverage 
Cons
The tip may break off easily.
The Chella Eyebrow Pencil comes in 9 attractive shades. It provides a natural finish and has a smooth and long-wearing consistency. It glides on effortlessly and gives precise strokes without the need for a sharpener. The built-in spoolie lets you lightly blend your makeup for a more natural look.
Pros
Available in 9 shades
Built-in spoolie
Paraben-free
Gluten-free
Cruelty-free 
Cons
The L'Oreal Brow Stylist Designer Eye Pencil uses subtle color to create soft, natural definition. On one end, you get a soft crayon tip, and on the other, a spoolie brush that is perfect for feathering. This eyebrow pencil is available in 7 shades ranging from light blonde to light brunette and soft black.
Pros
Water-proof
Ophthalmologist-tested
Long-lasting
Built-in spoolie
Easy to use
Available in 7 shades
Suitable for contact lens wearers and sensitive eyes 
Cons
The Professional Eyebrow Pencil from Rimmel London fills in gaps and enhance or refine the shape of your brows. You get fuller eyebrows without looking fake. The design is basic and newbie-friendly, with an inbuilt brow brush on the pencil cap. This eyebrow pencil comes in three shades – dark brown, hazel, and black-brown.
Pros
Smudge-resistant
Long-lasting
Value for money
Available in 3 shades 
Cons
The Milani Stay Put Brow Sculpting Mechanical Pencil offers gorgeous and flawless eyebrows with every use. It features a micro-angled tip that delivers a smooth glide finish for maximum precision. The double-edged spoolie brush helps with blending and grooming all kinds of eyebrow shapes. It is smudge-proof and water-resistant for up to 12 hours.
Pros
Long-lasting
Water-resistant
Smudge-proof
Cruelty-free (PETA-certified)
Available in 5 shades
Built-in spoolie 
Cons
The Honest Beauty Eyebrow Pencil has a soft tip that glides on smoothly for effortless application. Its inbuilt spoolielets you blend sharp lines for soft, natural brows. This pencil delivers fantastic results with its blendable coverage. It is enriched with jojoba seed oil that helps condition and reshapes your brows.
Pros
Provides buildable coverage
Built-in spoolie
Dermatologist-tested
Paraben-free
Silicone-free
Cruelty-free
Petrochemical-free
Polyethlyene-free 
Cons
The Mostory Brow Artist Eyebrow Pencil is available in a 3-in-1 format that combines the good qualities of a pencil, powder, and brush for easy and quick brow filling. It features a custom pencil on one end, a spooled brush on the other, and a sponge-tip applicator primed with brow powder in the center. This hexagonal pencil adds dimension to individual hairs, concealing the over-plucked areas for a uniformly dense look.You can choose from 3 gorgeous shades – auburn, soft brown, and medium brown.
Pros
Glides easily
Hypoallergenic
Non-irritating
Cruelty-free
Available in 3 shades
Dermatologist-tested 
Cons
Applicator might wear out quickly.
The Maybelline Brow Satin Eyebrow Pencil gives you smoother, fuller-looking brows at a pocket-friendly price. It is available in 4 shades– blonde, soft brown, medium brown, and deep brown. This 2-in-1 product has a defining pencil to shape your brows and powder to fill in the gaps. It imparts natural-looking brows with a matte finish.
Pros
Built-in eyebrow powder
Offers a matte finish
Long-lasting
Available in 4 shades
Affordable 
Cons
The Keshimei Eyebrow Pencil is perfect for daily use. It is smudge, sweat, and water-proof, so your makeup stays in place for a long time. The pencil tip features a 3D triangle design that allows extreme precision for fine eyebrows. The brush end helps manage unruly growth and provides easy blending. It comes in 3 classic shades – light brown, dark brown, and black.
Pros
Waterproof
Smudge-proof
Sweat-proof
Easy to blend
Easy to remove
Value for money
Available in 3 shades
Non-sharpening 
Cons
The AlmayEyebrow Pencil defines, fills, and tames your brows. This versatile pencil comes in 3 shades–dark blonde, brunette, and universal taupe. It glides on smoothly and stays in place through the wildest of days. This ophthalmologist-tested eyebrow pencil is safe for sensitive eyes.
Pros
Long-lasting
Smudge-resistant
Easy to use
Hypoallergenic
Available in 3 shades
Safe for sensitive eyes
Ophthalmologist-tested 
Cons
Waxy consistency
Might break off easily.
The Maybelline Brow Precise Micro Eyebrow Pencil shapes and styles your brows as you desire. This ultra-precise micro pencil lets you create well-defined brows, while the eyebrow spoolie brush softens harsh lines for a natural look. The ultra-fine 1.5-millimeter retractable tip creates soft, hair-like lines that fill the brows without looking artificial.
Pros
Available in 7 shades
Retractable micro-tip
Inbuilt blending brush
Long-lasting
Does not flake 
Cons
The Micro Brow Pencil from NYX Cosmetics provides the precision to build full, beautiful brows. The super skinny tip draws extra fine lines to create natural-looking brow hairs.It is easy to use and is an excellent dupe of Anastasia Beverly Hills' Brow Wiz. This brow pencil is available in 8 shades.
Pros
Long-lasting
Inbuilt spoolie
Offers a natural finish
Cruelty-free
Available in 8 shades 
Cons
This brow pencil from Wet n Wild has a triangular tip that creates fine strokes for a natural finish. It is formulated with rub-resistant pigments that make it last through the longest of days. You also get a spoolie on one side of the pencil to blend out the product. This brow pencil is available in 4 shades – taupe, ash brown, medium brown, and dark brown.
Pros
Long-lasting
Sweat-resistant
Retractable tip
Inbuilt spoolie
Available in 4 shades 
Cons
May tug on the brow hair.
If youare looking for a drugstore pencil that lasts 24 hours, Revlon's Colorstay Brow Pencil is a great option. Its angled tip helps you fill in the brows precisely, and its brush tames the wildest of brows for a stunning, sculpted look. This waterproof, drugstore eyebrow pencil comes in 5 shades.
Pros
Long-lasting
Water-proof
Easy to use
Inbuilt spoolie
Available in 5 shades 
Cons
Might smear
Might feel greasy
This microblading eyebrow pencil features a micro fork tip applicator that helps you create natural-looking brows effortlessly. This smudge-proof formula lasts for 24 hours. It is also waterproof but not tiresome to take off at the end of the day. It glides on smoothly, making it easy to apply.
Pros
Available in 4 shades
Waterproof
Sweat-proof
Long-lasting
Easy to apply
Easy to remove
Lifetime warranty 
Cons
Might turn blotchy after a while.
The Instant Lift Brow Pencil from e.l.f is one of the drugstore eyebrow pencils that are suitable for beginners. It shapes, defines, and fills in sparse brows to help you achieve a natural, polished look. This dual-shaped pencil comes with a fine-tip liner on one side, and a spoolie on the other to tame and comb your brows. It is available in 6 shades – taupe, neutral brown, deep brown, blonde, black, and auburn.
Pros
Long-lasting
Cruelty-free
Vegan
Available in 6 shades 
Cons
The Music Flower Eyebrow Pencil glides on effortlessly to give you soft, natural-looking brows. This retractable pencil delivers a matte finish that lasts up to 8 hours, resisting water and sweat. The other end of the pencil features a highly pigmented, dual-tipped brush that fills sparse gaps and blends sharp lines for a diffused finish. It is available in 4 shades – black, light coffee, khaki coffee, and dark coffee.
Pros
Available in 4 shades
Long-lasting
Waterproof
Smudge-proof
Sweat-proof 
Cons
That was our round-up of the 20 best drugstore eyebrow pencils available online. While picking a color for your brow pencil, makeup artists recommend going for a shade lighter than your natural brows for a subtle and soft look. A waxy brow pencil will always help you achieve a realistic finish. Choose your favorite one from our list and flaunt on-fleek eyebrows whenever you step out!
Why Trust StyleCraze?
The author of this article, Sakshi Bahal, is a makeup enthusiast. She has browsed several online forums for user feedback to put together this list of the best drugstore eyebrow pencils for natural-looking brows. Her list contains products that can help you sculpt your pair of brows effortlessly for a naturally fuller look. They are long-lasting, smudge-proof, water-resistant, and glide on easily.
Recommended Artilces: