15 Best Drugstore Eyelash Curlers Of 2023 – Buying Guide
Flaunt your lashes and let your eyes that do all the talking at your next meetup.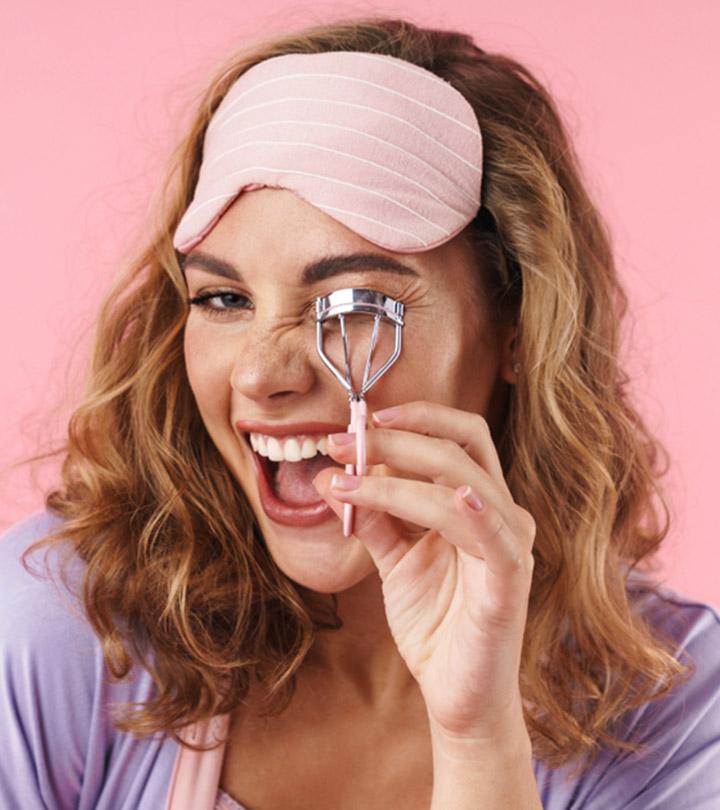 If you are on the hunt for the best drugstore eyelash curler that gives your lashes a lift without burning a hole in your pocket, then you are at the right place! Here, we have a selection of the best drugstore eyelash curlers for you.
Eyelash curlers are a must-have beauty tool that possesses the ability to enhance your eyes in no time and give a new boost to your face dramatically. Knowing the significance of this tool, in this article, we have prepared a list of the 15 most effective drugstore eyelash curlers that you must consider buying right away. Whether you want to go all glam or opt for a no-makeup makeup look, these curlers will make a massive difference and give you the desired charm to your eyes. Then what are you waiting for? Keep reading to learn more.
15 Best Drugstore Eyelash Curlers That You Might Want To Try
Brilliant Beauty Eyelash Curler makes its way to the top of our list for more reasons than one. It gives you fuller-looking curled lashes in seconds that lasts all day. This rose gold eye lash curler is made of surgical grade stainless steel and is designed to fit all eye shapes and sizes. Featuring a flawlessly calibrated hinge, this tool ensures uniform pressure every time you curl your lashes. You won't have to worry about pinching your skin or tugging or breaking your lashes. Additionally, the longer curl surface and ergonomic body make it comfortable to use.
Pros
Available in 2 other colors
100% cruelty-free
Lifts, lengthens, and curls lashes
Comes in a satin travel pouch
Includes 2 extra silicone refill pads
Cons
Price at the time of publication: $8.84
:
If you are new to the whole eyelash curling game, Kaasage Eyelash Curler is your best option. This high-quality eyelash curler gives your lashes the best curl swoop in just 8 seconds. This eyelash curler with spring comes with a super-soft silicone pad that applies gentle pressure, without pinching your skin or yanking your eyelashes out. It features a durable stainless steel body and includes a skidproof fingerhole handle, which makes it convenient to hold. This set comes with a satin bag for storage and 5 high-grade silicone pads whenever you need a replacement.
Pros
Sturdy and flexible
Smooth silicone pads
Easy to use
Suitable for all eye shapes
It prevents pinching or pulling of lashes.
Cons
It may not work well for short lashes.
Price at the time of publication: $9.95
:
Shu Uemura Eyelash Curler is popular among celebrity makeup artists worldwide for all the right reasons. It features a unique curved design that minimizes pinching, making it suitable for all eye shapes, including small, round eyes. Meanwhile, the silicone pad's mushroom shape holds your lashes in place to give you a soft swoop than an unnatural crimped look. What we love the most about this curler is its patented hinge, which ensures you release the right amount of pressure on your eyelashes. This cult-favorite and award-winning eyelash curler should be your go-to if you want to achieve a quick and even natural-looking curl instantly. Click here to check out this YouTuber's unbiased review.
Pros
Curved angle design
Does not pinch or snag
Includes 1 refill pad
Lends elongated sweeping curl
The hinge ensures the pressure is evenly distributed.
Cons
The silicone pad may not be long-lasting.
Price at the time of publication: $19.78
e.l.f. Pro Eyelash Curler is designed to give your lashes the ultimate lifting and curling effect while adding volume. It is made with a sturdy metal frame and comes with replaceable silicone pads to restore the bounciness in case the original gets worn out and soft. The contoured curve of the eyelash curler helps curl your lashes with ease. The curler has a comfortable grip and is suitable for all eye shapes. It is cruelty-free and vegan.
Pros
Affordable
Ergonomic design
Replaceable silicone pads
Suitable for all eye shapes
Comfortable to hold
Cons
The silicone pads may get cuts in them
Price at the time of publication: $5
:
If you are one of those, who prefer to curl their lashes after applying mascara, consider this Extra Curl Eyelash Curler by Revlon. It comes with a rounded pad that ensures the curler does not crimp, pinch, or stick to your mascara-coated lashes. Designed by makeup professionals, this curler grabs every single lash to give a dramatic curl in one go. It has a small size and shape, which means it can accommodate most eye shapes. The non-slip, scissor-like handles offer a comfortable grip, making it easy to use.
Pros
Offers ultimate precision
Lends a dramatic lash look
Ensures no tugging or pulling
Evenly curls lashes
It can be used to curl bare or mascara-coated lashes.
Cons
May not be durable
May not be suitable for thin, short lashes
Price at the time of publication: $9.95
The Shiseido Eyelash Curler is a unique tool with a wide curve that captures each lash without pinching for the perfect eye-framing curl. It is intended to give your eyelashes a natural appearance. The curler has a comfortable curved handle for easy grip along with a sleek design. It is gentle and safe to use for all eye shapes.
Pros
Captures each eyelash
Comfortable curved handle
Easy to use
Suitable for all eye shapes
Reputable brand
Cons
None
Price at the time of publication: $24
The famous saying, 'good things come in small packages,' holds true for this JAPONESQUE Go Curl Eyelash Curler. It might be smaller in size, but make no mistake, this eyelash curler can effectively curl your lashes and make them appear fuller and defined. It has a non-traditional, ergonomic design that features a sturdy easel back that can be flipped down when you want to use it. It is easy to use and includes a rounded siliconized rubber pad that won't pinch your lashes. This eyelash curler also comes with an extra pad conveniently stored at the base of the tool.
Pros
Compact and travel-friendly
Produces long-lasting curl
Includes a pad refill
Available in 2 colors – black and pink
Suitable for false and natural lashes
Cons
May not work well for long lashes
The easel back may be flimsy.
Price at the time of publication: $11.0
One of the best drugstore eyelash curlers, COVERGIRL Makeup Masters Eyelash Curler, will give you that wide-awake look you have always wanted. It includes a cushiony pad that is gentle on your lashes and does not grab or pinch, while the scissor-like handles make it easy to use. Thanks to its curved design, this cult classic creates a dramatic, deep-sweeping curl. All you have to do is rest the pad at the base of your upper lashes, give it a quick squeeze, apply mascara, and you are ready to go. It is the best cheap eyelash curler.
Pros
Gentle and easy to use
Makes your eyes appear wider
Features super-soft pad
It curls your lashes quickly.
Cons
May not be suitable for all eye shapes
Price at the time of publication: $3.79
Tweezerman is known for its line of affordable and high-quality beauty tools. And this Neon Great Grip Eyelash Curler is no less. This eyelash curler creates beautiful, intense curls, without creasing or crimping the lashes. It grabs every single lash, even the hard-to-reach ones, to give you a long-lasting curl. This neon pink eyelash curler features thick and rounded silicone lash pads that ensure a smooth curling process and help shape lashes. Meanwhile, the no-slip padded handles provide a comfortable grip. This is also a perfect eyelash curler for women with almond-shaped eyes.
Pros
Sleek and ergonomic design
Inexpensive eyelash curler
Silicone pads are hypoallergenic
Suitable for sensitive eyes
Includes 3 replacement pads
Perfect for curling hard-to-reach lashes
Cons
The rounded shape of the curler may not be suitable for wide eyes.
Price at the time of publication: $14.79
An eyelash curler is a perfect partner to your favorite mascara. And what better than this classic drugstore eyelash curler that is reasonably-priced and delivers on quality. Maybelline New York Expert Tools Eyelash Curler gently lifts and curls your eyelashes for a wide-eyed look. This eyelash curler features a rubber pad, which, when pressed on your lashes creates a subtle curl, without pulling the lashes out. What's more? This is a really good lash curler that is perfectly shaped to fit small eyes.
Pros
Suitable for small eyes
Does not rip out lashes
Easy to use
It gives your lashes a slight curl.
Cons
The rubber pad may not be durable.
Price at the time of publication: $5.0
If pretty, perky eyelashes are what you seek, it's time to make eyelash curler a part of your everyday makeup routine. We present to you Kevyn Aucoin The Eyelash Curler. This sleek eyelash curler has a sturdy and durable stainless steel frame that offers a firm grip, making it easy to use. It features a sturdy red pad that lends perfectly shaped lashes with minimal pressure. The best part about this eyelash curler is that it opens up wide to capture your lashes without pinching your eyelids. Plus, it also allows you to use it upside down to curl your bottom lashes to give you doe-like eyes.
Pros
Suitable for small eyes
Durable
Provides long-lasting curl
It can also be used after applying mascara.
It can be used to curl the upper and lower lashes.
Cons
May take longer to curl lashes
Price at the time of publication: $24.0
The Vega Premium Eyelash Curler is a classic eyelash curler that you cannot go wrong with. Celebrities and professional make-up artists vouch for the quality of the curler. This premium eyelash curler is simple to use and quickly gives you the desired eye-framing curl. It curls your lashes beautifully and makes your eyes appear wider and brighter. The plastic handle ensures a firm grip while in use.
Pros
Affordable
Lightweight
Secure grip
Makes your eyes appear wider
Easy to use
Cons
May not be suitable for small eyes
Price at the time of publication: $9.97
Sally Hansen Sexy Curls Eyelash Curler is a beauty tool that perfectly curls and lifts your lashes for a dramatic and alluring look. It features a precision curler with excellent control. The shape of the eyelash curler head makes it easy to use and see you've covered all your lashes in one go. It comes with a replaceable silicone pad and has double metal finger loops for a secure grip.
Pros
Pinch proof
Includes a refill pad
Lifts each lash
Double metal finger loops
Suitable for all eye shapes
Cons
Price at the time of publication: $13.63
Does it hurt every time you try to curl your lashes only to get flat, drooping ones? Try Wet N Wild High On Lash Eyelash Curler! It gives you pinch-free and long curling lashes effortlessly. The cushion-soft grips ensure comfortable fit and usage for any size or shaped lashes, making it ideal for everyone. The silicone pad grabs each eyelash to curl them evenly in one go.
Pros
Soft cushion grips
Pinch-free curling
Universal size
Precise curling
Cons
Curler coating may flake off
Price at the time of publication: $2.18
Pinkiou Brilliant Beauty Eyelash Curler is designed to separate and define your lashes, giving you a flawless curl. It has a built-in comb crafted to comb your lashes, providing extra support as they curl and creating a proper shape rather than a harshly crimped one. It is ergonomically designed with a unique peach heart handle, making it more comfortable for your fingers to hold. It is suitable for all eye shapes.
Pros
Carbon steel body
Ergonomic design
Unique handle
Inbuilt comb
Suitable for all eye shapes
Cons
None
Price at the time of publication: $7.69
When you are purchasing an eyelash curler, keep these key factors in mind.
A Buying Guide To Choose The Best Drugstore Eyelash Curler
How To Pick The Right Drugstore Eyelash Curler
Eye shape and size: Not all eyelash curlers are created equal, and not all curlers fit all eye shapes. Whether you have small, big, rounded, or hooded eyes, it's essential to choose a curler that perfectly conforms to the shape of your eyes. For instance, flatter curlers are suitable for big eyes, whereas smaller curlers work well for curling short lashes.
Curler Material: You would want to look for an eyelash curler that is sturdy and built to last. Curlers with stainless steel frames are considered to have more durability than one made using carbon steel or plastic.
Price and Quality: Drugstore eyelash curlers are meant to be budget-friendly. So always look for something that you can afford to buy. At the same time, it's important that you don't compromise on the quality of the tool.
Open the eyelash curler and place the rubber pads at the base of your upper lashes.
Always start at the root of the lashes. Ensure that the curler grabs each and every lash.
Gently clamp the lashes to curl them.
Then continue to move upwards towards the tip and clamp again.
After you're done curling, apply mascara to lock in the curl.
Hair and Makeup artist, Elizabeth Hickman, adds, "If your lashes grow down or straight it will take some time for them to hold a curl. If you curl them daily and use a mascara to help hold the curl in place they will start to stay curled."
Cleaning And Maintaining Your Eyelash Curler
It's essential to clean your eyelash curler before and after use. Clean the curler with alcohol and let it dry completely before you store it in the pouch. This prevents mascara from building up and avoids bacterial growth. It's also important that you replace the lash pads with new ones once they are worn off.
Why Trust StyleCraze?
Chaitra Krishnan is a makeup enthusiast who believes that you don't have to burn a hole in your pocket to own a good eyelash curler. She has carefully reviewed user feedback and gone through numerous product specifications before curating this list of the best drugstore eyelash curlers available on the market. These makeup tools have the ability to enhance your eyes in no time.
Frequently Asked Questions
What makes a good eyelash curler?
A good eyelash curler should be able to evenly curl your lashes by applying the right amount of pressure. It should also have the perfect curvature and length to accommodate the shape of your eyes while being sturdy and comfortable to use.
Is it okay to curl your eyelashes every day?
According to some experts, it is okay to use eyelashes every day as long as it's clean and does not crimp your lashes or hurt your skin.
Do eyelash curlers really make a difference?
Yes, using the right eyelash curler can make a huge difference in the way your eyelashes look. It creates length and volume instantly and enhances your eyes.
How can I make my eyelash curler more effective?
Heat your eyelash curler with a blow dryer for a few seconds before curling. This will make your eyelash curl more effective. This trick works for coarse lashes too. However, be careful as to not burn yourself in the process!
How long does a lash curler last?
The lash curler pad must be changed every 6 months when used daily. Otherwise, the pad may lose its density and become less effective. The actual curler can be used for a much longer time.
Does curling lashes damage them?
Lash curlers, when used correctly, will not damage the lashes. A slight tug feeling is normal but not pain. Hold the curler steadily when curling the lashes. If not, it may pull out lashes. Clean your curler with alcohol once after every use. However, heat styling your lashes frequently can be very damaging.
Why don't my lashes hold a curl?
Before curling your eyelashes, make sure the lash tool is clean. Hold it longer for better results. You can warm up the curler with a blow dryer to give your lashes a better hold.
Recommended Articles