15 Best Drugstore Eyeshadow Palettes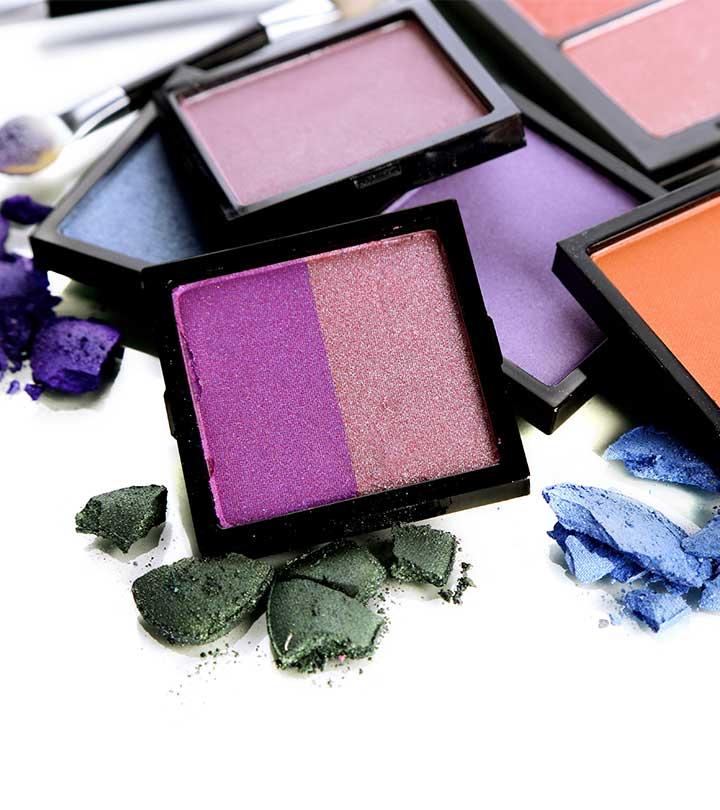 If you're serious about your makeup, you know the importance of eyeshadow. It can add a whole new 'oomph' factor to your look and can help you step it up a notch. Most fancy eyeshadow palettes will cost you a fortune, so before you decide to spend a significant portion of your paycheck on luxury brands, consider some of these incredible drugstore eyeshadow palette options that are strong rivals to $50 palettes. These drugstore eyeshadow palettes don't sacrifice on quality in the name of price and they're all under $20! Let's see which brands made the cut!
Best Drugstore Eyeshadow Palettes
This collection is named the Ultimate Shadow Palette because that's exactly what it is – a pro-level pack with 16 high-performance eyeshadows and pressed pigments in a rainbow of tone-inspired shades. It features a vivid mix of velvety-rich textures and mesmerizing finishes that range from mattes and satins to shimmers and metallics.
Pros
Gorgeous vibrant shades.
Very pigmented.
Buildable color.
Smooth texture that glides like a dream.
Easy to blend.
Attractive packaging.
16 shades in one palette.
Cons
No mirror.
No applicator.
Some of the shades are less pigmented.
NYX Ultimate Shadow Palette In Smokey And Highlight Review
This palette by NYX is a collection of some really dreamy shades that include nudes, golds, greys, and maroons. It has both matte and shimmery shades, which is a plus since you can create a whole bunch of looks with just one palette. They are very pigmented, and the staying power is excellent. There is absolutely no fallout. They blend seamlessly and are really easy to work with. It's a total value for money, and it's also available in three different shades for you to choose from!
Similar Products

Four gorgeous must-have eyeshadow palettes filled with a dozen majorly pigmented shades ranging from super wearable looks like nudes to bolder colors like neons. L.A Girl's Beauty Brick Eyeshadow Collection gives you the best of all colors to allow you to create stunning looks!
Pros
Smooth texture.
Pigmented.
Buildable color.
Decent staying power.
Affordable.
Cons
Some of the shades are fillers.
Flimsy packaging.
L.A Girl Beauty Brick Eyeshadow, Nudes Review
This one's a great dupe for the Naked palette. You need to prime your eyelids well before going in with these shadows if you want the colors to pop and stay for longer. It has some gorgeous shades with which you can create subtle looks for everyday wear. It also includes a really pretty mauve shade that suits every skin tone. For the collection of colors and the price, this palette is well worth the try.
Similar Products

Get the same look like a leading $50 eyeshadow palette! Cover Girl's TruNaked eyeshadow palettes feature universally flattering, neutral shades that are made to be blended together, so you can mix and match colors and always look flawless. Each eyeshadow palette comes with eight highly pigmented shades and endless possibilities.
Pros
Applies smoothly and evenly.
Highly pigmented.
Blends easily.
Smooth and silky texture.
Great color payoff.
Cons
The packaging isn't great.
CoverGirl Roses TruNaked Eyeshadow Palette Review
This package has a beautiful theme going on in 'rosy-plum' neutrals. It contains eight stunning shades with a rosy undertone to them. This one's a dupe for the Urban Decay Naked 3 palette and works in almost the same way as the Naked palette. We were impressed by the pigmentation of the shades, which is spot on! All the shades are highly pigmented. These have a creamy and soft texture and blend like a dream. Even the staying power is quite impressive, and when worn over a primer, it just gets better. We love its quality, and it's hard to believe that this is a drugstore product!
Similar Products

The Nudes Eyeshadow Palette features 12 expertly curated shades for custom eye makeup looks. This 12-shade palette features dazzling colors from bold beiges and sultry sands to brazen bronzes and tempting taupes.
It's perfect for creating versatile eye makeup looks.
Pros
Versatile shades that are great for everyday wear.
Silky soft texture.
Good pigmentation.
Long-staying.
Good color payoff.
Cons
No mirror.
Comes with a flimsy applicator,
Maybelline New York The Nudes Eyeshadow Palette Review
If you are new to eyeshadows, this palette is an amazing option for beginners. It consists of some matte nude shades as well as shimmery ones. It also has browns, blacks, and golds so you can create a smokey eye look or a simple, everyday look as per your requirements. There are instructions given on the back of the palette on how to make the most of it, which is very useful to newbies. Using a primer increases its longevity by whole 3-4 hours. However, some of the very light shades in the palette are a little difficult to work with owing to their chalky texture, but the rest do a great job.
Similar Products

Full-on color. Endless possibilities. Powered by four pigment-packed eyeshadows, NYX's new Full Throttle Shadow Palettes allow you to create unlimited eye looks, every single time. With so many color combos to choose from, each stylish set is a treasure in itself.
Pros
Blends easily.
Highly pigmented.
Unique colors.
Applies smoothly and evenly.
Long-lasting.
Cons
You need to use a primer underneath.
There may be a slight fallout with the glittery shades.
NYX Full Throttle Shadow Palette in Stunner Review
This color quad combo by NYX looks so fabulous – we can't stop admiring the shades! This palette comes in 5 different color sets and this one's called 'Stunner' – and we can see why! The two matte colors are great transition shades and also go well in the crease. The shimmers look great on the lid, inner corners, and lower lashline. The packaging is attractive, and it's also very travel-friendly. We were also impressed with their texture, pigmentation, and longevity! For that price, it's a prize!
Similar Products

Contour, color, and create endless looks with a first-of-its-kind eye contour and highlight collection. This eyeshadow palette offers six richly pigmented shades and a step-by-step guide for professional-looking results. Each shade is expertly coordinated to work well in any order to create brilliantly beautiful, one-of-a-kind styles. It comes with a dual-ended, pro-artistry brush.
Pros
Highly pigmented.
Blends easily.
Smooth and silky texture.
Crease-resistant.
Long-lasting.
Cons
Slight fallout.
No mirror.
Milani Everyday Eyes Eyeshadow Palette in Earthy Elements Review
This palette has highly pigmented champagne, coral, and plum/brown shades. These shadows are creamy and buttery in texture and blend like a dream, but you have to be careful and tap off excess product before applying to avoid fallout. Their wear-time is excellent, and they stay put all day long until you take them off. Every single shade in the palette is perfection, and the orange tones look fabulous, especially if you have light brown eyes. For a mere $11, you get six high-quality shadows that all perfectly complement each other.
Choose from two palettes – the seasonal palette with a range of color shades and the core palette that is compromised of your essential matte neutral shades. The formulas are extremely blendable with a velvety soft touch and superior color release. The palettes are fragrance and paraben-free.
Pros
Good to great pigmentation.
Blends well.
Buildable color.
Smooth and easy application.
Minimal falls out.
Cons
Very basic packaging.
Two of the lighter shades have a powdery texture and are way too sheer.
Sonia Kashuk Eye Couture Eye Palette – Eye on Neutral 02 Review
This palette comes in a simple and practical packaging, which is very lightweight. The colors are all matte, and these shades can be used to create a natural eye, which is great for work and a smoky eye. Palettes like these are a staple in every eyeshadow enthusiast's makeup bag.  These apply super smooth and blend so beautifully. They also last through an average workday without any issues.
Master your own NYC moment with a collection of these perfectly curated eyeshadow shades. The City Mini Palette features six dramatic shades that are perfect for creating custom eye makeup looks. This range has a total of 4 palettes with varied shades.
Pros
Collection of vibrant colors.
Very pigmented shades.
Easy to blend.
Silky-soft application.
Even and consistent application.
Long staying.
Cons
The two lightest shades are slightly chalky.
No mirror.
Maybelline New York City Mini Eyeshadow Palette in Concrete Runway Review
This palette is called 'Concrete Runway', and these shadows are pure perfection. It comes in a compact packaging that is light and travel-friendly. They are very pigmented and blend extremely well. They hold up well through long durations without creasing. However, it would be even better if they would've included a matte shade so we wouldn't have to go in for another palette to complete the look. Nonetheless, for less than ten bucks, this palette is a steal deal!
The heavens have parted, and NYX's Dream Catcher Palette in celestial shades have arrived. Each palette includes ten majestic eyeshadows that you can mix and match. There's even a secret compartment on the bottom with a mirror and a dual-tip applicator.
Pros
Good pigmentation.
Long-lasting.
Applies smoothly and evenly.
Easy to apply.
Value for money.
Cons
Some shades are not as pigmented.
Tends to crease if applied without a primer.
NYX Dream Catcher Palette in Dusk Til' Dawn Review
This palette has a fantastic color scheme, and it's effortless to use. The colors are not super pigmented so if you are a beginner, this may be a positive thing for you. The shades have a subtle tint that goes beyond the basic nude look but not a full glam look. These shimmery shades can still be worn on a daily basis without your makeup looking overdone. Considering the staying power, it's impressive as these last for a good 10-12 hours. Overall, we love this palette!
This 12-shade palette is for multiple eye looks and eye shapes. This eye contour palette comes with a duo applicator. It includes a mix of high-shimmer and matte shades, perfect for sculpting, shading, and defining. The vibrant, intense colors are crease-proof, smudge-proof, and stay all day.
Pros
Includes shimmer and matte shadows.
Pigmented.
Minimal fallout.
Contours well.
Relatively long-wearing.
Cons
Flimsy sponge applicator provided.
The matte shadows are slightly chalky.
Rimmel Maginf'eyes Eye Palette in Keep Calm and Wear Nude Review
Rimmel's Magnif'Eyes Eyeshadow Contouring Palette is an 8-shade palette available in three different shades. Its packaging is simple yet effective, and it comes with a dual-ended sponge style applicator. However, this blends better with a brush. This versatile palette can create everything from a natural, everyday look to a deep, seductive smokey eye. We were also impressed with its staying power.
Create flawless looking eyes with this brilliant eyeshadow and an easy step-by-step application guide. These beautifully color-coordinated shadows give you a professionally contoured and defined eye that allows you to go as bold or as natural as you want. The silky-smooth formula glides effortlessly onto the skin for long-lasting color.
Pros
Creamy texture.
Pigmented.
Labeled eyeshadows.
Easy application.
Compact and convenient packaging.
It comes with an applicator and mirror.
Cons
Fades rather quickly.
There is a certain amount of fallout.
Applying a primer is necessary for these shadows.
e.l.f Flawless Eyeshadow, Blushing Beauty Review
This palette with the name 'Blushing Beauty' by e.l.f. Cosmetics come in a tiny plastic case with four different eyeshadows to create one complete look. It's a simple case with a transparent lid that shields the product. Each eyeshadow is labeled and sectioned, so it doesn't transfer over each other. These are super pigmented and show well in a single swipe, but you need to apply an eye primer as your base for it to last. It contains four eyeshadows, one for the base, lid, crease, and the line. For a $2 palette, this one's a big hit among drugstore eyeshadows and a must-try!
Inspired by makeup designers 'Must Have' Palettes, the La Palette Nude offers everything you need to master the art of nude eyeshadow. Ten highly pigmented shades range from light to dark to flatter every skin tone in 3 shadow finishes: shimmery satin, buttery matte, and a lustrous sheen.
Pros
Highly pigmented.
Handy and compact packaging.
It comes with an applicator and a mirror.
It doesn't crease or cause fallout.
Cons
Expensive when compared to other drugstore palettes.
Some shades blend in and don't show on the skin.
L'Oreal Paris Color Riche La Palette Nude in Nude Intense Review
This palette comes in a sophisticated black packaging with a big mirror and a dual-ended brush. It contains ten shades that are great for everyday wear and can be used to create different looks. The eyeshadows glide on effortlessly and are buildable when it comes to the color.  The staying power of these shadows is decent, but there's nothing extraordinary about its longevity. If you want a palette that could be used to create some everyday looks, this one's a good option.
The Hard Candy Look Pro – Sassy Eyes Eyeshadow Collection is your one-stop for a complete sultry look. It includes nine professionally coordinated eyeshadows, Eyes the Limit Longwear Eyeshadow Primer, a mini Take Me Out Liner in Soy, and a dual-ended eyeshadow applicator all housed in a reusable collectible tin.
Pros
Gorgeous shimmery neutrals with dark, sultry shades.
Adorable packaging.
Decent lasting power.
Good pigmentation.
It comes with a primer and eyeliner.
It comes with a mirror.
Includes an instruction booklet.
Cons
Some of the shades have a chalky texture, and these wear off easily.
The palette's magnetic closure isn't very strong.
Eight times the fun in one convenient package! These eyeshadow collections feature eight dynamic and vibrant shades with high pigment and pearl for ultra-impact color. Enriched with Macadamia Oil, each shadow provides continuous moisture that improves the appearance of the delicate eye area. Use together for a daring statement or individually to bring a pop of color to your look.
Pros
The perfect palette for a purple smokey eye.
Dirt cheap.
Easy to apply.
Long staying.
Cons
Terrible packaging.
Below average pigmentation.
Wet N' Wild Color Icon Eyeshadow Collection in Petal Pusher Review
So, this is a $4 palette from Wet N' Wild, and it includes a total of 8 shades. Each shade is labeled with where each shadow goes. It includes both matte and shimmery shades, but we must give you a heads up – almost all colors on this palette aren't very pigmented. Bummer! You can fix this by using a white liner on your eyelid for the base to make the colors pop. All that said, this palette can be used to create several looks and for that price, you've got nothing to lose in trying this.
Rich, velvety shadows that blend smoothly for beautiful, luxurious color that stays up to 16 hours. It won't crease, fade or smudge and is available in a variety of expertly color-coordinated palettes for your most gorgeous eyes yet.
Pros
Applies smoothly and evenly.
Blends easily.
Crease-resistant.
It does not fade.
Cons
Not very pigmented.
Flimsy packaging.
Revlon ColorStay 16 Hour Eyeshadow Quad in Precocious Review
This palette is a quad that's great for smoky gray and purple looks. It includes a highlight color, lid shade, crease color, and an outer V color. The shades are not as pigmented as they seem in the pan and Revlon is fairly pricey when compared to other drugstore brands, so this was quite disappointing. Although it includes some unique colors, this palette does not keep up to its 16-hour stay claim. If you like to keep it subtle and something that will stay put for a good 8-9 hours, you can try this out, but if you are expecting shades that are super pigmented, then you can give this a miss!
(*Product prices may vary) 
*Subject to Availability
That was our take on the best drugstore eyeshadow palettes out there. Whether you're a fan of bold shades or like to stick to neutrals, we hope you find your perfect match.
Choosing an eyeshadow palette isn't hard – you only need to find what works for your skin tone and your eye color. If your skin tone is towards the warmer side,  you could try neutrals, and if it's towards the cooler side – you could try using silvery, lilac, and blue shades. Neutral skin tones can literally pull off any color with ease!
Do you have a go-to eyeshadow palette that holds a special place in your heart? Let us know in the comments below.
Recommended Articles