20 Best Drugstore Eyeshadow Palettes That Are Truly Gorgeous – 2023
Paint your eyes according to your moods with the versatile eye makeup essentials.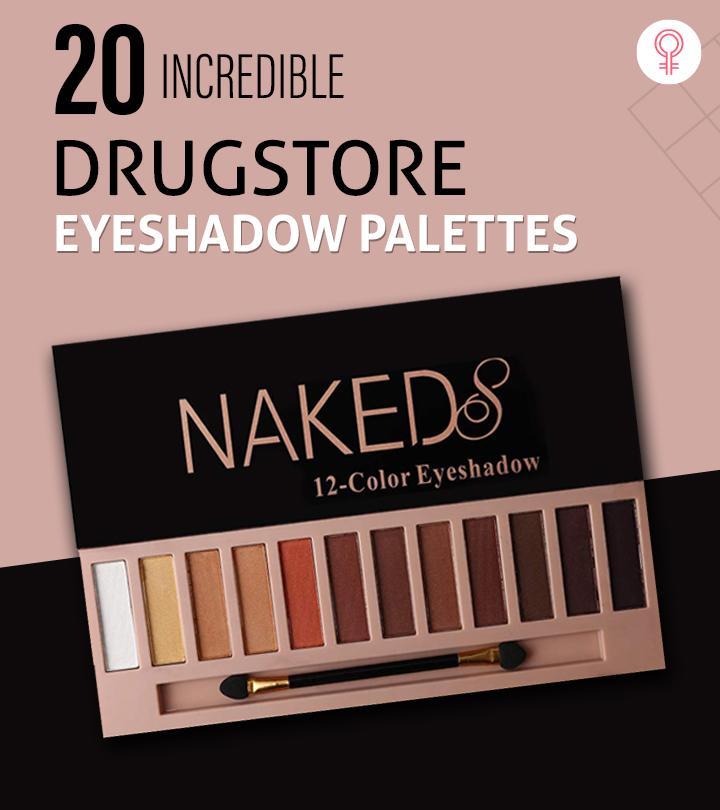 A good eyeshadow palette is worth more than your regular beauty products as you will have a lot of room for experimentation when it comes to colors and shades. Try out some of the best drugstore eyeshadow palettes, we have listed out. Whether you want to go down the bold route or go for minimalistic makeup, we have included something for everyone.
These 20 incredible drugstore eyeshadow palettes are for you to up your makeup game.
20 Best Eyeshadow Palettes Available In Drugstores
The LAURA GELLER NEW YORK Blend Away Berry & Bright Eyeshadow Palette is made up of 12 eyeshadows with a variety of matte and shimmery finishes that are highly-pigmented and blendable. You may create versatile eye looks with the palette's assortment of warm and cool tones, soft neutrals, bold berries, and brights. The formula comprises vitamin E and grape seed oil, which nourish and safeguard the delicate eye area. The palette comes with a sleek, portable design and a built-in double-ended brush, which makes it simple to use while on the go.
Pros
Rich color payoff
Blendable formula
Shimmery matte finish
Easy to use
Portable
Ideal for sensitive eyes
Cons
None

Neutral shades work well on all skin tones. The Exposed Eyeshadow Nudes Eyeshadow Palette from Lamora is formulated with high-quality ingredients to deliver exceptional results. This palette contains 16 vibrant and luscious colors with high pigmentation. The colors last long on the skin and are easily blendable. The colors mainly consist of rose gold and dark brown shades with a shimmery, natural, and dramatic finish. These colors have a smooth creamy texture. You can pair these colors with a light eyeshadow base or eyelid primer to achieve pastel and true-color shades. Check out the review of this product and the reviewer's experience of using it on YouTube to know why it is one of the best out there.
Pros
 100% vegan
 Cruelty-free
 Long-lasting
 High-quality
 Waterproof
Cons
The Wet n Wild Always Naked Eyeshadow Palette comes with ten neutral colors that are ideal for creating everyday and natural eye makeup looks. The palette's mixture of matte and shimmer finishes enable a wide range of eye effects. The eyeshadows are incredibly pigmented and blendable, making them simple to use and enabling a smooth change in color. The palette's small size makes it ideal for touch-ups when traveling, and it also includes a huge mirror for added convenience. The eyeshadows are a fantastic choice for people looking for high-quality eyeshadows at a reasonable price because they are also inexpensive and cruelty-free. Makeup artist Nyssa Green says, "This is a great palette! The colors are good and I love the size."
Pros
High-quality ingredients
Blendable formula
Travel-friendly
Cruelty-free
Cons
None
The 45 colors of Matte Eyeshadow from Eyeseek are heavily pigmented to give you high color intensity and vibrancy for makeup artistry creations. It has a very soft and smooth powdery texture that applies on the skin smoothly and blends easily. These luscious colors are waterproof, sweat-proof, and long-lasting with a metallic matte finish. Each of the 45 colors are have safe formulae that are gentle even on sensitive skin. The colors can be used individually or in combination to create customized shades. This eyeshadow comes with a brush for application. Makeup artist Nyssa Green adds, "This palette should encourage you to play and experiment with different colors!"
Pros
 No dyes
 Fly-resistant
 Cruelty-free
 Waterproof
 Sweatproof
 Blendable
Cons
The warm toned palette is inspired by the art and culture of the Renaissance era. It is a highly pigmented eyeshadow pallet. The palette consists of a variety of basic to bright, vibrant hues in matte and shimmer finishes. The long-wearing, blendable composition makes for simple application and a flawless finish. The wide mirror built inside the palette makes it ideal for touch-ups while on the go, and the portable form makes it simple to carry. This palette is ideal for individuals who want to use premium, long-lasting eyeshadows to create a variety of warm, romantic eye looks. Makeup artist Nyssa Green adds, "This is a winner. There are so many great colors and the quality is good too."
Pros
Highly pigmented
Blendable formula
Shimmery matte finish
Long-lasting
Fade-proof
Crease-proof
Compact design
Travel-friendly
Cons
The L.A. COLORS 16 Color Eyeshadow Palette comes in 16 matte and shimmer eyeshadow shades. You can mix and match them to contour, define, and create your desired statement-making looks. The colors are highly-pigmented and glide smoothly on the eyelids to give them a velvety finish. You can use the palette to create beautiful wedding, party, and casual makeup looks that are sure to receive tons of compliments.
Pros
Highly pigmented
Blendable formula
Dual-ended applicator
Glides smoothly
Easy to carry
Cruelty-free
Cons
None
The AFU Deluxe Eyeshadow Palette is a beautiful mix of earth-toned shimmery, glitter, metallic, matte, and satin shades. The palette is created with high-quality and safe ingredients, ultra-micronized pigments, and the purest mineral oil. You can use it to create natural and dramatic makeup looks without harming your skin. The highly-pigmented earthy shades are easy to use and blend. The size of the palette makes it a right for home as well as outdoor use.
Pros
Highly-pigmented
Premium-quality ingredients
Waterproof
Travel-friendly
Vegan
Cruelty-free
Safe for sensitive skin
Cons
None
The Maybelline New York The Nudes Eyeshadow Palette is perfect for creating custom day and nighttime eye makeup looks. Be it a wedding, a regular day at work, or a night out, this on-the-go palette is sure to come in handy for all occasions. You can go from a subtle nude eye makeup look to a sultry smokey eye look within minutes. It offers 12 expertly crafted beautiful shimmery and matte nude shades that blend perfectly. The colors have a velvety smooth texture and provide deep pigmentation.
Pros
Dual-ended applicator
Long-lasting
Easy to use
Travel-friendly
Cons
None
The Rose Gold Eyeshadow Palette from e.l.f Cosmetics contains 10 colors that can be used to highlight, shade, and define eyes. They have silky, powdery textures with shimmer finishes. The colors can be applied on wet skin for a vibrant color pop effect, or dry skin for a softer and subtler look. The colors can be built on by layering. In this YouTube video, you will find a detailed review of this product based on the tester's experience of using it.
Pros
 100% vegan
 Cruelty-free
 Phthalate-free
 Paraben-free
 Nonylphenol-free
 Ethoxylates-free
 Triclosan-free
 Triclocarban-free
 Hydroquinone-free
Cons
 Creases
 May need two layers
The Tarte Tartelette In Bloom Eyeshadow Palette contains 12 rosy and bronze shades arranged in coordinating rows. They are rich in amazonian clay that prevents smudging and makes the eyeshadows long-lasting. The mineral pigments in the shadows help soothe and soften the skin. This dermatologist-tested palette is also a great pick for those who have sensitive eyes or wear lenses.
Pros
Smudge-proof
Long-lasting
Gluten-free
Paraben-free
Sulfate-free
Mineral oil-free
Dermatologist-tested
Ideal for sensitive eyes
Ideal for contact lens wearers
Cons
The COVERGIRL TRUNAKED Eyeshadow Palette is a neutral palette with smoky shades. It features eight flattering colors that will help you highlight, shade, and define your eyes. This eyeshadow palette will provide you with endless eye makeup possibilities, ranging from subtle daytime makeup looks to dramatic evening styles. The shades spread smoothly and have a crease and fade-proof formula that help them stay on your lids for hours while helping you nail the smoky eye look.
Pros
Long-lasting
Smudge-proof
Glides smoothly
Buildable formula
Easy to use
Fade-proof
Crease-proof
Cruelty-free
Cons
None
The Twilight Dusk + Aromas Eyeshadow Palette from UCANBE comes with 18 colors in each palette, making it a must-have in your makeup artistry set. The Twilight Dusk palette comes with 10 smooth matte shades of purple and ochres in subtle nude tones. This palette also consists of 7 shimmery shades (plum, bronze, and rose hues) and 1 pure metallic gold glitter shade. The Aromas palette comes with 10 matte shades, 4 reflective shades, 2 gitter shades, 1 pressed pearl shade, and 1 concealer base shade.
Both palettes are highly pigmented to achieve vibrant and luscious colors with a velvety smooth texture. They are made with lightweight formula that feels creamy on application. You can layer or blend the colors to form personalized shades for a customized makeup look.
The 7 pressed pearl shades from the Twilight Dusk palette layer easily over matte finishes adding depth and shine to eyelids. The 10 matte shadows from the Aromas palette are made with aloe vera and coconut oil for a buttery smooth application. The 4 reflective shades have shimmery pearl flicks to provide a duo-chromatic finish. The 2 glitter shades are blended with silicones for enhanced adherence and even pigment distribution and shine over the eyelid. The one pressed pearl shade is formulated with acacia, jojoba, and sunflower wax to achieve a rich shimmer finish, which can layer over mattes to achieve more depth and dimension. The single concealer base shade increases the pigment intensity.
Pros
 Cruelty-free
 Blendable
 Buildable
 Long-wearing
 Waterproof
 Lightweight
Cons
The W7 Mighty Mattes Eyeshadows Palette comes with 12 highly pigmented shades of nudes, greys, browns, creams, and smokey colors. They last long with decreased fall-out and creasing. They can be used as a transition or blendable colors. They offer full coverage even without a primer. They provide a matte finish.
Pros
 Cost-effective
 Blendable
 Easy to apply
 No need for primers
Cons
None
The Honest Beauty Get It Together Eye Shadow Palette is intensely pigmented and long-lasting. It is adaptable for producing a variety of eye makeup styles because it combines neutral and bright colors. The hues have a silky, smooth texture that mixes smoothly. It is simple to take for touch-ups when traveling because of its small size and accompanying mirror. Makeup artist Nyssa Green says, "This is a palette I would use for brides. The colors are perfect."
Pros
Blendable formula
Highly-pigmented
Vegan
Cruelty-free
Dermatologist-tested
Ideal for travel or touch-ups
Cons
None
The Colour Riche Eye Pocket Palette from L'Oreal Paris, a celebrity-endorsed brand, offers shimmery to matte finishes. Each quad comes with four specially curated shades ranging from light to dark tones. The colors have high pigmentation to achieve an intense color payoff. The colors have a smooth texture that makes it easy to blend and apply. It lasts all day long and does not crease on the eyelids.
Pros
 Crease-proof
 Long-wearing
 Blendable
 Easy application
Cons
The Almay Eyeshadow Palette contains a single eyeshadow shade in metallic, matte, satin, and glitter finishes. You can use the monochromatic palette to create subtle or sparkly bold looks, depending on the occasion, time of the day, and mood. While you can use the single-colored palette on its own, it is also available in 15 different shades that you can mix and match. The palette is perfect for everyday use and provides a velvety smooth texture. It is suitable for contact lens wearers and those with sensitive eyes.
Pros
Long-lasting
Hypoallergenic
Ophthalmologist-tested
Dermatologist-tested
Fragrance-free
Suitable for sensitive eyes
Suitable for contact lens wearers
Ideal for daily use
Cons
The L.A. Girl Fanatic Eyeshadow Palette comes with 10 incredibly-pigmented colors. The eyeshadows are a mixture of matte and shimmery finishes that can be combined well to provide a range of eye looks, from subtle to striking. The palette comes in a stylish, portable case that makes it convenient to carry around. The shades have silky and smooth consistencies that help in simple application and all-day wear. The high-quality, pigmented eyeshadows in this palette are ideal for cosmetic enthusiasts who wish to create a variety of eye styles.
Pros
Lightweight
Highly pigmented
Rich color payoff
Velvety texture
Shimmery matte finish
Long-lasting consistency
Fade-proof
Crease-proof
Portable
Cons
None
The Revlon ColorStay Looks Book Eyeshadow Palette offers four types of finishes – shimmer, matte, satin, and metallic. All the colors have a smooth texture and are easy to apply and blend. The colors are rich and vibrant and last all day long. Each palette contains 8 highly pigmented colors which are all nude shades. Once applied on the eyelid, these colors stay strong without budging for 24 hours. The ultra-slim compact packaging is ideal for travel, and is easy to carry around.
Pros
 Travel-friendly
 Long-wearing
 Blendable
 Cost-effective
Cons
The Naked2 Basics Eyeshadow Palette from Urban Decay consists of 6 neutral, taupe-hued matte shades made to complement all skin tones ranging from olive and cool tones to deeper hues. This palette is ideal for creating simple eye makeup looks or can also be used as a base for pop color, or dramatic eye looks. Each color is made with an exclusive blend that gives it extreme blendability, vibrant color, and smooth texture.
Pros
 Paraben-free
 Phthalates-free
 Sulfates-free
 Fade-proof
 Crease-proof
 Buildable
 Blendable
Cons
The NYX Professional Makeup Ultimate Shadow Palette contains 16 super pigmented colors to create a range of makeup artistry looks. This palette offers four types of finishes – shimmer, satin, metallic, and matte. Use these shades with a primer for long-lasting and bolder colors. The colors are rainbow-inspired, consisting of neutral-cool, neutral warm, bright, and smokey hues. Every color is high-performance and pressed to achieve deep and vibrant color payoffs.
Pros
 Cruelty-free
 PETA-certified
 Long-lasting
Cons
Which one from the above list should you get for yourslef? Well, here are a few things that you should consider before buying an eyeshadow.
What To Look For In An Eyeshadow Palette
 Colors That Match Your Skin Tone: You can either have warm, cool, or neutral undertones. Picking shades that work best with your undertone can accentuate your features.
 A Wide Variety: Instead of buying just one shade, opt for palettes that offer more color range. This allows you to experiment with your color selection and choices. You can even mix and match colors.
 Skin Types: Some brands make palettes specific to your skin type – dry, oily, combination, acne-prone, and regular. Picking one that suits your skin types means it will last longer and work effectively.
 Chemical Components: Many brands are opting to use organic ingredients rather than chemicals. This reduces the risk of harsh effects on your skin.
 Cost-Effective: While there are many high-end brands that sell coveted but expensive eyeshadow palettes, you can often find affordable and skin-friendly palettes too.
Why Trust StyleCraze?
Baishali Bhattacharya, the author, is certified in makeup techniques. Her love and passion for everything makeup have motivated her to try out some of the best eyeshadow palettes easily available in your neighborhood drugstore. Her well-researched and curated list of eyeshadow palettes allow you to experiment and give you a variety of looks, be it minimalistic and easy-going or bold and beautiful.
Frequently Asked Questions
Which eyeshadow palette is best for beginners?
The Bernecy Glitter Eyeshadow Palette is best for beginners. It is waterproof, long-lasting, and blends easily. Beginners can learn the basics of applying eyeshadow with the richly-pigmented colors.
Which eyeshadow palette is the best for a natural look?
For a natural look, go for Maepeor Black Smokey Eyeshadow Palette. The formula dries quickly when applied and offers a smudge-proof look.
How do you know if an eyeshadow palette is of good-quality?
You may know whether an eyeshadow palette is of good-quality or not by checking the overall appearance of the palette. If the shades are richly-pigmented and appear vibrant, the palette has been created with high-quality ingredients. Also, look at the packaging and make sure that the palette is not poorly kept. A good-quality eyeshadow palette may be costly, but it is always recommended to purchase them and keep your eyes protected.
How long does an eyeshadow palette last?
An eyeshadow palette lasts for two years. Stop using a palette as soon as it smells different or the colors become too clumpy.
Are Too Faced eyeshadow palettes good?
Yes, Too Faced eyeshadow palettes are good. The shades offer intense color payoff and the formulas are long-lasting.
Are all eyeshadows the same?
No, there are three broad divisions of eyeshadows. Choose between powder eyeshadows, cream eyeshadows, and matte eyeshadows to look your best every time.
Recommended Articles