11 Best Drugstore Eyeshadow Primers For Crease-Free Eye Makeup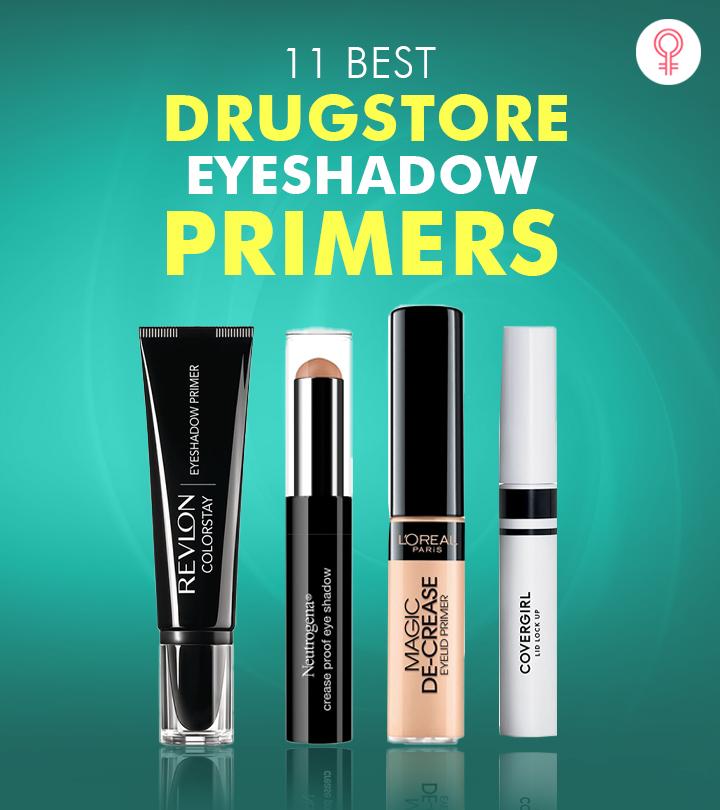 When you wear eyeshadow without a primer underneath, it can fade or smudge over time. We often search for the best eyeshadow palettes but never give much importance to eyeshadow primer, an incredibly necessary product in your daily makeup routine. Eyeshadow primers have a fade-proof formula to extend the staying power of your eye makeup.
We have reviewed the 11 best drugstore eyeshadow primers that ensure your eye makeup lasts longer. Check them out and pick your favorite one!
11 Best Drugstore Eyeshadow Primers
The NYX Professional Makeup Proof It! Eyeshadow Primer intensifies your eye looks. It glides effortlessly and smoothly over the eyelids before applying your favorite eyeshadow. It fixes the eye makeup in place without creasing or smudging. It makes eyeshadows sweat- and weather-resistant. This waterproof eyeshadow primer ensures maximum pigmentation and long-lasting wear.
Pros
Waterproof
Smudge-proof
Crease-proof
Humidity-resistant
Easy to apply
Intensifies eyeshadow color
Long-lasting
Vegan
Cruelty-free
Cons
Intensify your eyeshadow color and make it last from day to night by applying the Milani Eyeshadow Primer. It is a lightweight, invisible primer that goes on nude and dries clear to create a smooth canvas on your eyelids for any eyeshadow. This eyeshadow primer works on all skin tones and glides smoothly for crease-free wear. It is 100% vegan and cruelty-free.
Pros
Vegan
Cruelty-free
Does not dry out instantly
Blends easily
Lightweight
Crease-proof
Easy to remove
Value for money
Cons
None
Oily eyelids can be a recipe for eyeshadow disaster as they can cause any formula, powder or cream, to cake and crease. The Wet N Wild Photofocus Eyeshadow Primer has a mattifying formula that acts as a buffer between your eyelids and eyeshadow, ensuring the eyeshadow stays put without smudging. It preps and brightens your eyelids to make your eyeshadow last all day long. This primer offers smooth, effortless application. It also dries quickly with a clear finish. It is cruelty-free and PETA-certified.
Pros
Crease-proof
Cruelty-free
Vegan
Smooth application
Cons
The Covergirl Lid Lock Up Eyeshadow Primer lets you rock a crease-free eyeshadow look all day long. It preps your eyelid to intensify the color of the eyeshadows. It has a quick-drying formula that binds with the eyeshadow and holds it in place to create a bold look and maximize the wear time.
Pros
Crease-proof
Dries quickly
Suitable for oily skin
Smooth formula
Cons
If you want your eye makeup to last long without creasing or smudging for 24 hours, Revlon ColorStay Eyeshadow Primer is the best choice for you. This lightweight primer is formulated with the Shea Butter Care Complex that creates a smooth surface on your eyelids for eyeshadow application. The universal shade of this eye primer goes well with every skin tone. Its natural finish locks the eyeshadow color all day long.
Pros
Crease-proof
Long-lasting
Lightweight formula
Made with natural ingredients
Blends easily
Suitable for all skin tones
Affordable
Cons
Thin consistency
Oily formula
The L.A. Girl HD Pro Primer is a lightweight, non-sticky eyeshadow primer stick that holds locks in your eye makeup and makes it last all day long. Its smooth formula glides easily over the eyelids and preps them for a flawless and even eyeshadow application. This multipurpose eyeshadow primer stick acts as a makeup base and is suitable for all skin types. Its natural color enhances the color of each eyeshadow to create a vibrant look.
Pros
Multipurpose
Lightweight
Non-sticky
Travel-friendly
Glides effortlessly for smooth application
Intensifies the eyeshadow color
Suitable for all skin types
Cons
None
The Maybelline New York Master Prime Eyeshadow Base has a luminous glow and smooth formula that glides seamlessly on the eyelids to add instant brightness to tired eyes. It's champagne pink hue is quite seductive and blends perfectly with all skin tones to offer a bold eye look. Its shimmery finish lends a gorgeous and fresh glow to any eyeshadow you wear on top of it.
Pros
Shimmer finish
Smooth application
Can be used alone
Long-lasting
Suitable for oily eyelids
Affordable
Cons
Thick formula
Dries out quickly
If you want to crease-proof your eyes and get long-lasting eye color, the L'Oreal Paris Magic De-Crease Eyelid Primer is perfect for you. This eyeshadow primer is ophthalmologist-tested. It blends easily with the skin tone of your eyelids to prepare a flawless canvas. Its smooth and creamy formula and natural hue are super-flattering. Thus, it can be worn alone for a matte eye look. Its universal shade goes with all skin tones.
Pros
Lasts up to 8 hours
Smooth and creamy formula
Can be used alone
Matte finish
Suitable for all skin tones
Ophthalmologist-tested
Fragrance-free
Suitable for sensitive eyes
Cons
The Etude HOUSE Proof 10 Eye Primer has a high-molecular formula that coats the eyelids perfectly, providing full coverage to enhance the color of eyeshadows. This primer prevents eyeshadows from fading, smudging, or creasing. It is infused with a mineral powder that blurs the finest wrinkles, leaving a smooth base for smudge-proof eyeshadow application.
Proof
Long-lasting
Fade-resistant
Crease-proof
Smudge-proof
Enhances eyeshadow color
Blurs the appearance of wrinkles
Available in 10 shades
Cons
Not suitable for oily eyelids
e.l.f. Eye Primer & Eyeliner Sealer is a dual-ended stick that has a primer on one end which preps your eyes for heavy-duty and long-lasting eye makeup. On the other end is a waterproof eyeliner sealer that keeps your cat-eye look in place and prevents smudging. This unique design is great for keeping your eye makeup looking perfect and smudge-proof all day.
Pros
Multipurpose
Easy to use
Smudge-proof
Vegan
Cruelty-free
Cons
None
The Neutrogena Crease Proof Eyeshadow With Primer instantly revives and brightens your eyes with its light-reflecting pearl shades. This eyeshadow stick is formulated with primer to create a smooth base and prevent the eyeshadow from creasing, fading, and smudging.
This unique eyeshadow-cum-primer stick is formulated with antioxidants to protect the eyes from sun damage. Its creamy formula is ophthalmologist-tested and provides long-lasting wear for 12 hours. It is easy to remove with soap or any makeup remover. It is also safe for sensitive eyes.
Pros
Built-in eyeshadow
Brightens the eyes
Prevents sun damage
Crease-proof
Smudge-proof
Long-lasting
Ophthalmologist-tested
Suitable for sensitive eyes
Cons
None
These are the 11 best drugstore eyeshadow primers available online. If you are a beginner and do not know how to use an eyeshadow primer, check out the next section.
What Is An Eyeshadow Primer?
An eyeshadow primer is a liquid or cream-based product that is applied on the eyelids to make the eyeshadow you apply on top of it look vibrant and last long. It also helps in the smooth application and blending of eyeshadows.
Check out the next section to know why you should pick a high-quality eyeshadow primer.
Benefits Of Using An Eyeshadow Primer
Applying eyeshadow primer before eyeshadow makes the latter last longer. Wearing an eyeshadow without a primer underneath can make your eyelids look greasy and cause the eyeshadow to fade.
Applying primer helps in applying eyeshadow smoothly and evenly like a pro.
Those with dry eyelids tend to struggle with the smooth application of eyeshadow. It often results in the uneven blending of colors. A thin layer of eyeshadow primer helps in the even application of eyeshadow color. It also prevents the eyeshadow from settling in the fine lines.
A primer holds the eyeshadow in place and makes it look more vibrant.
It prevents the creasing, smudging, and fading of eyeshadows.
Now, let's check out the step-by-step application of eyeshadow primer.
How To Apply An Eyeshadow Primer
First, clean your face and eye area with a cleanser.
Using a small eyeshadow brush, apply a thin layer of eyeshadow primer onto your lids.
Gently tap on the eyeshadow primer without tugging or pulling on your skin.
Now, the blank canvas is ready to apply eyeshadow.
Eyeshadow primer is a necessary makeup product that should not be overlooked. This fade-proof product helps absorb excess oil from tired eyelids. It also keeps the eyeshadow color intact and bold. Pick your favorite one from this list to take your makeup game up a notch!
Recommended Articles
The following two tabs change content below.

Latest posts by Priyanka S (see all)