8 Best Inexpensive Face Masks Of 2021 For Oily Skin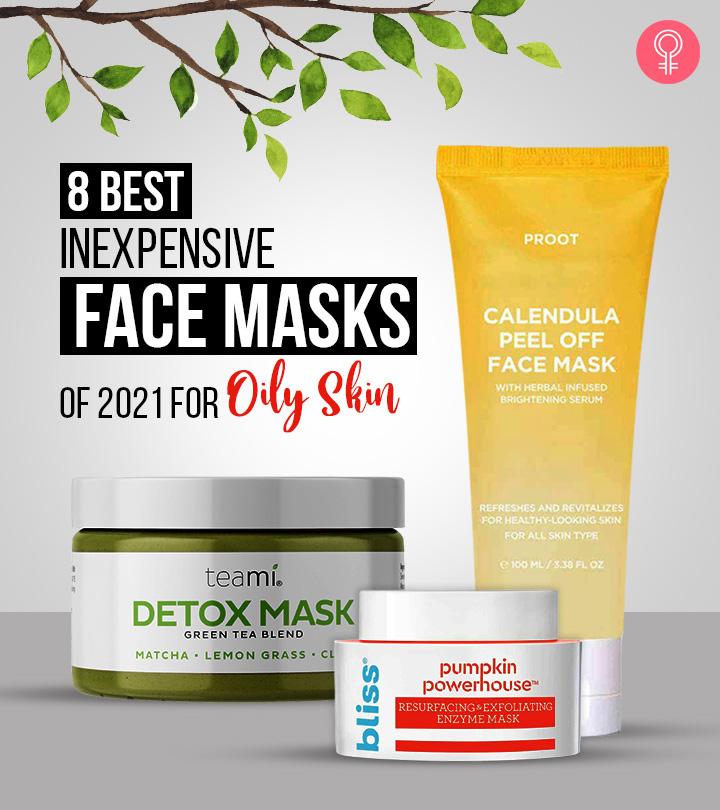 If you have frustratingly oily skin, we understand your pain. But, unfortunately, pampering such skin type can be pricey, messy, and time-consuming. Dermatologists recommend oily skinned beauties to include face masks in their skin care routine. These muddy, clayey masks unclog pores, exfoliate dead skin cells, and gently remove excess oil from the face.
Incorporating a drugstore face mask in your skin care regimen comes with major benefits. Firstly, such a mask is formulated with a wide variety of ingredients that address multiple skin concerns. Secondly, it is readily available and meets your requirements without burning a hole in your pocket.
Of course, if you are a beauty buff and feel lured by the fancy glass-bottled skin care products, you may be okay splurging. But doubting the efficacy of drugstore face masks would be a great mistake. Here, we have rounded up a list of the 8 best inexpensive face masks of 2021 for oily skin. Go through them and pick the one just right for your skin!
8 Best Drugstore Face Masks For Oily Skin
If you're looking for the most effective way to sink high levels of moisture into your skin, the Teami Detox Face mask is the one for you. This mineral-rich green tea detox mask is formulated to detoxify your skin, minimize pores, and offer nourishment to your skin. This soothing mask is gentle yet effective in cleansing, renewing, and softening your skin.
The superfood ingredients in this mask include lemongrass, bentonite clay, kaolin clay, and aloe vera. These, in addition to the green tea, help reduce inflammation, balance oil levels, extract blackheads, and exfoliate and hydrate skin. Moreover, its antioxidant and vitamin-rich formulation reduces acne, increases skin elasticity, accelerates cell regeneration, and boosts skin glow by increasing blood circulation. Apply 2 to 3 times a week on damp skin to get the best results.
Key Ingredients: Matcha green tea, Lemongrass, Bentonite clay, Kaolin clay, and Aloe vera
Pros
 Minimizes pores
 Reduces inflammation
 Promotes cell regeneration
 Reduces fine lines and wrinkles
 Vegan
 Cruelty-free
 Organic ingredients
 Artificial fragrance-free
 Color-free
 Chemical-free
Cons
Give some extra care and love to your skin with this game-changing drugstore face mask from PROOT that is infused with calendula extracts. This peel-off mask contains herbal extracts that unveil your natural radiance by nourishing and brightening your skin complexion. Its natural formula contains calendula, witch hazel, rosemary, and Centella asiatica extracts. These ingredients fight dullness, detoxify skin from environmental toxins and impurities, fight premature aging, and reduce pores. Its peel-off technique pulls out dirt and gives immediate results by unclogging pores and improving skin tone. Moreover, its antioxidant and anti-inflammatory properties soothe skin, reduce puffiness and dullness, and speed healing by boosting blood circulation, building collagen, and stimulating cell growth. The face mask also controls sebum levels, boosts skin elasticity, calms skin irritation, and moisturizes intensely.
Key Ingredients: Calendula flower, Centella asiatica, Rosemary, and Witch hazel
Pros
 Boosts cell growth
 Brightens skin
 Soothes inflammation
 Paraben-free
 Gluten-free
 Dye-free
 Cruelty-free
 Vegan
Cons
None
This whipped pumpkin face mask from Bliss Pumpkin Powerhouse is a great exfoliator that targets dull, oily skin. The powerful blend of pumpkin enzymes and AHA removes dead skin cells, minimizes fine lines and wrinkles, and brightens one's complexion. The mask is enriched with moisture-boosting sodium hyaluronate and nutrient-rich shea butter that make the skin soft and supple while boosting skin elasticity. Moreover, its probiotic formulation packed with essential fatty acids, vitamins, minerals, and antioxidants helps protect the skin's natural barrier. The mask also gently exfoliates the skin and offers it a refined texture.
Key Ingredient: Pumpkin puree, Shea butter, Lemon and Rice powder, and Sodium Hyaluronate
Pros
 Exfoliates skin
 Cruelty-free
 Paraben-free
 Vegan
Cons
None
Offer long-lasting hydration and rejuvenate your skin with this sparkling 24 K Gold Metallic Peel Off face Mask from AZURE COSMETICS. It tightens and lifts your skin to give a youthful radiance. This ultra-luxurious treatment contains vitamins B3 and B5, moisturizing aloe vera, witch hazel, and collagen that extract impurities and lift skin appearance. Moreover, the mask also unclogs pores, removes blackheads, cleanses excess oil and dirt, and detoxifies skin. This vegan face mask is hypoallergenic and is safe for dry, oily, and combination skin.
Key Ingredients: 24K Gold, Aloe vera, Witch Hazel water, Collagen, and Vitamins B3 and B5
Pros
 Hypoallergenic
 Unclogs pores
 Hydrates skin
 Vegan
 Cruelty-free
 Non-GMO
 Dye-free
 Paraben-free
 Phthalate-free
Cons
 May irritate the skin in some
This face mask combines bamboo charcoal, bentonite, and kaolin clay to draw out impurities and replenish skin. It deep cleanses the skin and extracts the deep-seated dirt and impurities to unclog pores. Moisturizing agents like hyaluronic acid, chamomile, cucumber, and aloe vera keep the skin hydrated.
Purifying agents like bitter orange, green tea, ginseng, and lavender soothe inflammation and boost collagen production. This face mask also contains anti-aging proteins extracted from pumpkin enzymes that visibly lighten the signs of aging. Moreover, this versatile face mask shrinks pores, removes blackheads, replenishes the skin's natural oils, evens out the skin tone, balances pH, and brightens one's complexion.
Key Ingredients: Vitamin C, Bentonite clay, Kaolin clay, Bitter orange, Green tea tree, Ginseng, Lavender, Chamomile, Cucumber, Aloe vera, and Hyaluronic acid
Pros
 Gentle on skin
 Anti-aging
 Vegan
 Cruelty-free
 Paraben-free
 SLS-free
 Silicone-free
 Gluten-free
Cons
None
This bamboo charcoal peel-off face mask from Essential Skin Solutions is a great solution for blackheads and blocked pores. It deep cleanses your skin, purifies pores, and exfoliates to remove dead skin cells. The formula is infused with vitamins A, B5, and E that protect the skin's natural barrier. The zinc in this mask helps fight acne, while the refreshing hydration of calendula extract adds glow to your face.
Key Ingredients: Bamboo charcoal, Zinc, Vitamin A, Vitamin B5, and Vitamin E
Pros
 Exfoliates skin
 Unclogs pores
 Hydrates skin
Cons
None
Ditch the chemical skin care products and switch to this luxurious, creamy face mask from Blossom Hill Beauty that soothes inflammation and brightens one's complexion. The blend of hyaluronic and glycolic acids moisturizes and exfoliates the skin. The mask also helps treat blemishes, blackheads, pimples, and fades the signs of aging. Moisturizing and nourishing skin foods like aloe vera, jojoba oil, coconut oil, green tea, and vitamin E improve skin texture and boost collagen production. Plus, the kaolin clay in the mask soaks excessive oil from the face while detoxifying the skin.
Key Ingredients: Kaolin clay, Aloe vera, Green tea, Organic coconut oil, Aloe vera, Jojoba oil, Hyaluronic acid, and Vitamin E
Pros
 Exfoliates skin
 Cruelty-free
 Paraben-free
 Non-GMO
 Vegan
 Gluten-free
 Sulfate-free
 Artificial color-free
 Refreshing fragrance
Cons
None
Acne is the biggest woe of oily skin. You can try the Vitamin C Clay Mask from SHVYOG to keep acne at bay. Vitamin C and turmeric protect your skin from infection, free radical damage, and oxidative stress. They also combat hyperpigmentation. Additionally, kaolin clay helps buff off impurities, dirt, and dead skin cells, revealing clearer skin. This mask helps remove excess oil to eliminate acne. It also prevents blemishes.
Key Ingredients: Vitamin C and Turmeric
Pros
 Fights inflammation
 Anti-acne
 Detoxifies skin
 Prevents pigmentation
 Pleasing fragrance
 Suits sensitive skin
Cons
None
'To start the day with a smile, end the day with a face mask.'
Whether beauty buffs or newbies, all would love to incorporate a high-quality face mask in their skin care regimen to get a supple and rejuvenating look. For our oily skinned beauties, we have curated a list of 8 best inexpensive face masks infused with sebum controlling agents. These masks help control and maintain oil balance in the skin, keeping it fresh and acne-free. Give a shot to the Peel-off Black Mask infused with bamboo charcoal from Essential Skin Solution to eradicate your oily skin issues. Or, pick up the Shvyog Vitamin C Clay Mask to brighten your skin.
Recommended Articles