14 Best Drugstore Face Oils For All Skin Types – 2022
Lighten your dark spots and fight against signs of aging with these skincare essentials.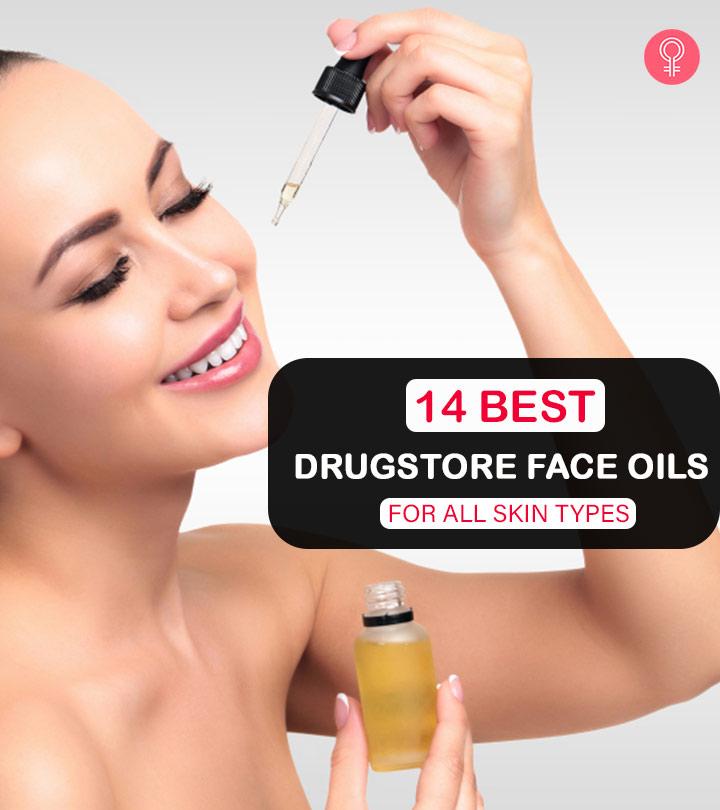 Face oils are the new favorite of Gen Zs and millennial skin care enthusiasts. If you are a student or simply do not like spending a fortune, our list of the 14 best drugstore face oils will work great no matter your skin type.
They deliver essential nutrients and antioxidants to your skin to help lighten dark spots, fight premature aging, keep your skin supple, youthful, and healthy. Keep reading for more information.
13 Best Drugstore Face Oils
The Citrus Glow Drops by Admire My Skin is a unique blend of natural oils. It contains ingredients like argan oil, vitamin E, vitamin C, rosehip oil, and sea buckthorn oil that nourish your skin.
While vitamin C reduces blemishes and hyperpigmentation and improves collagen production, vitamin E helps nourish and hydrate your skin. The argan and rosehip oils regulate sebum production, treat acne, and smoothen your skin. This face oil is lightweight and does not cause breakouts or clogging.
Key Ingredients: Sunflower seed oil, Rice bran oil, Rosehip seed oil, Argan oil, Sea buckthorn oil, and Vitamin E
Pros
Cruelty-free
Non-sticky
Smells good
Lightweight
Cons
Thick consistency
Can leave stains
Expensive
The Daily Hydration Overnight Face Oil by SheaMoisture is enriched with coconut oil, coconut milk, acacia senegal, and shea butter. These ingredients are loaded with antioxidants that help nourish the skin and restore its lost moisture.
Acacia senegal and coconut milk help lock in moisture and improve skin elasticity. The highly nourishing shea butter is rich in fatty acids and vitamins that deeply moisturize your skin, leaving it smooth and supple. This product is suitable for all skin types and can be included in your nighttime skin care routine.
Key Ingredients: Coconut oil, Shea butter, and Coconut milk
Pros
Lightweight
Smells good
Paraben-free
Sulfate-free
Phthalate-free
Mineral oil-free
Cruelty-free
Cons
Created in collaboration with the beauty influencer SunKissAlba, the Radiant Glow Facial Oil by Derma. E is perfect for acne-prone skin. It is infused with argan oil, sea buckthorn oil, jojoba oil, and mica that nourish the skin and give it a radiant glow. These ingredients aid cell regeneration and promote collagen production. Argan oil brightens the skin and smoothens its texture, while mica adds a healthy glow to it. This essential facial oil does not contain any harmful preservatives and is formulated with quality ingredients. Go through this video review to have a detail understanding of the product
Key Ingredients: Sunflower seed oil, Jojoba seed oil, Pumpkin seed oil, Sea buckthorn fruit oil, Argan oil, Vitamin E, Mica, and Titanium Dioxide
Pros
Lightweight
Non-greasy
Vegan
Cruelty-free
Paraben-free
Sulfate-free
Mineral oil-free
Lanolin-free
Gluten-free
GMO-free
Cons
Expensive
Doesn't suit oily skin.
The C.E.O Glow Vitamin C + Turmeric Face Oil by SUNDAY RILEY is a hydrating and brightening facial oil infused with turmeric, pomegranate, jojoba, vitamin C, evening primrose, cranberry, red raspberry, and ginger. Regular application of this face oil gives your skin a vibrant and healthy glow. It is absorbed quickly into your skin and hydrates it from within. This video review will help you understand more about SUNDAY RILEY C.E.O Glow Vitamin C + Turmeric Face Oil.
Key Ingredients: Ginger, Red raspberry, Cranberry seed oil, Evening primrose, Pomegranate seed oil, Golden turmeric, And Jojoba oil
Pros
Cruelty-free
Non-sticky
Absorbed easily
Non-irritating
Cons
Strong medicinal fragrance
Expensive
The Japanese Tsubaki Anti-Aging Face Oil by AMAKI contains cold-pressed and organically sourced essential oils like chamomile oil, argan oil, jojoba oil, and sunflower oil. This face oil moisturizes the skin and makes it feel smooth and velvety post-application. The vitamins and antioxidants in the formula help brighten your complexion, reverse sun damage, and reduce the appearance of blemishes, fine lines, and wrinkles. The essential fatty acids in this elixir help neutralize free radical damage and give you soft and youthful-looking skin.
Key Ingredients: Jojoba oil, Sunflower oil, Vitamin A, Chamomile essential oil, Omega-3, Vitamin E, Argan oil, and Camellia oil
Pros
Non-greasy
Reduces fine lines
Absorbed quickly
Rejuvenating scent
Paraben-free
Phenoxyethanol-free
Cons
May cause irritation and redness.
The Superfood Facial Oil by Elemis is blended with nine super ingredients that nourish the skin and give it a healthy glow. It nourishes your skin and keeps it smooth, supple, and plump. The key components like nettle extract, black seed oil, and organic pumpkin seed oil are rich in protein and amino acids that boost collagen production. These ingredients also have anti-inflammatory properties that help in managing redness and inflammation. This face oil is lightweight and does not leave a sticky or greasy feeling post-application. You can use it as a day cream and top it up with sunscreen for added protection.
Key Ingredients: Daikon radish, Broccoli seed oil, Sweet almond oil, Meadowfoam seed oil, Macadamia seed oil, Poppy seed oil, Squalane, Orange peel oil, and Flax seed oil
Pros
Smells good
Absorbed quickly
Non-greasy
Doubles up as a primer
Cons
This Glow Face Oil is ideal for acne-prone and mature skin types. As we age, the sebaceous glands in our skin produce less oil. This can result in excessive dryness, wrinkles, or dark spots. This face oil is infused with organic ingredients like rosehip oil, olive oil, turmeric, chamomile oil, jojoba oil, and helichrysum oil that enhance your skin's texture and impart a natural glow. This unique oil blend reduces the visible signs of fine lines and wrinkles while deeply conditioning and moisturizing your skin.
Key Ingredients: Organic cold-pressed camellia oil, Squalene, Organic unrefined rosehip oil, Jojoba oil, Organic sunflower oil, Vitamin E, Organic chamomile extract, Organic calendula extract, Organic turmeric extract, Organic turmeric essential oil, Helichrysum essential oil, Sea buckthorn oil, and Roman chamomile essential oil
Pros
Natural ingredients
Non-GMO
Vegan
Cruelty-free
Dye-free
No toxic chemicals
Cons
Strong turmeric fragrance
The Rosehip Oil by ADVANCED CLINICALS is rich in vitamins C and E that play a crucial role in reducing scars, wrinkles, redness, fine lines, age spots, and dryness. The cold-pressed oil provides gentle exfoliation and helps improve your complexion. It is loaded with fatty acids and antioxidants that replenish the lost moisture in your skin and provide instant softness. This face oil helps even out your skin tone and improves its texture.
Key Ingredients: Sunflower seed cake extract, Barley extract, Cucumber extract, Rice bran extract, and Rosemary leaf extract
Pros
Quick-absorbing
Non-greasy
Can be used under makeup
Cruelty-free
Smells good
Cons
The Balance & Restore Luxury Face Oil by Beauty By Earth is infused with certified organic oils. Ingredients like jojoba oil, olive leaf oil, argan oil, rosehip oil, and lavender essential oil protect and rejuvenate your skin. They also promote intense hydration and help fight acne and redness. The calendula extracts soothe your skin and promote cell regeneration, while lavender oil calms inflammation.
Key Ingredients: Jojoba oil, Argan oil, and Lavender essential oil
Pros
Lightweight
Refreshing scent
Paraben-free
Phthalate-free
PEG-free
Mineral oil-free
Cons
The Virgin Marula Face Oil 100% by NATURIUM contains unrefined organic marula oil, which is rich in omega fatty acids, antioxidants, and vitamin C. The rich oil helps nourish and moisturize your skin, leaving it radiant and bright. The vitamin C in this oil helps even out your skin tone and fights free radical damage. This face oil repairs the skin barrier and hydrates the skin.
Key Ingredients: Marula oil
Pros
pH-balanced
Lightweight
Non-greasy
Absorbed easily
Paraben-free
Vegan
Gluten-free
Fragrance-free
Cruelty-free
Cons
The Plant Squalane Face Oil by NATURIUM is infused with organic plant squalane derived from sugarcane. Squalane helps replenish the lost moisture in your skin and smooths, softens, and nourishes it. This face oil intensely hydrates the skin without feeling greasy or sticky. The quick-absorbing formula doesn't clog your pores and nourishes the skin from within.
Key Ingredients: Squalane
Pros
pH-balanced
Lightweight
Non-greasy
Absorbed easily
Cruelty-free
Paraben-free
Vegan
Gluten-free
Fragrance-free
Cons
The Argan Face Oil by BADGER is infused with an antioxidant-rich blend of organic oils. It contains argan oil, bergamot oil, jojoba oil, baobab oil, and pomegranate, which help nourish, hydrate, and balance your skin. This face oil has a floral, fruity, and minty aroma that revitalizes your mind and senses. With regular use, the oil will leave your skin smooth, glowing, and moisturized.
Key Ingredients: Jojoba oil, Baobab oil, Argan oil, Pomegranate oil, Orange oil, Bergamot oil, Sandalwood oil, Vitamin E, and Ylang ylang flower oil
Pros
Paraben-free
Fragrance-free
Dye-free
GMO-free
No synthetic chemicals
No artificial preservatives
Gluten-free
Cruelty-free
Refreshing fragrance
Cons
None
This face oil is infused with the goodness of algae, four superfood oils, and plankton extracts. It contains moringa, baobab, Kalahari watermelon, and bilberry extracts with age-defying properties. These ingredients visibly reduce the appearance of fine lines and wrinkles. The algae blend stimulates the production of hyaluronic acid that hydrates your skin. The essential fatty acids in this face oil help plump your skin and fight free radical damage. This oil suits all skin types, including acne-prone, sensitive skin.
Key Ingredients: Sunflower seed oil, Moringa seed oil, Grape seed oil, Linseed seed oil, Triglyceride, Watermelon seed oil, Bergamot fruit oil, Bitter orange peel oil, Plankton extract, Tocopherol, Limonene, Linalool, Farnesol, and Geraniol
Pros
Vegan
Hypoallergenic
Dermatologist-tested
Alcohol-free
Fragrance-free
Paraben-free
Gluten-free
Phthalate-free
Cons
Here are a few things to keep in mind while incorporating facial oils into your daily skin routine.
How To Use A Face Oil – Tips
Cleanse And Exfoliate: Cleansing your face and following it up with gentle exfoliation will ensure the oil seeps into your skin easily. Pat your face dry for quicker absorption.
Use A Few Drops: You do not need a dollop of facial oil on your face – it can clog your pores and make you look greasy. Just a drop or two is sufficient to enjoy the benefits of your face oil.
Moisturize: Your skin needs about 30% oils and 70 % of water to maintain a healthy balance. Thus, both oils and moisturizers play an equal role in maintaining healthy and well-hydrated skin.
Morning Routine: Mix a few drops of oil with your moisturizer and apply evenly. If you are using raw oil on its own, pat a few drops of oil gently into your skin and apply sunscreen.
Night Routine: You can add face oils to your night masks or serums. If you are using pure oil, pat a layer of oil over your moisturizer. It will help seal the hydration, enhance your moisturizer's effects, and seep in all the essential goodness as you sleep.
Makeup Routine: Adding face oils to makeup products can help people with dry and mature skin types. You can add a few drops of oil to your foundation and apply it for a sheer and healthy look.
If you are trying out facial oils for the first time, start by applying them only during the evenings to see how your skin responds. Once your skin has gotten used to the product, slowly incorporate it into your morning skin care and makeup routines.
Choosing the wrong kind of face oil can be detrimental. The following guidelines can help you choose the right oil for your skin type.
What Kind Of Facial Oil Should You Choose?
Oily Skin: Keeping your oily skin balanced is crucial. Oils like hemp seed oil and jojoba oil have anti-inflammatory properties and help restore your skin's natural balance.
Dry Skin: Oils that are rich in omega-rich fatty acids help moisturize and retain hydration. These oils are loaded with essential vitamins that help restore dullness and dry patches. Oils like marula oil and chia seed oil are great for dehydrated skin.
Combination Skin: Combination skin needs hydration in the dry parts and balance in the oily parts of your face. Oils rich in antioxidants (camellia oil and argan oil) get quickly absorbed into the skin and create a protective layer against free radical damage.
Acne-Prone Skin: Comedogenic oils can worsen breakouts in your skin. Instead, opt for lighter oils like tea tree oil and jojoba oils. Tea tree oil has anti-inflammatory and antibacterial properties that help dissolve the dead skin cells and kill acne-causing bacteria.
Why Trust StyleCraze?
Shiboli Chakraborti is our in-house skincare coach who loves staying in tune with the latest and promising products in skincare that is easily available and affordable. She believes that investing in the correct face oil can work wonders for your skin. She tried out various face oils from reputed brands and collated this list of the top face oils available in your neighborhood drugstore. These face oils consist of a unique blend of natural oils that reduce blemishes and nourish your skin.
Frequently Asked Questions
Do face oils really work?
Yes, face oils work as temporary moisturizers as they leave your skin feeling plump and supple. They also enable your skin to retain moisture.
Are face oils better than moisturizers?
No. Moisturizers improve the overall hydration level of your skin. On the other hand, face oils are thicker than regular moisturizers and not suitable for every skin type. Hence, they cannot be considered at par with moisturizers.
Are drugstore face oils good for rosacea?
Yes, drugstore face oils suitable for sensitive skin are good for rosacea. But before purchasing, do not forget to look at the ingredients list.
Is drugstore face oil good for redness?
Yes. Drugstore face oils with lavender, sandalwood, and vitamin C are good for treating inflammation and redness.
Can I use face oil in the morning?
Yes, you can use face oil in the morning. However, make sure to use the oil before applying your sunscreen.
Do you put the face oil on before or after a moisturizer?
Since face oils are denser than moisturizers, apply your face oil after applying the moisturizer.
Recommended Articles