17 Best Cheap Face Scrubs Of 2022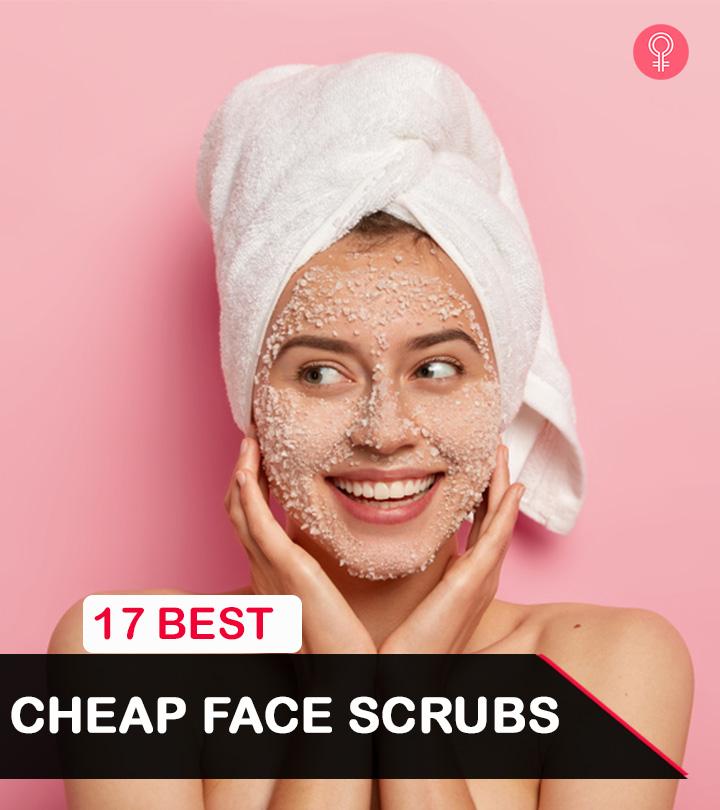 Scrubbing your face is an essential skincare step that most do not care much about. Scrubbing once or twice a week helps exfoliate the skin and improve its texture. The best part is – scrubs do not cost a bomb. You can get the best drugstore face scrub within $20! Yes, that is true. These scrubs contain skin-loving ingredients, do not irritate the skin, and are extremely gentle. If you are clueless about the right picks for your skin, we have compiled a list of the 17 best cheap face scrubs that you can rely on for weekly exfoliation. Scroll down and check them out.
17 Best Drugstore Face Scrubs For 2022
The St.Ives Blackhead Clearing Face Scrub is made of natural exfoliants derived from bamboo and walnut shell powder to provide deep cleansing effects. It contains 1% salicylic acid that eliminates acne and blackheads from the skin to leave it even-toned, soft, glowing, and clear. The product is the best exfoliator scrub available online.
Pros
Gentle
Non-comedogenic
Dermatologist-tested
Boosts radiance
Pleasant fragrance
Paraben-free
Oil-free
Cruelty-free
Cons
The facial scrub from Aveeno is enriched with moisture-rich soy extracts and microbeads that seamlessly wipe away dead skin and impurities. Its gentle formula works well on sensitive skin and is suitable for daily exfoliation. This face scrub also contains castor and jojoba oils that offer even-toned and smoother skin. It enhances the natural radiance of the skin and gives you a lit-from-within glow.
Pros
Soap-free
Gentle
Hypoallergenic
Non-comedogenic
Suitable for sensitive skin
Cons
This deeply exfoliating face scrub cleans pores by removing oil, makeup, dead skin, buildup, and impurities. The invigorating formula refreshes the skin without clogging pores and leaves it soft, smooth, and clean.
Pros
Oil-free
Non-comedogenic
Smells good
Cooling effect
Suits sensitive skin
Suitable for daily use
Cons
Thin consistency
May dry the skin out.
The Burt's Bees Deep Pore Scrub contains willow bark to deeply cleanse the pores of oil, dirt, and impurities. The finely ground peach stones polish the skin and make it smooth and soft. This drugstore face scrub is made from 99% natural exfoliators that refresh your skin without clogging the pores.
Pros
Smells good
Gentle
Paraben-free
Phthalate-free
SLS-free
Petrolatum-free
Cons
The Palmer's Coconut Sugar Facial Scrub removes dirt, impurities, and pollutants to leave you with glowing and refreshed skin. It gently polishes the skin to enhance its texture and make it soft and smooth. This ultra-hydrating facial scrub contains raw coconut sugar that cleanses the skin without being harsh or coarse. The certified extra virgin coconut oil is nutrient-rich and has skin purifying properties. The chamomile extracts nourish, soothe, and calm the skin.
Pros
Non-comedogenic
Hypoallergenic
Dermatologically tested
Gentle
Smells good
Paraben-free
Sulfate-free
Non-GMO
Mineral oil-free
Gluten-free
Not tested on animals
Cons
Abrasive
Might cause breakouts.
This facial scrub from Nutrogena helps in cleansing, moisturizing, treating, and protecting your skin. It cleanses the pores from within to reveal clean and refreshed skin. This exfoliating face wash has a gel-based formula that lathers to remove oil, dirt, makeup, and dead skin cells. The dermatologically approved facial scrub is made without microplastic granules and works efficiently to buff away toxins. It contains glycerin that moisturizes the skin and makes it supple.
Pros
Lightweight
Gentle
Suitable for daily use
Dermatologist-tested
Smells good
Cons
The L'Oreal Paris Pure Sugar Scrub nourishes and softens dry and dull skin. This gentle scrub contains scrubbing granules made from brown, white, and blonde sugar and cocoa to deeply exfoliate your skin. The mineral-rich blend of ingredients melts into the skin to make it soft, supple, and smooth. This product is suitable for all skin types.
Pros
Ultra-gentle
No harsh exfoliants
No microbeads
Paraben-free
Can be used on the lips
Cons
This facial scrub from Acure cleanses and detoxifies the skin to leave it bright, smooth, and glowing. It contains nutrients like sea kelp that softens the skin; French green clay and lemon peel to exfoliate and deep cleanse; and Madonna lily that brightens the skin. This refreshing face scrub works wonders on all skin types and thoroughly removes dead cells and impurities.
Pros
Mild fragrance
Non-irritating
Vegan
Paraben-free
Sulfate-free
Petroleum-free
Mineral oil-free
Cons
The THRIVE Natural Face Scrub is the best drugstore exfoliator for unclogging pores, preventing hair ingrowth, and improving skin texture. This antioxidant-rich facial scrub contains a powerful blend of natural plant-based ingredients and other elements like Arabica coffee grounds and plant oils from Costa Rica to revive, cleanse, and protect the skin from irritants and aggressors.
It offers moderate exfoliation while removing dirt, oil, and other impurities and improves skin texture without drying out the skin. This face scrub has two primary ingredients – Fierrilloand Juanilama. Both these ingredients possess antibacterial, antifungal, and antioxidant properties. Juanilama helps combat blemishes, dark spots, and hair ingrowth, while Fierrillo promotes healthier skin.
Pros
Non-irritating
100% natural
Smells good
No plastic microbeads
Gluten-free
Paraben-free
Vegan
Cons
Less grainy
Greasy after-feel
The Besito Microdermabrasion Face Scrub is a mild exfoliator that removes blackheads, improves skin's texture, shrinks pore size, and enhances radiance. Its soft exfoliating particles wipe away dead cells, dirt, and oil from the surface of the skin to leave it youthful and glowing. This face scrub helps eliminate dullness, blemishes, fine lines, and other complexion-based concerns. It offers similar effects as a microdermabrasion treatment without being heavy on your pocket.
Pros
Non-comedogenic
Dermatologically tested
Alcohol-free
Paraben-free
Sulfate-free
GMO-free
Gluten-free
Gentle
Cons
The Almond & Honey Face Scrub from Mario Badescu leaves the skin soft, smooth, and bright by gently buffing away dirt and impurities. This purifying scrub works great on sensitive skin without causing redness or irritation. It has a nourishing mix of ingredients like almond oil that moisturizes the skin; grounded almonds and cornmeal to even out the skin tone; honey to make the skin soft and glowing, and kaolin clay to help eliminate impurities.
Pros
Gentle formula
Smells good
Suitable for sensitive skin
Cons
The Cetaphil Extra Gentle Daily Scrub gently scrubs away impurities without drying out the skin. The non-irritating formula works for all skin types, including sensitive skin. It deep-cleanses the skin's surface to leave it soft, smooth, glowing, and healthy. This face scrub contains skin-nourishing conditioners and vitamin complexes that soften and smoothen the skin without over-drying it. The fine micro-granules are gentle and safe to be used daily.
Pros
Hypoallergenic
Suitable for sensitive skin
Non-comedogenic
Dermatologically tested
Cons
The Tea Tree Face Scrub from The Body Shop contains high quality tea tree oil that helps in reducing blemishes without over-drying the skin. This gentle face exfoliant is suitable for regular use to remove impurities, dead cells, and dirt from the skin's surface. This face scrub makes your skin clear, shine-free, and smooth.
Pros
Suitable for blemish-prone skin
Gentle
Pleasant fragrance
Can be used daily
100% vegan
Paraben-free
Gluten-free
Silicone-free
Cons
May not suit sensitive skin.
The Gentle Face Scrub by Beauty Enduring is a mild exfoliator for sensitive skin that contains a powerful blend of ancient ingredients to revitalize it. It contains green tea extracts, Dead Sea salt, vitamin E, kaolin clay, coconut oil, and French green clay that are gentle and deeply nourish the skin. They also even out the skin tone, treat dryness, eliminate dead cells, and brighten the skin.
Pros
Gentle
Lightweight
Paraben-free
Silicone-free
No artificial additives
Cruelty-free
Cons
The La Roche-Posay Ultra-Fine Scrub has physical and chemical exfoliants to gently exfoliate and purify sensitive skin. The ultra-fine pumice particles wipe away impurities and dead skin cells. This facial scrub contains antioxidant-rich La Roche-Posay Thermal Spring Water that soothes and calms the skin. This gel-based cleanser improves skin texture and boosts radiance.
Pros
Imparts glow
Safe for sensitive skin
Oil-free
Alcohol-free
Paraben-free
Cons
This face scrub from Beauty By Earth is an exfoliating facial cleanser that gently washes away dirt, impurities, and dead cells from the skin surface. It contains hydrating ingredients that brighten and repair the skin to leave it smooth and soft.
The microdermabrasion formula works better than any other form of scrub and is considered the best option for acne-prone skin. This face scrub is formulated with natural ingredients, such as vegetable derived cleansers and aloe vera, removes blackheads, and prevents breakouts. It also contains bamboo powder that smoothens the skin and improves the skin tone.
Pros
Gentle
Smells good
No harsh chemicals
Suitable for all skin types
Cons
The Even &Bright Enzyme Scrub from Alba Botanica is made using a rich blend of marine ingredients and walnut shell powder to exfoliate the skin. The botanical aloe juice and sunflower seed oil fortify the skin and promote even skin tone. The Marine Complex stimulates cell regeneration and enhances skin texture.
Pros
Gentle
Hypoallergenic
No synthetic fragrances
Paraben-free
Phthalate-free
Sulfate-free
Cruelty-free
Cons
Regular scrubbing using the best drugstore exfoliator can do wonders for your skin. It helps enhance the skin tone and texture to leave it smooth, soft, and radiant. Go ahead and pamper your skin by choosing the best scrub from the list above.
Why Trust StyleCraze?
The author, Shiboli Chakraborti, is a certified skin care coach. She curated this list of the best drugstore face scrubs after conducting hours of in-depth research to understand the product formulations and sifting hundreds of user reviews on trusted online forums and websites. The shortlisted products are designed with skin-loving ingredients and gently exfoliate the skin without breaking the bank.
Frequently Asked Questions
Does scrub remove dark spots?
Yes, regular scrubbing helps in reducing dark spots caused due to acne and UV damage.
Does scrubbing lighten skin?
Yes, scrubbing can help in lightening skin by removing dead skin cells and impurities like oil and dirt from the upper layer.
How long should you scrub your face?
Different products offer different scrubbing instructions. Therefore, read the instructions carefully before using the product. The ideal scrubbing time is 30 seconds to a minute.
Recommended Articles