11 Best Drugstore Lipsticks For Fall – 2021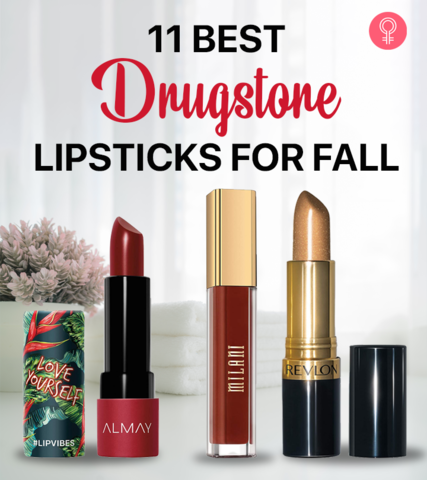 Lipsticks are probably the most widely used makeup products that all women need in their vanity. Whether you are going for full-blown glam makeup look or just a minimal natural look, they are both incomplete without a touch of lipstick. As much as we love lipsticks, it is not ideal to splurge on a new lipstick shade, especially when you are unsure of whether you will be able to pull it off. Enter drugstore lipsticks.
With the fall season upon us, it is only natural to want to experiment with new colors and makeup styles, and this is where drugstore lipsticks come in handy. Low prices, intensely pigmented formulas, and long-lasting formula is all that is in store for you when you buy drugstore brands. We have come up with a collection of the 11 best drugstore fall lipsticks that offer great value for money. Check them out below.
11 Best Drugstore Lipsticks For Fall
The liquid matte lipstick by Milani offers a smooth and velvety finish to your lips. The richly pigmented formula makes your lips look plumper and provides opaque coverage. It comes with a flexible dual-sided sponge applicator that contours your lips and makes it easy to apply. This transfer- and smudge-resistant lipstick in the shade Fabulous will be a great addition to your fall lipstick collection.
Pros
Long-lasting
Non-drying
Non-sticky
Smudge-proof
Transfer-proof
Lightweight
Vegan
Cruelty-free
Cons
None
If you are looking for a creamy and soft lipstick that provides vibrant color to your lips, try the Revlon Super Lustrous Lipstick. This cult-favorite combines the goodness of a super hydrating cream with a richly pigmented lip color. It is enriched with vitamin E and avocado oil that provides moisture and microfine pigments that enable a high color payoff. The shade Gold Goddess is suitable for anyone who wants a fun and quirky makeup look.
Pros
Highly pigmented
Moisturizing
Lightweight
Smudge-proof
Non-cakey
Cons
None
Get smooth lips and vivid color payoff with the Almay Lip Vibes Lipstick. It features a rich, velvety, and creamy formula that is enriched with shea butter, vitamin C, and vitamin E. It does not feather or bleed and is extremely lightweight and comfortable on the lips. Love Yourself is a deep red shade that is a great pick for a bold makeup look.
Pros
Lightweight
Moisturizing
Hypoallergenic
Highly pigmented
Non-cakey
Non-sticky
Dermatologist-tested
Fragrance-free
Cruelty-free
Cons
Looking for a lipstick with a high color payoff and a velvety matte finish? Try the Rimmel Stay Matte Liquid Lip Colour. It is formulated to give you bold color in just a single swipe and is waterproof and touch-proof. This lightweight lipstick in the shade Plum This Show is an ideal pick for the fall season and stays on for as long as 12 hours.
Pros
Long-lasting
Lightweight
Non-cakey
Transfer-proof
Waterproof
Highly pigmented
Cruelty-free
Cons
None
The Infallible Pro Matte Liquid Lipstick by L'Oreal Paris stays put up to 16 hours. The richly pigmented shade provides full coverage and high impact and feels extremely lightweight and comfortable on the lips. The pro-sculpt applicator of the lipstick allows for precise application. This transfer-proof lipstick in the shade Stirred is ideal for a bold makeup look.
Pros
Smudge-proof
Long-lasting
Non-drying
Transfer-proof
Highly pigmented
Non-sticky
Cons
None
This moisturizing lipstick by e.l.f. Cosmetics is a must-have in your vanity collection. It is enriched with the nourishing shea butter and vitamins A, C, and E that effectively hydrate the lips and lock in moisture. Ravishing Rose is a deep rose pink shade that is ideal for all skin tones. This velvety, rich, and creamy lipstick glides on your lips effortlessly and leaves a luminous, glossy finish.
Pros
Hydrating
Nourishing
Long-lasting
Mild fragrance
Gluten-free
Paraben-free
Phthalate-free
Triclosan-free
Hydroquinone-free
Cruelty-free
Vegan
Cons
None
The Covergirl Melting Pout Matte Liquid Lipstick is great for a bold lip look. It is intensely pigmented, provides a good color payoff, and offers a smooth, matte finish. This lipstick has a gel cream formula that is enriched with nourishing ingredients to keep your lips from drying out. Secret is a cinnamon-red color that gives your lips a glow during the fall season.
Pros
Long-lasting
Nourishing
Transfer-proof
Non-sticky
Non-cakey
Vegan
Cruelty-free
Cons
None
As the name suggests, the unique Maybelline Color Sensational Matte Metallics gives you the goodness of metallic colors in a matte formulation. Serpentine is a green metallic pigment that is ideal for a sensational fall style. The formula is infused with honey nectar that nourishes and moisturizes your lips. This lipstick glides smoothly over the lips and is intensely pigmented.
Pros
Long-lasting
Highly pigmented
Moisturizing
Goes on smooth
Non-sticky
Dermatologist-tested
Cons
None
The semi-sheer NYX Filler Instinct Lip Color has a richly pigmented formula that gives you a boost of hydration. It acts as a hybrid between a lip gloss and a lipstick and is enriched with a blend of ginger and hyaluronic acid that keeps your lips smooth and shiny for up to eight hours. This lipstick is designed to provide a semi-sheer and satin finish and make your lips look plump and dewy. Sugar Pie is a juicy mauve pink purple shade that gives your lips a gorgeous flush of color.
Pros
Moisturizing
Plumps the lips
Buildable coverage
Highly pigmented
Cons
None
The Physicians Formula Organic Wear Nourishing Lipstick is a great pick for when you want a luxurious pop of color with the goodness of a nourishing lip balm. It is formulated with a blend of shea butter, nourishing oils, and antioxidants that provide protection while leaving your lips feeling silky smooth. The shade Spice perfectly matches the hues of the fall season.
Pros
Non-cakey
Moisturizing
Softens the lips
Hypoallergenic
Paraben-free
Gluten-free
Dermatologist approved
Cons
None
The cult-favorite NYX Lip Lingerie XXL Lipstick has a rich, long-lasting formula that delivers a light and luscious finish. It contains vitamin E that keeps the lipstick from drying out your lips. This lipstick makes your lips look fuller and does not crack, fade, or budge up to 16 hours. Bust-Ed is a rich purple mauve shade that is ideal for the fall season.
Pros
Lightweight
Non-drying
Long-lasting
Transfer-proof
Smear-resistant
No cracking
Fade-proof
Cruelty-free
Vegan
Cons
None
When you are out searching for the best drugstore fall lipstick, you must keep some the pointers in mind. Read about them in the next section.
How To Choose The Best Drugstore Lipstick For Fall
Hydrating Formula: Regardless of whether you like a glossy or a matte finish, it is important to go for a hydrating formula that does not dry out your lips. Look for ingredients like aloe vera, vitamin E, shea butter, and essential oils.
Features: To ensure that your lipstick lasts throughout your meals and workouts, pick a fade-proof, waterproof, transfer-resistant, and sweat-proof formula.
Pigment: A highly pigmented lipstick translates to a great color payoff. Plus, it will stay longer without fading.
There are tons of lipstick shades that you need in your vanity arsenal to welcome the autumn or fall season in style. With our list of the best fall drugstore lipsticks, you can now select your favorites and take your makeup look up a notch. Go ahead and grab one or more of these lipsticks to slay every fall look.
Expert's Answers For Readers' Questions
What lipstick colors look pretty in fall?
Colors like ruby red, cranberry, caramel brown, mauve, and calendula are great fall colors that blend very well with the season.
Recommended Articles