10 Best Drugstore Foundations For Combination Skin That Glows From Within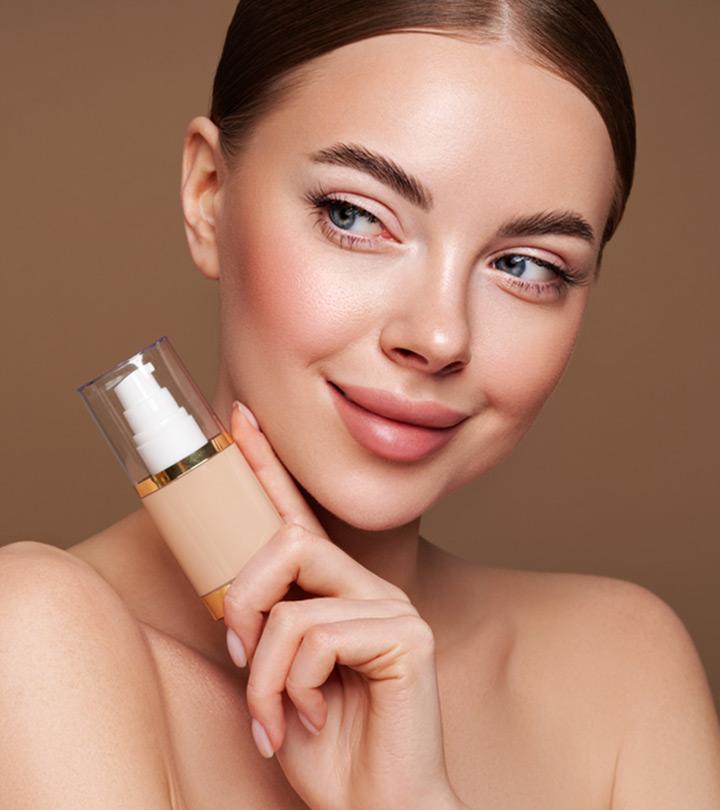 The struggle is real when it comes to finding the right foundation for combination skin. Those with this skin type have an oily T-zone (chin, nose, and forehead) when a foundation is applied and may feel uncomfortable when it comes in contact with a matte product on the dry areas of the face. So, if you have combination skin, we feel you and are here to help you find a foundation to strike that perfect balance.
The makeup world nowadays understands your needs and has countless options of drugstore foundations for combination skin types. From full coverage to a natural finish, you get many benefits with these foundations along with a strong staying power and non-greasy result. So, what are you waiting for? Don't let your skin suffer! Make heads turn by applying the right product from our list of the 10 best drugstore foundations for combination skin.
10 Best Drugstore Foundations For Combination Skin
It's quite difficult to find a long-wearing foundation for combination skin, isn't it? To solve that problem, this foundation with an intense staying power for up to 24 hours settles as a natural matte finish without making your skin feel greasy. With an oil-free formula, you will experience comfortable wear with medium to full buildable coverage. The shade of this foundation, 200 Nude, is suitable for medium skin tone and for those with a tan with warm olive or golden undertones. The formula is infused with the nourishing goodness of mallow extract, lily bulb extract, and grandiflorum flower extract among others for a healthy glow.
Pros
Lightweight
Controls shine
Value for money
SPF 15 sun protection
Available in 43 shades
Cons
If you have a light skin tone with golden undertones, the Warm Vanilla shade of this cult-favorite drugstore foundation is what your combination skin needs. While controlling shine and oiliness, the creamy liquid foundation offers smooth application, full coverage, and a matte finish, allowing your skin to feel comfortable and non-greasy throughout the day. Other than mattifying your complexion, this cruelty-free formula also stays true to color for up to 24 hours and is transfer-resistant. Although formulated for combination skin types it is also suitable for oily, normal, and sensitive skin types too.
Pros
Vegan
Waterproof
Lightweight
Richly pigmented
Non-comedogenic
Cons
Some users felt that the foundation appeared chalky after long hours of wear
The CLINIQUE Even Better Makeup Foundation is a beauty product that improves your skin's health with every wear. With a creamy texture, this drugstore foundation helps even out skin tone and lends a natural finish with moderate to buildable coverage. This super-blendable formula smooths and hydrates skin while reducing dark spots, discoloration, acne, and age spots in just 12 weeks. Infused with grapefruit peel extract, murumuru seed butter, and birch bark extract, your skin will receive antioxidant and moisturizing benefits for 24 hours.
Pros
Gluten-free
Stay-true color
Luminous finish
Lightweight formula
SPF 15 sun protection
Humidity and sweat-resistant
Cons
Some may find it slightly greasy
A unique gel-whipped formula by Maybelline, this foundation keeps your skin hydrated for 12 hours. The velvety-soft foundation glides smoothly onto your skin to reveal a soft-matte finish that will leave you with a brighter complexion. If you want minimal coverage, applying the product on damp skin will get you the results you desire. A gel-whipped foundation infused with a high percentage of water, the foundation provides medium to full coverage.
Pros
Non drying
Lightweight
Travel-friendly
Hydrating
Cons
It does not offer sun protection
If you want to mask the appearance of breakouts, dark spots, and blemishes instantly, this lightweight Frankie Rose Cosmetics Matte Perfection Foundation will come to your rescue. As it offers full coverage, you can also expect an even skin tone and spotless complexion all day long. Its silky texture glides smoothly and blends seamlessly onto your skin, giving you a matte finish. And if you have an olive skin tone with cool yellow undertones, this long-wearing shade is meant for you as it offers a natural look. The hypoallergenic foundation is suitable for all skin types, including sensitive and combo skin.
Pros
Breathable
Gluten-free
Non-comedogenic
Hydrating formula
Not tested on animals
Cons
Have you ever tried a foundation with healing properties? Oxygenetix Oxygenating Foundation is a wonder product that protects and soothes your skin while offering buildable coverage. Its aloe vera base makes it a unique foundation that improves skin health while eliminating dead skin cells. Suitable for all skin types, including sensitive and combination skin, this antibacterial formula helps your skin breathe while building elastin and collagen. You will be able to blur dark spots and blemishes with this foundation that offers a sheer finish. Also, it is water-resistant and non-transferable.
Pros
Vegan
Cruelty-free
Long-wearing
Paraben-free
Lightweight
Cons
As the name suggests, this good foundation for combination skin by Urban Decay is an all-nighter, which means no touch-ups are needed during late-night events. Providing comfortable wear for the day too, this liquid formula is best suited for oily and combination skin types and most suitable for medium skin with subtle pink undertones. With rich pigments, you need not add layers to get full coverage as a little product goes a long way in covering scars, acne, and discoloration. This cruelty-free formula offers a matte finish and controls shine by absorbing excess oil from your skin. With its smooth and easy application process, you get to enjoy all night affairs looking fresh and radiant.
Pros
Vegan
Oil-free
Waterproof
Paraben-free
Transfer-resistant
Cons
Looking for a flawless finish foundation with anti-aging properties? You are in the right place! Mary Kay TimeWise Matte-Wear Foundation helps reduce the signs of skin aging like fine lines, wrinkles, pores, and other major skin flaws. Offering skin-soothing benefits, it is enriched with vitamin E, which is rich in antioxidants and helps protect the skin against environmental stressors. A patented blend of collagen-building peptides infused in this formula makes it a great age-defying product that is suitable for oily to combination skin types. With full and buildable coverage, this oil-free formula offers a matte finish and a shine-free look, making mature skin appear healthier, firmer, and youthful.
Pros
Long-wearing
Colors stay true
Non-comedogenic
Lightweight formula
Humidity and transfer-resistant
Cons
It might feel slightly greasy
If you are looking for a super lightweight foundation, it's time to end your search and try the UCANBE Matte Pro Longwear Liquid Foundation. With weightless texture, this full-coverage foundation feels like second skin. The smooth formula easily glides onto your skin and conceals dark spots, leaving you with an even skin tone. Formulated with skin-fusion technology, this foundation is breathable, comfortable and does not cake or feel heavy even after wearing it for 24 hours.
Pros
Waterproof
Transfer-resistant
Offers matte finish
Sweat-proof formula
Suitable for all skin types
Cons
May not be suitable for extremely sensitive skin
Does your skin feel greasy after a few hours of applying foundation? If yes, you might want to consider an oil-free product like the Lumene Matte Oil-Control Foundation. It helps absorb excess oils from the skin to keep it shine-free all day, giving you full coverage and a matte finish. As the formula is infused with ultra-fine powdery pigments and mattifying agents, you can expect an oil-free and non-greasy look. And if you are wondering that this will cause dryness, this foundation is also formulated with hydrating Arctic spring water and skin balancing Arctic meadowsweet. They keep the skin intensely hydrated nourished and healthy, making this drugstore product ideal for combination and oily skin.
Pros
Vegan
Blends well
Long-wearing
Lightweight and oil-free formula
Not tested on animals
Cons
It might not be transfer-proof
Feeling confused? Go through our buying guide that will help you to choose the right foundation for combination skin.
How To Choose The Best Foundation For Combination Skin
Oil-free
While choosing a foundation for combination skin, pick oil-free ones. These products help to absorb excess oils from your skin and keep it shine-free and non-greasy.
Finish
With combination skin, you have the option to choose the finish. If your skin has more oily areas than dry spots, you should opt for a matte or semi-matte finish. And if it's the opposite, you might like a shiny or glowy-finish foundation.
Sunscreen
Try to find foundations with SPF as it will avoid an extra layer of product. This way your overall makeup will not feel heavy.
Skin tone
Understanding your skin tone is really essential with any foundation. If the shade does not coordinate with your undertones, discoloration and uneven skin tone will take place. So, if you have a cool undertone, go for foundations with a tinge of pink, people with warm skin tones should opt for golden or yellow tint, and those who have neutral undertones should go with the combination of the two undertones.
Texture
Pick a foundation that does not feel heavy on your skin and gives you the right coverage. The light texture product is comfortable wear for combination skin types and keeps your skin away from feeling greasy.
A foundation is something that plays an important role in your makeup routine. So, finding the right one in your budget can be a big deal. So, we listed the 10 best drugstore foundations for combination skin to help you. These products offer comfortable and long-lasting wear with a matte finish. Plus, the foundations do not clog pores or make your skin feel greasy, instead, help it cover blemishes and dark spots by providing buildable coverage. We hope you find our list of options helpful!