13 Best Drugstore Hair Masks (2023) To Buy Online – With Buying Tips
These amazing hair masks make your dreams of damage-free, healthy hair a reality.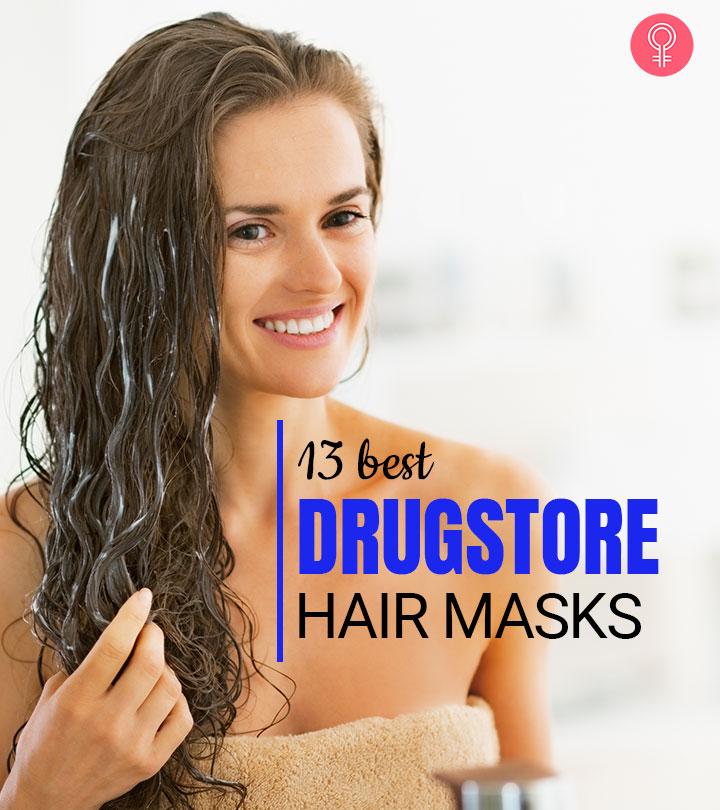 If you have been looking for the best drugstore hair mask, we got you covered here. Pollution, dust, humidity, lack of proper nutrition, all can play havoc on your hair quality and strength. Not taking proper care of your hair may worsen things further. That is why your hair needs that additional pampering, restorative care, and the TLC of a hair mask treatment every once in a while. Hair rejuvenation to keep it healthy and damage-free. A hair mask helps nourish your scalp and moisturize every strand to make them longer, stronger, and healthier. You can choose any of the 13 top drugstore hair masks listed below to get you started.
13 Best Drugstore Hair Masks
The Macadamia Natural Deep Repair Hair Mask penetrates deep into the hair follicles to nourish and hydrate each hair strand. This shine-enhancing pro-oil complex is a blend of macadamia and argan oils that reconstruct and rebuild damaged hair. They also improve hair health, shine, and elasticity. Macadamia oil is rich in essential fatty acids that work more efficiently than any other mineral oil. They bind to each hair shaft and strengthen it. The vitamin E and green tea extract in this mask offer antioxidant protection to hair strands from environmental damage. The emollient properties of macadamia oil give your hair a silky smooth appearance. Further, the product has not been tested on animals. For a more detailed review of this hair restorative product and how people experience it, here's a video.
Pros
Safe for color-treated hair
Paraben-free
Sulfate-free
Cruelty-free
Gluten-free
Detangles curly hair
Adds shine to dry hair
Makes hair manageable
Eliminates frizz
Lightweight
Improves hair elasticity
Cons
Contains silicones
Contains added fragrances
Price at the time of publication: $8.99
Fall in love with your hair with the Arvazallia Hydrating Argan Oil Mask. This hair mask deeply conditions, hydrates, rehabilitates, and strengthens your hair. It is specially formulated to enhance the texture, softness, shine, and manageability of all hair types. The premium quality argan oil, infused in the hair mask, is rich in essential vitamins and nutrients that protect your hair from heat styling and improve its overall health. This drugstore hair mask offers you a salon-style hair treatment at an affordable cost. Know more about this product in this video along with the tester's experience of using it and make an informed decision.
Pros
 Long-lasting results
 Paraben-free
 Sulfate-free
 Detangles and adds shine
 Suitable for all hair types
Cons
None
Price at the time of publication: $12.95
The L'Oreal Paris Hair Care Elvive Total Repair Hair Balm fixes the five signs of hair damage. These include split ends, weakness, roughness, dullness, and dehydration. Unlike other hair balms, you need to rinse this balm out after leaving it for 3-5 minutes. It is infused with nourishing ingredients like sweet almond oil, protein complex, and ceramide elixirs. The ceramides keep the hair cuticles flat, add shine to hair, and allow hair strands to withstand wear and tear. The mask also enhances hair elasticity and seals moisture. The sweet almond oil nourishes and moisturizes the scalp. After applying shampoo, massage this balm through wet hair. Leave it on for 3-5 minutes and rinse. Learn more about this product in this video with the help of the reviewer's experience of using it.
Pros
Repairs hair bonds
Strengthen hair fibers
Repairs chemically treated hair
Repairs split ends
Also works as a regular conditioner
Paraben-free
Sulfate-free
Cons
Contains silicones
Not suitable for 4C type hair
Price at the time of publication: $5.97
The Head And Shoulders Deep Moisture Masque gives your hair and scalp a royal treatment. It moisturizes damaged, dull hair. This deep moisture mask is designed for natural, relaxed, kinky, and curly hair locks. The active ingredients of this royal mask include pyrithione zinc (0.5%) and coconut oil. The pyrithione zinc is antibacterial, antimicrobial, and anti-inflammatory. It reduces scalp infection and stubborn dandruff and protects hair strands from oxidative damage. The coconut oil in the mask is rich in vitamins and essential fatty acids that seal moisture in the hair and scalp.
Pros
Paraben-free
Sulfate-free
No added dyes
Balances natural oils
Intense moisturizer
Anti-dandruff formula
Nourishes curls and coils
Cons
Price at the time of publication: $22.98
This ultra-rich nourishing and moisturizing mask is specifically formulated to replenish hair strands and reverse hair damage. The Carol's Daughter Almond Milk Mask deeply penetrates the hair shaft. It also nourishes dry and damaged hair. This rich, creamy, paraben-free hair mask is formulated with almond milk, rosemary leaf extract, sweet almond protein, and olive oil. The almond milk contains protein and iron for strengthening the hair fibers, reducing breakage, and preventing hair loss. The fatty acids in almond milk help in the deep conditioning of the hair. The rosemary oil penetrates deep into the hair follicles and supplies nutrients and oxygen to each hair shaft. This stimulates hair growth and prevents premature hair damage. This ultra-nourishing silicone-free hair mask is the best buy for naturally curly hair – from the short-cropped 4C type curly hair to 1C wavy hair.
Pros
Paraben-free
Silicone-free
Sulfate-free
Mineral oil-free
No added fragrances
Petroleum-free
No artificial colors added
Seals moisture
Prevents split ends and breakage
Color-safe
Cons
Price at the time of publication: $27.99
The Garnier Fructis Damage Repairing Hair Mask is a potent solution for dry and damaged hair. Its hair smoothing and repairing formula is formulated with avocado, banana, papaya, coconut, and goji berry extract that seal in the moisture, repair damage, and restore hair shine. The mask is available in different flavors based on the active ingredients used. Choose the right one as per your need for a long-lasting nourishment with frizz control. This 3-in-1 solution can be used as a mask, a leave-in conditioner, or a nourishing cream.
Pros
Paraben-free
Silicone-free
Free from animal testing
A nourishing, smoothening, and strengthening formula
Anti-frizz
Color-safe
Saves time
Smells good
Suitable for 1C to 4C hair types
Available in different styles
Cons
Price at the time of publication: $12.0
The Maui Moisture Heal And Hydrate Hair Mask is great for sealing moisture and preventing split ends. This softening and hydrating mask is infused with shea butter, coconut oil, and macadamia oil. These ingredients are handpicked, handcrafted, and extracted from the Maui island. The mask also has a blend of aloe vera and coconut oil that moisturizes hair from the roots. It also maintains the hair's pH balance. The macadamia oil is rich in fatty acids that offer a protective shield to seal the hydration. The shea butter heals and nourishes the locks.
Pros
Paraben-free
Sulfate-free
Silicone-free
100% vegan
Pure ingredients
Heals, hydrates, and moisturizes
Color-safe
Minimizes split ends
Adds shine to curly hair
Refreshing smell
Cons
Price at the time of publication: $7.09
The Eva NYC Therapy Sessions Hair Mask is infused with keravis protein and argan oil that help regain and revitalize damaged hair. Eva NYC has developed a protein-based complex (Hydrolyzed Vegetable Protein PG-Propyl Silanetriol) that penetrates deep into the hair shaft to optimize moisture content and hair elasticity. It also offers a protective shield to the hair cuticles. The argan oil and keravis protein complex increase hair resilience and flexibility and reduce hair breakage. The sea buckthorn extracts are rich in vitamins and essential fatty acids that protect hair and lock in moisture.
Pros
Paraben-free
Sulfate-free
Silicone-free
Color-safe
Not tested on animals
Makes hair stronger
Leaves hair super soft
Refreshing smell
Clinically-tested
Cons
None
Price at the time of publication: $14.49
The Shea Moisture Manuka Honey & Mafura Oil mask is a deep-conditioning treatment for curly hair. It is blended with shea butter, manuka oil, mafura oil, baobab oil, and African rock fig that restore natural hair moisture, tame frizz, and strengthen your follicles. Its intensive care hydrating formula is free of paraben, phthalates, mineral oil, and petrolatum, making it ideal for people with over-processed, damaged, or color-treated coily hair.
Pros
Suitable for color-treated hair
Moisturizes the hair
Reduces frizz
Easy to use
Cruelty-free
Silicone-free
Paraben-free
Sulfate-free
Phthalate-free
Mineral oil-free
Petrolatum-free
Cons
Price at the time of publication: $6.45
The SheaMoisture Raw Shea Butter Deep Treatment Masque is a complete formula to moisturize, restore, and protect the hair. The detangling masque is infused with organic shea butter, sea kelp, and argan oil. The organic shea butter is a potent moisture-locking ingredient – it is filled with essential fatty acids and vitamins A and E that soften and heal hair strands. The sea kelp is rich in magnesium and calcium and reduces hair loss. The argan oil moisturizes and strengthens hair follicles. The innovative organic blends in the masque detangle knots, infuse protein, and restore hair luster.
Pros
Detangles hair
Color-safe
Protects hair from environmental and chemical damage
Adds luster and shine
Protects from hair breakage
Cruelty-free
Perfect for a low-porosity 3C-4C type hair
Cons
Odd smell
Heavy for thin hair
Price at the time of publication: $13.99
The Body Shop Shea Butter Hair Mask intensely nourishes hair, especially dry to very dry hair types. This natural ingredients-based mask replenishes the hair shafts making them healthier and reduces frizz. The product combines shea butter, cocoa butter, virgin coconut oil, and organic olive oil to reduce breakage and promote shiny hair. Further, the product has not been tested on animals. For best results, use the mask as a weekly treatment.
Pros
Eliminates frizz
Pleasant fragrance
Sulfate free
Cruelty-free
Manages unruly, rough hair
Cons
None
Price at the time of publication: $25
The Not Your Mother's Nutrient-Rich Butter Masque is made with a detoxifying blend of matcha green tea and wild apple blossom that enrich your hair and scalp. The matcha green tea is rich in antioxidants that not only protect the hair shaft but also stimulate hair follicles and promote hair growth (thanks to its epigallocatechin gallate). The wild apple blossom enriches the hair and scalp with its antioxidant properties. This ultra-nourished butter masque restores damaged strands and leaves hair softer.
Pros
Deep conditioner
Moisturizes stubborn curls
Great for dry, damaged hair
Pleasing smell
Stimulates hair follicles
Not tested on animals
Cons
None
Price at the time of publication: $16.25
The L'Oreal Paris Hair Care Expertise Everpure Repair Mask is a sulfate-free and color-safe formula. It is infused with antioxidant-rich complex containing acai, goji, rosemary leaf oil, and peppermint oil to protect hair strands from the daily environmental aggressors like UV rays and heat styling.
Pros
Color-safe
Paraben-free
Sulfate-free
Free of harsh salts
100% vegan
Protects chemically treated hair
Strengthens and polishes hair strands
Cons
Price at the time of publication: $13.99
These are the top affordable hair masks that provide nourishment and intense hydration to dry and damaged locks. But before you make a purchase, you need to know how to choose an effective hair mask. The following section can help.
Tips To Choose The Right Product
Define your hair type. This helps you make a better decision.
The mask must have a blend of nourishing ingredients like argan oil, coconut oil, green tea butter, or aloe vera gel. These prevent split ends or hair
breakage, and also help maintain hair texture.
Your favorite hair mask should be rich in essential fatty acids that offer a shield to your hair and seal in the moisture.
It should not contain harmful chemicals as they may strip the moisture.
Ensure the mask contains vitamins A, C, and E that protect the hair shaft from free radical damage.
Why Trust Stylecraze
The writer, Oyendrila Kanjilal, a certified skin care coach and hair care enthusiast devoted to finding the most excellent products to replenish and repair your tresses. She scoured the web, researching and investigating multiple products and their reviews, to compile this list. These masks make your tresses more manageable, less frizzy, smooth, and healthy. They also contain enriching ingredients, and are free of harsh elements.
Frequently Asked Questions
Can you use a hair mask everyday?
No. Ideally, you should use a hair mask once or twice weekly, depending on your hair needs.
Should you use a hair mask before or after conditioner?
Apply your mask after shampooing and before conditioning the hair.
How long should you leave a hair mask in?
Ideally, your hair mask should be left on for 20-30 mins at a stretch.
What is the difference between a hair mask and conditioner?
While a conditioner just makes the hair soft and manageable, a hair mask does more than that. It deeply moisturizes the hair and ends essential nutrition to the scalp and the strands.
Can you apply hair masks on oiled hair?
No. Applying a hair mask on oily hair is not very beneficial as your strands, and the scalp will not be able to absorb the product.
Recommended Articles