15 Best Drugstore Hairsprays For A Natural And Volumized Look
Setting your hair to achieve that much-desired look is now affordable and easy.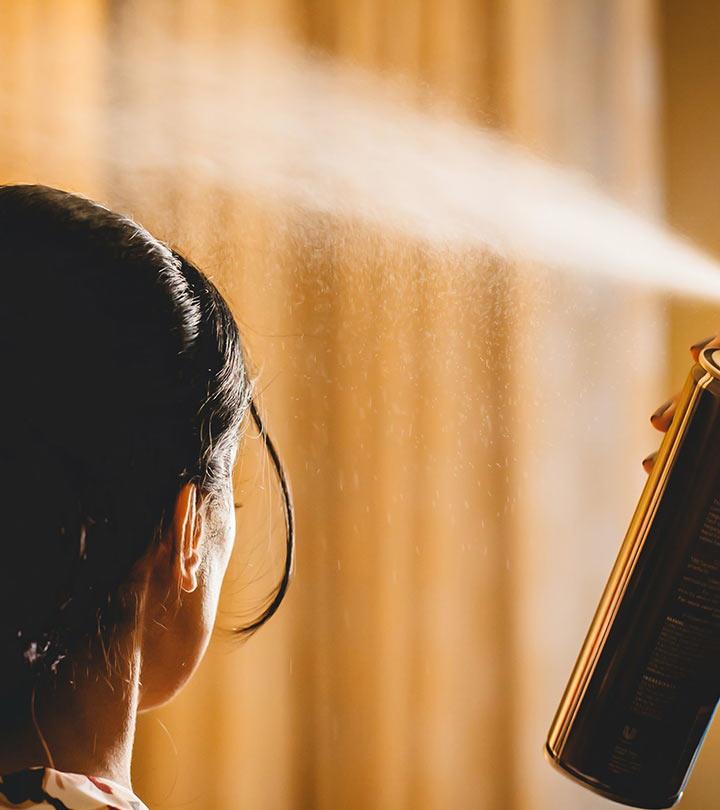 Hairspray is the foundation to nailing a glamorous look or an everyday look. But a hairspray can burn a hole in your pocket, making you think twice before you buy one. Fret not; the best drugstore hairspray can make all your money, and hair woes disappear in an instant! Think about all those hours you spent styling your hair, only for it just to do what it pleases. Frizzy and messy, the glam look you were going for just didn't work out. That is where your hairspray comes to the rescue. Just as effective as the luxury ones, the drugstore hairsprays can keep your rogue locks in place and make your hair look shiny all day. Here is a list of the top 15 drugstore hairsprays you can stock up on without costing an arm and a leg. Scroll down to know more.
Read on to know more!
15 Best Drugstore Hair Sprays For You
If you have thin hair and want to add some volume to your tresses, then this lightweight volumizing hair spray is your best choice. It has a subtle texture that adds volume to your hair while maintaining a good hold of it. It also adds shine to your hair and gives it 72 hours of resistance against humidity. It is perfect for the upcoming hot summer months. Learn more about the product in this video.
Pros
Humidity resistance
Adds volume
Adds shine
Cons
Need to wash your hair after using it
Price at the time of publication: $18.74
If you're running late for a party and your hair just won't set, then this hair spray is what you need ASAP. The Kenra Perfect Medium Hair Spray provides styling control to your hair without making it stiff. It has a fast-drying formula, which gives an excellent hold. It provides optimum styling control and a glossy finish to your hair. This video gives you more information about the product.
Pros
Provides medium hold
Gives your hair a shine
Cons
Price at the time of publication: $15.99
This hair mousse helps create volume by lifting hair at the root. It is great for thick hair as it provides a secure hold and resists humidity. This modifying and volumizing mousse plumps up your hair from the roots and adds texture to it so you can achieve an undeniably stunning look.
Pros
Plumps up hair from the roots
Suitable for medium and thick hair
Resists humidity
Cons
Takes a few tries for the product to come out of the nozzle
Price at the time of publication: $19.95
This Instant Freeze Hairspray is infused with Jojoba seed oil that leaves an extra shine on your tresses. The product ensures a 24-hour stay and is perfect for everyday hairstyles. The spray gives a natural finish without stiffness and works well for all hair types. No wonder it is a go-to hair-styling product! Have a look at this video to learn more about the product.
Pros
Cruelty-free
24-hour style lock
Suitable for all hair types
Voluminizing
Citrus scent
Cons
None
If you want Salon-quality hair in the comfort of your home, you can't go wrong with Nexxus Comb Thru Finishing Spray. The formula is enriched with Fluid-Fix Complex that gives a firm hold and also allows you to make touch-ups throughout the day. The lightweight, medium-hold hair spray protects against humidity and tames fine hair or flyaways easily. It leaves a scent of rose and jasmine, which makes this product all the more likable!
Pros
Great for fine hair
Phthalate-free
Sulfate-free
Aluminum-free
Paraben-free
Formaldehyde-free
Lightweight
Cons
The scent is not pleasant for all noses.
Price at the time of publication: $11.99
This 4x Mega hairspray is genuinely one product that can never disappoint you. The spray contains a ClimaShield® formula that can withstand high and humid conditions without compromising on the look, texture, and shine of your hair. It is also infused with vitamins to keep your hair healthy. The formula leaves no stiffness or stickiness and has a super-strong hold on all your styles.
Pros
Long-lasting hold
Non-sticky
Non-stiffy
Cons
None
This fast-drying hair spray has been curated using an innovative style holding memory and is great at keeping those stray hairs tucked safely in their place. It is enriched with silk proteins and herbs that impart a natural shine. It is a lightweight and versatile spray and leaves no build-up on the scalp.
Pros
Has a firm hold
Enriched with proteins and herbs
Cons
Consistency is slightly sticky
Price at the time of publication: $20.25
For ultimate body and fullness, this is the hair spray you turn to. It lifts the hair from the root right up to the tip and keeps you in control of your style for upto 24 hours! Infused with bamboo extract, this hair spray gives your hair a voluminous lift and hold without making it crunchy and stiff. This anti-humidity spray will also prevent your hair from looking limp and flat.
Pros
Infused with bamboo extract
Protects against humidity
Cons
Price at the time of publication: $10.17
Get a finished look with the R+Co Vicious Strong Hold Flexible Hairspray. It offers a strong hold without flaking your style. The amp copolymer infused in the hairspray imparts good control by providing thermal protection. In addition, the pro-vitamin B5 makes your hair appear voluminous.
Pros
Paraben-free
Sulfate-free
Mineral oil-free
Gluten-free
Cruelty-free
Vegan
Cons
Price at the time of publication: $32
The Suave Non Aerosol Max Hold Hairspray is a non-aerosol product that provides maximum hold for long-lasting hairstyles. It is enriched with proteins and vitamins which provide nourishment to the hair. The formula helps control frizz and adds volume to the tresses. You have added control on your style and keep looking perfect for hours. The spray does not make the hair strands sticky or stiff. It has a mild coconut scent.
Pros
Long-lasting hold
Non-sticky formula
Offers volume
Anti-frizz formula
Cons
None
Price at the time of publication: $3.98
TRESemmé Extra Firm Control TRES Two Spray keeps your hairstyle in place and controls frizz. It helps you achieve maximum hold without any stiffness so that your hair feels flexible. This hairspray contains locking polymers that protect the hair from humidity. The water-free formula tames flyaways and has a floral, fruity scent.
Pros
Soothing fragrance
Non-sticky
Water-free formula
Suitable for all hair types
Color-safe
Cons
Price at the time of publication: $24.67
For a medium hold, turn to this super-fast drying hair spray. It is excellent at adding texture and creating a natural look. It adds shine to your hair, making you look prim and proper. The styling agents of the spray are quickly reactivated with heat or water, and the spray also helps gently detangle your hair and keep it frizz-free.
Pros
Detangles the hair
Minimizes breakage
Cons
Price at the time of publication: $24.23
If you are sensitive to strong fragrances and dislike them, then this unscented hair spray is the best choice for you. It is great value for money and does not leave any residue or flakes behind. This spray is an anti-static spray and prevents flyaways leaving you looking clean, polished, and ready to take on the day!
Pros
Anti-static spray
Provides 14-hour hold
No residue left behind
Cons
The nozzle is hard to operate
Price at the time of publication: $19.46
The Vanicream's Firm Hold Hairspray is perfect for giving you a natural look with a long-lasting hold. With this spray, the hair is easy to manage and looks much healthier and shinier. It is highly recommended by dermatologists as it works great for those who have fine hair and sensitive scalp.
Pros
Unscented
No botanical extracts
No essential oils
Protein-free
Gluten-free
Dermatologist tested
Cons
None
Price at the time of publication: $8.99
Lock in volume and body with this superb hair spray that fortifies your hair to achieve a long-lasting look. It is made from bamboo fibers, plant collagen, and sugar cane. Sulfate-free and inspired by nature, this spray does not just keep your hair perfect. Instead, it focuses on making it look fuller, bouncier, and smoother. With an irresistible smell, this hair spray is undeniably an excellent investment.
Pros
Provides a 24-hour hold
Great at volumizing hair
Cons
Has to be shaken well before use
Price at the time of publication: $8.99
Frequently Asked Questions
How long does hairspray stay in your hair?
The effect of hairspray can last from a few hours to all day depending on its formula.
How do you remove hairspray buildup from hair?
Use a clarifying shampoo or apple cider vinegar once a week to remove hairspray buildup.
Should you wash your hair after using hairspray?
Yes. If you use hairspray very frequently, it will leave some residue on your scalp and hair. If left unwashed, it will clog the hair follicles, cause itchiness, and result in hair loss.
Should you wash hairspray out before bed?
No, it is not essential to wash out your hair every time after using hair spray. You can remove any residue by shampooing your hair 2-3 times a week. You can even use a clarifying shampoo once a week for deep cleansing.
What is the difference between hairspray and finishing spray?
A finishing spray provides more grip and shine as compared to regular hairspray.
Recommended Articles: