15 Best Drugstore Strong Hold Hairspray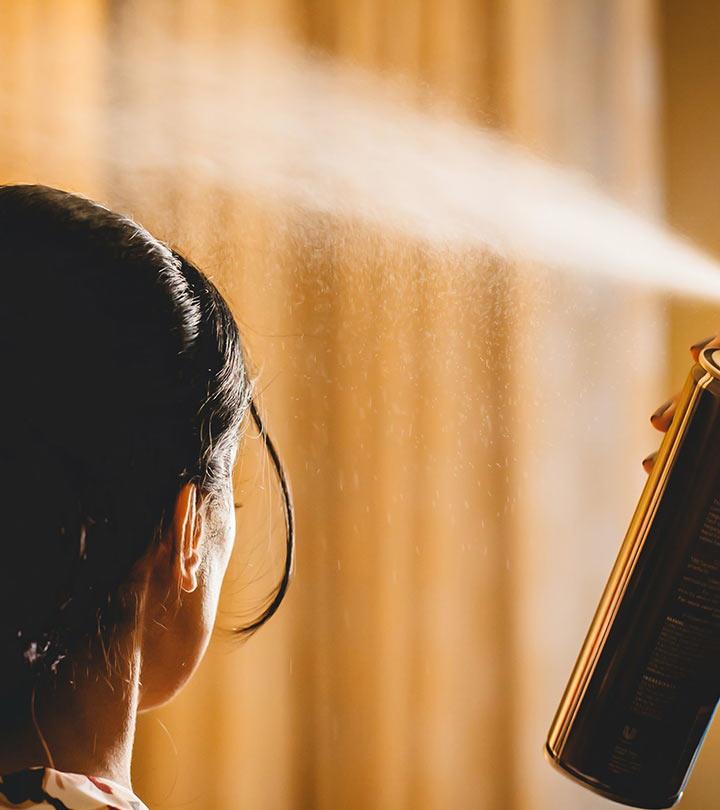 They say a woman's hair is her crowning glory, and we cannot agree more. Well set hair can make a woman look classy and glamorous. Unfortunately, we're all blessed with baby hairs that slip out and can make us look shabby. If you have spent hours in front of a mirror doing your hair only to have it look messy and frizzy when you arrive at the event, then you know what we're talking about. Luckily there are a variety of hair sprays available in the market to help with that. Drugstore hair sprays are just as effective as the luxe ones and are far more affordable. If you're looking to find a drugstore hair spray that perfectly suits your needs, then you've come to the right place. We've put together a list of the 15 best drugstore hair sprays that you must include in your styling routine.
Read on to know more!
15 Best Drugstore Hair Sprays For You
If you have thin hair and want to add some volume to your tresses, then this lightweight volumizing hair spray is your best choice. It has a subtle texture that adds volume to your hair while maintaining a good hold of it. It also adds shine to your hair and gives it 72 hours of resistance against humidity. It is perfect for the upcoming hot summer months.
Pros:
Humidity resistance
Adds volume
Adds shine
Cons:
Need to wash your hair after using it
If you're running late for a party and your hair just won't set, then this hair spray is what you need ASAP. The Kenra Perfect Medium Hair Spray provides styling control to your hair without making it stiff. It has a fast-drying formula, which gives an excellent hold. It provides optimum styling control and a glossy finish to your hair.
Pros:
Provides medium hold
Gives your hair a shine
Cons:
This hair mousse helps create volume by lifting hair at the root. It is great for thick hair as it provides a secure hold and resists humidity. This modifying and volumizing mousse plumps up your hair from the roots and adds texture to it so you can achieve an undeniably stunning look.
Pros:
Plumps up hair from the roots
Suitable for medium and thick hair
Resists humidity
Cons:
Takes a few tries for the product to come out of the nozzle
This travel-friendly hair spray is long-lasting and maintains a stronghold and leaves your hair with a clean finish. Never stiff or crunchy, this hair spray holds curls and resists humidity all day long. Whether it is keeping slick strays in place or maintaining that updo, this hair spray can do it all. It is also available in extra stronghold cans and has a fine lightweight mist.
Pros:
Extra-strong hold for color-treated hair
Ultrafine mist
Cons:
Well-known for its superior hair products, this brand never disappoints. Made from Micro Fix Technology, this hair spray has high-performing micro polymers that give a strong but weightless hold to the hair. It creates volume from the root by penetrating the hair shaft to create a voluminous look.
Pros:
Made using Micro-Fix Technology
Creates volume from the root
Cons:
Get a targeted root lift and luxurious textured look by choosing this hair spray. It boosts fine hair and adds body to any hairstyle you wish to achieve. It has a strong hold and can also be used as a backcombing finisher. It locks in and boosts texture, density, and volume, making it the perfect spray for your stray tresses.
Pros:
Lifts the root
Adds volume
Does not weigh down on your hair
Cons:
This fast-drying hair spray has been curated using an innovative style holding memory and is great at keeping those stray hairs tucked safely in their place. It is enriched with silk proteins and herbs that impart a natural shine. It is a lightweight and versatile spray and leaves no build-up on the scalp.
Pros:
Has a firm hold
Enriched with proteins and herbs
Cons:
Consistency is slightly sticky
For ultimate body and fullness, this is the hair spray you turn to. It lifts the hair from the root right up to the tip and keeps you in control of your style for upto 24 hours! Infused with bamboo extract, this hair spray gives your hair a voluminous lift and hold without making it crunchy and stiff. This anti-humidity spray will also prevent your hair from looking limp and flat.
Pros:
Infused with bamboo extract
Protects against humidity
Cons:
This hair spray delivers soft and delicate curls while also maintaining shine and all-day conditioning. Being lightweight and keeping humidity at bay is what this hair spray does best. It is a water-based hair spray making it easy to wash off and will not make your hair crunchy.
Pros:
Water-based hair spray
Adds shine to your hair
Cons:
Can dry your hair out a bit
This volumizing hair spray is extra firm and fast drying. It freezes hairstyles with a firm hold and adds texture to the hair. If you suffer from frizzy hair, then this hair spray is the perfect antidote to that. It also helps keep wavy and curly hair look energized and frizz-free. With a 24 hour UV protection, humidity resistance, and bounce back hold, this hair spray is versatile and useful.
Pros:
Has UV and anti-frizz protection
Provides firm hold
Cons:
Can leave hair greasy the day after use
No products found.
TRESemmé Extra Firm Control TRES Two Spray keeps your hairstyle in place and controls frizz. It helps you achieve maximum hold without any stiffness so that your hair feels flexible. This hairspray contains locking polymers that protect the hair from humidity. The water-free formula tames flyaways and has a floral, fruity scent.
Pros
Soothing fragrance
Non-sticky
Water-free formula
Suitable for all hair types
Color-safe
Cons
For a medium hold, turn to this super-fast drying hair spray. It is excellent at adding texture and creating a natural look. It adds shine to your hair, making you look prim and proper. The styling agents of the spray are quickly reactivated with heat or water, and the spray also helps gently detangle your hair and keep it frizz-free.
Pros:
Detangles the hair
Minimizes breakage
Cons:
If you are sensitive to strong fragrances and dislike them, then this unscented hair spray is the best choice for you. It is great value for money and does not leave any residue or flakes behind. This spray is an anti-static spray and prevents flyaways leaving you looking clean, polished, and ready to take on the day!
Pros:
Anti-static spray
Provides 14-hour hold
No residue left behind
Cons:
The nozzle is hard to operate
This lightweight hair spray works like magic and has an invisible hold. This micro-mist spray has a pleasant smell and will set your hair without making it look or feel stiff. Smoothing the flyaways and making you look chic and fresh, is what this hair spray does best. It has a natural finish and will not burn a hole in your pocket.
Pros:
Has an invisible hold
Gives a natural finish
Cons:
Hold does not last the whole day
Lock in volume and body with this superb hair spray that fortifies your hair to achieve a long-lasting look. It is made from bamboo fibers, plant collagen, and sugar cane. Sulfate-free and inspired by nature, this spray does not just keep your hair perfect. Instead, it focuses on making it look fuller, bouncier, and smoother. With an irresistible smell, this hair spray is undeniably an excellent investment.
Pros:
Provides a 24-hour hold
Great at volumizing hair
Cons:
Has to be shaken well before use
Hair sprays tend to have a notorious reputation of being tricky to choose. We hope this post helped clear up the confusion about which drugstore hair spray will best suit your needs. They are all extremely affordable and great value for money. Let us know in the comments below which hair spray you can't wait to try.
Recommended Articles: