15 Best Drugstore Hand Creams (2020) For Soft And Smooth Skin – Reviews And Buying Guide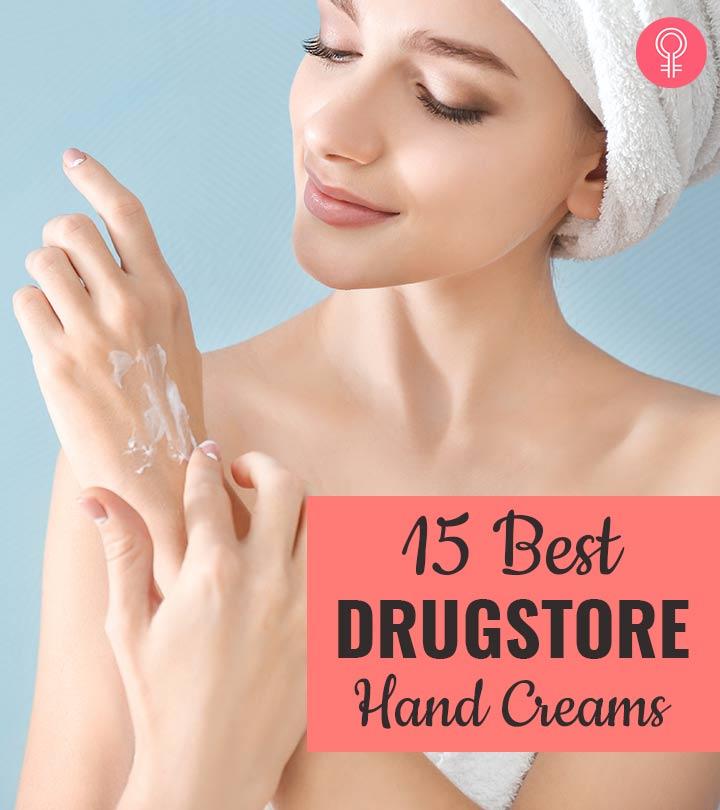 We often spend a bomb on luxurious facial skin care products. But we tend to ignore our hands. Exposure to harsh detergents, soaps, and UV rays can make our hands dry and wrinkled over time.
This is where drugstore hand creams come into play. They moisturize your hands and restore their vitality. Here, we have listed the top 15 drugstore hand creams available online. Keep reading!
15 Best Drugstore Hand Creams
O'Keeffe's Working Hands Hand Cream is one of the popular creams that help heal dry, cracked skin. The concentrated cream relieves damaged and dried hands by instantly locking in hydration. The glycerin and mineral oils in the cream are among the soothing ingredients. They act as humectants that draw in skin moisture and keep the hands smooth and soft. The mineral oils also act as a protective barrier and prevent moisture loss. For best results, apply the cream after hand washing, after bathing, and before bedtime.
Pros
Heals dry and cracked hands
Locks in hydration
Grease-free
Makes your hands soft and smooth
Offers relief from eczema and psoriasis
Cons
Contains silicone
Contains allergic ingredients
Just a small concentrated drop of the Neutrogena Norwegian Formula Hand Cream turns extremely dry, cracked skin smooth and soft. It is rich in glycerin that provides moisturization. It also contains stearic acid that acts as an emollient and emulsifier to create a waxy protective barrier on the skin and prevent moisture loss.
Pros
Nourishing
Long-lasting
Moisturizes dry chapped hands
Rich in glycerin
Dermatologist-recommended
Perfect for eczema and cradle cap
Fragrance-free
Clinically proven
Cons
Contains parabens
Leaves a greasy feeling.
Burt's Bees Ultimate Care Hand Cream acts as a moisturizer and a gentle exfoliant. It nourishes and hydrates dry, chapped hands by removing dead cuticles. The cream is a natural blend of baobab oil, watermelon seed oil, pumpkin oil, shea butter, and green tea extracts. It provides 98.9% natural hydration, while the natural fruit acid complex removes dead and dry cuticles and revitalizes rough skin. The hemp seed oil in the cream is rich in vitamin E. It also has a balanced blend of omega-3 and omega-6 fatty acids that moisturize the skin.
Pros
Moisturizes and exfoliates the hands
Lightweight
Revitalizes rough and dry skin
Contains a blend of natural botanical ingredients
Paraben-free
Phthalate-free
Absorbed quickly
Long-lasting
Dermatologically-tested
Hypoallergenic
Non-comedogenic
Fragrance-free
Non-greasy
Cons
None
Eucerin Daily Hydration formula is a 2-in-1 rich cream that serves the dual role of moisturizing your skin and protecting it against UVA and UVB rays. This fragrance-free long-lasting formula contains glycerin to lock in the hydration and make your hands soft and smooth. It also has avobenzone (3%), homosalate (3%), octisalate (4%), and octocrylene (9%) that offer protection against sunburn and sun damage. For sun protection, apply the cream daily 15 minutes before sun exposure. For moisturization, apply it after handwashing, three times a day.
Pros
Long-lasting
Broad-spectrum sunscreen
Fast-absorbing
Fragrance-free
Dye-free
Paraben-free
Non-greasy
Best for daily hydration
Cons
Has a slight odor.
Leaves a white cast.
Yes To Coconut Ultra Hydrating Hand Cream is non-greasy. It is 97% natural and contains 0.5% allantoin, which is extracted from the root of the comfrey plant. Its non-irritating formula soothes the skin. The cream also contains a natural blend of shea butter, coconut oil, avocado oil, jojoba seed oil, sesame seed oil, calendula flower extract, grapefruit seed oil, hibiscus flower extract, vitamin E, and vitamin C complex. These moisturize and protect the skin from free radical damage. The natural fruit acid complex acts as an exfoliator to remove dead cuticles to restore and revitalize your skin's natural glow.
Pros
Hydrates dry, chapped skin
Restores natural nutrients to keep the hands and cuticles protected
Long-lasting moisturization
Made with 97% natural ingredients
Perfect for very dry hands
Non-greasy
SLS-free
Paraben-free
Cruelty-free
Quick-absorbing
Cons
Not suitable for sensitive skin.
The Miracle Of Aloe Hand Repair Cream is specially formulated to moisturize, protect, rejuvenate, and restore extremely dry, dull, and flaky skin. This therapeutic organic formula contains 60% whole leaf aloe vera gel to seal the moisture in your hands. Along with aloe vera, the other moisturizing ingredients penetrate deep into the epidermal layer of the skin and renew it from within. Apply this hydrating hand cream 2-3 times in a day for better results.
Pros
Long-lasting
Rejuvenates dry skin
Non-greasy hydrating formula
Lightly scented
Made from organically grown aloe vera leaf extract
Absorbed quickly
Speeds up cell renewal
Can be used on dry elbows and knees
Cons
The L'Occitane Hand Cream is a rich hydrating formula infused with 20% shea butter, honey, sweet almond oil, and coconut oil. These make extremely dry, cracked, and chapped hands soft, smooth, and supple.  Shea butter is an emollient used to moisturize and protect the skin. Sweet almond oil, sunflower seed oil, and coconut oil are rich in fatty acids that act as emulsifiers. They provide a protective barrier to the epidermis layer of the skin. The vitamin E in this hydrating cream is an antioxidant that protects the skin from free radical damage.
Pros
Long-lasting
Quickly absorbed
Leaves no oily residue
Cruelty-free
Grease-free
Light fragrance
Cons
The tube could be big and bulky to carry.
The Pre De Provence Soothing And Moisturizing Hand Cream is enriched with 20% shea butter that protects, nourishes, and moisturizes the skin. The sweet almond oil with rosemary extract and sunflower seed oil trap moisture to soothe dry, irritated skin. This ultra-rich formula is gentle on the skin. It offers deep healing and protects the skin from environmental damage. This long-lasting hand cream restores skin elasticity. It not only hydrates the skin but also offers long-lasting protection from the UV rays. This is specially designed for extra nourishment during the night. It can also be applied to the other areas of the body, like the nose, lips, and eyes, to reduce dryness.
Pros
Ultra-hydrating formula
Absorbed well
Long-lasting
Non-greasy
Cons
Has the scent of a baby powder.
The quantity is little for the price.
The Aveeno Skin Relief Hand Cream contains oatmeal, glycerin, and petrolatum that make the hands look smooth. This rich emollient and hydrating formula provides a protective shield on the epidermal layer of the skin and locks in the moisture to make your hands soft and supple. The active oatmeal formula maintains the skin's pH levels to protect it and heal dryness. The cream's 24-hour moisture-locking hydrating formula also soothes sensitive skin.
Pros
Provides intense relief for dry skin
Non-greasy
Fast-absorbing
Dermatologist-recommended
Steroid-free
Fragrance-free
Paraben-free
Long-lasting even after hand washing
Gentle enough for sensitive skin
Cons
Less quantity for the price.
No protective seal on the cap.
The CeraVe Therapeutic Hand Cream is a dermatologist-recommended product. It is a lightweight, oil-free rich cream that provides 24-hour hydration and restores the skin's natural barrier. It is formulated with ceramides 1, 3, and 6-II, along with hyaluronic acid, to help retain the skin's moisture. Its Multi Vesicular Emulsion (MVE) technology ensures the moisturizing ingredients penetrate into the skin slowly and offer long-lasting hydration and nourishment. The oil-free, non-irritating, and non-comedogenic formula contains niacinamide to help calm skin while improving its appearance.
Pros
Hypoallergenic
Non-comedogenic
Fragrance-free
Non-irritating
Grease-free
Lightweight
MVE technology restores hydration
Accepted by the National Eczema Association
Provides 24-hour hydration
Gentle on the skin
Cons
The Swedish Dream Sea Salt Hand Creme is made of 20% shea butter and olive oil that restore the natural moisture of the skin. The high concentration of fatty acids and vitamins provides extra nourishment to dry, flaky skin. The sea salt in the product exfoliates the skin naturally and makes your hands soft, smooth, and supple. The natural fragrance from lavender, sunflower, and calendula makes you feel relaxed and fresh.
Pros
Comes in two tubes
Paraben-free
Sulfate-free
Silicone-free
Gluten-free
100% vegan formula
Natural refreshing fragrance
Non-greasy
Cons
The Glysomed Hand Cream contains glycerine, silicone, and chamomile that help restore the skin's moisture balance. They also soothe and calm dry, itchy, and irritated skin. The antioxidant properties of chamomile protect the skin from free radical damage and promote beautiful skin texture.
Pros
Soothing smell
Heals cracked, dry skin
Locks moisture
Cons
The Gold Bond Ultimate Healing Hand Cream is a non-greasy formula infused with a natural blend of jojoba oil, silk amino acid, and hydrolyzed rice protein. It nourishes, hydrates, and rejuvenates the skin. The jojoba ester derived from the jojoba oil acts as an emollient to moisturize the skin. The fibrous silk protein and hydrolyzed rice protein maintain skin elasticity.
Pros
Dermatologically-tested
Long-lasting
Hypoallergenic
Absorbed quickly
Light, fresh aroma
Non-greasy
Cons
The SkinFix Ultra Rich Hand Cream is a clinically proven award-winning product. It is infused with a natural emollient oil blend of coconut and sunflower to increase hydration by 74%. This helps relieve dry, cracked skin. The aloe vera juice, chamomile, calendula, and cucumber extract nourish and soothe the skin. The vitamin E in the cream is an antioxidant and protects the skin from oxidative damage.
Pros
Long-lasting
Dermatologist-recommended
Soy-free
Gluten-free
Paraben-free
Phthalate-free
Retains moisture level even after hand wash
Cons
Enjoy this luxurious moisturizing cream with jojoba and shea butter, vitamin C, and peptides to achieve softer and brighter skin. The Juice Beauty Green Apple age-defying nourishing hand cream contains organic green apple juice, aloe leaf juice, organic white grape juice, lemon juice, and organic plant oil. It also contains the powerful age-defying antioxidant formula of vitamin C and vitamin E that reduce fine lines, wrinkles, blemishes, and hyperpigmentation. The peptide formula maintains the skin elasticity and firms up the skin.
Pros
Contains natural botanical extracts
Smooth
Non-greasy
Paraben-free
Petroleum-free
Phthalate-free
Sulfate-free
No PEG, TEA, or DEA
Non-GMO
Gluten-free
No artificial dyes
Fragrance-free
Cruelty-free
Cons
None
These are the best quality hydrating hand creams. These add moisture and offer relief from dehydrated, dry, and flaky hand skin.
But before you make a purchase, ensure you go through the following checklist.
Tips To Choose The Right-Hand Cream 
Texture: The texture should be lightweight.
Ingredients: Check for the natural botanical moisturizing ingredients that lock in hydration. Glycerin is a natural humectant that pulls water from the epidermis to the deeper skin layers for locking in the moisture. Shea butter is another important ingredient that makes the skin smooth, soft, and supple. It must also have a rich hydrating formula to heal dry, cracked, and flaky skin.
Natural: The hand cream should be free of chemical ingredients for long-lasting hydration.
Conclusion
Hand creams are a great investment. They lock in the moisture and hydrate dry or cracked hands. We hope this list has given you enough options to choose from. Pick the best drugstore hand cream from the above list that is just as effective and hydrating like other high-end creams.
Recommended Articles