11 Best Drugstore Heat Protectant Sprays To Use Before Styling
Protect your hair from heat styling tools with these affordable products.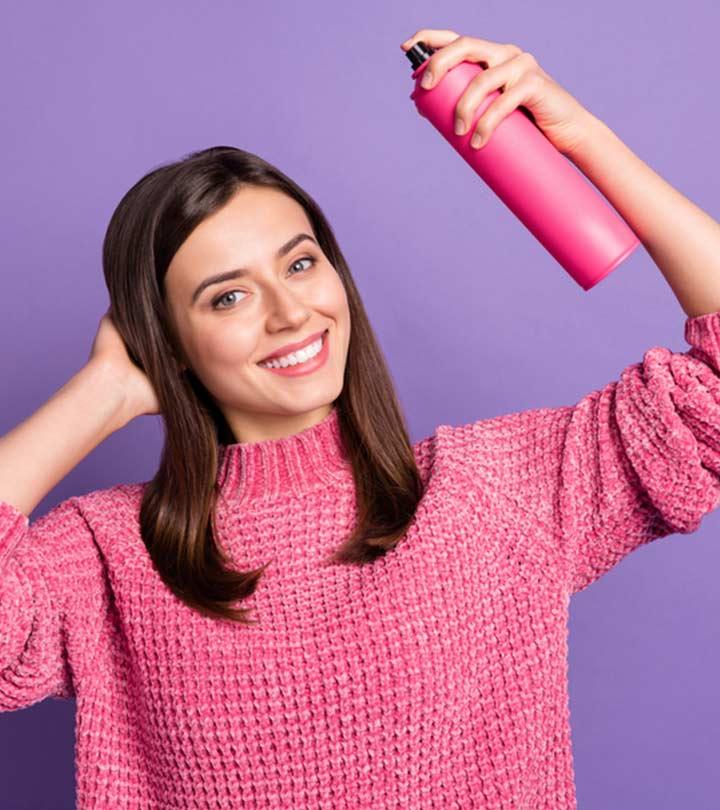 When you need your hair to be on-fleek, all you need is to buy yourself the best drugstore heat-protectant spray. Just like how you put on oven mitts before grabbing a hot pan, you should use a good drugstore hair protectant before you start styling your hair with hot tools in order to save the hair from getting damaged. Instead of visiting the salon, you just need to choose products that are effective and simple to use. Start with some free-flowing tutorials on the internet. Whether you use a dryer, curling iron, or any such tool, begin with one of these 11 best drugstore heat protectant sprays at affordable prices.
11 Best Drugstore Heat Protectant Sprays To Prevent Hair Damage
Born out of the idea to provide a high-performing vegan product for your color-treated hair, this drugstore heat protectant spray offers 21 benefits in 1 bottle. The multi-tasking leave-in spray not only offers protection from heat from hair styling tools but also instantly detangles and smooths hair, moisturizing and making it silky smooth. Its key ingredients are camelina oil, coconut oil, olive, rose, floral ginger, and cedarwood, which help prevent split ends and damage caused by external factors, and prepare the hair for restyling. The nourishing ingredient, vitamin E present in this eco-friendly heat protectant spray fights color-depleting environmental elements and helps retain the color of your hair.  The product has a gentle floral scent that will keep your hair smelling fresh all day long. Watch this YouTuber's honest review to get a better idea about the product and its features.
Pros
Detangles hair
Preserves hair color
Adds moisture and shine to hair
Vegan
Paraben and sulfate-free
Cons
Some may find the scent overpowering
Review: A reviewer says, "I can't believe the transformation! Pureology's Color Fanatic Spray worked magic on my color damaged and frizzy hair. My hair felt so soft and hydrated! Gave me gorgeous beach waves. This has really simplified my haircare routine and the results are stunning. Only wish it were phthalate-free."
Give your heat-treated hair a new lease of life instantly with this best drugstore heat protectant spray. It provides 25 benefits that help improve the manageability of your hair. Suitable for all hair types, this leave-in spray conditions and nourishes your hair, reduces tangling, and primes hair for styling by ensuring protection from heat damage. The lightweight formula contains coconut oil, lactic acid, vegetable-derived proteins, and viola odorata flower and leaf extract to control static-related frizz, flyaways, and add shine and smoothness to your hair. Moreover, the product is also suitable for colored hair. Take a look at this video to explore the reviewer's experience of using this product.
Pros
Instant results
Lightweight
Sulfate and paraben-free
Conditions and nourishes hair
Safe for color-treated hair
Cons
Contains artificial fragrance
Review: According to a user, "I'm thrilled with Redken One United Treatment! My hair's transformed – so soft, manageable, and full of body. Super versatile solution, though scent can be little overpowering. Overall, a game-changer for my hair routine."
When a hair protector spray like this one is created out of natural ingredients, you get more care for your hair out of it. This weightless mist provides protection from heat up to 450°F. This affordable heat protectant spray also works as a leave-in conditioner that moisturizes your hair to reduce dryness and treat damage. This cruelty-free heat protectant spray is infused with argan oil, which is known to offer restorative care to give you beautiful, natural-looking hair. Its delicate and balanced formula with peach extract, anise fruit extract, Irish moss extract, proteins, and vitamin E helps repair dry and brittle hair that has undergone damage from blow drying, sun exposure, and flat ironing. Watch this video to check out a tester's experience with the product.
Pros
Safe for all hair types
Moisturizes
Promotes hair growth
Non-toxic
Vegan
Not tested on animals
Cons
Some may find the consistency too thick.
Review:A tester states, "I'm amazed by artnaturals Argan Oil Thermal Shield! Makes my hair so soft and give such great volume. Heavenly scent, and it works wonders while blow-drying. Spraying this can be a little tricky, but it really is an essential in my routine."
Feed your hair the best nutrients with this heat protection blend and protect it from heat damage of up to 450°F. Infused with coconut and argan oil, this sulfate- and paraben-free product is a good drugstore heat protectant spray that works well on natural hair. It is also ideal for all hair types be it straight, wavy or curly, and fine or thick hair. This argan oil is enriched with fatty acids and strong antioxidants like vitamin E, which helps ensure reduced heat-induced breakage, split ends, and prevents hair loss while moisturizing the hair. To add to the goodness, this shine spray leaves the hair smelling delicious.
Pros
Adds shine to the hair
Rich in antioxidants
Protects from hair loss
Dye-free
Paraben-free
Cons
May not be suitable for extremely frizzy hair
Review: A user opines, "Hair Food's Coconut & Argan Heat Protection is a really game-changer for my hair! No frizz. Hair looks sleek and shiny after styling. The coconut scent lasts, though it can feel heavy if you use too much. A solid choice for my routine."
Give yourself complete liberty to try countless hair styles with this award-winning product that gives thermal protection. This heat protectant spray for curly hair protects hair from damage due to heat of up to 425°F caused by flat irons and blow-drying. It is a lightweight formula enriched with shea butter, vitamins A and E, and essential fatty acids that help increase the natural shine of your hair and reduce frizz. It conditions and nourishes your hair so you have stronger and healthier strands and minimizes heat transfer. Additionally, no animal testing was done to determine the efficacy of the product, making it an ethical choice. Use the Cantu Shea Butter Heat Protectant before you style your hair, and your hair will thank you.
Pros
Lightweight
Tames fly-aways
Smoothens hair
Strengthens hair
Increases elasticity
Suitable for 4c curls
Cons
Review: According to a reviewer, "I fully recommend the Cantu Shea Butter Thermal Shield! Completely changed my hair. Actually protects the hair and makes my hair so soft. Smells lovely too. Super affordable and effective, though there was a slight stickiness on first use."
This TRESemmé heat protecting spray is an ingenious product developed to protect your hair from styling tools that involve heat. It boasts a thermal recovery system and is formulated with a moisture-locking vitamin complex (vitamin E, H, and C) and heat-activated formula that minimizes moisture loss. This helps guard your hair against heat and friction and enhances your hair's flexibility to reform. Ideal for those who style regularly, it makes your hair soft and shiny and holds its shape without any damage— perfect for any hairdo. The product will ensure you never experience a bad hair day, so definitely add it to your cart!
Pros
Nourishing formula
Helps hair regain its original, healthy form
Protects against heat and friction
Restores vibrance
Cons
May not be suitable for 4c curls
Review:According to a tester, "TRESemmé Heat Tamer Spray has completely restored my hair's shine and softness! Effective for blow-drying and heat styling, though you must wait for it to dry. Easy to apply, reasonable price, and satisfactory results."
Keep your hair healthy and strong with the Thermal Heat Protector Spray. This lightweight formula creates a thin but effective protective layer around each hair follicle to minimize breakage and damage, resulting in shiny and radiant hair. It can withstand temperatures up to 230°C/446°F and works on both wet and dry hair, making it perfect for any hair type. Our heat shield also includes shine-enhancing actives so that your hair looks just-styled after each use. For the best protection, apply the spray before heat treatments. This heat protectant spray ensures that your hair can withstand even the hardest styling techniques, from poker-straight hair to corkscrew curls. Make it part of your regular hair care routine to keep your hair looking and feeling its best.
Pros
Reduces frizz
Helps detangles
Makes hair silky smooth
Suitable for all hair types
PETA approved
Sulfate-free
Paraben-free
Fresh scent
Not tested on animals
Vegan
Phthalate-free
Formaldehyde-free
Mineral oil-free
Cons
None
Review: A user states, "Bold Uniq Thermal Heat Protector Spray is my go-to! It's cruelty-free and works wonders with my straightener. Gentle scent as well. No extra oiliness, plus the packaging is adorable. A must-buy for Brazilian Blowout users like me."
With the L'Oreal Paris Advanced Hairstyle Sleep lightweight heat protectant spray, you can set your hairstyle for 3 days. It is designed to provide 450o heat protection from any heat tool while taming frizz and locking in shine. This affordable heat protectant spray tames flyaways and conditions your hair for a silky, long-lasting style. As you use your heat tool to style damp or dry hair, section by section, spray it on. It offers support for any hairstyle and enhances hair texture, shine, volume, and curls.
Pros
450o heat protection
Humidity protection
Tames frizz
Seals in shine
Smoothing
Suitable for all hair types
Dye-free
Unscented
Cons
Very slippery if you accidentally spray it on surfaces
Review: A reviewer opines, "You've got to try the L'Oréal Sleek It Heat Spray. Complete game-changer for wavy hair! Holds up in Texas weather and makes my hair soft, smooth, and manageable for days. Affordable and effective. I'll definitely repurchase!"
Safeguard your hair from thermal styling with the Pantene Pro-V thermal heat protection pre-styling Spray. This pre-styling spray is also known as "Beat the Heat" which protects your hair from heat up to 450oF. This lightweight spray must be used prior to styling your hair to prevent thermal damage. The micro polymers in this protective formula, help coat your strands. This pre-styling spray is loaded with active nutrients that improve hair health and make them shiny. It also provides an extra boost to the tresses, making them appear bouncier and free-flowing.
Pros
Best 450o heat protection
Spray bottle
Effective
Suitable for all hair types
Alcohol-free
Unscented
Cons
The smell can be too sweet.
Review: A user says, "Pantene Heat Primer is my top choice for heat protection. Leaves my hair soft, smells great, and keeps my style intact. Gives great protection from heat damage too. A go-to product!"
Dry and damaged hair can now be a thing of the past if you get this protectant mist. Its UV protection formula with marula oil, fire tulip extract, campanulata flower extract, and rice protein provides protection from up to 450℉ of heat from styling tools while adding a frizz-free finish to your hair. This cruelty-free heat protectant spray can restore the health of your hair, reduces heat-related dryness, and preserves hair color vibrancy. With this lightweight UV protectant spray, your hair will look as if it has been styled in a salon.
Pros
Protects hair from drying
Restores the strength of hair
Locks in hair color
Sulfate and paraben-free
Cruelty-free
Cons
Review: A tester says, "Drybar Hot Toddy has totally changed my hair! Makes my hair incredibly sleek and shiny. Really gives my hair a professional finish and smells amazing. Lasts forever too. Definitely a must-have!"
The CHI 44 Iron Guard Thermal Protection Spray offers various benefits including shining, conditioning, smoothening, breakage control, etc. It offers you 450o heat protection. It includes an easy brush glide formula that is a perfect tool for all your smooth and sleek styles. Reviewers approve that this thermal spray is perfect for all hair types and is especially recommended for casual wear.
Pros
Lightweight
Pleasant scent
Suitable for all hair types
Paraben-free
Cons
Review: A user writes, "CHI 44 Iron Guard has completely transformed my hair! Truly protects against heat damage. Maintained my curls and kept them bouncy. Super lightweight formula and pleasant scent too. Total must-have for my routine."
*The prices provided in this article are based on the latest available information. However, they may vary due to changes in pricing by the seller and/or promotional offers.
Reading about so many heat protectant sprays and having to make a choice can be overwhelming. Let us help you with that. Find out how to pick a heat protectant spray for your hair in our next segment.
What Should I Look For In A Heat Protectant Spray?
While purchasing a heat protectant spray, ensure that you choose one that provides maximum protection. To do so, you can check the label for the ingredients and pick one that includes silicones. There are 2 types of silicones that are commonly found in these sprays — cyclomethicone and dimethicone. They guard your hair against heat damage by coating your hair with a layer of moisture to ensure your hair does not get dry and remains smooth.
Keratin is your hair's best friend. This hair protein strengthens and boosts healthy hair growth. They are usually present in many hair care products mostly in the form of hydrolyzed keratin. It fortifies hair, reduces hair breakage and retains moisture in the hair. Thus, look for keratin in your hair spray.
When you style your hair regularly with blow dryers, flat irons, curlers, and other hair styling tools, it makes your hair frizzy. Hence, it is crucial to pick a heat protectant that can control frizz.
It is better to invest not just in the lightweight and non-greasy formula for your hair but also sulfate and paraben-free ones. Parabens and sulfates can make your hair dry and brittle. Since most hair protectant sprays are leave-on, it is safe to use ones that are free of these irritants.
While some heat protectant sprays have silicones, some also have water-based polymers like polyquaternium and acrylate copolymer that have proven efficacy in conditioning your hair and reducing static and flyaways. You can also choose professional-grade products with humectants like panthenol as they retain moisture in the hair. Other ingredients to look for are natural oils or extracts like aloe vera as they protect your hair cuticles.
We are sure that you are confident now about how to choose the right heat protectant for your hair. Now, let's look at how to use one.
How To Use A Heat Protectant Spray?
Start by damping your hair or let it stay dry. You can use the spray either on damp or dry hair as per the instructions given on the label of the product.
Divide your hair section by section and spritz your hair with the spray by holding it a foot away from your head.
Make sure you cover the entire surface area.
Comb through your hair to spread it evenly.
Now use the hair styling tool of your choice.
Note: Avoid using too much product to prevent developing greasy residues.
You may not think much about the damage that hairstyling tools can cause when you see your hair look all beautiful and bouncy. However, the thermal damage becomes more visible as time passes by after repeated styling. While styling can make your hair look flawless, it is also important to take precautions to avoid any possible damage from hair styling tools as they use high temperatures. Your hair deserves the best care; therefore, do not compromise on choosing the best drugstore heat protectant spray. These sprays are a prerequisite to prep your hair to fight heat damage and protect it against future damage as well.
Why Trust StyleCraze?
Kirtana Divakar, the author of this article, is a hair care enthusiast who loves to style her hair. However, excessive use of heat styling tools can damage your precious mane. So, she researched the formulations and working of heat protectants to curate this list of the best drugstore heat protectants for her readers. She also sifted through multiple user reviews to shortlist the products that provide maximum protection at the best price point.
Frequently Asked Questions
Does heat protectant spray really work?
Yes, heat protectant sprays help reduce the amount of damage caused by styling tools while also retaining healthy moisture in the hair strands.
Does heat protectant spray make your hair greasy?
No, it does not make your hair greasy. But if you use a lot of it, it can weigh your hair down. Therefore, use the right amount to combat any greasy residue on your hair.
Is heat protectant spray good for hair?
Heat protectant spray works just like sunscreens. They create a protective barrier over your hair cuticles to protect them from the heat produced by the styling tools you use.
Can you use heat protectant spray on dry hair?
You can apply heat protectant spray on dry or damp hair. However, this also depends on the instructions given on the label. So, make it a point to read the label before deciding.
Should I let the heat protectant dry?
Yes, you should let the heat protectant dry after applying it to your hair. If you use a professional flat iron on your hair before the heat protectant dries, it will sizzle when it comes in contact with it.
Do you put a heat protectant spray before or after applying other hair products?
A heat protectant is usually applied after putting on other hair care products like serums, gels, oils, etc. but before heat-styling your hair. This is done to protect the tresses from future damage and dullness.
How much heat protectant spray can you use?
Using too much heat protectant spray might not be good for your hair. People with thinning hair should completely avoid applying a heat protectant spray, as it can build up on the strands and weigh the hair down.
Recommended Articles