15 Best Drugstore Lip Balms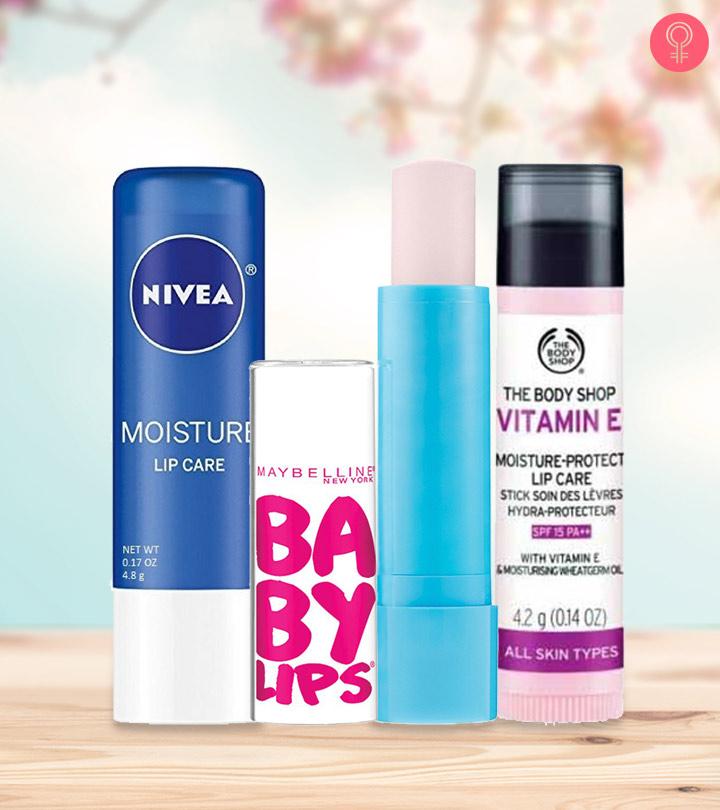 Everyone wants soft and supple lips. But considering the harsh environmental conditions that we live in, a healthy pout does not come easy to everyone. Here's the thing: proper lip care is essential all year round. While most of us pay a great deal of attention to the skin on our face and body, we tend to neglect our lips and simply dab on just any lip balm we find on the dresser. But did you know that your lip balm can be a huge savior, provided you use the right one for your lips?
We've rounded up 15 of the best drugstore lip balms that will take your lip treatment to the next level – and, that too, on a budget! Let's take a look, shall we?
15 Of The Best Drugstore Lip Balms For Baby Soft Lips
Review
Vaseline's Lip Therapy is one lip balm you can always rely on. It provides long-lasting relief from dry, dull, and cracked lips, and locks in all the moisture to repair your lips. Your pout is guaranteed to feel softer and smoother instantly. While this variant leaves your lips looking naturally shiny without any tint, you can also find it in a tinted variant.
Pros
Long-lasting moisture
Versatile
True to its claim
Easily available
Affordable
Cons
None

Similar Products:
Review
If you are looking for a more intense, medicated lip treatment, this balm from Blistex is an excellent option for you. It is formulated with the goodness of beeswax, cocoa seed butter, and lanolin to moisturize and protect your lips from chapping. It also contains camphor to soothe irritated lips. If you have cold sores, this will be your holy grail as it helps treat those nasty sores.
Pros
Lightweight
Very moisturizing
Contains SPF 15
Heals and repairs dryness
Heals cold sores
Cons
None

Similar Products:
Review
This lip balm has a gel-like consistency similar to that of petroleum jelly. However, it does not feel heavy or too sticky when applied and gets absorbed quickly. For best results, use this balm liberally and let the excess product be absorbed naturally to provide proper nourishment. It has squalene, vitamin E, and aloe vera to protect and soothe your lips from the harsh environment. It also works beautifully as a night treatment. Just slather it on liberally and wake up to smooth, soft lips. It comes in squeeze tube packaging and has a delicious cranberry flavor.
Pros
Soothes and nourishes dry lips instantly
Glides smoothly on lips without feeling greasy
Weightless formula
Contains antioxidants and rich moisturizers
Easy to use
Cons
None

Similar Products:
Review
This is perhaps one of the most popular drugstore lip balms out there, and it claims to be the #1 dermatologist-recommended lip care brand. It comes in a tube, and its consistency is similar to a gel-like fluid that is neither too thick nor too runny. It goes on the lips smoothly, making your painfully cracked lips calm down instantly. It does not feel sticky the way Vaseline petroleum jelly does. This one is a definite elixir for anyone facing issues with dry, chapped lips.
Pros
Free of preservatives and fragrances
Seals in moisture
Relieves dryness
Soothes cracked or chapped lips
Suitable for sensitive lips
Contains nourishing vitamins and natural ingredients
Cons

Similar Products:
Review
This hydrating balm from Jack Black is enriched with skin conditioners and antioxidants to heal cracked and chapped lips. It contains grapefruit and ginger that help refresh and soothe your lips, while shea butter and avocado oil soften and condition them. It is also formulated with vitamin E and green tea extracts to protect your lips from the damage caused by free radicals.
Pros
Paraben-free
Versatile
Soothes and relieves dry, irritated lips
Suitable for sensitive lips
Value for money
Cons
None

Similar Products:
Review
We all have a soft spot for Maybelline's cult-classic Baby Lips range. This lip balm comes in cute roll-up baby blue packaging. It has a white bullet, and it looks like a clear balm with a mild citrus-like fragrance. It soothes and smoothens out dry lips temporarily, but does not entirely cure a case of intensely chapped, flaky lips. But it does make your lips appear healthier and imparts a clear glow. This balm is enriched with SPF 20, which is a plus!
Pros
Nourishes and moistures lips
Contains SPF 20
Soothes and calms lips
Affordable and easily available.
Even and easy application
Does not feel heavy
Cons
None

Review
These must-have lip balms by Burt's Bees have been in women's purses and pockets since 1991. The beeswax in this product conditions your skin while vitamin E acts as a moisturizing antioxidant. It also contains peppermint oil, which gives you its one-of-a-kind refreshing tingle. This formula is a great choice if you would rather stick to natural ingredients.
Pros
100% natural and organic
Heals cracked, dry lips
Easy to use
Long-lasting moisture
Does not need to be reapplied frequently.
Cons
None

Review
This lip balm looks gorgeous with its tinted rose color and attractive packaging. It is often featured in celebrity "What's in your purse?" segments in fashion magazines. The texture of this balm is thin, and it gets absorbed into your lips easily, creating a cooling effect. Although it looks very tinted in the can, it only leaves your lips with a subtle red tint. It is not travel-friendly as it melts in hot temperatures and leaks out of the tin. So, use it only at home. If you have extremely chapped lips, this may not be a great choice for you.
Pros
Effectively treats dry, chapped, and irritated lips
Multipurpose balm
Pleasant fragrance
Suitable for sensitive lips
Cons
Tin packaging gets greasy, which makes it hard to open
Product melts in hot temperatures, leading to leakage

Review
Carmex is one of the most popular drugstore lip balms and has been in the market for more than seven decades now. It comes in three different packaging styles – stick, tube, and jar – so you can opt for whichever you prefer most. Its texture is balmy and smooth, so it does not feel sticky after application. However, because it is extremely moisturizing, it may feel a little heavy after a while. This is the best medicated lip balm for anyone looking to treat their lips and wanting long-term results.
Pros
Provides intense moisture and hydration
Visible improvement in the overall condition of your lips
Suitable for parched and sensitive lips
Medicated treatment
Non-sticky
Cons
May feel slightly heavy on lips

Review
This lip balm by EOS gained popularity due to its super cute egg-shaped packaging. It moisturizes your lips with its semi-thick texture without making them appear too shiny. Every flavor has a unique fragrance, so you will not like these sweet-smelling balms if you like fragrance-free products. If you are looking for a basic lip balm, this may work for you, but it is more about the "cute" factor rather than substantially improving your lips.
Pros
Variety of flavors
Fruity fragrance
Thick and moisturizing texture
Suitable for wearing under matte lipsticks
Cute packaging
Cons
Needs to be reapplied at regular intervals
Not long-lasting results

Review
Neutrogena's sheer tinted balm contains the exclusive Ion2 Complex and SPF 20 to moisturize your lips instantly and protect them from UV damage. This formula makes your lips softer, rosier, and healthier-looking after just a week of usage. It also helps improve the texture and color of your lips, so they look naturally beautiful. You can find your pick from its range of 6 moisturizing shades.
Pros
 Easy to use
 Contains SPF 20
 Dermatologist-tested
 Long-lasting
Cons
None

Review
This lip balm by Nivea comes in a convenient twist-up stick packaging. The balm is white and has a creamy texture that glides onto your lips smoothly. It is fragrance-free and feels very light on the lips. This lip balm acts as a great moisturizing barrier and can be used to prep your lips before you apply lipstick. You can also use it as a night treatment for your lips. This stick will last you forever and is super affordable.
Pros
Moisturizes and hydrates dull, dry lips
Contains shea butter and jojoba oil
Dermatologist-tested
No artificial colors
Cons
May leave a whitish tint on your lips if you go overboard with the application

Review
If you are looking for some intensive lip therapy to treat painful issues like cold sores and super chapped lips, this one's a winner. It gives you temporary relief from fever blisters and cold sores and helps prevent the drying effects of wind and harmful weather conditions. Its formula is smooth and feels great on the lips. It gives your lips a relieving tingly sensation as it contains camphor and menthol. It can be used by children as well.
Pros
Medicated formula
Moisturizes and nourishes extremely dry lips
Treats cold sores, blisters, and sore lips
Cons

Review
The Body Shop's Vitamin E Moisture-Protect Lip Care Balm helps maintain moisture balance and keep your lips hydrated. This vitamin E-enriched formula is filled with antioxidants that prevent skin damage. This lip balm also contains SPF 15 and PA++ sun protection that protect your lips from the harmful rays of the sun.
Pros
Repairs cracked and chapped lips
Softens lips
Long-lasting hydration
Contains SPF 15
Cons
None

Review
This cocoa butter lip balm by Palmer's comes in sleek and straightforward twist-up stick packaging. It is essential to wear a lip balm with SPF when you step out during the day, and this one is a great choice as it contains SPF 15. It is colorless and has the fragrance of Palmer's signature cocoa butter smell. It does not feel lightweight due to its waxy texture. However, it protects your lips from further drying and dehydration. If you dislike lip balms with fragrances, you may give this one a miss.
Pros
Contains SPF 15
Contains vitamin E
Cocoa butter fragrance.
Moisturizes dry lips
Cons

Do yourself a favor and never skip lip balm. Your lipstick will look a million times better when worn over a smooth base.
That was our round-up of the 15 best drugstore lip balms available on the market right now. If you are taking the drugstore route to fix your lips or want to find a budget-friendly option, you can go for one of these babies.
Do you have a favorite lip balm that you can't seem to get enough of? Let us know in the comments below.
Recommended Articles: