11 Best Long Lasting Drugstore Lip Glosses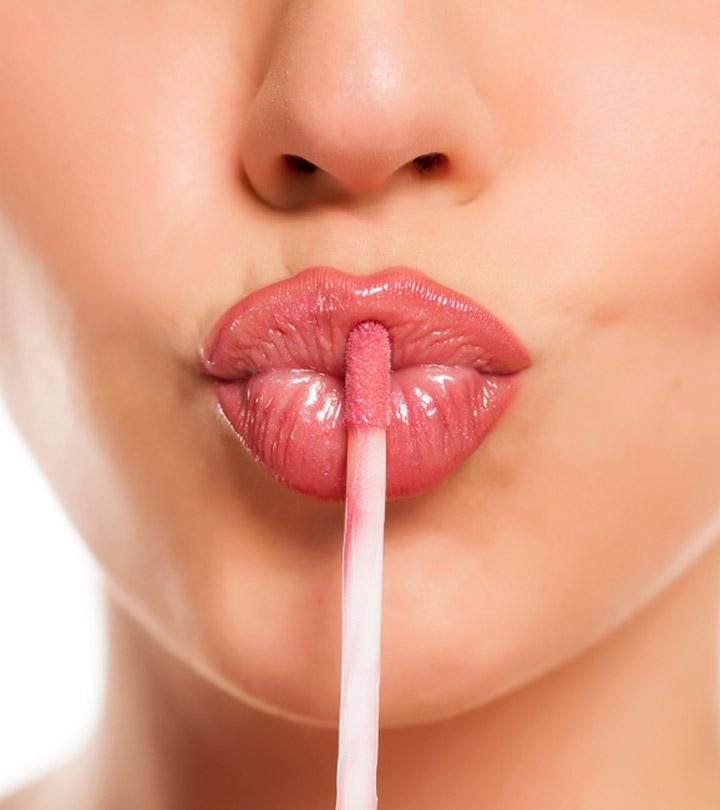 Let's take a walk down memory lane and feel nostalgic about the 90s, shall we? The age of skinny eyebrows, super (maybe way too super) low waist jeans, body glitter, and a ridiculous amount of lip gloss. The 90s was the threshold to all things fashion, all things experimental, and paved the way for iconic fashion statements, and one of them is some gorgeous gloss. Skip to present day, lip glosses are making a dramatic comeback, and if you want to join the bandwagon, you will need the best drugstore lip gloss or some perfect high-impact shine gloss.
Although matte lipsticks are all the rage right now, it won't hurt to stand out from the crowd. Not only does a lip gloss, a clear gloss, or any other form of gloss make your lips look plump and kissable, but it also adds a pop of color to your makeup. But finding the best drugstore lip gloss that isn't too sticky, runny, and won't break your bank can be a hard task. Don't you worry though, we'll help you find the best gloss, one that may even replace your favorite lipstick! Jump straight in and check out the 11 best long-lasting drugstore lip glosses.
11 Best Drugstore Lip Glosses
One may argue that although lip glosses are an important addition to any makeup kit, it doesn't last too long, and one needs to go through several rounds of re-application throughout the day. However, these new and improved glosses will prove you wrong. One application will last for upto 16 hours. So, eat your heart out or kiss your boyfriend, and you will still find the gloss intact. The first translucent coat prepares your lips for a smooth finish, and the second coat of color locks the lip gloss while adding moisture and shine to your lips. Not only is this lip gloss transfer-proof, but it is incredibly lightweight and doesn't feel sticky.
Pros
Long-lasting
Lightweight formula
Transfer-proof
Keeps the lips moisturized
Affordable
Available in 16 shades
Cons
It takes some time to wipe it off properly
Add a pop of color to your lips and let the goodness of shea, mango, and coconut butter give them the ultimate moisturization with this high-impact hydrating gloss. It comes with pH pigments, which means that each color will look slightly different on each individual, owing to their pH levels. This smooth and creamy gloss is lightweight and available in 8 collectible shades. It also provides a multidimensional shimmer and doesn't feel sticky. As it is a retractable crayon, you don't even need a sharpener for it. It is the Best Long Lasting Lip Gloss.
Pros
Lightweight
Contains shea, mango, and coconut butter
Retractable crayon
Available in 8 shades
Comes with pH reactive pigments
Cons
Don't we just adore a multifunctional beauty product? This lip and cheek stain works actively towards flattering your skin's undertone to reveal a shade that's perfect for you. Filled with natural botanical ingredients such as olive, avocado, and jojoba oils along with pomegranate, blackberry, blueberry, and white tea leaf extracts, this natural moisturizing lip shine is incredibly hydrating. Suitable for all skin tones, it provides a long-lasting and unique color to your lips and cheeks. It is also non-drying and wheat-free.
Pros
Ideal for all skin tones
Long-lasting
Non-drying
Wheat-free
Contains natural botanicals
Hydrating
Cons
A matte lip gloss that is favored by makeup enthusiasts and lip gloss lovers, this one will make you feel as though you haven't applied anything to your lips. Its comfortable and ultra-light formula makes it one of the best drugstore lip glosses. As it is a highly-pigmented and rich matte lip gloss, it leaves your lips with a superior matte finish. You can achieve perfectly lined lips every day with its precision applicator that glides effortlessly. Available in 12 ravishing shades ranging from burgundies to pinks and pastels, this lip stain makes for an ideal fit for all skin tones.
Pros
Available in 12 colors
Affordable
Lightweight formula
Highly-pigmented matte finish
Precision applicator
Cons
It may not be smudge-proof all day long
Remember when we were kids and were always fascinated by our mother's makeup collection? As we weren't allowed to go close to her vanity, we would resort to lining our lips with colorful sketch pens, didn't we? Here comes a product that's not just any ordinary marker. Its chiseled precision tip makes it an easy lip gloss to use, and it helps you create a bolder lip with buildable coverage. It stays on for long hours as it is kiss-proof and smudge-proof. Infused with hydrating and moisturizing ingredients like vitamin E and aloe vera, it is considered to be one of the best long-lasting lip glosses.
Pros
Precision tip marker
Buildable coverage
Affordable
Transfer-proof
Cruelty-free
Dermatologically-tested
Cons
If not stored properly, the product may dry up quickly
Another wonder product with a precision tip, this one comes with water-based colorants making it one of the best clear lip glosses to add to your makeup kit. Although it is lightweight, it lasts a long time without feeling heavy and sticky. Once applied, the lip stain dries quickly and doesn't fade. Although the first coat may feel a little too dark for your liking, rest assured that it absorbs quickly, leaving a natural-looking tint on your lips. Suitable for all skin tones, this product is also hydrating and moisturizing. So, go ahead and give your lips a dash of color with this opaque gloss that stays on. It is the Best Drugstore Clear Lip Gloss.
Pros
Absorbs quickly
Doesn't feel heavy or cakey
Long-lasting
Made with water-based colorants
Suitable for all skin tones
Cons
If you are on the hunt for the best clear lip gloss, your search can end here. This little gem glides on seamlessly and stays on until you are ready to remove it. Smudge-proof and transfer-proof, this lip tint gives your lips a natural-looking flush. As a multifunctional product, it can also be used as a cheek stain to add that flushed glow to your face. Its angled precision applicator makes it easy to apply, and the lip gloss itself absorbs quickly without leaving your lips feeling dry and creased. For a more dramatic lip, you can layer it up without getting worried about how heavy it may feel.
Pros
Compact and lightweight
Doesn't feel heavy on the lips
Absorbs and dries quickly
2-in-1 product
Angled applicator
Cons
Whether it's a nude lip you prefer or a bright, eye-catching one, this lip stain is available in many colors to match all your moods! It comes with a hydrating formula that cares for your lips and also contains panthenol to prevent the lip stain from drying quickly. Due to its waterproof formula, these matte stains are quickly becoming quite popular. To create unique colors of your own, you can layer up different shades of this lip stain without it feeling heavy on your lips. For extra shine, you can apply a layer of shimmering or high-shine lip glosses.
Pros
Waterproof and hydrating
Available in 6 shades
Precision tip for easy application
Paraben-free
Cruelty-free
Cons
Isn't very long-lasting
The applicator dries out quickly if not stored properly
A fitting example for the phrase, 'a little goes a long way,' this lip and cheek stain is an item you should add to your everyday makeup pouch. Its sheer tint is not only kiss and smudge-proof, but it lasts throughout the whole day too. It glides smoothly on the lips and is easy to spread on the cheeks as well. You can apply a thin layer for a rosy color or apply several coats to achieve a more dramatic effect. So, whether it is lunch with your friends that you need to get ready for or a party in the evening, this little beauty can come extremely handy. It is the best Non Sticky Lip Gloss.
Pros
2-in-1 lip and cheek stain
Smudge-proof
Easy to apply
Buildable
Sheer tint
Cons
Expensive
May not be suitable for extremely sensitive skin
Are you looking for a highly-pigmented lip stain that comes with a precision tip applicator? If yes, you need to give this lip stain a shot. Allow the pen-tip to line your lips seamlessly and color your lips for a smudge-free and transfer-proof experience. Infused with a generous dose of vitamin E, this lip stain also keeps your lips moisturized and hydrated. As it is made with a lightweight formula, it Good Quality Lip Gloss that never feels heavy on the lips, and you can wave creasing goodbye. It's cruelty-free, gluten-free, and vegan too.
Pros
Pigment-rich
Contains vitamin E
Lightweight
Cruelty-free
Gluten-free
Vegan
Cons
Not long-lasting
The applicator tip may be slightly stiff
A tint that is as smooth as velvet, this twist and apply lip gloss will make all your lip dreams come true. A perfect combination of intense and powerful along with light and airy, this lip tint provides full-coverage. 'Matte on the outside, smooth on the inside,' this lip tint lends a smooth application, and the multi-functioning cushion tip ensures that there is no leakage. Available in 14 irresistible shades, you can enjoy the creamy texture that doesn't feel dry on the lips and imparts a natural and healthy tint. It is the best drugstore pink lip gloss.
Pros
Full-coverage
Intense and vibrant color
Available in 14 colors
Suitable for all skin tones
Anti-leakage cushion tip
Cons
Slightly expensive
On the first use, the dial may have to be turned at least 10 times until the liquid comes out
A perfectly lined lip with a long-lasting color can change your mood and set the tone for the day. Hence, it is important to invest in the best lip gloss that not only lasts throughout the day but also provides coverage and keeps your lips hydrated. Finding the best long-lasting drugstore lip glosses can be a hard task, especially when there are so many to choose from. That is why we've compiled the 11 best drugstore lip glosses for you. Take a look and find one that is best suited to you. Reach out to us in the comments section and let us know which one caught your eye.
Recommended Articles