13 Best Drugstore Lip Glosses Of 2023 For That Gorgeous Pout
For supple lips and Gram-ready pouts that attract attention, try these products.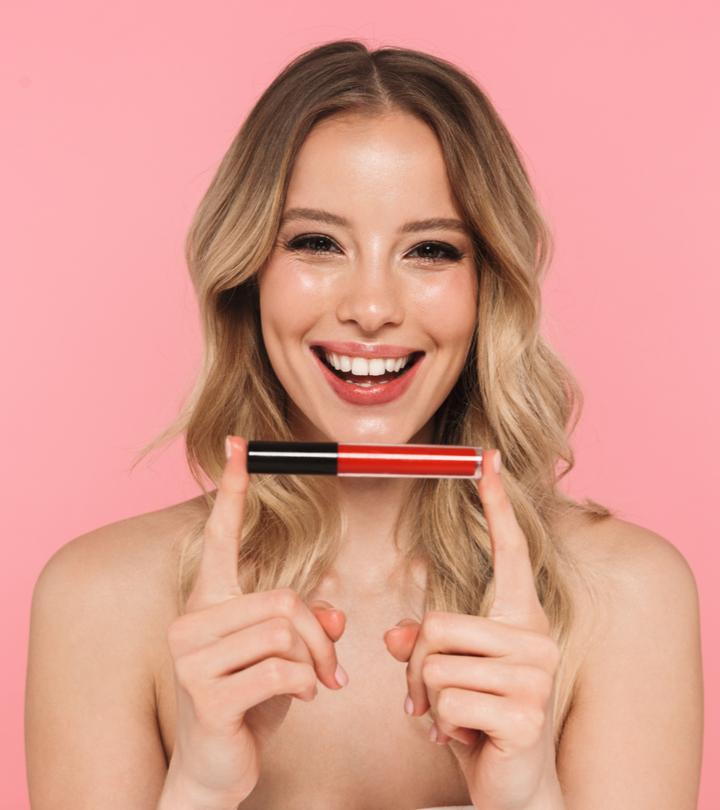 A lip gloss can add shine to your lips without adding additional color. They make the lips appear glossy, soft, and plumper. The best drugstore lip gloss comes with a non-sticky, shiny formula with a good finish. They come with glittery, glossy, and matte finishes. A lip gloss can be anywhere between translucent to solid and often provide full coverage. A colored lip gloss is formulated with a combination of color and shine, while glitter lip gloss adds glitter to your lips without any color. These lip glosses not only make your lips appear kissable but also add an extra oomph to your entire makeup look.
Lip glosses are loved by those who want to have a light color on the lips without adding any solid color. There are some lip glosses that add shine to your lips and nourish them at the same time. They also keep your lips hydrated.
Finding the best non-sticky lip gloss that glides smoothly can be tough. This is why, in this article, we have mentioned a carefully curated list of the 11 best long-lasting drugstore lip gloss. Check them out below!
13 Best Drugstore Lip Glosses In 2023 For That Pout You've Always Wanted.
Pros
Long-lasting and non-sticky
Makes the lips soft and supple
Vegan and cruelty-free
Wear the gloss alone or glide them on your lipstick.
Cons
Price at the time of publication: $4.97
Pros
Non-sticky
High-shine, plump lips
XL wand
15 shades
Enriched with hyaluronic acid and coconut oil
Cons
Some may find the finish too sheer for their liking
Price at the time of publication: $6.99
Pros
Contains nourishing oils
Hydrates and nourishes
Paraben-free
Cruelty-free
Vegan
Cons
Some may find it slightly sticky
Price at the time of publication: $3.0
Pros
Lightweight formula
High-definition glossy look
Moisture-rich
Contains natural ingredients
Non-sticky
Cons
The gloss is good for shine, but the color pigment might be very light.
Price at the time of publication: $2.74
Pros
For glossy lips and shiny eyelids
Vegan and cruelty-free
Full-stroke applicator brush
Travel-friendly packaging
Cons
May not offer long-lasting wear
Price at the time of publication: $3.48
Pros
Long-lasting
Lightweight formula
Transfer-proof
Keeps the lips moisturized
Affordable
Available in 16 shades
Cons
It takes some time to wipe it off properly
Price at the time of publication: $6.29
Pros
Ideal for all skin tones
Long-lasting
Non-drying
Wheat-free
Contains natural botanicals
Hydrating
Cons
Price at the time of publication: $32.0
Pros
Available in 12 colors
Affordable
Lightweight formula
Highly-pigmented matte finish
The precision applicator helps you spread on lips without much effort.
Cons
The gloss may not be smudge-proof all day long
Price at the time of publication: $8.98
Pros
Absorbs quickly
Doesn't feel heavy or cakey
Long-lasting
Made with water-based colorants
The gloss is suitable for all skin tones.
Cons
Price at the time of publication: $19.99
Pros
Compact and lightweight
Absorbs and dries quickly
2-in-1 product
Angled applicator
The product gets absorbed on the lip skin and dries quickly.
Cons
The color might fade away soon.
Price at the time of publication: $15.99
Pros
Waterproof and hydrating
Available in 6 shades
Precision tip for easy application
Paraben-free
The gloss is light on the lips.
Cons
The gloss and the applicator can dry out quickly when not closed properly.
Price at the time of publication: $7.99
Pros
2-in-1 lip and cheek stain
Smudge-proof
Easy to apply
Buildable
The sheer tint can be a dramatic one when applied twice.
Cons
None
Price at the time of publication: $32.97
Pros
Vegan
Cruelty-free
Non-sticky
Full-coverage
Vibrant color payoff
Suitable for all skin tones
Easy to apply
Available in 14 amazing shades
Included applicator
Cons
None
Price at the time of publication: $2.18
Now that we've taken a look at the 13 best drugstore lip glosses of 2023, are a few tips which will help you pick one for yourself.
What To Look For In A Drugstore Lip Gloss
The composition of any lip care product is very important, especially when you have sensitive skin. The best lip glosses are the ones formulated with moisturizing ingredients such as shea butter, cocoa butter, natural fruit oils along with vitamins A and E, aloe vera and beeswax. Not only do these ingredients keep the lips supple, it also provides ample hydration. Try to avoid lip glosses with phthalates, parabens, and sulfates.
You might pick up a gloss to add shimmer and shine to your lips. However, there are a few lip glosses that give your lip a matte-finish. If you are someone who wishes to keep the glitter off your lips, get a matte-finish lip gloss that keeps your lips hydrated and moisturised, and not dry and patchy.
There are lip glosses that shimmer and shine out to make your lips beautiful, but last only for a couple of hours. Get a long-lasting lip gloss that does not fade away with time or with the coffee you sip on. Getting a non-sticky and long-stay lip gloss that lasts long can give your lips the perfect shine and tint all day long.
Choose the shades and color of your lip gloss to match your skin. Some lip glosses come with a sheer, a medium, or an opaque tint. The others come with a very light tint and an extra dose of shimmer. If you are planning to apply on plain lips, go for the tinted ones. Choose the pale shades to use as a highlighter for your favorite lipstick.
Tips To Wear A Lip Gloss
Step 1 – Always start with clean lips. Apply some petroleum jelly or any hydrating lip balm as a base.
Step 2 – If you usefoundation on your face, go ahead and blend some on your lips to evenly match your skin shade.
Step 3 – For direct application, open your mouth a little wide so that the lip skin expands. Apply the lip gloss on your lips by making gentle strokes using the applicator brush.
Step 4 – A lipstick going before the gloss? Use your favorite lipstick and gently place a tissue in between your lips. Press your lips lightly on the tissue to get rid of excess lipstick. Take the lip gloss and apply it with gentle strokes using the applicator brush.
A perfectly lined lip with a long-lasting color can change your mood and set the tone for the day. Hence, it is important to invest in the best lip gloss that not only lasts throughout the day but also provides coverage and keeps your lips hydrated. Finding the best long-lasting drugstore lip glosses can be a hard task, especially when there are so many to choose from. That is why we've compiled the 11 best drugstore lip glosses for you. Take a look and find one that is best suited to you. Reach out to us in the comments section and let us know which one caught your eye.
Why Trust StyleCraze?
Chaitra Krishnan is a makeup enthusiast and offers her recommendation for the best lip gloss to add to your cosmetic collection. She believes that these lightweight, non-greasy lip products will have a positive impact on your lips without not breaking the bank. She compiled a comprehensive and detailed list of the top products after surveying every product review online. Keep your lip color vibrant with these drugstore products.
Frequently Asked Questions
Can lip gloss help in healing chapped lips?
Lip glosses with a hydrating formula that includes hyaluronic acid,  natural cocoa, shea, and fruit butters help heal chapped lips.
Does a lip gloss moisturize lips?
This depends on the formulation and composition of the lip glosses. The glosses infused with natural butters of cocoa, shea and similar hydrating elements are moisturizing drugstore lip glosses that can moisturize your lips.
Are all the lip glosses shiny?
No, not all lip glosses are shiny. Some also offer a matte or sheer finish.
Are lip glosses long-lasting?
Some lip glosses like the Covergirl Outlast Lip Stain and the Maybelline New York Lifter Gloss last quite a few hours.
Which is better – chapstick or lip gloss?
Chapsticks provide moisture and, in some cases, even sun protection to the lips whereas lip gloss makes your lips appear fuller but may not provide enough hydration. It is best to apply lip balm before applying lip gloss to get the best of moisture and gloss.