13 Best Drugstore Lip Glosses Of 2023 For That Gorgeous Pout
For supple lips and Gram-ready pouts that attract attention, try these products.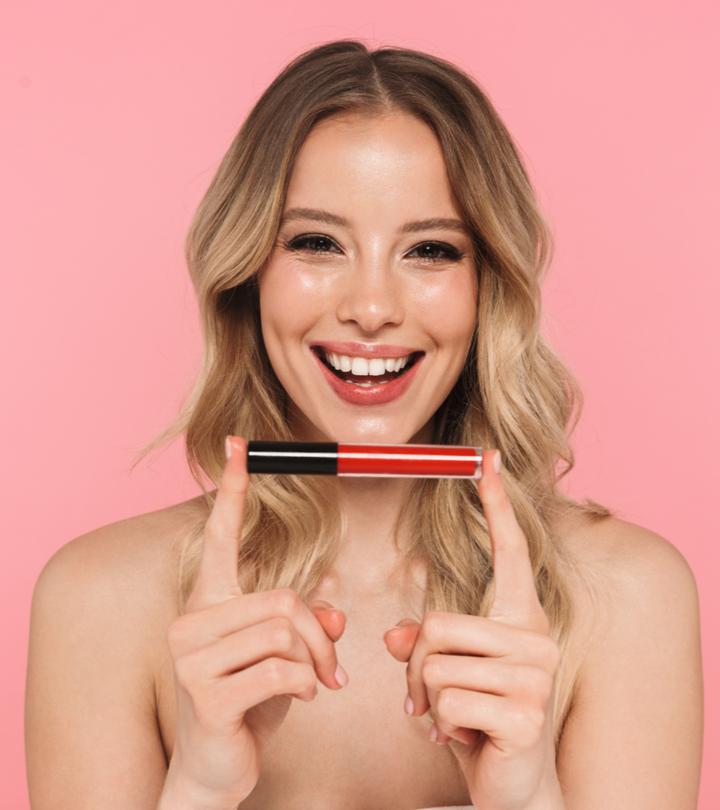 A lip gloss can add shine to your lips without adding additional color. They offer enhanced beauty by making the lips appear glossy, soft, and plumper. The best drugstore lip gloss comes with a non-sticky, shiny formula with a good finish. They come with glittery, glossy, and matte finishes. A lip gloss can be anywhere between translucent to solid and often provide full coverage. A colored lip gloss is formulated with a combination of color and shine, while glitter lip gloss adds glitter to your lips without any color. These lip glosses not only make your lips appear kissable but also add an extra oomph to your entire makeup look.
Lip glosses are loved by those who want to have a light color on the lips without adding any solid color. There are some lip glosses that add shine to your lips and nourish them at the same time. They also keep your lips hydrated.
Finding the best non-sticky lip gloss that glides smoothly can be tough. This is why, in this article, we have mentioned a carefully curated list of the 11 best long-lasting drugstore lip gloss. Check them out below!
13 Best Drugstore Lip Glosses In 2023 For That Pout You've Always Wanted.
Give your dry lips a big chug of hydration with the NYX Professional Makeup Butter Gloss. A single swipe of this buttery miracle gel will instantly make your lips super soft with adding an incredible amount of natural shine. When you open the gloss, the first thing that hits you is the sweet iconic scent but that's not the only thing that's raving about. A non-sticky formula, the butter gloss offers sheer to medium coverage with a shiny finish, and you can choose from a whopping 36 lip gloss shades of this delicious-tasting drugstore lip gloss to give your lips that extra dose of love. You can use the lips gloss on its own or apply a generous dose over your favorite lipstick too! This hydrating lip gloss is also not tested on animals and is favored by ethically-conscious consumers. If you need further convincing, check out this YouTuber's review showcasing a tester's experience with the lip gloss.
Pros
Long-lasting formula
Doesn't feel dry or sticky
Makes the lips soft and supple
Vegan and cruelty-free
Wear the gloss alone or glide them on your lipstick.
Cons
Fyour lip dreams with the Maybelline New York Lifter Gloss. It is arguably the best drugstore plumping lip gloss as one swipe of it will offer full coverage. Formulated with hyaluronic acid and coconut oil, this dermatologist-tested drugstore lip gloss for dry lips instantly softens chapped and dry lips. To add to that, the extra large applicator wand makes this gloss a dream product to use. Reviewers especially vouch for its smooth yet non-sticky formula that adds an extra oomph to your look.
Pros
Non-sticky
High-shine, plump lips
XL wand
15 shades
Enriched with hyaluronic acid and coconut oil
Allergy-tested
Cons
Some may find the finish too sheer for their liking
Dream of that gorgeous, glossy pout throughout the day? Get your hands on the e.l.f Lip Lacquer right now! Psst, it's a favorite drugstore lip gloss of so many people. The formula contains vitamin A to hydrate the lips along with Vitamin E to nourish and soften it. Infused with a host of nourishing oils like grapeseed, avocado, sunflower seed, meadowfoam seed oil, the gloss not only lends a high-shine gloss to your lips, it also keeps moisturized throughout the day. The lustrous lip gloss is vegan and not tested on animals. It is also free from parabens, phthalates, triclocarban and nonylphenols to keep your lips safe and protected.
Pros
Contains nourishing oils
Hydrates and nourishes
Paraben-free
Cruelty-free
Vegan
Cons
Some may find it slightly sticky
Add a pop of color and a bewildering shine to your lips with the Revlon Super Lustrous The Gloss. Enriched with moringa oil, agave and cupuacu butter, this moisturizing lip gloss adds moisture to your lips and keeps it hydrated throughout the day. This popular lip gloss is lightweight and its non-sticky formulation will make you forget that you have any product on. Reviews from online forums vouch for the extra large applicator brush that is enough to give your lips an even spread and fuller appearance with just one stroke. Pick your favorite, whether it is a lighter shade or darker one from the collection of 24 shades and flaunt your lips like never before.
Pros
Lightweight formula
High-definition glossy look
Moisture-rich
Contains natural ingredients
Non-sticky
Cons
The gloss is good for shine, but the color pigment might be very light.
If you are someone who loves to dazzle and glassy shine, the ALMAY Goddess Gloss could be your magic wand. Infused with pomegranate, raspberry and grape oil, the gloss comes in 8 prismatic shades that fit any skin tone. The lip gloss is dermatologically-tested and hypoallergenic, making it a good choice for those with sensitive skin. Ethically conscious consumers also opt for this product as it is not tested on animals. Mix and play with 2 shades or apply it over your favorite color of lipstick to stand out in any crowd. Your lips will feel hydrated and never sticky when you use this. With the flocked applicator brush, you can use this ophthalmologist-tested product to add a shimmery finish to your eyelids too.
Pros
For glossy lips and shiny eyelids
Vegan and cruelty-free
Full-stroke applicator brush
Travel-friendly packaging
Cons
May not offer long-lasting wear
One may argue that although lip glosses are an important addition to any makeup kit, it doesn't last too long, and one needs to go through several rounds of re-application throughout the day. However, these new and improved glosses will prove you wrong. A single swipe of this lip gloss will last for up to 16 hours. So, eat your heart out or kiss your boyfriend and you will still find the gloss intact. The first translucent coat of this colored lip gloss makes your lips smooth as velvet, and the second coat of intense color locks the lip gloss while adding moisture and shine to your lips. Reviewers love that not only is this high-shine lip gloss transfer-proof, but it is incredibly lightweight and doesn't feel sticky.
Pros
Long-lasting
Lightweight formula
Transfer-proof
Keeps the lips moisturized
Affordable
Available in 16 shades
Cons
It takes some time to wipe it off properly
Don't we just adore a multifunctional beauty product? This lip and cheek stain works actively towards flattering your skin's undertone to reveal a shade that's perfect for you. Its ingredients contain natural botanicals such as olive, avocado, and jojoba oils along with pomegranate, blackberry, blueberry, and white tea leaf extracts, this natural moisturizing lip shine is incredibly hydrating. Suitable for all skin tones, it provides a long-lasting and unique color to your lips and cheeks. It is also non-drying and wheat-free. You can check this video,detailing a tester's experience, out if you need to know more about the product.
Pros
Ideal for all skin tones
Long-lasting
Non-drying
Wheat-free
Contains natural botanicals
Hydrating
Cons
A matte lip gloss that is favored by makeup enthusiasts and lip gloss lovers, this one will make you feel as though you haven't applied anything to your lips. Its comfortable and ultra-light formula makes it a nice drugstore lip gloss. As it is a highly-pigmented and rich matte drugstore lip gloss , it leaves your lips with a superior matte finish. You can achieve perfectly lined lips every day with its precision applicator that glides effortlessly. Plus plumpness is the best thing about this lip makeup that makes your lips look supple. Available in 12 ravishing shades ranging from burgundies to pinks and pastels, this lip stain makes for an ideal fit for all skin tones. To find out more about a tester's experience with this lip plumping gloss, check this video review out.
Pros
Available in 12 colors
Affordable
Light and airy
Highly-pigmented matte finish
The precision applicator helps you spread on lips without much effort.
Cons
The gloss may not be smudge-proof all day long
Another wonder product with a precision tip, this one comes with water-based colorants making it one of the best clear lip glosses to add to your makeup kit. Although it is lightweight, it is a long-lasting drugstore lip gloss that lasts long without feeling heavy and sticky. Once applied, the lip stain dries quickly and doesn't fade, keeping its opacity intact. Although the first coat may feel a little too dark for your liking, rest assured that it absorbs quickly, leaving a natural and healthy tint on your lips. Suitable for all skin tones, this product is also hydrating and moisturizing. So, go ahead and give your lips a dash of color with this opaque gloss that stays on.
Pros
Absorbs quickly
Doesn't feel heavy or cakey
Long-lasting
Made with water-based colorants
The gloss is suitable for all skin tones.
Cons
If you are on the hunt for the best clear lip gloss, your search can end here. This little gem glides on seamlessly and stays on until you are ready to remove it. Smudge-proof and transfer-proof, this lip tint gives your lips a natural-looking flush. Reviewers highly recommend this multifunctional product as it can also be used as a cheek stain to add that flushed glow to your face. Its angled precision applicator makes it easy to apply, and the lip gloss itself absorbs quickly without leaving your lips feeling dry and creased. The product is also favored by ethically conscious consumers as it is not tested on animals. For a more dramatic lip, you can layer it up without getting worried about how heavy it may feel.
Pros
Compact and lightweight
Absorbs and dries quickly
2-in-1 product
Angled applicator
The product gets absorbed on the lip skin and dries quickly.
Cons
The color might fade away soon.
Whether it's a nude lip you prefer or a bright, eye-catching one, this drugstore clear lip gloss is available in many colors to match all your moods! With its twist and apply design, it's convenient and easy to use. It comes with a hydrating formula that cares for your lips and also contains panthenol to prevent the lip stain from drying quickly. Due to its waterproof formula, these matte stains are quickly becoming quite popular. Additionally, ethically-conscious reviewers highly recommend this product as it is not tested on animals. To create unique colors of your own, you can layer up different shades of this lip stain without it feeling heavy on your lips. For extra shine, you can apply 2 layers of this shimmering high-shine drugstore lip gloss.
Pros
Waterproof and hydrating
Available in 6 shades
Precision tip for easy application
Paraben-free
The gloss is light on the lips.
Cons
The gloss and the applicator can dry out quickly when not closed properly.
A fitting example for the phrase, 'a little goes a long way,' this lip and cheek stain is a hybrid lip gloss you should add to your everyday makeup pouch. Its sheer tint is not only kiss and smudge-proof, but it lasts throughout the whole day too. Reviews from online forums attest that this gloss glides smoothly on the lips and is easy to spread on the cheeks as well. You can apply a thin layer for a rosy color or apply several coats to achieve a more dramatic effect. So, whether it is lunch with your friends that you need to get ready for or a party in the evening, this little beauty can come in extremely handy.
Pros
2-in-1 lip and cheek stain
Smudge-proof
Easy to apply
Buildable
The sheer tint can be a dramatic one when applied twice.
Cons
None
The wet n wild Mega Slicks Lip Gloss adds a color splash and quick shine to your lips. Along with providing vibrant color, the rich formula's perfect combination of hyaluronic acid, collagen, sunflower oil, and vitamin E also helps to nourish and moisturize the lips. This lip gloss is made with a special jojoba glaze, which helps your lips shine as brightly as you do. It's really easy to apply vibrant colors with just one swipe, thanks to the provided applicator brush.
Pros
Vegan
Cruelty-free
Non-sticky
Full-coverage
Vibrant color payoff
Suitable for all skin tones
Easy application
Available in 14 irresistible shades
Included applicator
Cons
None
*The prices provided in this article are based on the latest available information. However, they may vary due to changes in pricing by the seller and/or promotional offers.
Now that we've taken a look at the 13 best drugstore lip glosses of 2023, are a few tips which will help you pick one for yourself.
What To Look For In A Drugstore Lip Gloss
The composition of any lip care product is very important, especially when you have sensitive skin. The best lip glosses are the ones formulated with moisturizing ingredients such as shea butter, cocoa butter, natural fruit oils along with vitamins A and E, aloe vera and beeswax. Not only do these ingredients keep the lips supple, it also provides ample hydration. Try to avoid lip glosses with phthalates, parabens, and sulfates. If you have sensitive skin, opt for a dermatologist-tested lip gloss to avoid allergic reactions.
You might pick up a gloss to add shimmer and shine to your lips. However, there are a few lip glosses that give your lip a matte-finish. If you are someone who wishes to keep the glitter off your lips, get a matte-finish lip gloss that keeps your lips hydrated and moisturised, and not dry and patchy.
There are lip glosses that shimmer and shine out to make your lips beautiful, but last only for a couple of hours. Get a long-lasting lip gloss that does not fade away with time or with the coffee you sip on. Getting a non-sticky and long-stay lip gloss that lasts long can give your lips the perfect shine and tint all day long.
Choose the shades and color of your lip gloss to match your skin. Some lip glosses come with a sheer, a medium, or an opaque tint. The others come with a very light tint and an extra dose of shimmer. If you are planning to apply on plain lips, go for the tinted ones. Choose the pale shades to use as a highlighter for your favorite lipstick.
Tips To Wear A Lip Gloss
Step 1 – Always start with clean lips. Apply some petroleum jelly or any hydrating lip balm as a base.
Step 2 – If you use foundation on your face, go ahead and blend some on your lips to evenly match your skin shade.
Step 3 – For direct application, open your mouth a little wide so that the lip skin expands. Apply the lip gloss on your lips by making gentle strokes using the applicator brush.
Step 4 – A lipstick going before the gloss? Use your favorite lipstick and gently place a tissue in between your lips. Press your lips lightly on the tissue to get rid of excess lipstick. Take the lip gloss and apply it with gentle strokes using the applicator brush.
Why Trust StyleCraze?
Srijita De is a makeup enthusiast and offers her recommendation for the best lip gloss to add to your cosmetic collection. She believes that these lightweight, non-greasy lip products will have a positive impact on your lips without not breaking the bank. She compiled a comprehensive and detailed list of the top products after surveying every product review online. Keep your lip color vibrant with these drugstore products.
Frequently Asked Questions
Can lip gloss help in healing chapped lips?
Lip glosses with a hydrating formula that includes hyaluronic acid,  natural cocoa, shea, and fruit butters help heal chapped lips.
Does a lip gloss moisturize lips?
This depends on the formulation and composition of the lip glosses. The glosses infused with natural butters of cocoa, shea and similar hydrating elements are moisturizing drugstore lip glosses that can moisturize your lips.
Are all the lip glosses shiny?
No, not all lip glosses are shiny. Some also offer a matte or sheer finish.
Are lip glosses long-lasting?
Some lip glosses like the Covergirl Outlast Lip Stain and the Maybelline New York Lifter Gloss last quite a few hours.
Which is better – chapstick or lip gloss?
Chapsticks provide moisture and, in some cases, even sun protection to the lips whereas lip gloss makes your lips appear fuller but may not provide enough hydration. It is best to apply lip balm before applying lip gloss to get the best of moisture and gloss.
Recommended Articles