18 Of The Best Drugstore Liquid Eyeliners Under $10 – 2022
Get your winged eyes to look right on point this season to enhance your eye makeup.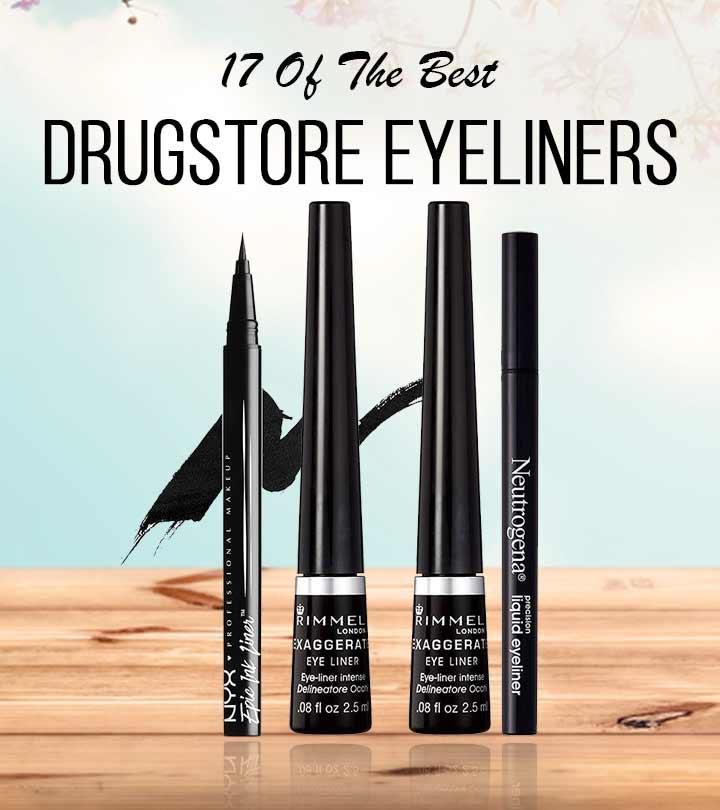 Liquid eyeliners have become a fashion staple, and they can transform your look entirely in just one single swipe. Getting the precise look can be a struggle as most eyeliners have a runny consistency and hard-to-use applicators that get smudged easily. Thankfully, with an array of options out there, you can easily find the best drugstore liquid eyeliners that will not dig a hole in your pocket. Whether you are looking for the ultimate smudge-proof product or the perfect applicator for a precise, thin line, there is the eyeliner for everyone. We have listed the 17 best drugstore picks trusted by professional makeup artists in this post. Have a look!
18 Of The Best Drugstore Eyeliners Under $10
This waterproof eyeliner features an ultra-fine tip that delivers laser-sharp precision for the most defined line. It's long-wearing and water and smudge-proof, delivering precise definition in just one stroke. You may check more about this productin this video.
Pros
Easy and precise application
Water and smudge-proof
Very pigmented
Suitable for sensitive eyes and contact lens wearers
Cons
Dries up quickly
Fades rather easily
Maybelline Master Precise Liquid Eyeliner Review
This drugstore liquid eyeliner is one of Maybelline's most popular products. If you are a beginner and have just started off with liquid eyeliners, this one's great for a first start, and it's really easy to use. Even when layered, it doesn't give the awful patchy look. This one looks just like a calligraphy pen, and its small tip allows for super sharp and precise wings. One of the best drugstore liquid eyeliners!
This intense liquid eyeliner pen adds drama to your eyes and helps create any eyeliner look – soft or dramatic – with its tapered felt tip. The ultra-precise design of the tip makes it perfect for mess-free application. It stays up to 16 hours and is ideal for daily wear. Check out this video to learn more.
Pros
Highly pigmented, intense black color
Tapered felt-tip
Easy and mess-free application
Glides on smoothly
Cons
Tends to smudge on rubbing
Not waterproof
Revlon Colorstay Liquid Eye Pen Review
This eyeliner by Revlon, named 'Blackest Black,' comes in a pen packaging. Its consistency is neither too thick nor too runny, and the felt tip makes it really easy to use. It's great for everyday wear and will easily stay on for a good 11-12 hours. Coming to the pigmentation, we noticed that we had to go over the line a few times to intensify the black because one stroke didn't seem enough. However, that did not ruin the look. If you have oily eyelids, you will love this eyeliner as it won't budge at all!
The party-proof Eye Tech Extreme Liquid Eyeliner by Milani allows you to create a thin, medium, or thick line just by switching up the angle you hold it. It's a waterproof, transfer-proof, and non-feathering formula that glides on smoothly in a single stroke and stays right where you put it.
Pros
Ultra-fine tip
Easy application
Long-staying
Smooth flow of product
Glides on smoothly without tugging or leaving gaps
Cons
Its tip is slightly stiff when compared to other pen eyeliners.
Milani Eye Tech Extreme Liquid Eyeliner Review
This eyeliner by Milani comes in a sleek pen-style format. Its fine tip helps create flawless cat eye looks and winged lines. It's one of the most pigmented liquid liners out in the drugstore market, and if pigmentation is an important criterion for you, you will love this. We were impressed with its staying power as it stayed on for about 12 hours without budging even slightly. This is definitely one of the best eyeliners in the under-$10 range!
Create perfect lines to oomph up your eye game with Covergirl Perfect Point Plus Eyeliner. Choose your pick from 9 glamorous shades, and smudge out the line with the soft smudger tip. The specially designed tip self-sharpens to ensure you draw perfect lines every single time. This eyeliner is super precise and offers you control and versatility as it glides on smoothly.
Pros
Easy to apply
Self-sharpens
Soft smudger tip
Ophthalmologist-tested
Smooth formula
Does not tug or pull on the eyelid
Cruelty-free
Cons
Difficult to remove
Smudges and smears easily
Not suitable for application on the waterline
Covergirl Perfect Point Plus Eyeliner Review
This CoverGirl eyeliner comes packed in a color-coded pencil with a twist-up mechanism. Its creamy, buttery formula glides on smoothly to give you precise lines. The pigmentation intensifies with each swipe. Although it is water-resistant, it fades and smudges throughout the day. It is still worth a buy if you're looking for something soft and smooth that creates neat lines.
L'oreal Paris presents Voluminous Liner Noir Liquid eyeliner pen in a rich, black formula. You can now create mesmerizing feline looks with its ultra-fine 0.1 MM felt tip for sleek and easy application. Its unique packaging shape provides added control and precision.
Pros
Extremely pigmented black
Pen applicator for smooth and precise application
Fine tip
Does not rub off easily
Glides on smoothly
Cons
Tends to slightly smudge on hot days
L'Oreal Paris Voluminous Liner Noir Liquid Eyeliner Pen Review
If you are looking for a less expensive alternative to Stila's liquid eyeliner, this one is close enough and way cheaper. It comes in the form of a marker pen that gives you a whole lot of control over the thickness of the line. It helps you achieve the perfect wing without much effort, unlike the traditional liquid liners. The formula is very smooth, and it does not clump. What more can you want from an eyeliner?
The cat-eye liner look is the toughest to achieve. That is why you need to get your hands on NYX Professional Makeup Epic Ink Liner. Its ultra-precise tip is so smooth and flexible that you can line your eye with a single stroke. It is extremely fluid and gives you the most dramatic cat-eye finish effortlessly. Watch this video for more information about the product.
Pros
Waterproof
Intensely pigmented
Matte finish
Cruelty-free
Vegan
Cons
NYX Professional Makeup Epic Ink Liner Review
The super sleek and supple tip of NYX Professional Makeup Epic Ink Liner is all you need if you are a beginner who wants to ace the bold cat-eye look. Its fluid formula makes it very easy to put on. It applies evenly without smudging or getting patchy. Though it is slightly difficult to remove, it is a long-wearing eyeliner.
With the new e.l.f Expert Eyeliner, say no more to tugging or pulling with its easy glide formula. This smudge-proof liner is rich in color, creating a long-lasting, defined look.
Pros
Good pigmentation that's Buildable
Dries quickly
Easy and precise application
Available in five shades
Smudge-proof and water-proof
Cons
e.l.f Expert Liquid Eyeliner Review
If you like the traditional eyeliner bottle, this one's a great product that has a thin brush for the perfect winged eyeliner. It's a solid black that gives a translucent line in one swipe, but the intensity of the black isn't the best. It gives you a good, satin finish. Coming to its staying power – it's decent, and it does not flake off or break and stays put till you actually remove it with a makeup remover. Anyway, this $3 eyeliner is definitely worth every penny.
If you are going for an extravagant, bold eye look, Rimmel London Exaggerate Liquid Eye Liner is perfect for you. Its felt-tip applicator delivers its highly pigmented formula effortlessly. The tapered applicator is comfortable to hold and easy to control. Its smooth and fine texture deposits enough liner to create a perfect line in a single stroke.
Pros
Affordable
Travel-friendly packaging
Long-lasting
Smudge-proof
Waterproof
Cons
Rimmel Exaggerate Felt Tip Liquid Eyeliner Review
This is one of the best drugstore felt-tip liquid eyeliners. It is run-proof, flake-proof, and smudge-proof. The product claims to last up to 16 hours with a classy matte finish. It is suitable for sensitive eyes and contact-lens wearers. The felt-tip delivers bold, winged eyeliner looks very precisely. To exaggerate the beauty of your eyes, this drugstore liquid eyeliner is your best pick.
Kiko Definition Waterproof Eyeliner is a drugstore liquid eyeliner so creamy and buttery that you will never want to use any other eyeliner. It is formulated without parabens and is water-resistant. It glides on without tugging or pulling at the sensitive skin of the eyelids. Its thick consistency delivers a flawless finish that makes your eyes look gorgeous all day long.
Pros
Sturdy packaging
Long-lasting
Smudge-proof
Waterproof
Cons
Kiko Definition Waterproof Eyeliner Review
This drugstore liquid eyeliner is a savior for people with oily eyelids or living in humid climate. The smudge-proof formula lasts up to 12 hours or more. The precise fine-tip applicator lines your eyelids sharply. The formula is extra black and glossy and dries in 30 seconds to give you some time to undo your mistakes. No flaking, no cracking – this super pigmented eyeliner gives you the most matte finish ever.
Almay's unique inkwell design delivers fresh colors each time. It comes with a flexible tip applicator for mistake-proof control. Its water-resistant color stays on up to 16 hours.
Pros
Suitable for contact lens wearers
Smudge-proof
Rich, matte color
Dries fast
Creates precise lines
Cons
Not waterproof
Not long-lasting
Not suitable for oily eyelids
Almay Liquid Eyeliner Review
This eyeliner comes with an applicator that gives you more control when creating a wing or going for other creative looks. One swipe of the product gives rich color, and you can build it up to intensify it. It dries quickly and sets into a matte finish. Almay's a winner when it comes to its staying power (on normal days) and its non-irritant formula; so, if you have sensitive eyes, you can go for this. This sure is one of our favorite drugstore picks!
NYC's High Definition Liquid Liner's ultra-fine felt tip creates precise lines from soft to dramatic and gives you the ultimate mistake-proof application. Its duo of film-forming polymers come with long-wearing properties to intensify your eyes and give you rich, intense color.
Pros
Suitable for sensitive eyes
Good pigmentation
Easy to control
Precise and sharp application
Cons
Smells like a marker pen
Hard tip
NYC High Definition Liquid Eyeliner Review
We have mixed feelings about this eyeliner as some of its features impressed us, and the rest was quite a disappointment. It comes in a pen packaging with a stiff tip, which makes creating winged lines rather simple. The application is easy, and you need to store the pen upside-down if you want the color to be intense when you apply it. If you want a simple, daytime look, this will work well, but if you are looking for something dramatic, give this one a miss.
This felt tip liquid eyeliner by Boots makes for easy application, while its weightless formula lies comfortably on the eyes. The perfect sultry and dramatic frame for your eyes.
Pros
Decent staying power
Good packaging
Easy to use
Comes in different shades
Glides on smoothly
Cons
Poor color payoff
Inconsistent finish
Boots No7 Stay Precise Felt Tip Eyeliner Review
This Boots eyeliner comes in very convenient packaging and is easy to use, but when we consider its color payoff and pigmentation, it's disappointing. It needs more than one swatch to get an opaque finish. The longevity is decent, and it lasts for at least 6-7 hours without flaking off. This eyeliner isn't super cheap – it's in the mid-price range in drugstore brands, and there are better and less expensive drugstore options.
Cruelty-free, vegan, waterproof – what else does one need in an eyeliner? Wet & Wild H20 Proof Liquid Liner is a must-have in your travel makeup bag. From subtle, precise lines to bold, extravagant strokes – create your desired look using its fine applicator brush. This drugstore liquid eyeliner is long-lasting and available in two classic shades.
Pros
Smudge-proof
Waterproof
Long-lasting
Cruelty-free
Vegan
Inexpensive
Cons
Sticky formula
Might cause eye irritation
Tugs or pulls on eyelids
Wet & Wild H20 Proof Liquid Liner Review
The formula might feel a bit too sticky and difficult to apply. Thus, it is not the best choice for anyone with sensitive eyes. The waterproof matte finish is so appealing that you'd ask for nothing else at this price. It offers decent pigmentation, and its pen-like applicator is great for makeup newbies.
Black Radiance Fine Line Liquid Eyeliner makes looking fabulous, absolutely effortless. Master any line style – from thin feline-flicks to bold, thick lines just by adding a second swipe! This is your one-liquid liner for every kind of drama!
Pros
Easy application
Fine tip
Smudge-resistant
Dries fast
Cons
Black Radiance Fine Line Liquid Eyeliner Review
The Black Radiance Fine Line Liquid Eyeliner is available in a dark black shade that offers rich pigmentation to enhance your overall eye makeup look. It has a great formulation that dries very quickly, and its felt tip creates a precise line for a winged liner. One swipe gives a translucent black, while multiple swipes give you your desired color. Though it is not much resistant to water or sweat, but for $3, this one gives you the best of both worlds and is worth a shot.
Rimmel's Scandal Eyes Bold Liquid Eyeliner is an intense glossy color that lasts all day and night with a 24 hour wear time. It's fade, transfer and waterproof, and has an innovative round tip applicator for the boldest look.
Pros
Convenient to use
Rich black color
Can be used to create both thick and thin lines
Does not smudge or smear
Stays on for a good 6-7 hours
Glides on smoothly
Suitable for sensitive eyes and contact lens wearers
Cons
The color might slightly rip while application if the first layer is completely dry
Cheaper alternatives work the same way
Rimmel Scandal Eyes Liquid Eyeliner Review
Rimmel's Scandal Eyes liquid eyeliner comes with a felt tip liner in a glossy pen packaging. The liner is handy, and it has a rubber grip that ensures precise application. It has a slanted tip, which helps you create both thick and thin lines with the perfect curve. It glides smoothly and is very gentle on your lids. It settles into a matte finish with a sheen to it and stays put for 6-7 hours, after which you will need to touch it up. Overall, this a decent eyeliner, but there are cheaper alternatives in the market that work in the same way.
Physicians Formula Eye Booster 2-in-1 Lash Boosting Eyeliner + Serum is the dream pick for makeup enthusiasts. A liquid eyeliner with a lash-boosting formula is all you need to safeguard your lashes while adding definition to your pretty eyes. It improves the appearance of your lashes by lifting them from the roots. This high-tech dual formula is dermatologist-tested and safe for sensitive eyes and contact-lens wearers.
Pros
Adds volume to lashes
Smudge-resistant
Water-resistant
Hypoallergenic
Fragrance-free
Paraben-free
Suitable for people with sensitive eyes and contact-lens wearers
Cons
None
The lash booster formula of this liquid eyeliner nourishes and conditions your lashes while improving their appearance. This sleek and stylish eyeliner pen is easy to hold and control for drawing precise lines. This highly pigmented wet eyeliner is available in three shades that stay put all day long.
Neutrogena Precision Liquid Eyeliner's razor-sharp precision helps you achieve the dramatic cat-eye look effortlessly. It is formulated with natural honey and coconut that nourish your lashes. It is a smudge-resistant eyeliner that lasts all day long without flaking.
Pros
Water-resistant
Smudge-proof
Flake-proof
Hypoallergenic
Highly pigmented
Cons
None
Neutrogena Precision Liquid Eyeliner Review
The ultra-sharp razor tip of this pen eyeliner glides smoothly on the eyelids without tugging the skin. It delivers rich color in just a single swipe. This quick-drying eyeliner lasts perfectly throughout the day. If perfecting that winged-eye look has been a task for you, pick this pen and up your eye game instantly.
[ Also Try – Music Flower Long Wear Gel Eyeliner ]
Now that you know all about the best drugstore eyeliners available online, check out our buying guide to pick the best one according to your needs, along with some tips for applying eyeliner.
Buying Guide For Drugstore Eyeliners
How To Choose A Drugstore Eyeliner?
Choosing the right kind of eyeliner might seem intimidating, but is easy if you know what kind of look you want to create:
Gel liners are great if you love your cat-eye, winged looks. Their creamy and thick consistency works easily with a brush.
 If you want precise, sleek lines, go for a liquid eyeliner. Paired with a felt-tip applicator, it allows you control to create your desired look without getting messy.
If you are a beginner who wants to take their smokey-eye game up a notch, a pencil liner is a perfect choice for you. Sharpening it might be a pain, but its smoothness and ability to smudge perfectly is worth the hassle.
What Tips Should Be Followed While Using Any Drugstore Eyeliner?
Applying eyeliner can get messy, but here are a few pointers to fix your wings:
Choose the color of your eyeliner based on the kind of definition you want to create.
Always rest your elbow on a flat surface while applying eyeliner.
Use a concealer or a primer to hide any mistakes.
A clear lip gloss also does wonders in removing smudge eyeliner.
Outline the look you want to create with a pencil, then fill it in with the liner of your choice.
Fix your mistakes using a cotton swab.
Choose the right brush to apply your gel liner.
Always sharpen your pencil eyeliner for precise application and smudging.
Let the liquid eyeliner dry first before making any changes.
While shelling out money for an expensive eyeliner seems like a sensible way to avoid smudging and smearing, amazing formulas do exist even at the drugstore counter. All you need to do is some research! That was our list of 17 best drugstore liquid eyeliners, all under $10, that even makeup artists swear by. Have you tried any of these drugstore brands? Sound off in the comments!
Why Trust StyleCraze?
Shalini Roy, the author, loves all things makeup and gives you the inside scoop on the best drugstore liquid eyeliners you should have for your cosmetics arsenal. After surveying product reviews and user feedback, she compiled a comprehensive and detailed list of the top products in this list. So no matter what you are looking for, from the perfect smudge-proof formula to a thin, precise application tool, there is an eyeliner to fit your needs.
Frequently Asked Questions
How do you apply liquid eyeliner perfectly?
Follow these steps to apply liquid eyeliner perfectly every time:
Step 1: Shake the liquid eyeliner bottle before opening it.
Step 2: Hold the brush flat against the lid and as close to the lash line as possible.
Step 3: Start in the middle and drag to the outer corners.
Step 4: Follow your lash line and go slightly upwards. Do not tug at the eyelids.
Pro Tip: Curl your toes to prevent your hands from shaking.
How do you keep liquid eyeliner on all day?
Invest in a good waterproof and smudge-proof formula. If you have oily skin, begin with an eye primer as your first step in eye makeup. This helps to keep liquid eyeliner on all day.
How do you stop raccoon eyes from eyeliner?
To prevent raccoon eyes, invest in a smudge-proof formula and do not reapply your product multiple times drawing one line on top of another.
Why cannot I put eyeliner on my waterline?
It is advised not to put eyeliner on the waterline as your waterline has special glands that produce oil. The eyeliner formula may come in the way of the natural oil production process.
Recommended Articles:
Best Drugstore Waterproof Eyeliners
Best Drugstore Pencil Eyeliners For Bold, Intense Eyes
Best Drugstore White Eyeliners That Give You Brighter, Bolder Eyes
Best Waterproof Felt Tip Eyeliners For Bold Winged Eyes