13 Best Drugstore Long-Lasting Lip Liners To Buy In 2022
Give your lips a deep definition so that the color inside looks brighter and bolder.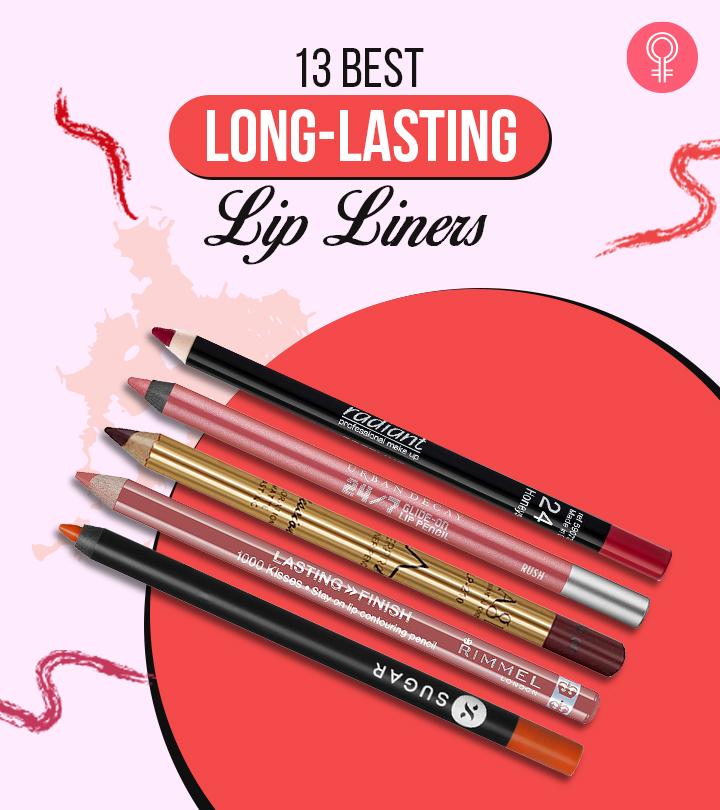 The best drugstore lip liner is not only affordable but can also give definition to your lips, stop the colors from bleeding and hide imperfections perfectly. And it also lasts for a long time. Wondering where you can find such a product? We have got you a list of the 13 best drugstore lip liners which are excellently formulated and built to last longer. So, take your pick so you can flaunt those gorgeous lips of yours in style!
13 Best Drugstore Long-Lasting Lip Liners
This lip liner set from Wismee has eight pencils in a matte finish. The variety of colors can complement different lipstick shades. This highly colored liner can fill your lips in one stroke and its soft texture is perfect for your delicate lips. It comes with a sharpener to create sharp and smooth tips for that flawless finish. It is available in eight colors. Its smooth refill can outline precise lines in just one stroke without hurting your lips.
Pros
Waterproof
Easy application
Sweat-resistant
Cons
May smudge after a few hours
Are you looking for a lip liner that defines as well as moisturizes your lips? Check out Urban Decay, a liner with the nourishing qualities of vitamin E, jojoba oil, and cottonseed oil. Its creamy texture helps it easily blend with the lips. It can also be used as a base for your favorite lipstick. Its intense color holds itself well and lets you eat, drink, kiss, and even lick without the fear of bleeding! This waterproof liner is available in nine shades to suit every lipstick shade in your vanity.
Pros
Non-feathering
Non-cakey
Non-drying
Cruelty-free
Cons
This gel-textured lip liner from Sugar Cosmetics gives you fuller lips for that beautiful pout. You can get matte-finished lips in a single stroke as its creamy texture enables easy application. The highly-pigmented pencil is available in eight vibrant shades to define your pout for a glamorous look. Each liner comes with a high-quality, specially designed dual sharpener to define the tips.
Pros
Water-resistant
No-feathering
Smudge-proof
Cruelty-free
Cons
May feel dry
Tip can break easily
This lip liner is a great pick to create perfect edges. You can fill it in completely or use it as a base for your lipstick or lip gloss to extend its stay. It is enriched with the goodness of vitamin E, jojoba oil, and antioxidants to keep your lips from cracking or flaking. The highly pigmented formula is perfect for all-day wear without budging or bleeding. It is available in a variety of shades from timeless nudes to bold reds that come with a 30-day money-back satisfaction guarantee.
Pros
Transfer-resistant
Waterproof
Gluten-free
Cruelty-free
Cons
May be slightly drying on very dry lips
The Rimmel lip liner comes in a shimmery finish to give you bold and well-defined lips. It has a velvety texture for smooth applicability and works without pulling or dragging your lips. This long-lasting liner does not bleed and stays put for 8 hours. The rich, pigmented formula enables it to be used on its own as a lip filler. This lip contouring pencil is available in an impressive range of 14 shades to glam up your look.
Pros
Smudge-proof
Waterproof
Non-cakey
Cons
May irritate sensitive skin
By The Clique has an enviable range of 21 shades of long-lasting lip liner. This matte finish liner stays on your lips for a long time without getting smudged. It can be used both as a liner and for full lip coverage. It has a lightweight formula that makes you look as well as feel good. It can be sharpened with any liner sharpener. The casing of the liner is specially designed for extra protection.
Pros
Increases wear-time of your lipstick
Non-sticky
Vegan
Gluten-free
Cruelty-free
Cons
Could be too small for some
Some shades not true to color
The defining lip liner from Pippa of London is an ultra-soft lip filler that helps achieve defined lips. The rich colors of this matte finish liner stay on your lips without bleeding. The pointed tip results in a precise filling and gives a neat appearance to your lips. It is made with quality pigments and natural ingredients such as jojoba oil, shea butter, mango seed oil, and candelilla wax. These ingredients provide intense nourishment to your lips. This rich and velvety lip liner can complement your various lipstick shades. It is available in 18 grand colors for an indulgent choice.
Pros
Smudge-proof
Non-feathering
Lightweight
Non-flaky
Cruelty-free
Cons
None
Mirenesse is a new generation lip liner designed with 90 percent less wax for a satin-finish look. It is formulated with powerful organic ingredients and is rich in antioxidants and vitamin E to keep your lips hydrated. This highly pigmented formula can be used as a wear-alone on the lips, or as a base for matte, glossy, or metallic lipsticks. This heavenly lip liner is long-lasting and glides effortlessly on your lips. It comes with an in-built sharpener in the cap.
Pros
Transfer-resistant
Blends well
Paraffin-free
Synthetic fragrance-free
Paraben-free
Cruelty-free
Cons
None
This product from DNM is a dual-ended lip liner and lipstick set of six pieces. The velvety finish of this matte lip liner makes your lips look elegant and silky. The adorable and bright shades are easy to apply and come in a glossy texture. This brand boasts both luxury and affordability with promising features. The lip liner is highly pigmented.
Pros
Non-sticky
Waterproof
Non-flaky
Cons
The shades may differ in the pack
This is a soft lip pencil that comes in a set of 12 liners of mixed colors. The matte finish liner glides smoothly on the lips for a beautiful, warm look. The consistency is not too creamy, and hence it settles quickly. The liner gives a good result if the tips are not too sharp. It can also be filled like a lipstick. This set of 12 pencils is a great value pack.
Pros
Waterproof
Smudge-proof
Suits all skin types
Cons
May feel dry when used as a lipstick
Weak pencil wood
This lip liner from Eternal is a good choice as a shade-intensifier. It comes in a convenient retractable pen form with a self-sharpening tip. It has a deep pigment and a creamy texture that settles into a matte finish. You can contour, fill, or correct your uneven lips without the fear of bleeding and feathering. Its application does not leave your lips flaky. It instead gives your lips an even finish.
Pros
Mineral oil-free
Cruelty-free
Water-resistant
Paraffin-free
Non-feathering
Cons
Could be too small for some
This product from Pudaier is precise and clear that gives your lips a natural look. It comes in a set of 12 colors with a variety of dashing shades. Each shade works well with a combination of lipstick shades. It defines your lips with clear lines and enhances the lipstick color. Its matte finish look can also be used as a lip filler. These liners come in a film-coated box available at an unbeatable price. Each pencil is covered with a cap for long-lasting protection.
Pros
Smudge-proof
Non-toxic
Water-resistant
Cons
This liner set is infused with deep pigments that provide your desired shade in one stroke. It has 12 shades in nude, neutral, and rosy tones that complement almost all skin tones. This lip liner has hydrating ingredients and a soft texture for easy application. Moreover, it can also be used as an eyeliner.
Pros
Sweat-proof
Water-resistant
Cons
May feel dry after sometime
These are the 13 best long-lasting lip liners available on the market. But how to choose what suits you the best? The following buying guide can help.
How To Choose A Lip Liner?
Dark shade for a bold look: If you want to give your lips a bold look, choose a shade that is one shade darker than your lipstick. This will highlight your lips for a perfect pout.
Family of same color: For a seamless look, select a liner that is similar to your lipstick shade. This will allow you to blend your lipstick perfectly with the lip shade for a well-defined look.
Choose your nude shade: Always keep a liner with you that is close to your natural lip shade. If you do not want to apply lipstick, the nudes will make your lips naturally lustrous. They also come in handy if you do not have a matching lip liner shade for your lipstick.
Ease of use: The liners should have a smooth finish to glide smoothly on your lips or else they will flake your lips. Pencils are the popular choice for their creamy texture. However, they need to be sharpened for precise, thin application. Retractable liners are easier to use as they don't need to be sharpened every time. Crayons have a thicker tip, creating a fuller look for easy daytime wear.
Skin tone: For people with cool undertones, (red, bluish, pink hue) purple- and bluish-tinged liners work well. For warmer undertones, (yellow, olive, or golden hue) one should choose liners with red or orange shades. Individuals with neutral tones can experiment with a range of shades.
Conclusion
Why Trust StyleCraze?
The author of this article, Baishali Bhattacharya, is an expert in makeup artistry and loves creating comprehensive makeup-related articles for her readers. After carefully browsing online user reviews, she has curated a list of the best drugstore long-lasting lip liners. Our list features lip-liners that are waterproof and can be applied easily. These products are non-cakey, sweat-resistant, easily blendable, and make your lips look glamorous.
Frequently Asked Questions
Should a lip liner be lighter or darker?
It really depends on the look you want to achieve. If you want a bold and highlighted look, chose one shade darker. If you want to simply define your lips, choose a shade matching your lipstick.
How do I sharpen my lip liner?
Most of the lip liners come with sharpeners. You can use any sharpener that fits your pencil to create a perfect tip.
Can you wear a lip liner without lipstick?
Yes. Many lip liners can also be used as wear-alone lipstick. Nude shades can be used on their own just to give a definite shape to your lips.
Does lip liner go on before or after lipstick?
Apply a lip liner on the outline of your lips first. Then fill your lips with lipstick to achieve fuller and more prominent lips.
Does long-lasting lip liner help lipstick stay on better?
Yes. Long-lasting lip liners prevent your lip colors from smudging and fading. They deepen the lipstick color and make your lips appear alluring.
Can I use pencil eyeliner as a lip liner?
Yes. Choose a creamy pencil liner that has a color close to your lip color and use it to line your lips.
Does a lip liner work as a lip primer?
Yes. A waterproof lip liner acts as a perfect lip base. It helps your lipstick stay longer.
Does long-lasting lip liner last longer than lipstick?
Yes. Long-lasting lip liners have an intense color payoff, and they stay on your lips for more hours than lipsticks that tend to smudge.
Recommended Articles