13 Best Drugstore Makeup Remover Wipes Reviews Of 2023
Remove stubborn makeup and dirt from your face effortlessly in a single swipe.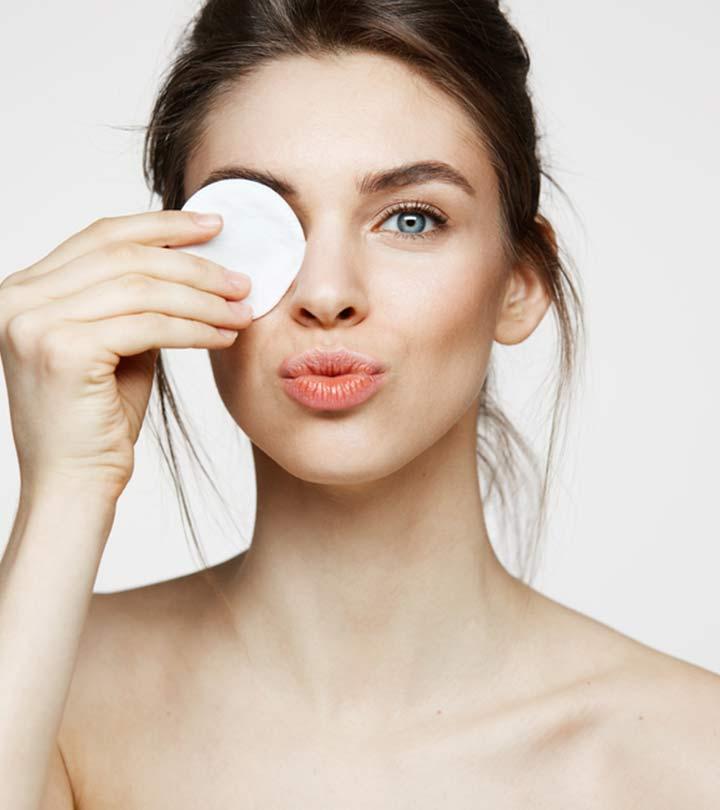 Wiping all your makeup after a tiring day can be one of the most satisfying experiences of the day for many women. But then, many women are still unsure of the best drugstore makeup remover wipes to use for the best makeup wiping experience. Count us in to rescue you because we certainly have answers for you. We know how difficult it can be to remove your makeup using face washes and soaps, and they still can't get rid of your lipstick and eyeliner tints. In such a situation, using a makeup remover wipe can be the best way out.
Plenty of makeup remover wipes are indeed available in the market, but that alone doesn't make them suitable for use. Take a look at the best 13 drugstore makeup removing wipes that are available online.
Top 13 Best Drugstore Makeup Remover Wipes To Try In 2023
Neutrogena Makeup Remover Cleansing Towelettes is the simplest solution for the most stubborn waterproof makeup. These fragrance-free makeup remover wipes try to deep clean the face of not just makeup but also dirt and dust. Recommended as one of the best drugstore makeup remover wipes by makeup artists, these are tested safe-to-use by dermatologists and ophthalmologists. Carry the travel-friendly packs along to use it whenever, wherever. For a more detailed review of this product, here's a video.
Pros
Subtle effect on contact-lens wearers
Works gently on sensitive eye areas
Available in a travel pack size
Ophthalmologist and dermatologist-tested
Fragrance-free
Alcohol-free
Allergy-tested
Cons
Price at the time of publication: $10.98
Removing makeup while keeping the moisture of the face intact, Olay is one such brand that makes sure the skin health is never compromised during the daily makeup routine. The water-activated dry cloths by Olay Daily Facials are specially-textured, soap-free remover wipes containing cleansing powders in a liquid form. The wipes also work as a toner, mask, or scrub to cleanse, tone, and exfoliate the face from deep inside. A week of Olay Dry Cloths and you will notice the visible smoothness upon the skin. Know more about this product in this video.
Pros
5-in-1 benefits
Infused with Olay essential conditioner
Travel-friendly
Sturdy cloth
Soap-free
Cons
Price at the time of publication: $11.96
Rejuvenate and revitalize your sensitive skin with the help of the gentle and smooth Burt's Bees Facial Wipes. Infused with extracts from aloe, cotton, and rice, the natural ingredients work in repairing the dry skin by hydrating it. The all-natural facial wipe is free from all the harsh chemicals making it safe-to-use for people with dry to combination and oily skin without the fear of an allergic reaction.
Pros
Suits sensitive skin types
FSC-certified cloth
Dermatologist-recommended
Ophthalmologist-tested
Allergy-tested
Fragrance-free
Hypoallergenic
Cons
Price at the time of publication: $17.97
Just as the brand name suggests, Aveeno makeup removing wipes are extra-calming and work on irritated and dry skin. Formulated with clinically proven ingredients like chamomile and feverfew extracts, the wipes are considered the most effective on sensitive skin. Help rebalance your sensitive skin by Aveeno facial wipes— use them as a part of your daily skincare regimen to witness the changes.
Pros
Oil-free
Specifically designed for sensitive skin
Comes with anti-irritant benefits
Non-comedogenic
Cons
The product does not mention anywhere if it's vegan or not.
A combination of some of the best organic ingredients like aloe vera, chamomile, and green tea, this makeup removing wipe gives you the best soothing cleansing experience. The dermatologically-tested wipes are free of any scents that make it as natural as any skin product could be. The USP of the product is its ultra-soft texture that saves soft and sensitive skin from cuts and rashes. Cetaphil Gentle Makeup Removing Wipes are also not tested on animals.
Pros
Easy-to-use
Wipes are ultra-soft
Hypoallergenic and non-comedogenic
Fragrance-free
Alcohol-free
Suits all skin types
Cons
Price at the time of publication: $10.49
If you want to go after popularity, then Garnier SkinActive makeup removing towelettes would top the list. These wipes are infused with simple yet effective micellar cleansing water that has the power of lifting away the dirt and dust from within the pores. Garnier SkinActive's gentle formula used in all of their skincare products is designed for over 100-year-olds of beauty expertise. The wipes are a must-have product to harness the power of nature and technology. Learn more about this product in this video.
Pros
Works on waterproof makeup
Cleans without rinsing
Infused with micellar water
Suitable for all skin types
Sulfates and alcohol-free
Paraben, fragrance and oil-free
Cons
The wipes may make the skin dry at times
Price at the time of publication: $6.99
With La Fresh Makeup Remover Wipes, cleansing gets an all-new definition. The travel-lite wipes are infused with Vitamin E which makes them appear soft on the skin and turns it supple. The packaging is also very travel-friendly which fits into your backpack without taking up much space. So, make your travel easy and comfortable as now you have one of the best wipes to keep your face refreshed always.
Pros
Easy-to-carry
Alcohol-free
Vitamin-E infused
The formula used on the wipe isn't too greasy.
Perfect packaging that avoids spills and leaks
Cons
Some skin types might face allergic reactions.
Price at the time of publication: $165.0
Infused with vitamin E and triple antioxidant complex, Pond's Original Fresh MoistureClean Towelettes are soft and moist cleaning wipes that do not dry out the skin. The wipes are thicker and smoother which is why one wipe is more than enough to wipe off the entire face. The skin feels perfectly balanced i.e neither too oily nor too greasy with each wipe. Best of all, it also suits the contact lens wearers perfectly with sensitive skin and eyes.
Pros
Dermatologist-tested
Brings instant freshness to the face
Removes dirt and impurities on a single swipe
Safe for contact lens wearers
Cons
Leaves some foam on the face on wiping
Price at the time of publication: $35.0
Looking for instant hydration and moisturization? Say "Yes To Coconut" Facial Wipes. The wipe is formulated with coconut water and kukui nut extracts that gently cleans the face of stubborn makeup and sticky dirt and impurities. The delicious-smelling wipes are free of all chemicals which makes it the safest for your skin. The best part about the wipes is that they're not just for the face but can also be used to clean the body, neck, and hands.
Pros
98% natural
Formulated with extracts of natural ingredients
Gives a coconut fragrance
Environment-friendly
Petroleum-free
Paraben-free
Compostable
Cons
The wipes aren't too moist
Price at the time of publication: $8.88
Simple Micellar Make-Up Remover Wipes are infused with the magic of micellar along with the cleansing water. The micellar wipes has a powerful dirt-sucking technology that enters the skin pores and clears it from within. These face wipes are gentle enough for everyday use and remove not just makeup but dust, sweat, and daily pollutants stuck on the face after a long tiring day. Carry a pack of Simple Micellar wipes as they are perfect for on the go.
Pros
Wipes made of clever cleansing bubbles called Micelles
Helps remove waterproof makeup
Made with triple purified water
Artificial perfume or dye-free
No harsh chemicals included
Dermatologist-tested
Cons
The wipes are not biodegradable and environment-friendly.
Price at the time of publication: $23.99
One of the best brands for skincare products, Olay has specifically designed Fresh Effects Makeup Removal Wet Cloths for stubborn waterproof makeup around the eyes. The wipes are infused with honeysuckle and white tea which are known to be the much-needed ingredients to remove all the dead skin cells off the face. The allergy-tested and non-comedogenic product also unclogs the pores by wiping away all the unnecessary impurities. So boost your cleansing with Olay Fresh Effects Makeup Remover wipes— get them to feel fresh and rejuvenated from the neck up.
Pros
Works gently upon the skin
Includes honeysuckle and white tea essence
Leaves the skin looking clean and fresh
Dermatologically-tested
Non-comedogenic
Cons
Comes with a strong smell
Price at the time of publication: $16.57
This is a Canadian-made, women-owned brand that has built a special place in the hearts of its customers with the thoughtful and quality collection of women skincare products. One among the many is the Vasanti Makeup Magnetic Wipes that bring out your skin's radiance by removing the dirt and impurities off the surface. The makeup wipes are soaked in micellar water that works like a magnet in sucking out unwanted particles off the skin. Simply carry them around to your workplace, travel destination, or for the next party you are about to attend and make your makeup removal routine much easier.
Pros
Clears skin in 1 simple step
Suits all skin types
Travel-friendly
Cruelty-free
Paraben-free
Sulfate-free
Fragrance-free
Vegan
Cons
Lesser in quantity as opposed to the price
Price at the time of publication: $12.0
This 3-in-1 micellar cleansing technology deep-cleanses the skin, removes waterproof makeup, and soothes the skin by hydrating and nourishing it. It fights with a greasy and acne-prone skin tone and revitalizes it into being soft, smooth, and oil-free. The wipes remove makeup so fast that it does not require and rubbing over the skin. On the plus, these wipes remove impurities even from sensitive skin without causing any serious allergies or rashes.
Pros
Removes waterproof makeup
Formulated with vitamin E
Suitable for sensitive skin
Dermatologist-tested
Ophthalmologist-recommended
Paraben-free
Cons
Leaves the skin feeling too dry
Price at the time of publication: $19.5
Frequently Asked Questions
Are makeup remover wipes bad for the skin?
Harsh facial scrubs and makeup wipes can cause micro-tears to your skin. This can further advance the aging process. Go for wipes that are soft and smooth on the surface.
How do you store makeup remover wipes?
Every time you take out a wipe, do not forget to seal the package backup to place it on your countertop face down. This will protect all the moisture in the cloth from drying out keeping it firm and moist.
Do I need to wash my face after using makeup remover wipes?
Makeup wipes remove the initial layer of harsh makeup from your face. But to get a deep rinsing and cleansing, always wash your face after removing the initial layer with wipes.
Is micellar water better than makeup wipes?
No. Both makeup wipes and micellar water have their unique benefits. While micellar water is better for deep cleansing, makeup wipes are more travel-friendly and used for quick makeup and dirt removal. Makeup wipes are more convenient and cost-effective than micellar water.
Should you use makeup wipes before washing your face?
Yes, rub off the makeup and excess sebum with makeup wipes. Then, use a good cleanser to wash your face and remove the remaining makeup that may have clogged your pores.
Are makeup remover wipes safe during pregnancy?
Yes, makeup wipes are generally safe for pregnancy. However, do not use makeup wipes with retinol or hydroxy acids, as they may lead to hormonal imbalance.
Can makeup remover wipes cause chapped lips?
Yes, some makeup wipes cause chapped lips. Certain makeup wipes contain alcohol and chemical-based surfactants which are rough on delicate skin.
Can you use makeup remover wipes after a spray tan?
Yes, you may use makeup remover wipes after a spray time. But make sure that you have provided the tanner enough time to settle in your skin.
Do makeup remover wipes remove sunscreen?
Yes, makeup remover wipes can remove sunscreen or other skin care products.
How long do makeup wipes last?
Makeup remover wipes last for six months to a year.
Recommended Articles