14 Of The Best Drugstore Makeup Products For You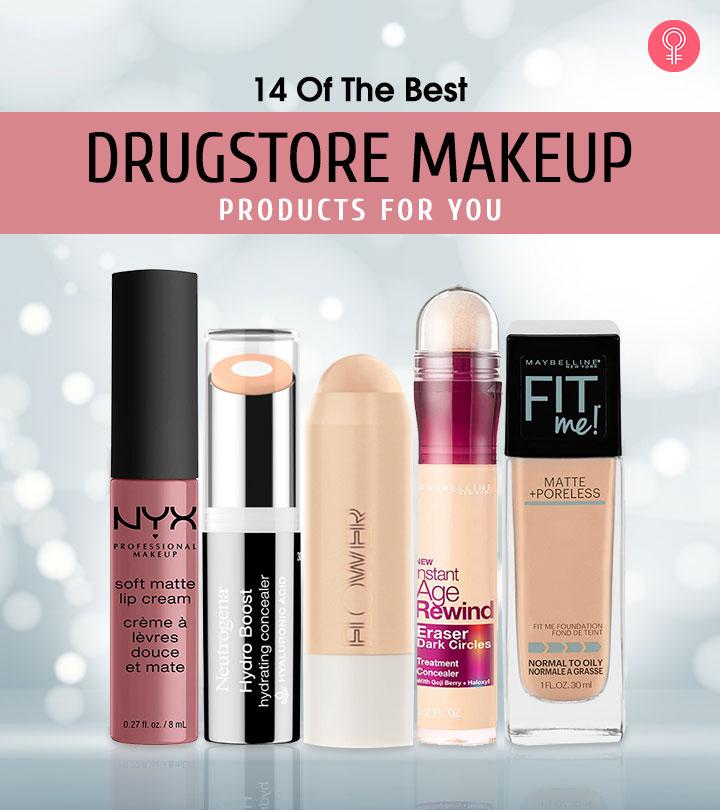 It is no secret that some of the best makeup products are stocked on the shelves of your local convenience store. In fact, drugstore makeup can sometimes get the job done just as nicely as its high-end alternative. If you are on a budget and still want to look like a million bucks, browse through these bargains and thank us later. From mascara to blush, we have put together 14 of the best drugstore beauty buys that are remarkably worthy of a spot in your makeup bag. Even makeup pros swear by these bargain buys.
14 Best Drugstore Makeup Products: The Sweetest Steals
Review
Whether you need to cover up dark under-eye circles or brighten up the eye area, you can't go wrong with Maybelline's Instant Age Rewind Concealer. Its concentrated formula is infused with the goodness of goji berry and haloxyl that treat and conceal puffiness, crow's feet, and dark circles. We also love how incredibly lightweight this concealer feels on the skin. If your goal is to look well-rested and fresh all day long, you can count on this concealer like you rely on your morning espresso.
Similar Products:
Review
NYX's Butter Gloss is a delightful treat for your pout. Its buttery soft and silky smooth formula delivers sheer to medium coverage that literally melts onto your lips. It leaves your pout feeling soft, supple, and kissable – never sticky! You can find your pick from its wide range of 27 shades.
Similar Products:
Review
If you are going to put all that time and effort into doing your makeup, you need to get yourself a setting spray. This mist by e.l.f holds your face and eye makeup in place all day long and revitalizes the color of your makeup with just a few spritzes. It is formulated with the goodness of aloe, green tea, cucumber, and vitamins A, C, and E to soothe and hydrate your skin through the day. This is the sweetest bargain you will get for the price you pay for it!
Similar Products:
Review
Want the perfect foundation fit? It all comes down to finding a formula that matches your skin tone and texture. This lightweight foundation is available in two variants: one that gives you a matte finish and another that leaves your skin looking dewy and radiant.
Its micro-powders control shine and absorb any excess oil through the day. Another notable feature is its incredible coverage – it hides all scars, redness, and blemishes with ease.
Similar Products:
Review
NYX's Soft Matte Lip Cream will remind you of a batch of freshly baked cookies. Its velvety smooth formula delivers a burst of pigmented color with just one swipe. We love how this lip cream is super lightweight, durable, and delightfully creamy. Find your favorite shades from its range of 42 shades.
Similar Products:
Review
The Maybelline Lash Sensational Mascara is a cult-favorite for a reason: it lives up to all the expectations one can possibly have from a mascara. Its formula is incredibly long-wearing, and its exclusive fanning brush accentuates all the layers of your lashes for a dramatic full-fan effect. You've got to try it to believe it!
Review
This L'Oreal mascara is the best for lengthening and separating your lashes effortlessly. It features a special brush with a flat side to lengthen up to 60%, and a comb side to separate lashes with precision. Its patented brush and dramatic formula are guaranteed to enhance your lashes intensely, without flaking or budging through the day.
Review
Maybelline's Total Temptation Mascara builds the boldest volume to create irresistibly soft, separated, and dense lashes, coat after coat. This drugstore gem features a creamy and whipped formula that is infused with coconut extract to nourish your lashes. You can find it in washable and waterproof variants.
Review
Neutrogena's Hydro Boost Concealer is infused with purified hyaluronic acid. It applies flawlessly to mask dark spots, redness, and other imperfections. What stands out most about this concealer is its unique hydrating core that is designed to quench your skin instantly. It is also super lightweight and non-greasy, providing you with silky-smooth, natural-looking coverage.
Review
When it comes to blush, it really doesn't matter if you are buying a drugstore formula or a high-end one (unless it is a special stain formula). The Milani Rose Powder Blush looks gorgeous in the compact and even prettier on your cheeks. Its natural-finish powder shapes, contours, and highlights your face. It comes in both matte and shimmery shades to complement every skin tone. You'll find yourself reaching for this blush again and again – that's guaranteed.
[ Read – Top Rated Milani Beauty Products ]
Review
If you are on the hunt for a budget-friendly eyeshadow palette, you've got to try Wet N Wild's Color Icon Eyeshadow Palette. It comes in 8 variants, and each palette offers 10 coveted shades, from shimmery daytime hues to sultry shades. All the shades are powerfully pigmented and have a buttery-soft formula that glides on easily.
Review
These wipes from Neutrogena dissolve your makeup completely, including the most stubborn of mascaras. They are super gentle on your skin and have a refreshing and relaxing aroma. They are thicker than most wipes on the market and are also just the right amount of moist. You will be left with makeup-free and hydrated skin with minimum effort after using these wipes.
Review
Looking for a lipstick that is perfect for daily wear? Revlon's ColorBurst Matte Balm is infused with mango, shea, and coconut butter to give you a healthy and hydrated pout. It comes in over 12 shades that are super pigmented and glide on to your lips easily without tugging or pulling. Its minty scent is an added cherry on top!
Review
This stunning highlighter from Flower Beauty makes it super easy to create a beautiful, healthy-looking glow on your skin. You can use this chubby stick to highlight or brighten any area of your face, from your eyes to the tip of your nose and cheekbones. It comes in three splendid shades.
Drugstore makeup is all about accessibility and affordability. No matter what your beauty needs, you will find yourself picking up a drugstore version of your favorite upscale makeup brand at some point. Besides, more often than not, these products are comparable to luxury brands in terms of quality.
That was our round-up of the 14 best drugstore makeup products. Which ones are you looking forward to trying out? Let us know in the comments section below.