10 Best Drugstore Mascaras Available In India
Discover the secret to gorgeous, long lashes without breaking the bank.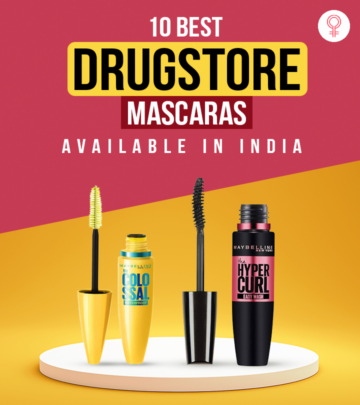 Mascara is an essential product in your makeup kit that can upgrade your eye makeup game. It can transform your eyes from dull to attractive and wide open. One swipe of a perfect mascara can make your lashes look longer, thicker, and curlier. However, it can be tricky to choose the best mascara when multiple variants of the products are available. Don't worry! We have listed the 10 best drugstore mascaras available in India that can cover your eye makeup needs. Scroll down to take a peek!
10 Best Drugstore Mascaras In India
The Maybelline New York Hyper Curl Easy Wash Mascara adds instant drama to your eyes. It gives perfect curl and definition to your lashes. The applicator brush features anti-clump technology that separates each lash and avoids any messy or clumpy effects while curling them. This mascara has a curl-lock formula that keeps the wax sealed to provide volumized curls from root to the tip for 18 hours. It instantly pops your eyes with its buildable formula and does not require touch-ups. This drugstore mascara is available in waterproof and washable variants.
Pros
 Long-lasting
 Ophthalmologist-tested
 Safe for contact lens wearers
 Does not melt
 Climate-proof
Cons
The Lakme Eyeconic Curling Mascara is perfect for someone who wants to experiment with colored mascaras. It gives you a dramatic look by intensely curling your lashes. It is enriched with d-panthenol to keep your lashes soft and nourished. This drugstore mascara works as a moisturizing agent to ensure your lashes do not dry off. Its brush has savvy tilted curls, which aid in lifting the eyelashes for easy application. The product gives a smooth finish and adds definition to your eyes, making your lashes look fuller and bold.
Pros
 Smudge-proof
 Waterproof
 Lightweight
 Non-sticky
 Easy to remove
 Easy to apply
 Lightweight
 Tilted curl brush
Cons
The Blue Heaven Walk Free Mascara provides super-curled and thick lashes with just a few strokes and makes your eyes look well-defined. Its applicator is ball-tipped, making it perfect for detailing even the corners of your lashes. This mascara is ideal for all occasions and helps you create versatile looks with ease. It gives a smooth texture to your lashes after application.
Pros
 Waterproof
 Long-lasting
 Smudge-proof
 Does not clump
Cons
Be it sweaty summers, splash zones, or extreme workouts, the Maybelline New York The Colossal Waterproof is your go-to option. The highly pigmented formula gives you a feathery, lengthy, and volumizing effect. It is enriched with collagen to boost the volume of your lashes by nine times in a single stroke. The optimum-sized applicator provides clump-free lashes with full coverage. It also moisturizes and protects your lashes from drying out. The mascara is waterproof and does not budge for 12 hours.
Pros
 High color payoff
 Waterproof
 Volumizing
 Easy to apply
 Smudge-proof
Cons
The Lotus Maxlash Botanical Mascara gives you an intense and bold black finish. It instantly volumizes your lashes and makes your eyes look attractive. It contains natural ingredients like witch hazel and comfrey, making it ideal for sensitive eyes, and gives an instant cooling effect. This mascara also contains lavender oil, which nourishes your lashes and assists in their regrowth. The formula is waterproof and gives long-lasting voluminous curls to your eyes.
Pros
 Organic ingredients
 Clump-free
 Smudge-proof
 Waterproof
 Paraben-free
 Preservative-free
 Cruelty-free
Cons
 Tends to flake after a while
Want to give a glamorous pop to your eyes? Try the L'Oréal Paris Voluminous Lash Paradise Mascara. It is one of the best drugstore mascaras in India that give your lashes the boost they require to look dramatic. Your eyes look wider and beautiful than ever! The hourglass brush quickly lifts your lashes for maximum volume. It has more than 200 soft bristles that coat each lash to make it look fluttery. The mascara is enriched with organic ingredients like rosehip oil, castor oil, and cornflower extracts that hydrate and nourish your lashes, making them healthier.
Pros
 Waterproof
 Smudge-proof
 Lightweight
 Clump-free
 Natural ingredients
Cons
The Faces Canada Magneteyes Volumizing Mascara gives you long-lasting and fuller lashes. The highly pigmented formula is lightweight and gives you lengthy and volumized eyelashes. It makes your lashes look denser and longer without clumping. The applicator is soft with heavy bristles that add volume and ensure luscious lashes for the entire day.
Pros
 Lightweight
 Non-clumpy
 Non-flaky
 Highly pigmented
 Hypoallergenic
 Paraben-free
 Cruelty-free
Cons
 Not waterproof
 Does not separate the lashes
The Swiss Beauty Bold Eye Super Lash Mascara complements your eye makeup look, especially for a smokey eye. It gives you dramatic eyes by creating extremely black, stretched-out lashes instantly. Its formula moisturizes your lashes without drying them out. This mascara is waterproof, lightweight, and easy to remove with a moisturizer.
Pros
 High color payoff
 Long-lasting
 Sweat-resistant
 No flaking
 Waterproof
Cons
The dermatologically tested Colorbar Lash Illusion Mascara is a dual functioning product that lengthens and volumizes your lashes. The lash lengthening formula conditions and primes your lashes, while the volumizing formula delivers bold and bright eyes. This ophthalmologically tested drugstore mascara is suitable for sensitive eyes and contact lens wearers. It is innovatively designed to give luscious and dramatic eyes with each stroke.
Pros
 2-in-1 formula
 Waterproof
 Smudge-proof
 Suitable for sensitive eyes
 Safe for contact lens wearers
 Mineral oil-free
 Paraben-free
 Formaldehyde-free
 Cruelty-free
Cons
 Not easy to remove
 May create clumps
The Mars Fabulash Mascara is highly pigmented and volumizes and lengthens your lashes. It has a creamy consistency, which allows you to build volume without being clumpy or brittle. The ergonomically-designed brush is tapered from the middle to cover your lashes from root to tip by evenly separating them. It coats even the tiniest corners and the lower lashes to give your eyes a fuller look.
Pros
 Long-lasting
 Quick-drying
 Lightweight
 Highly pigmented
 Waterproof
Cons
There are multiple factors that one must consider while choosing the best drugstore mascara. Keep scrolling to know what they are
 How To Select The Best Drugstore Mascaras
 Purpose: Pick a mascara based on the purpose – lengthening, volumizing, or both.
 Drying Time: The perfect mascara should not look clumped after application. It should dry quickly so that you can add another coat for smooth, long lashes.
 Brush: If you want volume, go for mascaras with thicker brushes with densely packed bristles. For creating length and defining your lashes, go for mascaras with thin brushes that have long, thin bristles.
 Long-Lasting: A good mascara contains quality ingredients that stay for a long time on your lashes. It must also provide complete coverage from root to tip to amplify your lashes and give a defined look to your eyes. Check if the formula is waterproof, smudge-proof, and can resist humidity.
Your eye makeup is never complete without good mascara. It enhances the appearance of the eyes and complements your makeup. The drugstore mascaras listed in this article can give the expensive brands a run for the money. Whether you want one for volumizing your lashes or lengthening them, we have it all covered. So, go ahead and take your pick!
Frequently Asked Questions
Can you explain the differences between drugstore mascaras that offer a glossy finish versus those with a matte finish?
Glossy finish mascaras give your lashes a shiny, lustrous appearance, making them appear more dramatic and voluminous. Whereas, matte finish formulas provide your lashes with a softer, subtle look, ideal for a no-makeup look.
Can you explain the main differences between drugstore mascaras and high-end mascaras in terms of formulation and performance?
Drugstore mascaras are enriched with easily-available ingredients that volumize and define your lashes. Whereas, high-end mascaras are cutting-edge formulations containing premium ingredients that promise improved performance and longer wear.
Are there any drugstore mascaras that are easy to remove without excessive rubbing or irritation?
Yes. The Lakme Eyeconic Curling Mascara, the Swiss Beauty Bold Eye Super Lash Mascara, and the L'Oréal Paris Voluminous Lash Paradise Mascaras are easy to remove with a gentle cleanser or micellar water. You do not need to rub the lashes harshly with the remover to get the mascara off them.
Recommended Articles