13 Best Drugstore Mauve Lipsticks You Never Thought You Needed
Make heads turn with smudge-proof looks and perfect pouts in bold and alluring.shades.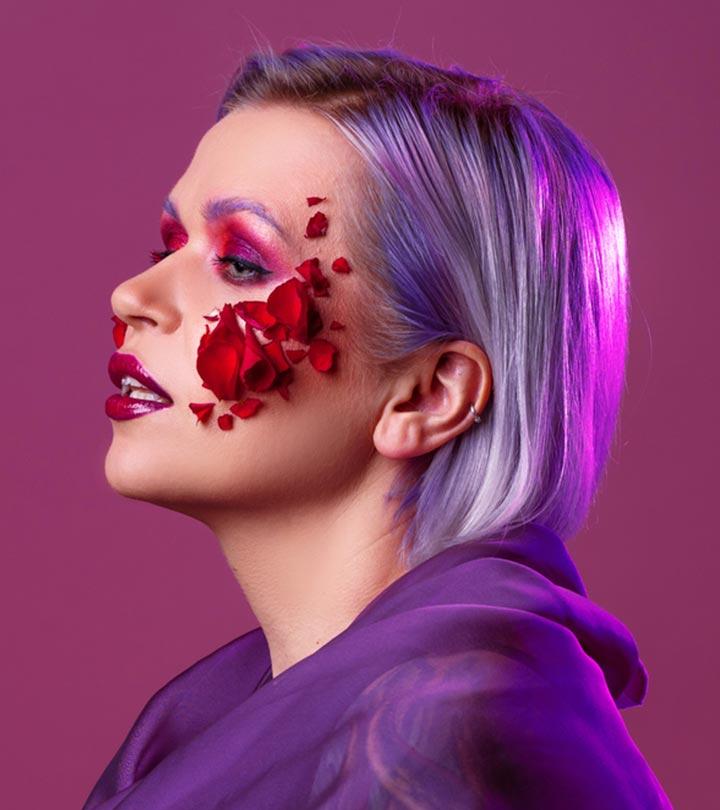 We all know that buying lipstick is one of the simplest pleasures of life. What makes this simple pleasure even more pleasurable is when you hop down to your neighborhood drug store and buy a drugstore mauve lipstick. While pinks and reds are your go-to colors, adding a mauve shade to your lipstick collection can really spice things up. Even though the thought of buying lipstick from your drugstore was always a matter of a hit or a miss, nowadays, most of us opt for it because it doesn't burn a hole in our pockets. If you are tired of wearing bright-colored lipstick and want something more muted, mauve lipstick is your go-to choice. Lesser than your bright red lipstick but more than a nude lipstick, this shade suits every skin color and can be worn with any outfit. We have handpicked a list of drugstore mauve lipsticks for you to choose from. From mega mattes, to creamy to goth metallics to sheers, there's a lip color for all! Scroll down for more information!
We're Bringing The 90's Back With These 13 Best Drugstore Mauve Lipsticks
If you're on the lookout for lipsticks that provide a fully hydrated look and feel, look no further. We've found the ultimate creamy lipstick that is made to splash some gloss with a burst of color! Formulated with hyaluronic acid and ginger, the NYX Filler Instinct bullet aims to leave a semi-sheer and shiny finish. Now you can skip on the lip balm and go straight for this magic bullet which is a 3-in-1— lipstick, gloss, and lip plumper. To add to the list of its benefits, it also promises hydration up to 8 hours! The shade Sugar Pie is one that'll instantly either make you want to power walk into a boardroom meeting or take a stroll around the park, there is no in-between. Makeup artist Alysha Tucker says, "Applying a layer of lip balm before using this lipstick may be helpful." Have a look at this video to learn more about the product. Have a look at this video to learn more about the product.
Pros
No sticky feeling
Creamy and glossy
Upto 8 hours of hydration
Infused with hyaluronic acid and ginger
Vegan formula
Cruelty free
Cons
Plumping agents may tinge the lips
Price at the time of publication: $7.59
You were either born for this, or perhaps it's Maybelline. With its vibrant series of lip colors for all ages, the Color Sensational Cream Finish range contains just the right lippies if you're a lover for deeply hydrated lips. They not only come in stark and vibrant lip colors but also in muted plums. To top it all, the finish alludes to plump, supple lips. Packed with rich agents like shea butter, this product ensures to leave behind a smooth dreamy feeling.The shade On The Mauve delivers a frost finish on the lips with a mix of taupe and lavender hues. This shade sure is a big comeback from the 90's.
Pros
Intensely moisturizing
Satin finish
Affordable
Smooth and dewy finish
Does not crease
Anti-aging properties
Packed with hyaluronic complex and vitamin C
Cons
Price at the time of publication: $5.48
Let's digress a little from bullet lipsticks and focus on the magnificent liquid lipsticks. The Revlon ColorStay Liquid Lipstick has some fascinating guarantees to make. Liquid lipsticks– irrespective of the brand– are crowned for their matte finish textures and long lasting abilities due to the lack of oil or any hydrating agents. This popular range, au contraire, comes in a tube of pure satin-finish withstanding a duration up to 24 hours. In short, the texture of the lipstick is anything but drying or mattifying. If that wasn't enough to convince you, then let us also drop the bonus of it being a full-coverage lip color. If you're looking for an opaque MLBB lip tint with a touch of mauve, then Miracle Mauve is the recommended shade for you.
Pros
Doe-foot applicator picks up a lot of product
Barely any transfer
Does not settle in the lip lines
Long-lasting
Cons
Some may find it sticky in texture.
Price at the time of publication: $10.16
What's a better comeback than to have a delightful range of shades posing as recollections of your sophomore years? The Covergirl Continuous Color Lipstick has been at your local drugstores and its only gaining the popularity much deserved. This drugstore nude lipstick with a tinge of mauve provides the maximum amount of moisture and a long-lasting saturated pigment where it is due. Formulated with the ample proportion of vitamins A and E, the lipstick leaves a delicate creamy finish while nourishing and softening your lips! The shade Midnight Mauve is a must-have in your purse, as it not only revives the liveliness on your face, it also can be labelled as the perfect mauve-y nude.
Pros
Long-lasting
Dos not settle in the lip lines
Intensely moisturizing
Composed of vitamins A and E
Cons
Price at the time of publication: $5.49
The Rimmel London Lasting Finish Matte Lipstick is infused with a triple blend of ultra-lightweight emollients that help boost color impact and moisturize your lips. It contains high-quality blur-effect powders like ruby powder, diamond powder, amethyst powder, and sapphire powder, which make this highly pigmented formula fade-proof and flake-proof. Additionally, the vitamins A and C in the lipstick hydrate your lips and soften their appearance. This trendy lipstick glides onto your lips effortlessly, giving you a seamless and flattering velvety matte finish. This non-drying and easy to apply lipstick is available in six vibrant shades for you to choose from.
Pros
Velvety soft matte finish
Glides smoothly
Suitable for all skin tones
Lightweight
Seamless application
Long-lasting
Fade-resistant
Flake-proof
Cons
Price at the time of publication: $6.99
Now this is a brand we think you'll love. Ecco Bella boasts for its plant-based approach to their lipsticks and other products. A majority of their lipsticks are strictly vegan, and those that aren't, are duly mentioned on their website– thus promises a non-filtered transparency. This rose mauve lipstick is a mildly rose tinted lip color with a ton of pigment. The lip paint is also infused with ingredients such as castor oil, coconut coconut extracts, candelilla wax, calendula oil, jojoba oil, and also vitamin E.The lipstick also doubles as a lip balm and lip tint combination, providing the best form of moisture along with an intense pout. Not only are the lippies gluten-free, they are also crafted without any dye, petroleum, or fragrance, making them comfortable to wear for all skin types. Here is an informative video that tells you more about the product.
Pros
Plant-based
Moisturizing
Infused with all-natural ingredients
Suitable for everyday wear
Free from gluten, dye, petroleum, and scent
Cons
Price at the time of publication: $18.5
Super luxurious and nourishing, the L'Oreal Paris Colour Riche Lipcolour is a highly pigmented formula. It is infused with Omega 3, vitamin E, and argan oil that hydrate your lips, protect them against free radical damage, and soften their look. This hydrating lipstick defines your lip contours for the perfect glamorous and pouty look and leaves your lips with a perfect satin finish. It is available in a spectrum of multiple creamy, show-stopping shades.
Pros
High coverage
Creamy
Long-lasting
Smear-proof
Available in multiple shades
Budget-friendly
Cons
Price at the time of publication: $6.97
If you're into K-everything, especially K-beauty, you'd be happy to know that Julep is actually a Korean-inspired brand. They pride themselves on their prime focus stating "Because skincare and makeup should do more than just make you look good, it should make you feel good in your own skin", no truer words ever said. Julep infuses their lipstick range with skincare agents like rosehip oil, green coffee bean, and other extracts to seal the moisture. The formulation is that of a smooth matte finish with the pigments simply taking the guise of a tint on your lips without making you feel like you've worn lipstick.
Pros
6 to 8 hours payoff
Creaseless, mousse texture
Smooth and moisturizing
Airy finish
Enriched with skincare ingredients
Cons
May not be transfer-proof
Price at the time of publication: $13
On the topic of matte lipsticks, we addressed the creamy, and the mousse textures, and this drugstore plum lipstick here is the absolute definition of a true matte lipstick. But fear not, mattifying lipsticks don't necessarily translate to drying lipsticks. Rather, Sugar's Nothing Else Matter lipstick range is one that feels like a thin film of pigment drawn over your lips without making space in the cracked lines. Sugar is known to sprinkle a tad of wit into their product names, and we're here for it. The shade name Mauve On is of course, self-explanatory, it resembles a beautiful dusty but muted plum hue casting a fresh look overall.
Pros
Free from parabens
Matte finish
Water resistant
Cruelty-free formula
Cons
May require several swipes for an opaque finish
Price at the time of publication: $22.35
The Kiko Milano Unlimited Stylo Lipstick comes in a ravishing gunmetal-esque bullet that screams nothing but grandeur. Each of their lipstick is crafted to give you a creamy, luxurious feel on the lips. It glides smoothly but ends in a semi-matte texture. It is easy to build and blend, and provides just the maximum amount of pigment one could bear. The shade of our choice is Pearly Rosy Mauve, and this lip color is absolutely one of the best mauve lipsticks out there in the market. It not only nourishes but also provides the much needed matte look.
Pros
Soft matte
Hydrating
Lasts up to 10 hours
Buildable
Dermatologically-tested
Cruelty-free
Cons
May not be transfer proof
Price at the time of publication: $14
Stop your search for a date-night plum lipstick and allow us to introduce you to Fifth & Skin's Organic lipstick in the shade Mauve Suede. First of all, the lipstick is made with naturally derived organic mango butter, castor seed oil, grape seed oil, coconut oil, cocoa butter, and cupuacu butter. They are also packed with nourishing minerals like vitamins A, E, B1, B2, B6, and calcium. So now you know it is vegan, and better yet, free from parabens and gluten, and zero tests conducted on animals! Their lipsticks come in a regular lipstick bullet but their efficiency is what is commendable. Mauve Suede is that shade you would want to wear for no reason. Just apply it on your lips in your jammies or wear it to that fancy dinner date, whichever way you choose, you're sure to feel a lot better.
Pros
Infused with organic ingredients
Cruelty-free
Gluten-free
Vegan
Paraben-free
Cons
Price at the time of publication: $20.95
The Megalast Lip Colors from Wet N Wild have been a blast ever since their launch, to be in the list that caters to mauve lip colors, their Mauve Outta Here shade is your faultless electric mauve that is meant to jazz up your overall look. It is not only a promisingly long-lasting lipstick, but the finish is also semi-matte. The lipsticks are inoculated with potent agents like hyaluronic acid, plant extracts, vitamins A & E, murumuru seed butter, passionfruit, and whatnot. The idea behind this bullet lipstick is to provide the absolute tinted lips with just the perfect amount of moisture and nourishment at the same time. So, do yourself a favor and add this velvety full-coverage lipstick to your makeup routine.
Pros
Full-coverage in one application
Highly pigmented
Semi-matte finish
Cruelty-free
Gluten-free
Vegan
Scent-free
Cons
May require frequent touch-ups
Price at the time of publication: $8.36
Makeup is not to look pretty in the eyes of another, but it is to find the confidence in empowering your true self, a power boost if we may add. That's why we recommend RealHer's lipsticks as they all come with an array of positive affirmations in all of their packaging. Over the course of application, the encapsulated water, which is infused with these lipsticks is released. This provides enough hydration to your lips. This lipstick is formulated with jojoba seed oil, shea butter, and vitamin E that promise all-day hydration with a creamy, smooth feel. The lipstick in the shade I Define Beauty Myself- not only is the lipstick a classic mauve for your daily wear but also truly has such a nice tone to it, doesn't it?
Pros
Satin finish
Cruelty-free
Vegan
Fragrance-free
Infused with shea butter
Buildable
Cons
Price at the time of publication: $17.1
Our article on best mauve lipsticks may end here, but our search to find better and the absolute perfect plum lip shade will forever be a quest that we love to delve in! We love a big comeback, and the 90's is our favorite era when we talk about plum to purple shaded lip colors. And why wouldn't they be? Mauve itself is such a universal shade, nobody should be devoid of a chance to wear plum lipstick. A color so unique in its own does require a little bit of tutorial as to how to find the perfect mauve lipstick. Fret not, for below given are some of the core points you'd need to follow before choosing your favorite shade of plum.
Here's How You Choose Your Favorite Mauve Lipstick
Be very sure of the type of finish you're into, the texture is all about the feels. If you like creamy finish, then opt for one which states "cream-finish", or "moisturizing" or even "satin". Likewise, for matte lipsticks, choose a lip color based on their finish, which is usually mentioned in their packaging.
Know your undertones well, because mauve or any purple hued color tends to incline on the cooler side, but you'd be surprised to see warm toned plums as well, that suit you just perfectly if you have warm undertones.
Are you a full-coverage or opaque lip color person, or do you like the slightly tinted lipstick? Consistency does play a big role, but it is also dependent on how you like your lips to look. Matte lipsticks are known to be on the opaque extreme, whereas satin or creamy textures tend to move over the surface making them lean over to the sheer extreme.
Why Trust StyleCraze?
The author, Srijani Roy Chowdhury, is a beauty and makeup enthusiast who loves trying products that take your makeup and beauty routine a notch higher. She has gone through several customer testimonials and multiple product specifications before shortlisting the best drugstore mauve lipsticks for you. Liquid, cream, or matte, choose any formulations from these top mauve lipstick shades to add that right tint and definition to your face, at a very affordable price.
Frequently Asked Questions
Can fair skin wear mauve lipstick?
Yes, you can wear mauve lipstick if you have fair skin. The shade compliments this skin tone and gives you a bold look.
Is mauve a shade of pink?
Mauve is a light purple hue that falls between indigo and pink on the color wheel.
Is mauve a neutral color?
Yes, most mauve shades fall in the neutral color category.
Does mauve go with cream?
Yes, mauve shades look very pretty with cream-colored outfits.
Is mauve a summer color?
Yes, the mauve shade is a summer color.
Recommended Articles