13 Best Drugstore Mineral Sunscreens For A Carefree Day At The Beach
Block the UV rays from penetrating your delicate skin with these effective sun blocks.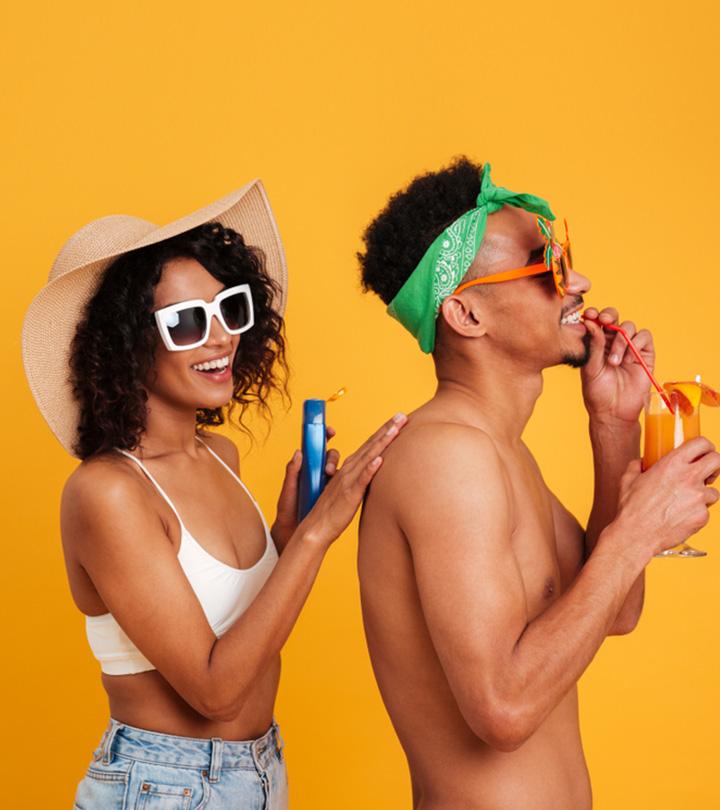 Sun rays damage our skin in multiple ways. Wrinkles, sunburns, dark spots, and freckles are some. To combat these negative effects, you can depend on the best drugstore mineral sunscreens, which are made with titanium dioxide and zinc oxide, which do not have any potential negative effects. These sunscreens effectively block sun rays and stop their penetration into the skin. If these rays enter our body, many undesirable side effects like moles, wrinkles, and dark spots appear, which may make you look older than your actual age. These mineral sunscreens are the best way to start if you are a beginner.
In this article, we have compiled the list of 13 drugstore mineral sunscreens that are a perfect fit for your skincare regime. Have a look at them and choose one to make your skin healthy and soft.
13 Best Drugstore Mineral Sunscreens To Prevent Sunburn
This mineral sunscreen that is made of zinc oxide and titanium dioxide, and offers you impressive sun protection, while casting a matte finish. The non-chemical sunscreen is one of the best sunscreens you can get as it is infused with kakadu plum, red algae, and eucalyptus. The rich combination of these antioxidants in this tinted mineral sunscreen is what makes it worth trying. The SPF 15 sunscreen is must try as it is gentle on your skin and doesn't clog your pores. It is reef-friendly and offers water resistance up to 80 minutes. Know more about this product in this video.
Pros
Fragrance-free mineral sunscreen
Hypoallergenic
Dermatologist-tested
Oil and alcohol-free
Phthalate, sulfate, and paraben-free
Cruelty-free
Broad spectrum SPF
Cons
May not be suitable for babies
Self-care is a must when it comes to maintaining your skin, hair and overall health. Like facial cleansing and moisturizing, sunscreen application is also an essential part of keeping your skin healthy and happy. This product leaves a natural and a beautiful glow on your skin along with providing it with UVA and UVB protection. The sunscreen is made of titanium dioxide and zinc oxide, which are considered the most effective active ingredients found in sunscreen. They help in reflecting the sun rays and maintain the moisture level of the skin too. Hyaluronic acid's infusion in this lotion keeps the skin hydrated all day long. On the other hand, ceramides in the formula allow you to restore and maintain your skin's natural barrier, making this product a good mineral sunscreen. Learn more about this product in this video.
Pros
Fragrance-free
Paraben-free
Allergy-tested
Oil-free
Non-comedogenic
Suitable for sensitive skin
Tinted mineral sunscreen
Cons
May not offer long-lasting sun protection
This mineral-based facial sunscreen helps your skin stay safe from UVA and UVB exposure. The product leaves you with a matte finish and can withstand all kinds of harsh weather conditions. The oil-free formula comprises antioxidants that fight against factors that can affect your skin's health. The matte mineral sunscreen is lightly tinted and contains 0.9% transparent zinc oxide, provides water resistance up to 40 minutes, and you can count on it as it is recommended by The Skin Cancer Foundation.
Pros
Fragrance-free
Oil-free
Paraben-free
Sensitivity-free
Chemical-free
Non-comedogenic mineral sunscreen
Cons
The Sun Bum Baby Bum Mineral Sunscreen Lotion is a mineral-based product with an oil-free formula that quickly absorbs into your skin. The product is made of coconut oil, shea butter, zinc oxide, and cocoa butter that allow your skin to remain soft and hydrated. The product is dye-free, and thus you need not worry about the harmful effects on your skin. As the name  suggests, it's also safe for your baby's delicate and sensitive skin. The SPF 50 sunscreen is reef-friendly and offers water-resistance for up to 80 minutes. 
Pros
Pediatrician and dermatologist-tested
Paraben and sulfate-free
Silicone and phthalate-free
Gluten-free
Hypoallergenic
Cruelty-free
Vegan
Cons
Might leave a white residue
Neutrogena's mineral sunscreen lotion protects your skin from UVA and UVB rays to protect your skin from sunburn. The product dries quickly upon application without making your skin feel greasy. The antioxidant-rich formula comprises natural ingredients such as colloidal oatmeal and feverfew plant juice that keep your skin nourished, hydrated, and smooth. Although a lightweight formula, it provides 2x better UVA protection as compared to other leading sunscreen lotions and blends seamlessly under makeup too.
Pros
Non-comedogenic
Non-greasy
Hypoallergenic
Sweat and water-resistant
Dermatologist-tested
PABA-free
Cons
It may leave a white cast on darker skin tones.
Look younger and fresh with the sunscreen by La Roche-Posay. The product is highly effective and helps you protect your skin against sunburn as it has SPF 50. The mineral sunscreen reduces the risk of skin and is recommended by the Skin Cancer Foundation too. It is formulated with Cell-Ox Shield Technology that protects you from harmful UVA and UVB rays. The lightly-tinted and fast-absorbing product has antioxidizing properties that ensure your skin remains damage-free. To add to these qualities, it's also suitable for use under makeup.
Pros
Paraben-free
Fragrance-free
Dermatologist-tested
Non-comedogenic
Tested on sensitive skin
Allergy-tested
Cons
The Blue Lizard Australian Sunscreen Lotion offers you SPF 50 and protection from UVA and UVB rays. It is formulated with vitamin E that ensures your skin remains young, radiant, and healthy. It settles as a matte-finish and offers a lovely glow as it contains titanium dioxide and zinc oxide. Without the use of any chemicals, the lotion reflects UV rays and prevents it from entering your skin. Sweat and water-resistant for up to 80 minutes, this sunscreen lotion is a fantastic choice for a day at the beach.
Pros
Sweat and water-resistant
Paraben-free
Fragrance-free
No fragrance
Suitable for sensitive skin
Cons
Some may find the formula too thick
The lightweight sunscreen is made of zinc oxide and nourishing oats to protect your skin from UVA and UVB rays. The travel-sized sunscreen has SPF 50 and is a fast-absorbing formula. Get a matte-finish with the dermatologically tested product that dries quickly and leaves your skin with a glow! Formulated to be gentle, even for sensitive skin, this lotion has a mild yet pleasant fragrance and is suitable for everyday use.
Pros
Hypoallergenic
No fragrance
Paraben-free
Phthalates-free
No dyes
Cons
Some may find the consistency glue-like
The SPF 40 product lends a subtle yet smooth matte finish to your face in addition to the protection it offers against the harmful rays of the sun. It's suitable for those with sensitive skin and is also reef-friendly. Infused with ingredients such as vitamin C and E, titanium dioxide, and zinc oxide, it further provides your skin with the nourishment it needs to stay healthy and hydrated. 
Pros
Water-resistant
Suitable for on all skin types
No dyes and fragrances
No oils and preservatives
No chemical sunscreen filters
Cons
Bless your skin with the goodness of this mineral sunscreen that not only protects your skin from the sun but also gives you a very calming effect too. The sunscreen has vitamin C and flaxseeds infused in it, thus enhancing the replenishing power of the product. It also contains shea butter that helps your skin improve its elasticity and retains its moisture too. The sunscreen offers broad-spectrum SPF 30 protection to keep your skin shielded from the sun's rays.
Pros
Fragrance-free
Lightweight
Matte finish
Suitable for combination or oily skin
Water-resistant
Cruelty-free
Cons
This zinc oxide-infused mineral sunscreen blocks UVA and UVB rays to prevent your skin from seeing any damage. It has photolyase enzymes, which repair the skin and vitamin E, which acts as an antioxidant that fights against free radicals and environmental damages, making you look younger than ever! The product absorbs well and stays on for long, leaving your skin with a healthy glow. It also prevents your skin tone from changing, while preventing the thickening of skin and reducing the occurrence of wrinkles too.
Pros
Dermatologist-recommended
Water-resistant
Ideal for everyday use
Lightweight
No greasiness
No white residues
Cons
Some may find the emulsion texture slightly thick
The Ethical Zinc Natural Clear Zinc Sunscreen Lotion is formulated with zinc oxide and castor oil that repairs damaged skin and keeps it moisturized. This everyday mineral sunscreen also contains coconut oil and vitamin E that helps keep your skin hydrated, prevents damage from free radicals, and improves skin elasticity. The natural mineral sunscreen lotion is reef and ocean-safe and offers up to 80 minutes of water-resistance.
Pros
Paraben-free
PABA-free
Suitable for kids
Water-resistant
Ocean-safe
Cruelty-free
Cons
Some may find it slightly greasy
The lightweight mineral sunscreen lotion is a fantastic product to protect your skin from sun damage. The product does not leave any white residue and is reef-friendly. It is rich in grape, carrot seed oil, and raspberry that rewards you with hydrated and glowing skin. The antioxidant-rich product has the ability to fight against free radicals and prevent your skin from damage, thus maintaining a younger-looking skin. It is suitable for daily use and offers SPF 30 protection.
Pros
Cruelty-free
Non-GMO
Vegan
Free of chemical actives
Paraben-free
Cons
Might leave a powdery finish
Here is a buying guide to help you find the right mineral sunscreen based on your skin type. As sunscreen is an essential skincare product, This will help you make a sound decision and will prevent you from further damaging your skin.
How To Choose A Mineral Sunscreen Lotion
Ingredients
Mineral sunscreens are safer than chemical sunscreens; hence you must look for formulas with ingredients such as zinc oxide and titanium dioxide in your product as these are safe to use and are effective too. Zinc oxide provides a broad spectrum SPF to protect you from UVA and UVB rays. On the other hand, titanium dioxide is the most effective ingredient against UVB, and enhances the product's effectiveness on your skin.
SPF
SPF helps to absorb the sun's harmful rays and helps protect it from damage. For greater effectiveness, you must buy a product that has at least SPF 30 or more. It allows your skin to remain protected from the sun and causes no damage to your skin.
Skin type
If you have oily skin, you should choose products such as the EltaMD Skincare, La Roche-Posay, and Neutrogena Sheer Zinc Mineral Sunscreens to name a few. These don't clog your pores and also absorb excess oil on your face. For dry skin, you must look for hydrating ingredients in your lotion such as hyaluronic acid and aloe vera as these provide moisturization and make your skin soft. Products like the CeraVe Hydrating Mineral Sunscreen have nourishing ingredients like ceramide that prevent irritation or any kind of reaction, making it suitable for those with sensitive skin.
Why Trust StyleCraze?
The author, Vaishnavi Kothuri, is a skin care enthusiast whose passion lies in reviewing beauty products as they hit the shelves. For this article she has put together a list of the best drugstore mineral sunscreens that will help her readers spend a fun day at the beach without worrying about sunburns. Her experience and thorough research of the online reviews helped her pick the best products. Her recommended formulas are budget-friendly, non-comedogenic, and safe for sensitive skin.
Frequently Asked Questions
 Are mineral sunscreens safer?
Some of the common and essential ingredients in mineral sunscreens are zinc oxide and titanium dioxide. These are recognized by the FDA as safe to use. It is also a much safer option for those who regularly get exposed to the sun for a long time and have sensitive skin.
Do mineral sunscreens clog pores?
Some products have oils in the SPF that can clog your pores, so if you have an oily and acne-prone skin, you must buy a non-greasy and oil-free sunscreen. You must also ensure that you clean your face and use a toner before applying the sunscreen
.
Recommended Articles: