10 Best Drugstore Pencil Eyeliners For Bold, Intense Eyes – 2023
One swipe of these liners and achieve the iconic eye look of your choice in no time!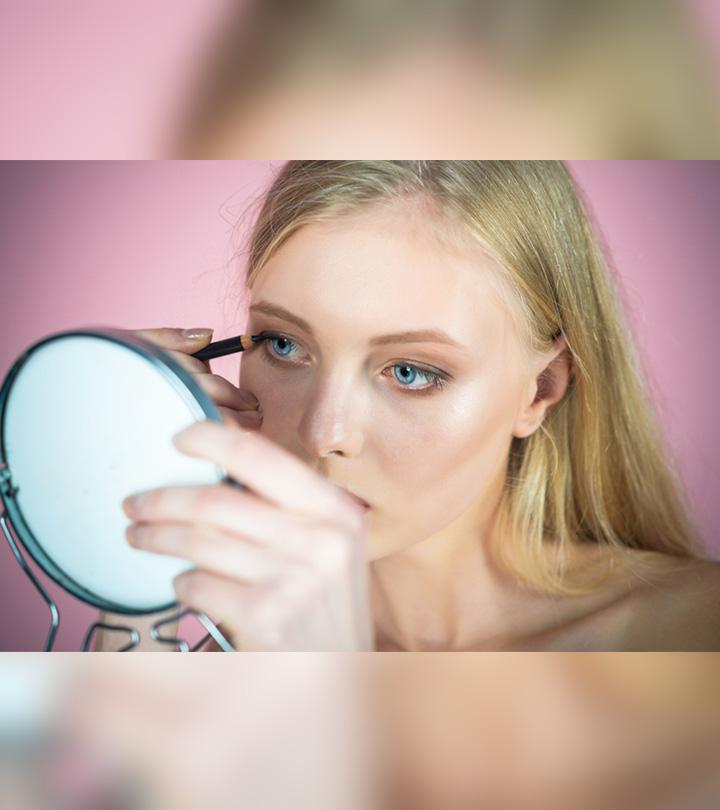 If you are a pro at eye makeup or just venturing into its many possibilities, you must keep the best drugstore pencil eyeliner handy with you. Whether you like to keep your whole makeup to the bare minimum or you like to glam it up all the way, a drugstore pencil liner is like the tiny all-purpose magic wand in your pocket. Not only can it give you different eye looks— winged liner, cat-eye, or full swipe kohl effect, but, it can also jazz up your look with different color shade options like emerald green, electric blue, or the metallic pinks and reds. Additionally, on days when you don't have mascara handy, you can simply tight line your upper lash line with a pencil eyeliner to give you that full lash effect.
A drugstore pencil eyeliner is not only high-quality like any of the luxurious brands, but easily available and affordable as well. Given its affordability and color options, it helps you experiment with all the possible color combinations and effects pretty well. To help you choose from the many options available, we have enlisted the 10 best drugstore pencil eyeliners for you to get started.
Top Picks
Achieve Perfectly Defined Eyes With The 10 Best Drugstore Pencil Eyeliners
 

If you're looking for a good drugstore pencil eyeliner that is versatile enough to double up as an eyeshadow and highlighter, try this one! You're going to love this radiant crayon-style makeup must-have, which will instantly transform your look from drab to fab. Smooth and intense, with a deliciously creamy texture, this blendable eyeliner glides on effortlessly for a finish that lasts all day long without fading, tugging, or pulling. Easily sharpenable, these voluptuous eye pencils come in a wide variety of vivid colors in finishes ranging from a subtle matte to a glittery metallic. Watch this video to get a detailed review of the product.



Pros
Ultra-creamy texture
Sharpenable crayon design
2-in-1 multi-use eyeliner and eyeshadow
Vegan and cruelty-free
Cons
Some might find these eyeliner pencils a bit thick.

Pro Tip
Eyeliners that come with "creamy" or "kohl" labels are smooth-gliding. In case you have liners that get waxy or cold, you can simply warm them by rubbing the tip on your palm or rolling it for a few seconds between your fingertips.
Price at the time of publication: $4
Say hello to gorgeous, mesmerizing eyes with this amazing waterproof eyeliner with a luxuriously silky formula that lasts up to 24 hours without drying or flaking. This drugstore eye pencil provides rich, intense color and comes with a convenient in-built sharpener and smudger, making it easy to create looks ranging from the perfect cat eye to an alluring smokey eye. So what are you waiting for? Try it out, and we're sure you'll agree that this multi-use eyeliner deserves a permanent place in your makeup bag! Here's a video to help you know more about this product.
Pros
Up to 24 hour wear
Ultra-silky formula for smooth application
Smudge-proof and waterproof
Built-in sharpener and smudger
Cons
Some might find the texture of this eye pencil a bit waxy.
Price at the time of publication: $6.97
Get ready to flaunt your easy, breezy, and beautiful look with this classic top-rated drugstore eyeliner pencil, which promises to deliver a transformative effect on your eye makeup. So whether you're going for a defined, precise eyeliner look, or a softly smudged smokey eye, this blendable eye pencil is your one-stop solution for gorgeous eyes. And there's more, this formula is long-lasting and water-resistant, making it the ideal makeup essential to see you through a busy, activity-filled day. This video takes you through this product's details.
Pros
Blendable, glossy color
Water-resistant formula
Soft in-built smudger for expert blending
Suitable for all skin types
Cons
Some might find that this eye pencil tends to smudge a bit.
Price at the time of publication: $4.52
Hey there, gorgeous! This pretty, skinny automatic gel eye pencil packs a punch when it comes to delivering long-lasting color that adds precise definition to your beautiful eyes. In addition, the accurate microtip makes the application of this gel-based formula a breeze and can be used to create any look you desire. Designed for the busy modern woman who likes to spend minimal time on makeup before starting her day, this beauty must-have ensures your eyes are always in tip-top shape. 
Pros
Twist-up automatic ultra-smooth eyeliner
Up to 24-hour wear
Waterproof gel formula
Microtip for precise application
Cons
Some might find that the texture of this eye pencil is a bit crumbly.

Quick Tip
Although black is the basic liner color, it can appear too sharp and edgy on lighter skin tones. Brown liners work beautifully to impart a softer look.
Price at the time of publication: $7.98
Who knew clean beauty could look this good! This drugstore pencil eyeliner is crafted specifically for sensitive skin and delivers rich pigment that lasts all day long without irritating the delicate skin around the eyes. So whether you want to swipe on a bold cat eye or try a more natural, smudged look, this eyeliner glides on smoothly to add unbelievable definition to your pretty eyes. Hypoallergenic and clinically tested, this makeup essential is formulated without harmful toxins and is ideal for daily use.
Pros
Automatic and retractable pencil
Gentle, waterproof formula
Hypoallergenic and dermatologist-tested
Cruelty-free
Cons
Some might find the texture of this eyeliner a bit dry.
Price at the time of publication: $6.98
If you find liquid eyeliners too messy and fussy, you're going to love this eye pencil that glides on flawlessly to create precise lines every time. Creamy and richly pigmented, this pencil provides a gorgeous satin finish which is perfect whether you're going for a natural bare-faced look or a full-on glam diva avatar. The convenient built-in sharpener makes touch-ups super easy when you're on the go. Trust us when we say this is the perfect makeup accessory to throw into your handbag.
Pros
Creamy and richly pigmented
Convenient built-in sharpener
Free of parabens, phthalates, and hydroquinone
100% vegan and cruelty-free
Cons
Some might find this eyeliner a bit difficult to remove.
Price at the time of publication: $2
If you're looking for a good drugstore eyeliner pencil that stays on all day, you can't go wrong with this crowd favorite from Burt's Bees. Infused with jojoba, mango, and meadowfoam seed oils, this eye pencil provides a striking definition that lasts all day long without fading or smudging. Formulated without any of the commonly found nasties in makeup products, this makeup bag essential is safe for sensitive skin and contact lens wearers. Just pair this natural eyeliner with a dash of mascara and some peachy lip gloss for an all-day look that is effortless and oh-so-gorgeous.
Pros
Made with 99.9% natural ingredients
Resists fading and smearing
Safe for sensitive eyes and contact lens wearers
Ophthalmologist-tested
Free of parabens, phthalates, SLS, and petrolatum
Cons
Some might find this eyeliner a bit difficult to sharpen.

Pro Tip
Try dual-color liner looks for fresh-looking eyes. Use your blacks on the top lash line and complement them with lighter colors on the lower lash line. You may even try vibrant shades for a lively pop of color.
Price at the time of publication: $9.59
Say hello to mysterious, alluring eyes with this over-the-counter eyeliner pencil infused with nourishing vitamin E to provide a smooth, bold look that lasts all day long. Easy to apply, this kohl eyeliner can be smudged for the first 30 seconds to create the perfect glamorous smokey eye, and after drying, it becomes smudge and flake resistant. Long-lasting and gentle on the eyes, this drugstore pencil eyeliner glides on effortlessly and will transport you seamlessly from a neutral, daytime office look to a fancy cocktail party in the last hours of the night.
Pros
Highly pigmented and long-wearing
Gentle, water-resistant formula
Infused with moisturizing vitamin E
Easy to apply and remove
Cons
Some might find the texture of this eyeliner pencil a bit waxy.
Price at the time of publication: $7.54
Get your hands on this excellent eyeliner pencil and create stunning looks you can obsess over without breaking the bank! Unbelievably creamy, this drugstore waterproof eyeliner pencil provides intense color that seamlessly makes a bold, precise finish. Easy to apply and blendable, this versatile eye pencil is transfer-resistant and keeps your eyes looking gorgeous all day long. So what are you waiting for? Give this crowd favorite a try, and you'll thank us later!
Pros
Creamy, blendable formula
Waterproof and transfer-resistant
Easy to apply and remove
Suitable for all skin types
Cons
Some might find the color of this eyeliner a bit dark.
Price at the time of publication: $15.99
Here's a fantastic drugstore eyeliner pencil that ticks all the right boxes when it comes to a makeup essential that is easy to use and provides results that look precise and professional and last over 16 hours without requiring frequent touch-ups. Infused with nourishing vitamin E, this eyeliner delivers beautiful color while protecting your delicate eye area from dryness and irritation. So get your hands on this eye pencil and get your creative juices flowing to give your eyes the pop they deserve!
Pros
Water-resistant and smudge-proof formula
Enriched with antioxidant-rich vitamin E
Convenient built-in sharpener
Hypoallergenic and ophthalmologist-tested
Cons
Some might find the texture of this eyeliner a bit soft.
Price at the time of publication: $12.63
Now that we've had a look at our carefully curated list of the 10 best drugstore eyeliner pencils in 2023, let us look at some things to consider when picking the perfect eyeliner for your pretty peepers!
Tips To Choose The Best Drugstore Eyeliner Pencil
When you're looking for the perfect eyeliner to help your beautiful eyes stand out, pay close attention to which shade does the job best. While a classic black eyeliner brings intense definition to your eyes, whether they're blue, green, brown, or black, there are many other colors available. Brown and green eyeliners are very popular and help create dazzling looks that add subtle definition to your eyes with a unique finish. Don't hesitate to experiment a bit with colors and get ready to sport a different look every day of the week with confidence and style.
Not all drugstore eyeliners are created equal when it comes to the texture and finish they offer. While some are creamy and glide on smoothly, others have a kohl pencil-type design and are better suited when you're trying to create a smudged, smokey eye. If you like to do your makeup first thing in the morning and want to have it last all day without requiring touch-ups, pick an eyeliner that is long-lasting and water-resistant. Lastly, some eyeliners have built-in sharpeners with a twist-up design, while others come with a built-in smudger for versatile use. Pick a design and texture that suits your style the best!
Just because drugstore eyeliner pencils are relatively inexpensive doesn't mean you have to compromise on the quality of ingredients you put on your skin. If you're prone to allergies and sensitive skin, pick an eyeliner made of natural, good-for-you ingredients. Are you dealing with dry and flaky skin around your delicate eye area? Pick an eyeliner that is infused with skin-loving ingredients like vitamin E and jojoba oil that protect your eyes while providing unbelievable definition. As always, steer clear of the known nasties in your makeup products – be it parabens, phthalates, SLS, or petrolatum.
Drugstore pencil eyeliners are affordable and perfect for your casual outings! If you want to flaunt your eyes without having to use eyeshadows and other cosmetics, these eye pencils can work wonders! Not just black, these eye pencils come in various vibrant colors for you to choose them as per your mood. The eye pencils in our list have a creamy texture and glide effortlessly! It is important to choose eyeliners that are long-lasting and don't fade away. From cat eyes to smokey eyes, these drugstore eye pencils are perfect for any eye makeup! Opt for eyeliners that provide rich, intense color and come with a sharpener. However, avoid eye pencils that tend to be waxy and are not smudge-proof. Makeup enthusiasts with sensitive skin can also choose hypoallergenic and dermatologist-tested formulae.
Why Trust StyleCraze?
The author of this article, Priyam Gupta, is a makeup enthusiast who believes in the expressive power of makeup. She consulted makeup experts and went through hundreds of reviews to pick out the best drugstore pencil eyeliners that help you get bold, beautiful eyes without burning a hole in your pocket. They will help you nail the best eye looks, whether you are a pro or just beginning out.
Frequently Asked Questions
Can I use a drugstore eyeliner to fill in my eyebrows?
Yes, you can use a drugstore eyeliner to fill your brows. However, eyeliner might be more robust, giving off a more tattooed brow appearance, and you likely need more time to neutralize it well to lighten the color.
Are pencil or liquid eyeliners easier to apply?
For daily use, pencil eyeliners are thought to be the simplest and most popular. They are simpler to work with and glide effortlessly along the lash line to provide an even look because no liquid is involved.
How can you prevent a drugstore eyeliner from drying out?
Seal the eyeliner properly sealing and store it at room temperature to keep it from drying out.
Should you wear eyeliner if you are over 50?
There is no age limit for wearing eyeliner; you can wear it at any age.
Recommended Articles:
Best Drugstore Colored Eyeliners According To Reviews
Top Drugstore Waterproof Eyeliners
Best Drugstore White Eyeliners That Give You Brighter, Bolder Eyes
Best Eyeliner Pencils For Dazzling Eyes
Best Drugstore Liquid Eyeliners Under $10
The following two tabs change content below.