13 Best Drugstore Retinol Creams For Wrinkle-Free Skin – 2022
This magic elixir is the most skincare essential on the block of anti-aging ingredients.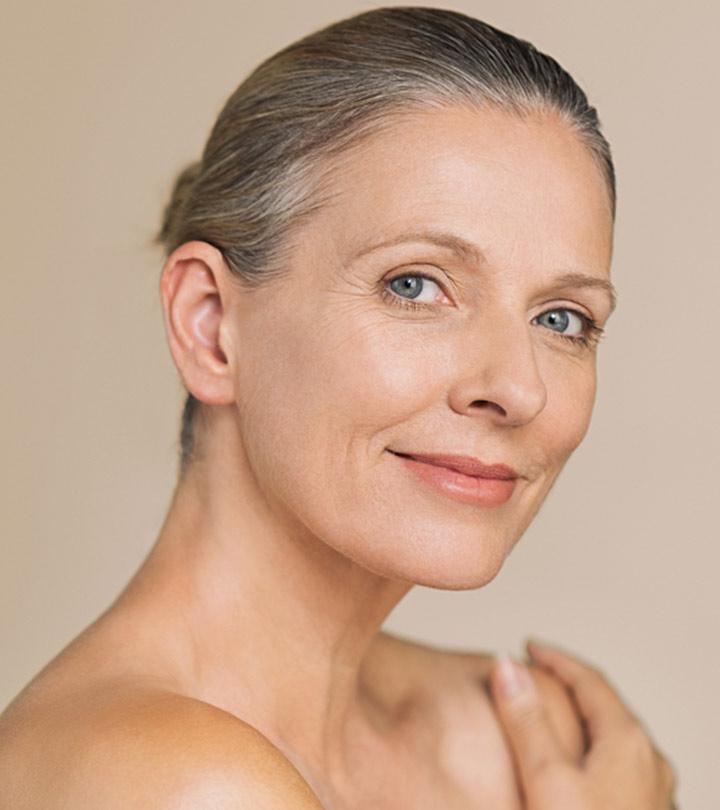 When you hear the word retinol, it might sound like an ingredient only present in luxurious wrinkle-free products. Let us burst your bubble by stating otherwise as the best drugstore retinol is not only effective but also pocket-friendly. The lightweight formulas are safe and gentle on your skin. Also, they are suitable for all skin types and promise amazing results. We have researched and curated the 13 best retinols from drugstores that will offer you a fresh and youthful glow. Name any sign of aging, from dark circles, fine lines, spots, marks, sun damage to wrinkles, our list of products will solve all your skin concerns. Scroll down to check them out.
13 Best Drugstore Retinols For A Natural And Youthful Glow!
LilyAna Naturals Retinol Cream is the best example of "good things come in small packages"! Fighting all 5 signs of aging (wrinkles, uneven skin tone, sagginess, rough texture, and fine lines), you can use the cream twice a day for the best results. Also, enjoy the goodness of hyaluronic acid, aloe vera, green tea, vitamin E, shea butter, vitamin A (retinol), and jojoba oil in this vegan retinol cream that reduces blemishes, UV damage, and sunspots as well. Like a one-stop solution to handle all your skin woes, you must give this drugstore retinol for sensitive skin a try!
Pros
Ensures to lift and tighten skin
Minimizes acne, scars, and redness
Absorbs quickly and leaves no residue
Rejuvenates, moisturizes, and brightens skin
Reduces dark circles, milia, puffiness, and crepey skin
Non-comedogenic, lightweight, non-irritating, and cruelty-free
Ideal for applying around eyes, face, hands, and neck areas
Free from phthalates, parabens, SLS, gluten, petroleum, and more
Cons
Not suitable if you are sensitive to smell
Price at the time of publication: $14.99
Aging can turn your skin dull and dry unless you fight back with a powerful anti-aging formula like this drugstore retinol moisturizer. Brightening up your skin instantly, it eliminates dullness and stimulates the growth of new cells with every use. Yep, consider all the wrinkles, discoloration, acne, fine lines, and hyperpigmented spots taken care of with this gem. Moreover, the formula contains vitamin A, shea butter, vitamin B5, jojoba oil, and vitamin E. Yep, awaken your "sleeping beauty" with this one!
Pros
Dermatologist-tested
Corrects uneven skin tone
Nourishes, firms, and plumps skin
Lightweight, hypoallergenic, and non-irritating
Ideal to use during the day and at night
Cruelty-free, gluten-free, paraben-free, and phthalate-free
Suitable for applying on face, decolletage, and neck areas
Cons
Applying too much may turn your skin greasy
Price at the time of publication: $19.95
Did you know the skin is more receptive to repair creams and serums at night? Also, this drugstore retinol night cream by RoC claims to make your skin look 10 times younger with every use! From reducing wrinkles up to 50% to ensuring dramatic changes on the skin, it also combats dark circles, uneven skin tone, dryness, crow's feet, and other aging signs like a charm. Besides this, it guarantees to visibly firm and lift the skin in just 8 weeks. Add to the cart already!
Pros
Dermatologist-tested
Suitable for mature skin
Leaves skin fresh, radiant, and smoother
Non-comedogenic, oil-free, and non-greasy
Gentle and ideal for daily use
Cons
May be too strong for delicate skin
Price at the time of publication: $24.97
Minimize the appearance of fine lines and wrinkles with the Simplified Skin Retinol Moisturizer Cream. This retinol moisturizer cream evens the skin tone, reduces dark spots, treats sun-damaged skin, prevents breakout, and avoids irritation. The non-greasy formula blends smoothly over the skin. In addition, it is infused with Vitamin E, Vitamin B5, Hyaluronic Acid, Shea Butter, Green Tea, and Jojoba oil that soothes your skin and regenerates your skin.
Pros
 Vegan
 Cruelty-free
 Suitable for all skin types
Cons
 May experience strong smell
Price at the time of publication: $13.95
Let your search for the strongest drugstore retinol cream end here! Because this night cream by Neutrogena is infused with pure vitamin A to reduce even the most stubborn aging signs while you sleep. Now, whether you are dealing with age spots, wrinkles, or fine lines, this drugstore retinol cream guarantees to reverse the signs and leave your skin softer and smoother with every use. And besides retinol, the formula also contains vitamin E and pro-vitamin B5 to moisturize and nourish your skin intensely. Try ASAP!
Pros
Dermatologist-tested
Oil-free and gentle formula
Absorbs quickly and non-comedogenic
Hypoallergenic, alcohol-free, and fragrance-free
Suitable for combination skin
Cons
Not suitable for dry skin
Price at the time of publication: $17.49
What makes this retinol moisturizing cream different from others? It's infused with 2.5% active retinol, green tea, hyaluronic acid, propolis, aloe vera, and vitamin E to target aging lines and moisturize intensely. Yep, enjoy dual benefits with this premium and unique formula that claims to be 100% safe and made of high-quality ingredients. And given it is suitable for sensitive and combination skin, get ready to watch your wrinkles smoothen and fine lines reduced with this gem. Do not skip it!
Pros
Improves complexion
Stimulates skin renewal
Boosts elasticity and firmness
Guarantees result in 4-6 weeks
Ideal for women and men
Cruelty-free, paraben-free, dye-free, and more
Suitable for applying on face, neck, and decolletage areas
Cons
Very thin consistency
It may sting slightly.
Price at the time of publication: $12.7
No more breaking the bank on anti-aging salon treatments! This advanced firming cream is promising salon-worthy and younger-looking skin in the comfort of your home. From boosting collagen to penetrating the skin to reduce wrinkles, age spots, and fine lines, it is the skin nourisher you need to glow up this season! What does it contain? Retinol, aloe vera, chamomile, green tea, and hyaluronic acid to fight aging signs, hydrate and moisturize the skin intensely with every use. Also, you can say goodbye to puffiness, environmental damages, and redness too. Still, want to miss it?
Pros
Plumps sagging skin
Replenishes moisture
Improves elasticity and complexion
Reduces sun damages and irritation
Cruelty-free, fragrance-free, and paraben-free
Suitable for applying on eyes, face, neck, and decolletage areas
Cons
Price at the time of publication: $25.99
With this retinol cream, expect no irritation, just smoother, tighter, and clearer skin! A must-try for those with an open-pore problem, Amara Beauty Retinol Cream unclogs and minimizes pores with every use. Want more? It claims to be gentle and packed with high-quality ingredients such as shea butter, hyaluronic acid, jojoba oil, vitamin E, vitamin B5, and 2.5% retinol. Yep, say goodbye to age spots, wrinkles, and fine lines with this age-defying blend.
Pros
Cruelty-free product
Boosts collagen
Reduces discoloration
Corrects uneven texture and tone
Guarantees result in 12 weeks
Free from parabens, artificial fragrances, dyes, and colors
Cons
Price at the time of publication: $19.95
Sometimes all your skin needs is intense hydration and a collagen boost to plump those wrinkles, crepey skin, and fine lines. And this retinol cream is packed with hyaluronic acid, retinol, aloe vera, and vitamin E to increase hydration and leave skin tighter, firmer, and moisturized than before. Plus, it also reduces frown lines, scars, sunspots, dark spots, and more. Ideal to use on the face, neck, hands, shoulders, and under-eye areas, you can also use it during the day, at night, or as a primer under makeup. And the best part, it's suitable for all skin types! Still, want to skip this bliss?
Pros
Velvety texture
Minimizes large pores
Lightens under-eye areas
Stimulates skin regeneration
Brightens and rejuvenates dull skin
Gentle and suitable for sensitive skin
Vegan and cruelty-free product
Free from sulfates, parabens, and other harsh chemicals
Cons
Price at the time of publication: $16.0
Like fuel for your skin to rev up the youthful glow, this night moisturizer will make mornings happier (and wrinkle-free) for you! Guaranteeing no side effects and infused with vitamin A (retinol), it fights aging signs, hydrates intensely, and balances cell turnover for younger-looking and clear skin. And that's not all; it targets dark spots, age spots, hyperpigmented areas, and sunspots as well. Also, are you dealing with dullness or acne? Then indulge ASAP because this drugstore retinol for acne exfoliates intensely and reduces chances of clogged pores or breakouts too. Give it a try!
Pros
Absorbs quickly
Boosts collagen production
Stimulates skin cell renewal
Organic and hypoallergenic formula
Lightweight, odorless, and non-greasy
Free from parabens and other harsh chemicals
Suitable for all skin types
Cons
Price at the time of publication: $16.9
Mature skin with dark spots can be a tricky problem to deal with unless you have this drugstore retinol serum in your kitty. Infused with hyaluronic acid and 2.5% active retinol, the benefits of this cream will make you regret not having bought it earlier. From plumping skin, shrinking pores to reducing dark spots and age spots, this intense moisturizer can do it all whether you apply it during the day or at night. Want more? The formula also contains tea tree oil, aloe vera, vitamin E and B5 to hydrate and moisturize intensely. Too good to be missed, we think!
Pros
Boosts collagen
Ensures no greasy feeling
Leaves skin firmer and tighter
Reduces fine lines and wrinkles
Suitable for applying on the face and under-eye areas
Cons
Price at the time of publication: $11.1
Reduce the appearance of wrinkles and hyperpigmentation with the Bella Beauty Retinol Cream. The cream effectively minimizes dullness, improves skin texture, prevents dryness, and restores skin elasticity. It is loaded with powerful ingredients – organic aloe vera, shea butter, vitamin E, green tea, and Jojoba oil. In addition, the cream also fights against signs of aging.
Pros
 Cruelty-free
 Vegan
 Suitable for all skin types
Cons
None
Price at the time of publication: $12.74
Organic skincare lovers, we have an all-natural age-defying cream that you will love! Go on, re-activate the collagen with this moisturizer that contains organic and powerful ingredients such as green tea, vitamin E, hyaluronic acid, jojoba oil, shea butter, and 2.5% pure retinol. Fighting all aging signs such as wrinkles, fine lines, pigmentation, and dark spots, the cream also guarantees to restore the skin's elasticity effortlessly. Yep, with all-natural ingredients and no chemicals to hamper your skin, there's no reason to give this pure formula a miss!
Pros
Improves skin tone
Stimulates quicker cell turnover
Ensures younger-looking, clear, and hydrated skin
Ideal for applying during the day and at night
Vegan and cruelty-free product
Suitable for all skin types
Cons
May turn oily skin slightly greasy
Price at the time of publication: $12.99
Why Trust StyleCraze?
The author of this article, Vaishnavi Kothuri, is passionate about skin care and finding the best products that keep up with the changing times and needs. She loves drugstore brands and products, where affordability meets quality. She conducted in-depth research on the ingredients and formulations of various retinol product options. After extensive exploration of customer reviews, she has curated this list of the best drugstore retinols. These carefully formulated products can repair skin damage, remove wrinkles and other signs of aging, and are priced reasonably for the excellent quality they offer.
Frequently Asked Questions
At what age should I use retinol?
Your mid-20s is a good time to start using retinol for your skin.
Can I use retinol every day?
Yes. Retinol may be used daily in your nighttime routine, but your skin needs to get used to it. So, begin with twice a week, then build up your routine for more regular use.
Is it better to use retinol cream or serum?
Retinol serum is a better option as it is lightweight and penetrates the skin more easily than a cream.
Does over-the-counter retinol cream work?
Yes, OTC retinol creams are gentle on the skin and help improve overall skin texture and tone.
Do dermatologists recommend retinol?
Yes, dermatologists recommend retinol for its potent anti-aging benefits.
Recommended Articles: