15 Best Drugstore Self-Tanners To Achieve A Natural Glow – 2023
Get tanned easily at home without burning a hole in your pocket with the right tools at hand.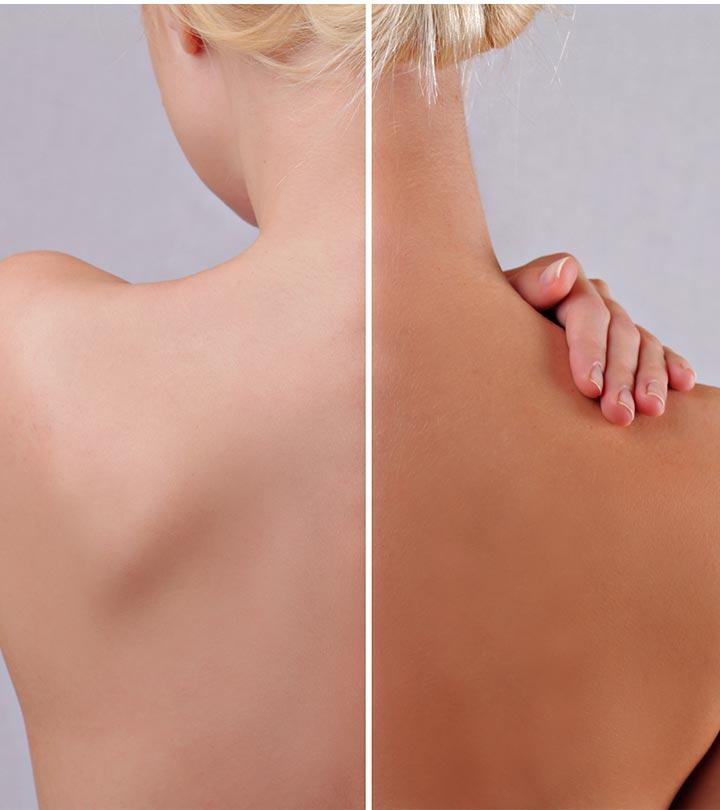 If all you've ever wanted is a sun-kissed look and a gorgeous, even tan, you don't have to shell out money and travel to the nearest beach destination. Instead, you can just buy the best drugstore self-tanner and achieve a stunning bronze shade right at the comfort of your home! Self-tanners are an ingenious invention that you can spray or moisturize yourself with to get the tan you need. Moreover, drugstore options allow you to do this without burning a hole in your pocket! Just scroll through our list and get that beach tan all year round without a single ounce of effort.
Best Drugstore Self-Tanners To Achieve A Natural Glow
When the beach is miles away, and the sun refuses to show its face, this is the self-tanning mousse you turn to. It instantly creates a natural tan that no one will believe you got from a bottle. It truly is a genie in a bottle as this air mousse works with your skin tone to create a tan that will best suit you. It has a tinted formula to help guide you and is super light and fresh. The color develops within an hour, and the tanner has a pleasant smell to it. It is available in light and deep bronze so you can take your pick. To get a better understanding of the product, check out this video on YouTube detailing a tester's experience of using it.
Pros
Airy light mousse
Dermatologist-tested
Color develops in just 60 minutes of applying it
Cons
Wash your hands after using it as it pigments your hands
Price at the time of publication: $17.96
This convenient and easy-to-use self tanner is about to become your new best friend! They come as individually wrapped towelettes, which means you can tan while on-the-go. They render a very natural bronze that does not look like you fake-tanned at all. These towelettes are travel-friendly, and will give you a streak-free tan. Check out this review to explore a tester's experience of using this product.
Pros
Travel-friendly individually wrapped towelettes
Imparts a naturally-tanned look
Cons
This product contains alpha hydroxy acid that may increase the sensitivity of your skin to the sun.
Price at the time of publication: $19.58
Do you want a professional tan? Then this is the self-tanning spray you need. This self-tanner gives your skin a professional airbrushed tan. By just spraying this tanner on, you will get a gorgeous glowing tan that is two shades darker than your skin tone. You no longer have to deal with the messiness of rubbing the tanner on and getting it on your hands. The ultra-fine mist gives you even coverage and a gorgeous tan all over your body. This product from the dermatologist-recommended brand is alcohol-free. It is infused with witch hazel that helps soothe the skin. It is also non-comedogenic, so will not block up your pores. If you want to know more about the benefits of this product, check out this quick review on YouTube that features a reviewer's experience.
Pros
Easy hands-free experience
Non-comedogenic and soothing to the skin
Cons
Price at the time of publication: $13.05
Opt for b.tan Fake It Till You Make It Dark Self Tanner if you wish to achieve a professional tan look. A quick solution to fake tanning, it provides results within 1 hour and is long-lasting as well. The mousse is super easy to apply and it effortlessly glides over the skin. It delivers a natural tan with a subtle glow. It is a vegan-friendly formula with no nasty smell.
Pros
Easy to apply
Quick acting formula
Quick-drying formula
Value for money
Odor-free
Cruelty-free
Cons
Price at the time of publication: $14.99
If you've been craving an ultra even tan, then this velvety mousse tanner is what your bathroom cabinet lacks. You can choose how dark you want your tan when using this tanner. It develops in an hour, and the longer you keep it on, the darker it gets. It is made using a vegan-friendly formula and has a mood-boosting fragrance. It is quick-drying, non-sticky, and evenly fades without staining your clothes.
Pros
Vegan-friendly formula
Mood-boosting fragrance
Quick-drying and non-sticky
Cons
More expensive than other tanners
Price at the time of publication: $44.0
If you're looking for a tanner with great coverage, then this is the one for you. It effectively covers freckles, veins, and imperfections. What's more, it even stimulates microcirculation in the legs for healthier and firmer looking calves and feet. Enriched with Palmaria extract, this tanner gives you an irresistible airbrushed look. With five shades to choose from, picking the right one for you was never easier!
Pros
Transfer-resistant and waterproof
Great coverage
Cons
May need to be touched up after first application
Price at the time of publication: $9.92
For balanced tanning and firmer skin, trust this self-tanner. In just 7 days, you will notice that your skin has a natural-looking glow to it. That's not all; the appearance of your cellulite would have also diminished. This dermatologist-tested product is formulated with vitamin E that can soften and nourish your skin. It also contains antioxidants that nourish your skin and give it a natural-looking tan. The collagen and elastin in the product will also impart a smoother look.
Pros
Nourishes skin
Perfect for first-time self-tanners
Reduces the appearance of cellulite
Cons
Hands must be washed properly after application as it may leave behind some color
Price at the time of publication: $18.96
Welcome perfectly sun-kissed skin by incorporating this tanner into your beauty regimen. It is made from organic and natural ingredients and is vegan-friendly, which means that it is great for your skin and the environment. This dermatologically tested tanner contains organic shea butter, coconut oil, and Japanese green tea that will make your skin feel pampered and nourished. With its buildable formula, you can reapply the lotion every other day to get a gradual sun-kissed look.
Pros
Organic and natural ingredients
The tan is buildable, which means that you can reapply to get the shade you desire
Vegan-friendly
Cons
The cream is not tinted, so it's hard to make out where you have applied the product
Price at the time of publication: $32.91
When you build a tan, it looks more natural, and that's what you can attain with this self-tanner. It is made from natural ingredients such as citrus and aloe that help develop color and tints. It is formulated with exclusive anti-aging properties that moisturize and replenish your skin. For an authentic tan, this is the tanner you need right now.
Pros
Natural and organic ingredients
Moisturizes and hydrates skin
Cons
Price at the time of publication: $37.58
Powered by botanicals, this hydrating tanning lotion is non-streaking and super hydrating. It is easy to spread over the body and has a quick-absorb formula meaning that you will see a gentle tan on your skin in three hours. It is free from parabens and phthalates and is gentle on your skin. If you're looking to pamper your skin while also tanning it, then this natural tanner is your best bet. With hydrating shea butter, moisturizing almond oil, and safflower oil, your skin is bound to feel nourished and look vibrant. The lotion will gradually deliver a bronzy glow to your skin, making it look like you just came back from the tropics.
Pros
Cruelty-free
Streak-free glow
Free from harmful chemicals
Cons
Price at the time of publication: $7.29
Are you looking for an instant glow? Try this lightweight mousse tanner out. In just 60 seconds, it renders to your skin a gorgeous glow, and in about 4 hours, it develops into a long-lasting tan that lasts up to 10 days. It is made from a vegan-friendly formula that imparts a glowy streak-free tan that will fade evenly.
Pros
Dermatologically tested
Vegan-friendly formula
Long-lasting tan
Cons
Price at the time of publication: $22
This fast-absorbing formulated tanner is just what you need if you're in a hurry and desperately in need of a tan. While sitting out in the sun eats up time and exposes you to the harmful UV rays, this tropical scented self-tanner dries fast and gives you a glowy, sunkissed look in about 4 to 5 hours. You can either apply it in the morning and go about your day as usual or include it in your nighttime routine and lounge around in bed. It comes with a color guide and professional mitt for easy and hassle-free application.
Pros
Comes with a professional mitt
Fast-absorbing formula
Cons
Price at the time of publication: $26
With this tinted lotion, you will have summer-ready skin all year long! This self-tanning lotion contains nourishing ingredients like aloe vera and vitamin E extract, that make your skin look and feel great. It is oil-free and streak-free, so you won't have to worry about patchy tans. Its Self Adjusting Color colors your skin with a rich and luscious tan. This reef-friendly tanner is used without oxybenzone and octinoxate, and so you're not harming the environment by using this tanner.
Pros
Moisturizes and nourishes skin
Streak-free and eco-friendly product
Cons
Takes some time for the color to develop
Price at the time of publication: $14.67
The Coco & Eve Sunny Honey Bali Bronzing Foam carries the best of both worlds, it offers a natural sun-kissed tan while intensely moisturizing the skin. It is enriched with coconut oil and amino acids that provide hydration and tackle pigmentation. This DHA self-tan mousse is free of any toxins and is vegan-friendly. This tanning foam is powered by cellushape technology and is enriched with powerful antioxidants like banana, fig, papaya, and cocoa extract that eliminate the signs of aging. For a seamless, smooth bronze tan with zero blotches, go ahead and switch to this excellent product. It develops in just two hours and lasts a long time, close to two weeks.
Pros
100% natural
Suitable for all skin tones
Dries quickly
Long-lasting
Non-greasy formula
Leaves no streaks
Does not emit biscuit scent
Cruelty-free
Cons
None
Price at the time of publication: $34.8
This self-tanner is one of the best-kept secrets of the beauty world. It renders a fast, deep beachy tan that will leave you looking radiant and sun-kissed. It is a water-resistant formula that is reef-friendly. This self-tanner is infused with nourishing ingredients like aloe vera, Kona coffee plant extract, marula, argan, coconut, and avocado oil.
Pros
Infused with the goodness of natural ingredients
Does not clog up pores
Reef-friendly
Cons
Must be rubbed in thoroughly to avoid brown patches
Price at the time of publication: $14.0
Why Trust StyleCraze?
Medha Deb, the author, loves to write about all things related to skin care and reviewing new products in the domain. She conducted thorough research and checked a host of reliable user reviews to help her readers land the best drugstore self-tanners. These products help you get a natural-looking, sun-kissed glow in no time in the comfort of your home.
Frequently Asked Questions
How long do self-tanners last?
Self-tanners typically last anywhere between 5 to 10 days, depending on your skin's cycle.
Do self-tanners wash off?
If you shower soon after applying a self-tanner, then it will wash off. Most tanners tend to fade in a few days.
Is self-tanner good for your skin?
Yes, skin-friendly formulas that are non-toxic are good for your skin. But, some self-tanners contain DHA, which may make your skin more susceptible to sun damage.
How long does self-tanner take to work?
Self-tanners take roughly 6-10 hours to dry and work. The DHA present in them takes time to react on the upper layer of the skin, so it is a slightly lengthy process.
Is there a self-tanner that does not turn you orange?
Yes. The St. Tropez Self Tan Express Advanced Bronzing Mousse will not turn your complexion orange. Instead, the vegan formula offers a golden brownish even tan.
Do I moisturize before self-tanning?
No, it is best not to moisturize before self tanning. Although moisturization is essential to create a barrier between your skin and the tanning formula, it can lead to uneven application of the tanner. Therefore, apply a moisturizer 24 hours before using a self-tanner. You can also choose a self-tanner with nourishing properties
How to use self-tanner?
•  Follow the pointers given below to use a self tanner for the best results.
•  Exfoliate the skin with a washcloth. Invest more time in exfoliating the elbows and knees.
Let the skin dry completely.
•  Apply the self-tanner in sections. Then, massage the formula in circular motions and spread it evenly.
•  Extend the tanner from your wrist to your hands and from your ankles to your feet for a more natural look.
•  Let the tan dry completely. Wear loose-fitting clothes to avoid staining or rubbing off the tan.
•  Apply a water-resistant sunscreen with high SPF.
How to remove self-tanner?
•  Apart from self-tanner remover mousse, there are other ways to remove self-tanner. These are:
•  Apply baby oil and let it sit for a few minutes. Then, use a washcloth to wipe away the tan gently.
•  Sugar scrubs of exfoliating mitts are highly effective in removing self-tanner. Rub the exfoliants onto the skin in circular motions to scrape away the tanner.
•  Apply a depilatory cream and let it sit for a few minutes. Rub it off later.
•  Use whitening toothpaste or vinegar for removing tanner from small areas as they can dry out skin if used for larger sections.
Recommended Articles