15 Best Drugstore Setting Sprays – Prep, Set, And Go!
Keep your makeup in place and nourish your skin with gentle formulas that show results.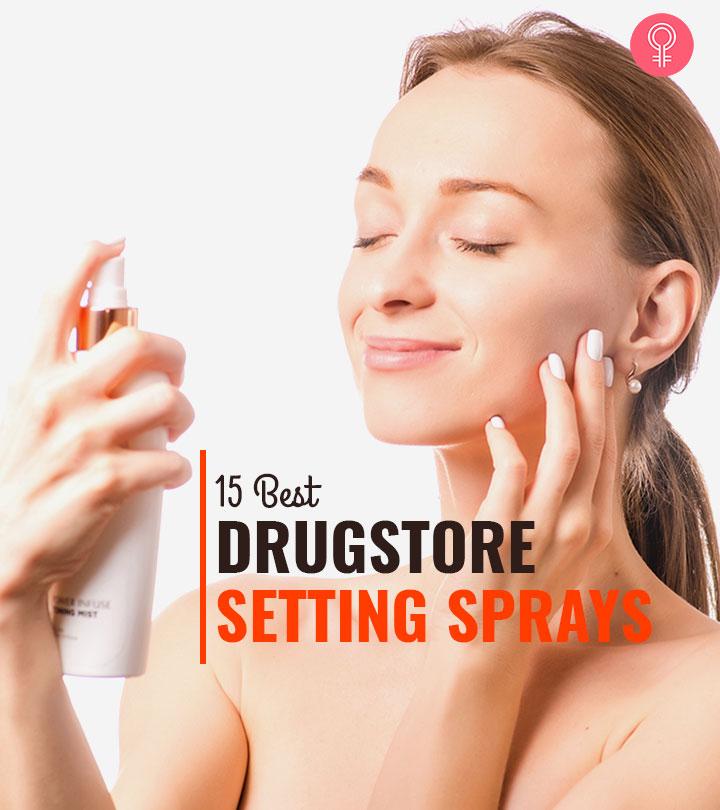 It can be challenging to keep your makeup flawless throughout the day. But if you put your hands on the best drugstore setting spray, you do not have to worry about it anymore. Makeup smudges and forms creases as your skin release sebum and sweat throughout the day. But a setting spray can solve these issues.
In this article, we have made a list of the 15 most effective drugstore setting sprays that you must have in your makeup pouch right away. They help keep the makeup in place, giving you a flawless look all day long. Scroll down and check it out.
15 Best Drugstore Setting Sprays
The Mario Badescu Facial Spray is a refreshing, hydrating face mist that fixes your makeup. It is made with aloe vera, bladderwrack, thyme, gardenia, and rose. Its invigorating formula hydrates, nourishes, clarifies skin tone, and reenergizes skin with a radiant, dewy glow. The antioxidants in the spray protect the skin from environmental stressors. Its fragrance from the herbal extracts and a blend of rosewater refreshes your skin and keeps it hydrated day long. Go ahead and check out this YouTuber's video for more details about the product.
Pros
Revives dehydrated skin
Gives a gorgeous glow
Gentle on all skin types
Non-irritating formula
Soothing fragrance
Cons
Contains propylene glycol
Not suitable for sensitive skin
Not suitable for oily skin (may cause breakouts)
The NYX Professional Make Up Matte Finish Fini Mat Setting Spray is a lightweight, comfortable makeup fixer. It offers a day-long gorgeous and shine-free look. The formula is skin-friendly and is specifically formulated for all skin types. It contains Plantago Lanceolata leaf that has anti-bacterial and anti-inflammatory properties. It also contains Mahonia Aquifolium flower extract, which is a natural source of salicylic acid that reduces acne breakouts. To get a better understanding of the product, you can check out this video on YouTube.
Pros
Lightweight
Comfortable
Breathable
Long-lasting matte finish
Suitable for all skin types
Cons
Unpleasant smell
May feel greasy on the face
The Rimmel London Fix & Go 2-in-1 Setting Spray locks makeup for the entire day. It also leaves a shine-free matte finish. You can use it along with or even before your makeup to absorb excess oil from the skin for a vibrant and radiant look. The spray prolongs and enhances the wear of makeup with just one use. Check out the review of this product for more information.
Pros
2-in-1 action
Perfect fixer for oily skin
Matte finish
No cakey look
Cons
Consistency could be too thick
The Milani Make It Last 3-in-1 Setting Spray locks in your makeup and keeps it intact all day long. You wouldn't need any touch-up. Just a spritz of the spray fixes your look for up to 16 hours. It gives a matte, dewy finish. It reduces the appearance of imperfections, and prevents fading or smudging. This long-lasting illuminating spray leaves a cooling and refreshing look.
Pros
3-in-1 formula to prime, correct, and set
Gives a matte, dewy finish
Flawless finish
100% vegan
Enhances complexion
A fine mist
Can be sprayed before or after makeup
Suitable for oily or sensitive skin
Cons
Poor quality spraying nozzles
The L'Oreal Paris Makeup Infallible Pro-Spray & Set is a lightweight and oil-free mist that prevents fading or smudging. It also locks in your gorgeous makeup all day long. Just spray it from a distance of about 10 cm from your face, and you're good to go. It does not feel sticky or tacky when applied. It dries up fast. It easily keeps your makeup looking fresh for about 7 to 8 hours.
Pros
Ultra-lightweight mist
Oil-free
Non-comedogenic
Dermatologically-tested
Easy to use
Dries up quickly
Cons
Not suitable for skin that is too dry
The Wet n Wild Photofocus Setting Spray is among the popular weightless mists for a natural finish. It works well with all types of skin. This exclusive formula makes your skin look flawless every time with no cakey coverage, no melting, and no creases. It contains aloe vera that keeps you hydrated, refreshed, and glowy.
Pros
Weightless mist
Gives a natural finish
Hydrates skin
Works with any makeup
No cakey look
Contains emollient aloe vera
Cons
Not a soothing smell
Poor build quality
The Wet n Wild Photofocus Primer Water is an ultra-lightweight 3-in-1 primer that hydrates, smoothens, and brightens your appearance. It leaves a dewy look all day. It is infused with vitamins and minerals that create a flawless canvas for a smooth application. It allows the foundation to glide on smoothly, leaving skin refreshed for hours.
Pros
Ultra-lightweight mist
A 3-in-1 primer to prep, set, and refresh
Hydrating and nourishing
Brightens the appearance
Flawless finish
Cruelty-free
PETA-certified
Pleasant smell (of tropical coconut)
Cons
Not suitable for sensitive skin
The Smashbox Photo Finish Primer Water is the perfect choice if you want to enjoy the benefit of a primer along with hydration and sheer radiance in just one spritz. It is a multitasking face primer that absorbs quickly to revitalize and hydrate the skin. It also restores the skin moisture. It provides a vibrant look with a flawless finish for the whole day.
Pros
Instantly hydrates
Non-comedogenic
Dermatologically-tested
Absorbs quickly
Gives a refreshing look
Silicone-free
Alcohol-free
Oil-free
Suitable for all skin types
Cons
The Maybelline New York Facestudio Master Fix is a lightweight, oil-free, and translucent Setting Spray. It gives a long makeup wear with no melting, fading, or a cakey feeling. This formula is infused with aloe vera that restores hydration. It also contains vitamin E that protects the skin from chemical and environmental aggressors.
Pros
Lightweight
Oil-free
Dries out instantly
Long-lasting finish
Hydration booster
Offers refreshing glow
Cons
Not suitable for skin that is too sensitive
May not be suitable for dry skin
The Too Face Hangover 3-in-1 Setting Spray is a weightless coconut water-infused mist that primes, sets, and refreshes the skin for a long-lasting makeup. The invigorating emollient coconut water hydrates, nourishes, and softens the skin. It is a perfect cure for a beauty hangover. The nourishing, refreshing formula gives a flawless finish to uplift your beauty.
Pros
Lightweight
A 3-in-1 solution in one spritz
Hydrating
Smoothens the skin
Paraben-free
Silicone-free
Alcohol-free
Oil-free
Cons
The Urban Decay All Nighter is an award-winning lightweight makeup setting and finisher spray. It lasts for up to 16 hours. It feels extremely comfortable to wear, and also gives your skin an instant moisture-boost. With the patented Temperature Control technology, a spritz of the spray lowers the hue and warmth of the makeup and locks it in place for hours. The micro-mist formula does not give a cakey look. It stays on better even in the T-zone without settling into fine lines.
Pros
Vegan formula
Suitable for all skin types
Gives a softer and smoother-looking skin
Lowers the temperature of the makeup
Lightweight
16 hours of stability
Cons
The Neutrogena Healthy Skin Radiant is a weightless, non-sticky makeup setting spray that locks in the vibrant look in place for hours with no fading, melting, or a cakey appearance. It also does not show the fine lines. The antioxidant-rich formula with peptides boosts skin's radiance, maintains skin elasticity, and leaves skin looking radiant, vibrant, and refreshed.
Pros
Weightless mist
Non-sticky formula
Rich in antioxidants
Infused with peptides
Fine, cool mist
Leaves a brighter, glowy skin
Quick-drying
Protects the skin
Cons
Not suitable for sensitive skin
The Catrice Cosmetics Prime & Fine Fixing Spray is a multitasker. It is a 3-in-1 fine mist that primes, sets, and refreshes the skin for a supple look. It absorbs instantly for a flawless finish. Shake and spray for freshening up your look and plumping up your skin.
Pros
Lightweight
Vegan
All-rounder mist
Fast-absorbing
Refreshes the skin
Lightweight
Long-lasting flawless finish
Cons
pixi by petra is a prolonged makeup fixing mist that adds a soft-focus finish. The lightweight fixing spray provides long-lasting makeup wear with no melting or smudging. It also ensures the makeup does not settle into fine lines or pores. It is infused with rose water, willow bark, and green tea that hydrate, nourish, balance, and protect the skin.
Pros
Lightweight
Boosts skin hydration
Balances makeup temperature
Powerful antioxidants protect the skin
Provides a fresh look
Cons
None
The Makeup Forever Mist & Fix Makeup Setting Spray is a lightweight, alcohol-free mist that preps and refreshes the skin. It also sets the makeup for up to 12-hours of wear. It is a water-rich formula that is infused with hydrogenated castor oil, vitamin E, and seawater that lock-in the moisture. They also help boost cellular oxygenation and protect the skin from chemical damage. The spray creates a sweat-proof, rub-resistant barrier for a smudge-free makeup.
Pros
Lightweight
Alcohol-free
Refreshes the skin
Rub-resistant
Sweat-proof
Locks-in moisture
Hydrates the skin
Protects skin from damage
Boosts oxygen supply to the skin tissue
Cons
Not suitable for oily skin
These are the makeup setting sprays available online. These are effective yet lighter on your pocket. But before you make a purchase, it is important to know what you need to check in the right product.
Tips To Choose The Right Product
Pick a lightweight formula that won't be cakey on your face.
If you have dry skin, do not choose easy drying fixing sprays as they may dry your makeup further. Avoid a mist that contains alcohol.
Choose an illuminating setting spray that is hydrating, nourishing, and restores skin balances.
If you have oily skin, choose an oil-free, non-comedogenic matte spray.
Why Trust StyleCraze?
Baishali Bhattacharya, the author of this article, is certified in makeup artistry. She has a keen interest in various makeup products. She has done thorough research, read many online reviews, and compiled a list of the best drugstore setting sprays. These sprays are a must-have for a flawless makeup look throughout the day. The best part is these fall into an affordable range.
Frequently Asked Questions
Which is better – a primer or a setting spray?
Either a primer or a setting spray can help fix your makeup for the entire day. But applying a primer in lieu or before makeup helps smooth out your appearance and masks the fine lines.
Is a fixing spray the same as a setting spray?
Yes, both the types of sprays serve the same purpose.
How do I make the setting spray last longer?
Once you are ready with the makeup, shake the bottle and spray it on your face from a distance of 6 to 8 inches. This allows for a long-lasting wear.
Can you use a setting spray every day?
Yes, you can use a setting spray regularly. If you want your makeup to last longer than usual, using this product is a must.
Is translucent powder better than setting spray?
No, a setting spray offers coverage to every part of your face. A translucent powder usually absorbs oil from key areas and focuses on the high points of your face.
Should I apply setting spray before or after makeup?
You must apply a setting spray after you are done with your makeup. The setting spray will keep your makeup intact even during harsh weather conditions.
Does a setting spray cause acne?
No, a setting spray does not cause acne. The makeup that you are using may give rise to acne symptoms and clog pores, but a setting spray does not contribute to the same.
How long do setting sprays last?
Different brands have different expiration dates but the product usually lasts from 12 to 14 months.
Recommended Articles