15 Best Drugstore Skincare Products, According To Reviews
You don't have to break the bank to pamper your skin with safe and effective products.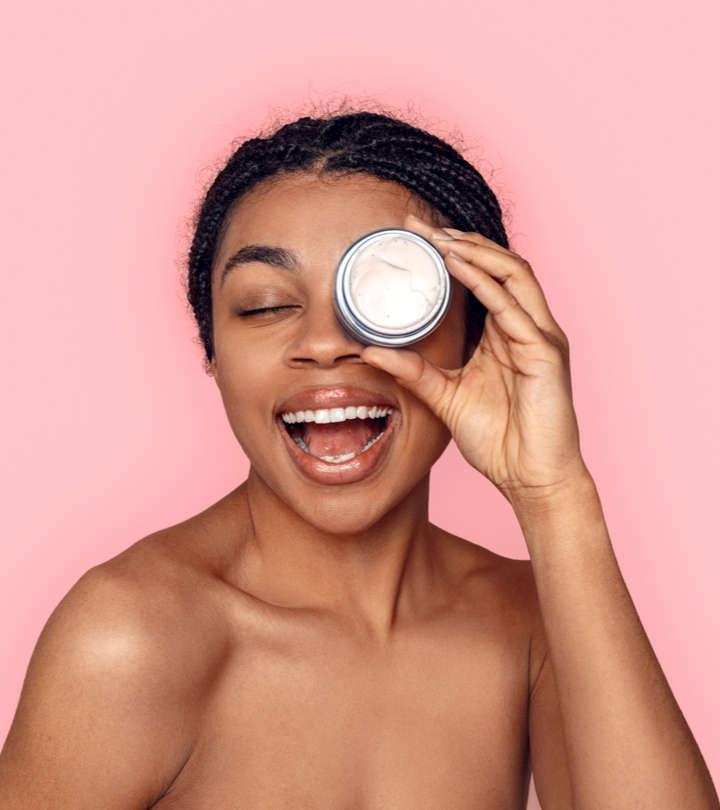 If you've just started your skincare journey, splurging on skincare products may not be the best idea. This is when it makes sense to invest in the best drugstore skincare products while you still explore what suits your skin the best. Not only are drugstore products affordable, but they also come with a host of healthy and nourishing ingredients that can deliver all the nutrients that your skin needs.
With umpteen brands coming up with endless options, we are here to help you with your search. We have listed some of the most effective drugstore skincare products in this article so that you can save yourself some time and pick the right product without having to go through the tedious process of researching. So, what are you waiting for? Get ready to be amazed by the top drugstore brands and find some of the best formulations in our list of the highest-rated products.
Keep Your Wallet And Skin Happy With The 15 Best Drugstore Skincare Products
Drugstore moisturizers with hyaluronic acid might be plenty but nothing comes close to Neutrogena's powerful formula. Instantly quenching dry and dehydrated skin, the Hydro Boost Water Gel keeps your skin smooth, supple, and fully hydrated all day long. The purified hyaluronic acid in this clinically-tested moisturizer locks in moisture and prevents its loss for plump and firm-looking skin. As it is both oil-free and non-comedogenic, you can use it solo or as a primer. The lightweight, clinically-proven gel soaks into the skin, making it one of the best drugstore products for dry skin types. This video on the reviewer's experience with the product will help you understand the product better.
Pros
 Seals moisture
 Dermatologist-recommended brand
 Keeps dry skin hydrated
 Makes skin soft and supple
 Oil-free
 Non-comedogenic
 Alcohol-free
Cons
 Some may not like the strong scent
Price at the time of publication: $15.9
Created by dermatologists, CeraVe brings to you the best drugstore facial cleanser for normal-to-dry skin types. The gentle formula is enriched with ceramides and hyaluronic acid that restore the skin's barrier and help lock in moisture. You can use the non-foaming face wash to remove dirt, makeup, and other debris after a long day and feel instantly refreshed. As this cleanser offers hydrating properties, it protects the skin barrier and doesn't strip it of its natural oils and moisture. It also features MVE Delivery Technology for a constant supply of nourishment to the skin. This product has excellent positive reviews on Amazon, making it one of the top products on our list. Check out the detailed review of the product in this video.
Pros
 Non-comedogenic
Dermatologist-recommended
 Gently removes impurities
 Non-irritating
 Fragrance-free
 Free of parabens and soap
 Locks in moisture
Cons
 Might need to be used more than once for effective cleansing
Price at the time of publication: $14.57
Among drugstore products with hyaluronic acid, this serum one hundreds of users dote on. It is formulated with natural and organic hyaluronic acid that provides a generous dose of hydration to dry skin and soothes dry patches and gives you an even skin tone. This clinically-tested and vegan drugstore skincare product reveals smoother and brighter skin that's almost as good as new by easing the look of fine lines, wrinkles, and age spots. By delivering much-needed moisture and plumping up the skin, you will be left with firmer and younger-looking skin. Watch this video for the reviewer's experience of the product for more information.
Pros
 Vegan
Dermatologist-reviewed
 Paraben-free
 Oil-free
 Free of dyes, fragrances, and fillers
 Cruelty-free
 Treats uneven skin tone and dry patches
Cons
 Some may find the consistency slightly watery
Price at the time of publication: $13.99
Differin Gel carries some of the best drugstore skincare for acne and its over-the-counter treatment can be used daily. Its formulation clears and prevents acne, blackheads, whiteheads, and clogged pores with the help of a topical retinoid called adapalene. It allows the skin to become clearer with a refined texture and tone. Not only is skin cell turnover regulated but inflammation is also reduced, giving way to healthy skin. As you can see results within 2 weeks, this is one of the best drugstore skincare products for acne.
Pros
 Clears out clogged pores
 Prevents breakouts, blackheads, and whiteheads
 Soothes inflammation
 Regulates skin cell turnover
 Refines skin tone and texture
Cons
Price at the time of publication: $13.47
Garnier's Micellar Cleansing Water is gentle yet powerful and cleanses your skin of dirt, oil, and makeup residue. The micelles work like a magnet by attaching themselves to the impurities and clearing skin. A formula as effective as the best drugstore cleansers, it does the job without drying your skin out. You can use this dermatologist-tested micellar cleansing water during the day for a quick pick-me-up for your skin. This product has also been ophthalmologist-tested to ensure the safety of the delicate skin around your eyes.
Pros
 Effectively removes impurities
 Doesn't leave behind residue
 Doesn't require harsh rubbing
 No need for rinsing
 Cruelty-free
 Gentle formula
Cons
 Might be difficult to remove waterproof eye makeup
Price at the time of publication: $8.93
Dove's Beauty Bar is one of the best drugstore products for sensitive skin as it is mild in its formulation. It is filled with ¼ of Dove's moisturizing cream with no parabens or sulfates and does a great job of protecting the skin barrier. This fragrance-free and hypoallergenic soap bar can be used on the body with no fears of drying as it moisturizes the skin while washing off germs and dirt. Even extremely dry skin types can benefit from this gentle soap that isn't harsh on the skin unlike traditional soaps.
Pros
 Cruelty-free
Dermatologist-recommended
 Ideal for dry and sensitive skin
 Nourishes the skin with moisturizers
 Free of parabens, sulfates, and fragrance
 Hypoallergenic
 Gently cleanses the skin
Cons
 Requires a lot of water to remove lather
Price at the time of publication: $29.82
Drugstore face products like Vichy's vitamin C serum can work wonders for fine lines by improving your skin texture in as little as 10 days! The potent and pure antioxidant formulation not only graces your skin with anti-aging benefits, it also firms and brightens it for an even complexion overall. Filled with the goodness of 15% vitamin C and hyaluronic acid that plumps and hydrates skin, your skin is going to be in the best shape of its life. The brand claims that people may notice visible results like increased skin radiance in 10 days with this dermatologist-recommended product.
Pros
Radiance boosting
Clinically-proven
Skin repairing
Fragrance-free
 Paraben-free
 Allergy-tested
 Dermatologist-tested
 Ideal for aging, dull, and dry skin types
Cons
 Some may not like the sticky consistency
Price at the time of publication: $26.24
Oily skin types need to tread a little carefully with the products they use and La Roche-Posay makes this task so much simpler. Refining the look of enlarged pores and blotting excess oil to mattify skin are key features that makes this one of the best drugstore products for oily skin. This clinically-tested moisturizer contains micro-exfoliating lipo-hydroxy acid that hydrates skin deeply. To smooth out skin texture, minerals like silica and perlite come into play. Not only is this one of the most effective drugstore products for oily skin, it can also be used as a primer before makeup. This product has been tested on acne-prone skin to ensure skin safety.
Pros
 Offers a matte finish
 Reduces shine
 Dermatologist-tested
 Allergy-tested
 Pore minimizing
 Free of oils and parabens
 Allergy-tested and safe for sensitive skin
 Dermatologist-tested
 Non-comedogenic
Cons
Price at the time of publication: $32.99
Witch hazel is a powerful ingredient in the beauty world and these cleansing cloths are among some of the best drugstore face products. This clean formula helps remove oil, makeup, and dirt for a soothed and refreshed skin. Additionally, your pores are toned down and skin de-puffed with this pregnancy-safe drugstore skincare product. Each cloth is extra-large and moistened with witch hazel and aloe extracts to effectively cleanse skin wherever you may be. Even if you're an expectant mother or struggle with sensitive skin, Dickinson's cloths will be a star addition to your drugstore skincare routine.
Pros
 Free of alcohol, dyes, sulfates, parabens, phthalates, and gluten
 Made with botanical extracts
 Dermatologist-recommended
 Safe for sensitive skin and use during pregnancy
 No sticky residue
 Doesn't require rinsing
Cons
 Might have an off-putting scent
Price at the time of publication: $7.49
Cetaphil's top-rated cleanser gently exfoliates skin to remove dirt, oil, and other impurities that settle on the skin throughout the day. This clinically-proven formula also contains micro-fine granules that slough away dry and dull skin to promote skin cell turnover that leaves skin brighter and healthier. Suited to all skin types, Cetaphil's formula is infused with a vitamin complex of B5 and E along with other skin conditioners like glycerin that make your skin soft and smooth. Use it twice a day as the first step of your skincare regimen and watch how your skin is transformed for the better!
Pros
 Non-irritating
 Non-comedogenic
 Dermatologist-tested
 Dermatologist-recommended
 Clinically-tested
 Hypoallergenic
 Gentle exfoliation
 Improves skin texture
 Makes skin bright and smooth
Cons
 Might contain an overpowering fragrance
Price at the time of publication: $24.94
Pesky pimples always seem to find their way into making an appearance the night before an important event but the Acnedote Pimple Patches will come to your rescue. The clear adhesive patches stay put without budging even while you sleep! Each patch contains an absorptive hydrocolloid material that forms a protective barrier and keeps grime from entering it. You can rest assured as the patch virtually disappears into your skin and won't show even if you have to be out in public. And the best part is that it's free of sulfates, parabens, phthalates, artificial colors, and synthetic fragrances.
Pros
 Dermatologist-tested
 Acne-fighting
 Doesn't contain rubber latex
 Made with 100% vegetarian ingredients
 Cruelty-free
 Locks in moisture
Cons
 Might leave behind a sticky residue
Price at the time of publication: $7.97
Vanicream's Moisturizing Cream is a godsend for anyone that happens to struggle with red, irritated, cracked, itchy, dry, and sensitive skin. The non-greasy formula absorbs quickly and is easy to spread on the skin. Accepted by the National Eczema Association, this dermatologist-tested drugstore face lotion offers a soothing effect. It nourishes the skin without any chemicals and helps restore the natural barrier and moisture levels.
Pros
 Kid-friendly
 Free of dyes, fragrance, lanolin, and parabens
 Formulated without botanical extracts, gluten, and formaldehyde
 Dermatologist-tested
 Suitable for psoriasis, winter itch, eczema, and ichthyosis
 Non-comedogenic
Cons
 Might have a greasy and sticky consistency
Price at the time of publication: $13.99
Your weekly self-care routine just got more fun! e.l.f's Hydrating Bubble Mask is a gel that fizzes into multiple tiny bubbles. When left on the skin, this mask gently cleanses away dirt and clears out the pores for an illuminating glow. Apply it to tired and dry skin for an instant boost of life that is guaranteed to earn you tons of compliments. The tingling action makes you feel good and we recommend it on a lazy Friday night while tuning into your favorite show.
Pros
 Paraben-free
 Phthalate-free
 Sulfate-free
 Cruelty-free
 Gently cleanses skin of impurities
 Gives a natural glow
Cons
 Some may find the tingling sensation to be uncomfortable
Price at the time of publication: $19.99
Honest Beauty offers the best drugstore face oil that will take your skin by surprise in the best way possible! Your moisture-depleted skin will chug down this nourishing and replenishing blend of oils like jojoba, avocado, and apricot. Enhancing the glow on your face, this drugstore face oil is also lightly scented with rose, clove, and ylang ylang oils. For the most moisturized skin of your life, incorporate Honest Beauty's facial oil into your beauty routine.
Pros
 Dermatologist-tested
 Hypoallergenic
 Cruelty-free
 Vegan
 Organic
 Free of parabens, dyes, paraffin, silicones, and synthetic fragrances
Cons
 Some may find it slightly greasy
Price at the time of publication: $20.82
Dry and itchy skin that is prone to conditions like eczema or psoriasis needs all the love it can get. For this reason, Avene's Lipid-Replenishing Balm is excellent at soothing, nourishing, and calming along with balancing the skin's microbiome. For a whopping 48-hour long hydration, this formula seals in moisture and restores the skin's barrier to safeguard it from free radicals. This super-rich, non-greasy, and velvety goodness is all you need to give your dehydrated skin a boost of hydration.
Pros
 Free of preservatives
 Ideal for dry skin prone to eczema
 Soothes and calms skin
 Hydrates for up to 48 hours
 Restores skin barrier
 Seals in moisture
Cons
 Some may find the consistency too thick
Price at the time of publication: $34
Now that we've gone over the best drugstore skincare products out there, let's look at how you can choose the best ones for yourself.
How To Choose Drugstore Skincare Products
When purchasing any beauty product, your skin type is what you should keep in mind. There are products formulated for different skin types to suit the needs of each one. Oily skin and combination skin types must keep an eye out for lightweight texture, non-comedogenic formulas, and factors that can help absorb and control shine and sebum. Some active ingredients to look out for are salicylic acid, glycolic acid, and mandelic acid as they help acne-prone skin as well. Light and sheer moisturizers, gel face cleansers, clay masks, and products with AHAs or BHAs are good examples as they clear away dead skin cells. Always read the label to determine if a certain product suits your skin type.
If you have dry skin, your top concern should be to provide your skin with as much hydration as possible. Products with a creamy texture and formulated with hyaluronic acid, squalene, glycerin, shea and cocoa butters, and some oils with fatty acids can help hydrate the skin and lock in moisture. As dry skin is also prone to conditions like eczema, psoriasis, itching, redness, flakiness, and irritation, look for something that also offers soothing benefits such as aloe, green tea, and tea tree oil. Hydrating cleansers, heavy daily moisturizers, and facial oils can be among effective drugstore skincare products for dry skin.
Normal skin is the luckiest of the lot, so you can choose a product that claims to suit your skin or is meant to suit all skin types. You could also pick something formulated for another skin type if you prefer as long as it doesn't cause a reaction.
Apart from the basic routine of cleansing and moisturizing, some skin types can suffer from issues that may require an extra step. Even these products must be selected according to the skin type and the condition at hand. If you suffer from acne, you can try an acne spot treatment. For a skin tone that is uneven, dull, and aging with dark spots, a serum with vitamin C and ceramides will work wonders. You can incorporate exfoliating cleansers to your regimen once or twice a week for clearer skin. If you have mature skin with puffy or thinning under eye skin, try an eye repair cream as there are plenty of anti-aging drugstore skincare products available. Depending on your specific skin concern, there are plenty of drugstore skincare products that will help.
No matter what product you purchase, always ensure that it is formulated with the best of ingredients. Read the label to find out whether any parabens, phthalates, petroleum, mineral oils, added colors, synthetic fragrances, sulfates, or GMOs were used in its making. As these are harsh chemicals, they can be harmful on the skin and cause further damage that may take long to repair. Always do a patch test before using any product to avoid adverse reactions. Additionally, check the expiry date of the product you are purchasing to ensure that it hasn't passed its time limit.
Why Trust StyleCraze?
With so many options on the market, selecting a potent skin care product that works for your skin type can be a hard decision. But Krati Darak, the writer of this article, is a passionate skin care enthusiast who would love to help you out. After spending many hours perusing through products and their reviews, she set the above list. These products were chosen because they have skin care benefits, non-comedogenic advantages, and lack harsh elements.
Frequently Asked Questions
How can I make my skin better?
A combination of regular workouts, a balanced diet, and the right skin care products used routinely helps to improve skin health. A good sleep schedule and stress management are important for good skin health too.
How do I start a skin care routine for beginners?
Begin with the simple three-step cleansing-moisturizing-SPF as your daily routine. Make sure to use the right products for your skin type. Do not forget to exfoliate once or twice a week.
Which skin care products do I need?
Begin with a good cleanser, moisturizer, SPF, and exfoliator for your skin type. If you want to do an advanced routine, you can incorporate a toner and a serum as well. For anti-aging benefits, use anti-aging products in your nighttime routine.
Which skin care product is the most important?
While none of the skin care products are replaceable, a moisturizer and an SPF are absolutely non-negotiable. They will help keep your skin healthy. If you do not keep your skin moisturized and protected from the sun, no skin care routine will be able to prevent skin damage and dullness.
What is a good skin care routine for the face?
Wash your face twice daily using the right type of cleanser or face wash for your skin type. Use a timer to enhance the absorbing power of the skin. Apply a serum to address your specific skin concerns. Follow it up with the right moisturizer and sunscreen during the day. Remember to exfoliate the skin twice a week.
Recommended Articles