16 Best Drugstore Sulfate-Free Shampoos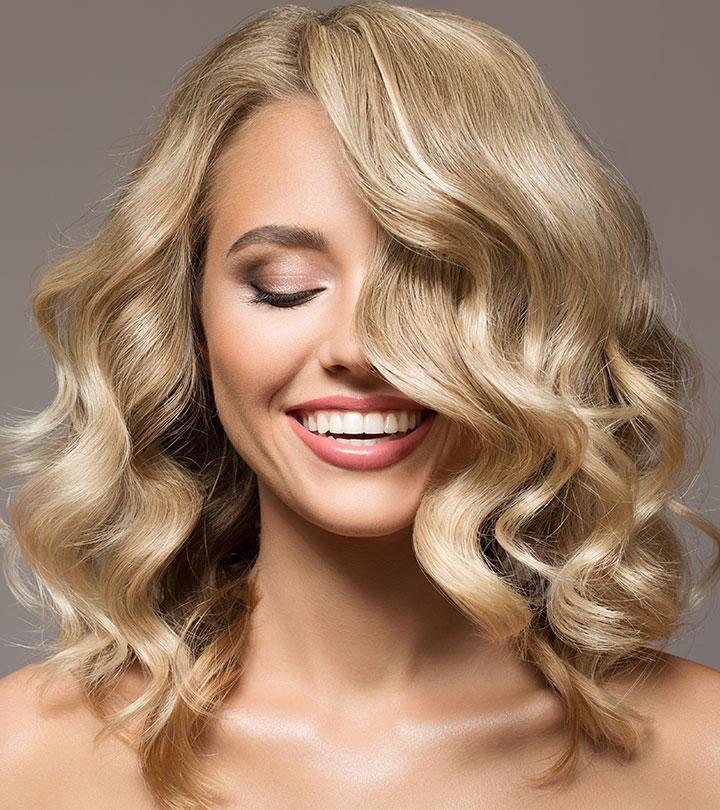 If you are not aware of the harmful effects of sulfates on your hair, then this post is here for you! Shampoos are formulated using sulfates, which is a cleansing agent that strips off the natural oil from the hair and scalp. The sulfate-based shampoos standing tall in your shower end up drying your scalp until you are left with dry, lifeless, and limp hair.
Fret not! Sulfate-free shampoos are easily available in markets and drugstores. It is available for all hair types too! And to make the task of finding the best one easier, we've compiled a list of the 16 best drugstore sulfate-free shampoos for you to choose from. So go sulfate-free and let your hair feel flawless, organically!
Read on to know more.
16 Best Drugstore Sulfate-Free Shampoos
A potpourri of all the natural oils in the world, now in one shampoo! This shampoo is what you need to eliminate hair loss, dandruff, and dryness. The whole purpose of this sulfate and paraben-free shampoo is to nourish your hair, promote growth, and boost strength. So whether you have curly, wavy, or straight hair, this shampoo adds body to the strands and rejuvenates the roots.
Pros:
Free from sulfates, paraben, and silicone
It contains natural oils like jojoba oil, argan oil, olive oil, etc.
Eliminates dryness and dandruff
Suitable for all types of hair
Cons:
Hair growth results may vary
No sulfate, only nourishment; is what this shampoo by Pureology packs for your hair. Ideal for color-treated hair, this mild and gentle shampoo forms a rich lather that cleanses the scalp and roots without stripping off the natural oils and color. Unlike sulfate shampoos, it helps prolong the lifespan of the color treatment. It also revitalizes and hydrates dry hair.
Pros:
Suitable for color-treated hair
Sulfate-free
100% vegan
It prolongs hair color span
Revitalizes and hydrates dry hair
Cons:
It does not add volume to hair
It has a strong fragrance
Don't we all know the horror of someone pointing out dandruff in our hair? Before this nightmare comes true, treat dandruff, flakiness, and lice with this multi-purpose tea tree oil shampoo. Anti-fungal, anti-bacterial, and sulfate-free, it cleanses the scalp while keeping the moisture balance intact. Maple Holistics Tea Tree Shampoo has essential nourishing extracts that boost hair growth, strengthen hair, and impart a natural shine. Suitable for color-treated hair, this sulfate-free cleanser is all you need to flaunt your hair!
Pros:
Eliminates dandruff and lice
Anti-fungal, anti-bacterial, and sulfate-free
Nourishing extracts boost hair growth
Suitable for color-treated hair
Cons:
Tea tree oil may not suit all skin types, hence patch test is recommended
Turn those hair baths into therapy with Maple Holistics Argan Special Formula Shampoo. It is gentle, pure, effective, and infused with hair-strengthening vitamins to boost hair growth and protect collagen. Also, since it is sulfate-free, your locks will love these quick therapy sessions every time you have a hair bath. Give it a try to notice the difference.
Pros:
Soothes the scalp
Smoothes the hair
Sulfate-free cleanser
Eliminates frizz and repairs damaged hair
Suitable for all hair types and color-treated hair
Cons:
Free & Clear Hair Shampoo is a no-tears shampoo that helps maintain soft and beautiful hair without using harsh chemicals. Free from sulfate, gluten, and fragrance, this mild cleanser eliminates oiliness without leaving the scalp too dry and monitors the pH balance. Suitable for all hair types, it is highly recommended by dermatologists.
Pros:
No fragrance, sulfate, and gluten
Mild cleanser with no harsh chemicals
Dermatologically-tested
Maintains pH balance
Cons:
Not recommended for those who prefer scented shampoos
You will not be able to keep your hands off your hair after using Carol's Daughter Almond Milk Daily Damage Repair Sulfate-free Shampoo. Sweetly-scented, this creamy formula of aloe, almond, and coconut oil will repair and nourish your hair. Irrespective of how damaged your hair is, this shampoo has a mild healing effect that soothes the scalp, softens the hair texture, and the scent rejuvenates your mood. A bit of extra care and protection in one bottle, this shampoo is packed with no sulfates, only love!
Pros:
Scented, creamy shampoo
Recommended for dry and damaged hair
Protects and repairs hair follicles
Free from mineral oils and petroleum
Cons:
Not recommended for those who are sensitive to strong fragrances
Aveeno Pure Renewal Sulfate-Free Shampoo has the power to renew your hair and restore its natural glow! We are not saying it; the brand is. Formulated with Natrasurf technology, it removes impurities without disturbing the natural oils. It is infused with the goodness of seaweed extracts and naturally derived cleansers, which means there are no harsh chemicals or preservatives to worry about. You'll love how your tresses go from lifeless to full of life in a few uses. Hands down, a must-try shampoo!
Pros:
Restores natural moisture level
Gentle and suitable for color-treated hair
It makes hair manageable
Cons:
Do you style your hair frequently? Or have you colored them recently? Your tresses tend to lose moisture after these treatments. For such cases, Moroccan Argan Oil Shampoo SLS Sulfate-Free Organic is highly recommended as it protects against thermal heat and makes it more manageable. This argan oil-based sulfate-free shampoo with antifade complex and frizz control technology provides intense hydration making your hair gorgeous within a few washes. Try it to witness the magic!
Pros:
Suitable for all types of hair
Makes hair manageable and controls frizz
Aids in hair growth
Eliminates split ends
Cons:
Overpowering fragrance
Not recommended for fine hair
This powerful kit by Pantene is making users add it to the top of their hair care list. Infused with the goodness of argan oil and Pro-V nutrients, this kit makes dry and damaged hair, livelier and healthier again. Imparting a natural shine, strengthening the roots, and making good hair days last longer, say goodbye to itchy scalp and dull hair with Pantene.
Pros:
Sulfate-free
Moisture-boosting shampoo and conditioner
Free from paraben and dye
Prevents hair breakage
Recommended for dry and damaged hair
Cons:
Not suitable for oily scalp
To control and style dry hair is a daunting task. Before the frustration takes a toll on you and your hair, why not get rid of your sulfate-based shampoo for starters? Discipline those frizzes, smoothen the fly-aways, and make your hair manageable with this sulfate-free shampoo. It provides nourishment and moisture without weighing down the hair. It is so gentle that it is recommended for chemically-treated hair and sensitive scalp too.
Pros:
Recommended for chemically-treated hair
Gentle and sulfate-free shampoo
Controls frizzes and makes hair manageable
Cons:
It has a strong fragrance
As the adage goes – you are what you eat. The same applies to hair too. If your hair is stripped of the good bacteria, it will look lifeless. And to protect these good bacteria, Mother Dirt Sulfate-Free Shampoo guarantees ultimate protection and care. Your hair is sure to look shinier, stronger, and healthier than before. Its optimal cleansing ability reduces the need to wash hair very often. Dermatologist and clinically-tested, the shampoo is free from fragrance and preservatives.
Pros:
Cleans without eliminating good bacteria
Nurtures and moisturizes hair
Reduces chances of frequent washes
Fragrance-free
Dermatologist and clinically tested
Cons:
Our erratic lifestyles have made our hair prone to damage. Why make it suffer more with sulfate-based shampoos?! Go pure, go organic, and protect your hair from breakage with Om Botanical Anti-Hair Loss Organic Shampoo. Foam-less, unbleached, and made using rich botanical ingredients; it is one of the most enriching cleansers you will ever come across. It contains a blend of premium oils and Ayurvedic ingredients that boost the health of your hair.
Pros:
Reverse hair loss
Blend of botanical and Ayurvedic ingredients
100% pure and organic
It contains biotin
Cons:
Hairfinity Gentle Cleanse Shampoo is power-packed with all-natural ingredients, antioxidants, UV Protectors, and a blend of hair growth boosting formula that can repair damaged hair. The shampoo is rich, healing, and moisturizing and helps restore elasticity. It has proven to be beneficial for chemically-damaged hair. So the next time you go looking for a shampoo for damaged hair, Hairfinity Gentle Cleanse Shampoo should be your instant choice!
Pros:
Recommended for damaged hair
Suitable for healing overall health of your hair
Hydrates and moisturizes
Restores elasticity
Free from all chemicals and preservatives
Cons:
A blend of Astragalus root extract with all essential herbs is what makes this plant-based shampoo a hit amongst the users. Gavean Astragalus Moisturizing Shampoo not only offers your hair with the nutrients it needs but also enables a healthy hair care routine. Safe for all types of hair, with no sulfates, parabens, phosphates, and silicones, it washes away the dirt and excess oil, leaving behind only the natural and healthy shine.
Pros:
Plant-based shampoo
Cleans the dirt and excess oil
Cruelty-free shampoo
Cons:
Go sulfate-free and choose a healthier and organic treatment to flaunt your healthy locks again. Argan Dandruff Cleansing Shampoo cleanses, protects, and soothes the scalp with its all-natural and argan oil formula. Ultra-gentle with a pleasant fragrance, there's so much this shampoo can do for your hair. From revitalizing, removing flakes, improving texture to restoring the moisture, the shampoo guarantees long-lasting results, thus making you forget you ever had dandruff in the first place!
Pros:
Eliminates dandruff completely
Gentle and suitable for daily use
Improves overall health of the hair
Alcohol-free shampoo
Cons:
Not recommended for those sensitive to smell
This gentle yet highly concentrated shampoo reaches directly for the roots first to cleanse, moisturize, and revitalize. The easy-application nozzle reaches the pores beneath hair extensions to hydrate the hair follicles, making it an intense cleanser. An enriching blend of tea tree oil, neem oil, and shea butter, this cleansing and hydrating shampoo is a favorite among users. It is suitable for all types of hair, especially kinky, coiled, and curly hair.
Pros:
Dual power of cleansing and hydrating
Suitable for all types of curly hair
Gentle yet highly concentrated shampoo
It has an easy application tip
Deep cleanses and moisturizes
Cons:
Not recommended for sensitive scalp
Let 2020 be the year to go organic and give your hair a healthy boost, the natural way! We hope this post on 16 best drugstore sulfate-free shampoos helps you get the hair of your dreams. As you know, happy tresses mean a happy and confident you! Let us know which your favorite sulfate-free shampoo is and if you have feedback about the post, write to us in the comments below.
Recommended Articles: