13 Best Drugstore Sweat-proof Foundations To Keep Your Makeup Perfectly In Place
Leave your sweat worries to these products & get ready to flaunt your summer beauty.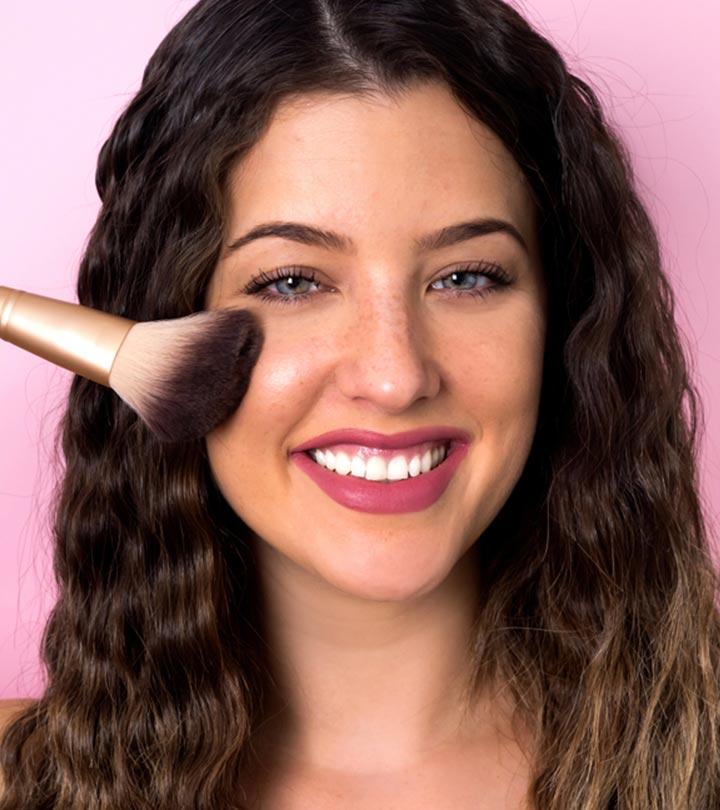 A foundation helps create an even skin tone by offering flawless skin. But in heated, sweating summer days, they may melt down from your skin and make your look unattractive. This is why you need the drugstore sweat-proof foundation to protect your makeup look. Like any regular foundation, a sweat-proof foundation provides a uniform complexion by covering the blemishes and hyperpigmentation. Sometimes they can even moisturize the skin. These sweat-proof foundations are ideal for athletes, swimming professionals, gym individuals, or any individual who is heading out in the Sun. Such foundations are carefully formulated with selected ingredients that do not cause any skin issues. These foundations may be available in liquid or creamy formulas. They blend well over the skin.
For a perfect look in summers, try out the sweat-proof foundations that match your skin type. Considering key factors like consistency, finish, staying power, and purpose, we have brought you a list of the ideal drugstore sweat-proof foundations that won't ruin your looks on a sweaty summer day. Check them out below!
 13 Best Drugstore Sweat-proof Foundation Reviews Of 2023
Revlon Color Stay matte foundation is a big name in the beauty industry all because of its amazing quality and flawless buildable coverage. It is a must-have for people with oily skin and who have trouble retaining the foundation on skin. It can last all day long and provides a beautiful smooth look. With a small dab of this formula with SPF, you can conceal all your dark spots, fine lines and wrinkles. This lightweight, sweat-proof foundation is an excellent formula for daily use. Check out this video to know more about this product.
Pros
Oil-free
Contains SPF
Available in 43 shades
Suits all skin complexions
Perfect for all-day wear
Cons
Slightly watery consistency
Price at the time of publication: $9.99
Maybelline Super Stay foundation is a big shot in the makeup world. It is a full coverage foundation that helps conceal flaws and intensify the colors of your final makeup. It is also super pigmented and glides over the skin impeccably with the help of a makeup brush. The product has a satin  smooth finish that does the job of a concealer and foundation at the same time. It stays for about 24 hours and can easily conceal dark spots, acne scars and fine lines. Loaded with color pigments, it does a great job at providing an ultra-transforming effect. It doesn't clog pores and creates a perfect makeup canvas. With simply dabbing the foundation with a foundation brush, you are all set with a refreshed look. Before buying, have a look at this video for more details.
Pros
Long-lasting finish
Light-weight
Highly pigmented
Dermatologically tested
Cons
Dries up quickly on the skin
Price at the time of publication: $10.95
This lightweight and creamy foundation from L'oreal Paris feels like air on the skin. It is very smooth and evens out the uneven skin tone. The foundation provides a demi-matte finish and takes care of fine lines, blemishes, large pores and dark circles. It lasts for up to 24 hours and can be easily applied with fingers, makeup sponge or a foundation brush. You can apply it all over the face evenly and a little extra to areas that need to be highlighted and defined. Available in 28 shades, this transfer-proof foundation is ideal for shaping, covering and contouring.
Pros
Waterproof formula
Transfer-resistant
Sweat-resistant
Shine control formula
Cons
Slightly hard to squeeze out the product completely
Price at the time of publication: $10.97
This liquid makeup foundation is what one needs to fight sweat and conceals imperfections during summers. The formula is water-free with just 10 ingredients. Induced with concentrated pigments, this full coverage foundation gives perfect natural finish without any heaviness. It has a silky texture that makes the blending easy. It is most suitable for acne prone and sensitive skin, as it is oil-free. You can even mix it with a skincare product to get the consistency you want. The matte coverage looks beautiful as it does not accumulate in the lines or pores.
Pros
Easy to use
Tested for allergies
Fragrance-free formula
Non-comedogenic foundation
Suitable for sweat-prone skin
Perfect for summer
Cons
Slightly thick consistency for the dropper
Price at the time of publication: $40
Ownest matte foundation has a special durable formula that makes your makeup last long. The texture is soft and makes your skin smooth and flawless. It has strong concealing power that works perfectly well for scars, age spots and dark circles. The formula is moisturizing and adds slight sheen to the skin. You can create a beautiful coverage with this lightweight formula  that stays all day long. When you wish to use something on a regular basis, this is the ideal waterproof drugstore foundation.
Pros
Sweat-proof
Oil-control formula
Hydrating formula
Perfect for all skin types
Cons
Slightly thick for air brush application
Price at the time of publication: $8.99
The e.l.f. Flawless Finish Foundation is one of the bests, when it comes to reducing the appearance of uneven skin tones and textures. This foundation is the go-to when you want to have medium coverage and are not looking to apply heavy makeup. This formula is easy to blend onto the skin and can be worn all day long due to its lightweight texture. The blendable and buildable foundation softens and hydrates the skin without making your face look greasy. It ensures easy application while offering a medium-to-full coverage and a semi-matte satin finish.
Pros
Blendable coverage
Lightweight formula
Semi-matte finish
Non-greasy
Cruelty-free
Budget-friendly
Ideal for outdoor activities and group workouts
Cons
None
Price at the time of publication: $3.3
COVERGIRL brings to you this special foundation formula made for your active sessions. It lasts for a prolonged period of 24 hours and keeps the pores from clogging. The foundation is available in 17 shades, which means you can get a suitable matching shade easily. Unlike other good coverage foundations, this one blends quickly and does not feel heavy to wear. It is also smudge-proof. The face does not get too oily and there is not much need of frequent touch ups. You can blend it easily with a beauty blender, foundation brush or just your fingertips. It gives a satin silk finish with light-medium coverage.
Pros
Transfer-proof
Humidity-proof
Contains sunscreen
Sweat-proof formula
Cons
Price at the time of publication: $10
A foundation that is formulated without parabens or chemicals is something worth investing in. One such foundation is this one from Shimarz. It has all natural ingredients that are completely safe for all types of skin. The formula is non-creasing, which means you get silky smooth skin all round the day. The coverage obtained is moisturizing yet oil-free. From acne marks to wrinkles, this waterproof drugstore foundation is good for all your flaws. The product is weightless and lends a natural refreshing look to the face. The best part about this foundation is that there are no allergies associated with it.
Pros
Moisturizing
Gluten-free
Cruelty-free
Non-greasy texture
Crease-proof
Cons
Slightly thin consistency
Price at the time of publication: $28.93
As the name suggests, the Urban Decay Stay Naked foundation lets you enjoy makeup while feeling absolutely comfortable. It provides a weightless coverage that helps you create a perfect makeup base without any heaviness. This blendable formula spreads evenly on the skin and conceals marks, dark spots, wrinkles, pores and uneven skin tone. It is a full coverage sweat-proof foundation
and lasts for up to 24 hours. The formula is ideal to get a real-skin matte finish and make your skin look flawless. There are a wide range of shades available, and you can get your match easily. With a large tapering foundation brush, you can easily blend the foundation and get extra coverage.
Pros
Vegan
Cruelty-free
Weightless
Water-resistant formula
Cons
Pump packaging squirts out a little too much of the product
Price at the time of publication: $27.89
The Laura Geller Beauty Color Correcting Powder Foundation lives up to its hype. It is lightweight and can be used for low to medium coverage, depending on your preferences. It provides the perfect canvas upon which other layers of makeup can be added without any cakey mess on your face. This foundation powder is packed with antioxidants from white tea extracts and centella asiatica that keep your skin hydrated and smooth throughout the day without any flakiness. The foundation is suited for mature face types, and it corrects uneven complexion, fine lines, and wrinkles.
Pros
Lightweight
Non-cakey
Demi-matte finish
Anti-aging benefits
Antioxidant properties
Removes flakiness
Cruelty-free
Paraben-free
Gluten-free
Sulfate-free
Vegan
Dermatologically approved
Cons
Price at the time of publication: $32
If you are looking for a creamy formula that conceals post-surgical bruising, burns, scarring, eczema, rosacea, or acne-prone skin, then your search comes to an end here. This versatile formula is calm on the skin and repairs it from within. In case, your skin is damaged, and you are scared to try on foundation, then this could be a good product for you. Infused with herbal ingredients like green tea, rosehip and grape seed, this foundation works at healing damaged skin. It is also considered good because of its anti-inflammatory properties that soothe the skin. It creates a fine on the skin for enhancing eye makeup.
Pros
Cruelty-free
Fragrance-free
Non-toxic formula
Highly pigmented
Cons
Price at the time of publication: $32.5
UCANBE foundation is ideal for attaining flawless, smooth finish. It has medium coverage that takes care of the problem spots, pores and uneven skin tone. The formula gives a matte effect, and still moisturizes the skin at the same time. It works all day long and conceals skin flaws effectively. Induced with skin-fusion technology, this product gives you a breathable and comfortable long-lasting dewy finish. You can build it easily and get a thick base coverage by just patting your fingers, or using a brush or a beauty blender.
Pros
Waterproof
Sweat-proof
Super-light
Blends seamlessly
Cons
Slightly thick consistency
Price at the time of publication: $5.99
When you find dealing with all the redness and skin perfections difficult, you need to switch to bareMinerals Pro Performance Wear Liquid Foundation. It also does the job of concealer and corrects all types of red spots, acne marks, etc. The formula is hydrating and is good for dry skin. While it suits dry skin, it also prevents the skin from turning oily. It builds up easily and there are no signs of cakiness. Also, it is suitable for regular use, and you can make it a part of your daily routines.
Pros
Oil-free
Paraben-free
Sulfate-free
Phthalate-free
Cons
Price at the time of publication: $33.45
Having known about the best drugstore sweat-proof foundations, you must be keen to get your hands on one of these foundations. Before heading to purchase, take a look at the points mentioned below.
Tips To Find The Best Drugstore Sweat-proof Foundations
Look for the following points in order to choose the best drugstore sweat-proof foundation-
Knowing your skin type is important before choosing a sweat-proof foundation. In case you have oily skin, choose a formula that is oil-free. For people with sensitive skin, foundations with less thick consistency are good. If you have dry skin, look for something that is hydrating enough to keep dryness at bay and provide nourishment.
A good sweat-proof foundation has to be water-resistant. If the foundation can be washed off with water, it sure can't be held while sweating on. This is an important feature of a sweat-proof foundation and must be checked beforehand.
A good sweat-proof foundation must stay on for long hours. Buy a drugstore foundation that lasts for at least 12 hours.
Why Trust StyleCraze?
Srijani Roy Chowdhury is our in-house makeup writer whose passion has helped her create the most well-researched product lists for her readers. Here, she brings you a list of the best drugstore sweat-proof foundations that are water-resistant, lightweight, and highly pigmented. These foundations can help you fight off sweat and get a perfect look even during sweaty summers. Chaitra has shortlisted these products after considering factors such as consistency and longevity. She has also provided each foundation's pros and cons with tips to choose the right one to suit your skin tone and type.
Frequently Asked Questions
How Do I Keep My Makeup From Sweating Off?
Use a face primer and then use a sweat-proof foundation to keep your makeup from sweating off.
Is It Bad To Sweat With Foundation On?
It is not bad to sweat with foundation on, but only if you remove the makeup residue instantly. Removing the makeup, washing your face keeps off the dirt and makes your skin clean.
What type of foundation is the best for hot weather?
A sweat-proof formula is the best foundation for hot weather. If you opt for a sweat-resistant one, make sure it builds a good coverage base so that you don't have to retouch your makeup after a few hours in the sun.
Is sweatproof the same as waterproof?
Sweatproof makeup resists sweat, and waterproof makeup withstands water. It can last up to 24 or even 25 hours. Both formulas are almost similar. However, waterproof makeup comprises more wax than sweat-proof makeup.
Why does my foundation wipe off easily?
Foundations do not stay long if you skip the essential steps of cleansing, exfoliating, and moisturizing the face before using makeup. Therefore, prep your skin with a cleanser and moisturizer, then apply a primer to hold your foundation firmly on the skin. Finally, finish your makeup with a spritz of setting spray to set the makeup in place.
Which foundation is long-lasting on a sweaty face?
The Maybelline Super Stay Active Wear Foundation is a long-wearing formula. It is smudge-proof and stays on the skin for 24 hours. In addition, the lightweight formula does not clog your pores and offers a flawless base.
Recommended Articles