13 Best Drugstore Texture Sprays In 2023
Achieve those voluminous, beachy-tousled waves at home without breaking the bank.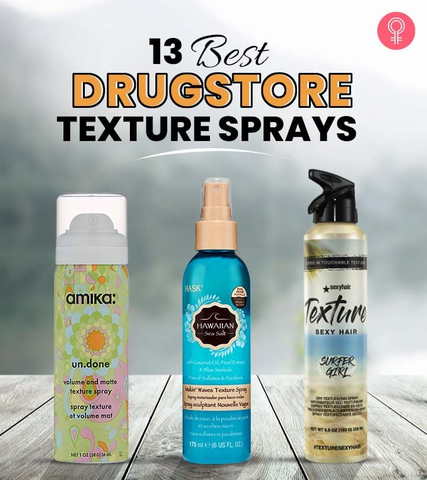 When you have the best drugstore texture sprays with you, no one can stop you from having those breezy, tousled waves. These hair products give volume to dull tresses and the required boost to your style. So if you want to add volume, definition and fullness to your hair, make this wise investment. With the best hair products and affordable hairsprays, you get the smoothness and good texture, making your hairdos last long as they absorb excess oil. " Below is a list of 13 must-have drugstore texturizing sprays that we have curated carefully. Check out our texturizing spray reviews and grab them ASAP!
13 Best Drugstore Texture Sprays In 2023
The Garnier Fructis Style Texture Tease Dry Touch Finishing Spray is the perfect product for creating long-lasting style. With a lightweight, non-sticky formula, this affordable texture spray provides a dry touch finish that won't leave your hair feeling heavy or greasy. Its texture-boosting properties help create body and texture without making hair feel stiff or crunchy. The thickening spray also helps protect hair against humidity, helping to keep your style looking fresh all day long. This volumizing spray for flat hair can add life to dull and lifeless hair. With a delicious fruity scent, this body-boosting hairspray will keep your hair looking and smelling amazing. You can use it on damp hair, but not wet. The product has not been tested on animals.
Pros
Create instant fullness for a windblown, messy look
Non-greasy
No harsh chemicals
Sulfate-free
Paraben-free
Cruelty-free
Phthalate-free
Gluten-free
Alcohol-free
Artificial color-free
Suitable for fine hair
Cons
The Amika Un.done Volume & Texture Spray has a dry formula that instantly texturizes your hair and increases volume. It contains sea buckthorn extracts enriched with 190 biologically active compounds, including vitamins A, C, and E. This hair texture spray also has high concentrations of omega-7, which eliminates free radicals and promotes collagen production, which, in turn, strengthens your hair strands and makes them shinier and softer. It is infused with a natural mineral, zeolite, that provides a long-lasting volume and a tousled, beachy texture. The rice starch in the spray absorbs grime, oil, and dirt from your hair and gives it a matte finish. This makes it ideal for unwashed hair as it offers an instant volumizing effect. It is safe for color-treated, Brazilian, and keratin-treated hair. The product has not undergone testing on animals. Watch this reviewer's experience on this YouTuber's video to get a better idea about this budget-friendly texture spray and its features.

Pros
Long-lasting results
Matte finish
Vegan
Cruelty-free
Artificial color-free
Formaldehyde-free
Mineral oil-free
Retinyl palmitate-free
Oxybenzone-free
Coal tar-free
Hydroquinone-free
Triclosan-free
Aluminum-free
Talc-free
Cons
The SexyHair Texture Surfer Girl Dry Texturizing Spray adds texture with buildable volume. It maintains hair's natural shine with humidity resistance for up to 24 hours. The weightless formula of this fast-drying texturizing spray will keep your style in place with no nasty residue and unwanted stickiness. It is rich in texture-building co-polymers that give an instant volume to your hair. The spray contains sunflower seed oil that hydrates and nourishes your tresses without weighing them down. Get ready to flaunt your well-defined curls!
Pros
Lightweight
Travel-friendly
No residue
Humidity-resistant
Non-sticky
Fast-drying
Cons
The Schwarzkopf Got2b Beach Trippin' Texturizing Spray gives beautiful tousled tresses with flexible hold. This drugstore dry texturizing spray is color-safe and helps protect your hair from drying out. It helps you manage your hair with no visible residue or stickiness. It creates wind-blown and beautifully tousled hair.

Pros
No residue
Flexible texture
Color-safe
Paraben-free
Sulfate-free
Non-drying
Affordable
Cons
The Sun Bum Texturizing Sea Spray has a lightweight formula that enhances strand separation, adding volume and waves. It gives your hair just the right amount of texture with a matte finish and UV protection. It will prevent your hair from becoming dull, brittle, and discolored. It also instantly blocks humidity that causes frizzy hair. This frizz control spray is enriched with Hawaiian black lava sea salt, expanding hair cuticles and adding texture. The seaweed in the formula is rich in fatty and amino acids. It hydrates your hair, adds shine to it, and improves its overall health. This spray is color-safe and can be used on all hair types or textures. The product has not undergone testing on animals. The tester's experience in this video will give you a better insight into how the spray works.

Pros
Natural ingredients
UV protection
Lightweight
Humidity-resistant
Vegan
Anti-frizz
Ideal for long hair
Cruelty-free
Paraben-free
Cons
Not suitable for very thick hair
The Oribe Dry Texturizing dry hair spray builds an incredible volume without leaving any residue. It has patented polymers that absorb oil, dirt, and grime from the roots, leaving you with styled hair for days. It also contains extracts of mango, kiwi, ginger root, and antioxidant-rich aloe vera that give smooth and nourished hair. It has sunflower extract that protects the hair color, defines curls and delivers shiny hair instantly. It is a brilliant alternative to dry shampoo that holds well during a humid summer day and provides a light texture. It can also be used as a heat protection spray that prevents any damage caused due to heat styling. The product has not been subjected to animal testing. Click here to check out a reviewer's experience of using this hair spray.

Pros
Long-lasting effect
Sulfate-free
Paraben-free
Gluten-free
Cruelty-free
Vegan
Color-safe
Keratin-safe
Cons
The lightweight Redken Triple Dry 15 Finishing Spray gives medium hold to your tresses without weighing them down. It provides three times more fullness instantly without leaving your hair with a sticky, crunchy feeling. This hairspray is also great for giving extra volume to braids and waves. It adds girth , grip, and texture to your hair, making those beachy waves.

Pros
Lightweight
Non-greasy
Non-sticky
Non-crunchy
Easy application
Cons
The OGX Flexible + Beeswax Texture Hair Spray gives you an all-day textured, flexible hold. It has a powerful blend of beeswax and sandalwood that makes your hair fuller, smoother, and curlier with an irresistible smell. It contains glycerin as well, which helps condition the strands to promote smooth hair. This spray gives a medium hold which is easy to change as and when required. It is easy to apply and gives long-lasting, salon-quality results.

Pros
Color-safe
Long-lasting
Mild scent
Dye-free
For all hair types and textures
Cons
The Kristin Ess Working Texture Spray gives a light hold and settles in a soft matte finish. This gluten-free spray adds natural volume and a messy texture. Its unique formula absorbs the excess oil, dirt, and grime, giving a firm all-day hold without any stiffness. It is the ideal choice for greasy hair as it does not make the hair crunchy.

Pros
Non-sticky
Light coverage
Matte finish
Sulfate-free
Paraben-free
Phthalate-free
Gluten-free
Cons
The Osensia Dry Texture Spray is an ideal choice for those with dry hair. This formula works instantly to add volume and fullness, while at the same time absorbing any unwanted oil. You'll be left with naturally soft and healthy-looking hair that can be styled in seconds with this weightless spray. It provides a strong hold that lasts for a long time, and won't make your hair feel or look stiff. The unique texture makes it easy to manage, and it also adds a finishing touch that allows you to create any look. It's suitable for all hair types and colors, including blonde, brunette, and black. The product has not been subjected to animal testing.

Pros
Non-sticky
No residue
Lightweight
Easy to manage
Suitable for all hair types
Easy to use
Paraben-free
Vegan
Sulfate-free
Cruelty-free
Instantly adds volume and texture
Long-lasting
Cons
The Moroccanoil Dry Texture Spray is infused with argan oil which hydrates and restores the elasticity of your tresses and gives an undone effortless style without being sticky. It consists of resins and zeolite, which enhances the natural texture and adds grit, bounce, and girth to your tresses. It also absorbs dirt and odor. It has hydrolyzed wheat protein that conditions and moisturizes your hair.

Pros
Ideal for all types of hair
No stiffness
Lightweight
Non-sticky
Color-safe
Long-lasting
Sulfate-free
SLS-free
Paraben-free
Formaldehyde-free
Phthalate-free
Mineral oil-free
Cons
The R+Co Trophy Shine + Texture Spray is a lightweight finisher ideal for getting young and shiny hair. It contains fuller's earth that absorbs excess oil and impurities. The blue sea kale gives instant hydration and moisturizes your hair, while sweet almond that is rich in vitamins A, B, D, and E adds volume, shine, and a textured grip to your hair. In addition, it provides a light all-day hold that retains your hair's natural movement. It gives a texturing grip for easy braiding, messy buns, and textured ponytails. The product has not been tested on animals.

Pros
Color-safe
Lightweight
Non-sticky
Vegan and cruelty-free
Paraben-free
Gluten-free
SLS-free
Mineral oil-free
Phthalate-free
Budget-friendly
Cons
The lightweight Navy Pebble Beach Dry Texturizing Spray instantly enhances the appearance of your hair by creating volume and natural radiance. This humidity-resistant spray is enriched with sunflower seed extract, rich in antioxidants, that prevents hair breakage and nourishes your hair. This long-lasting formula provides light to medium hold and gives an instant texture, shape, and separation for a fuller look. It also protects your hair from UV rays and is safe for color-treated hair. You can comb and set the hair before styling with the spray and achieve textured beach waves instantly.

Pros
Lightweight
Color-safe
Mild fragrance
Sulfate-free
Paraben-free
Mineral oil-free
Phthalate-free
Petrolatum-free
Cons
*The prices provided in this article are based on the latest available information. However, they may vary due to changes in pricing by the seller and/or promotional offers.
A texturizing hair spray can make your look naturally pretty without having to go to an expensive salon trip. But how can you get a good quality, professional-grade formula that would accentuate the beauty of your natural hair and not make it look artificially enhanced? Read the section below to know about this.
What To Look For When Buying A Texturizing Spray (Buying Guide)
 Ingredients: If you have thick and coarse hair, it is recommended to check the ingredients are hydrating like aloe vera, argan oil, sea kelp, sunflower seed extracts, etc. Avoid spraying sea salt as makes your hair dry. It also ruins hair color. Yvey Valcin, Hair Stylist, advises against using products with alcohol as they can be damaging to the hair.
Lightweight: Choose a weightless textured spray with a matte finish that will add volume, grith, and texture to your hair without weighing it down.
Use Safe Ingredients: Avoid textured sprays that contain sulfate, paraben, mineral oil, phthalate, etc. These ingredients might cause allergic reactions and irritation and damage your hair while making them drier.
Why Trust StyleCraze?
The author of this article, Shiboli Chakraborti is a hair care enthusiast who loves trying out different beauty products. She has curated this list of the best drugstore texture sprays after carefully researching, checking reviews online, and going through multiple forums for user feedback. Her well-researched article mentions products that are devoid of artificial colors and alcohol. Not only are these drugstore texture sprays cruelty-free, but they are also known for providing a shine and dry fast enough.
Frequently Asked Questions
How do you apply texturizing spray?
To prevent your strands from oversaturating, make sure you keep some distance. Work with the nozzle around 30 cm away from your hair. It's also a good idea to take some time to tease your roots, and a bit of backcombing can do the trick nicely. Finally, make sure to maximize the lift in your locks by flipping your hair upside down and spraying generously, allowing you to get an extra boost of volume around your roots.
What does a texturizing spray do for your hair?
These multipurpose hair care products lift and volumize your hair, create a messy texture, hold a blowout in place, and also absorb oil from the scalp.
Does texturizing spray really work?
Yes, texturizing sprays work on all types of hair. They also help maintain braids and various hair updos.
Do you use texture spray on wet or dry hair?
You can use a texture spray on both damp and dry hair. Read the directions on the product packaging before using it on your hair to get the best results.
Is texture spray the same as hair spray?
No. A texture spray adds volume and texture to your hair and holds your braids and updos without freezing the hair. On the other hand, a hairspray provides a stronger hold to keep your hairstyle in place all day and helps tame flyaways.
Is texture spray the same as dry shampoo?
No. While a texture spray may absorb some scalp oils while adding volume and texture to the hair, dry shampoo has a softer hold and absorbs more oil and sebum from the scalp and roots.
Recommended Articles