13 High-Quality Drugstore Tweezers
Pluck those unwanted pesky hairs and achieve a defined brow line easily.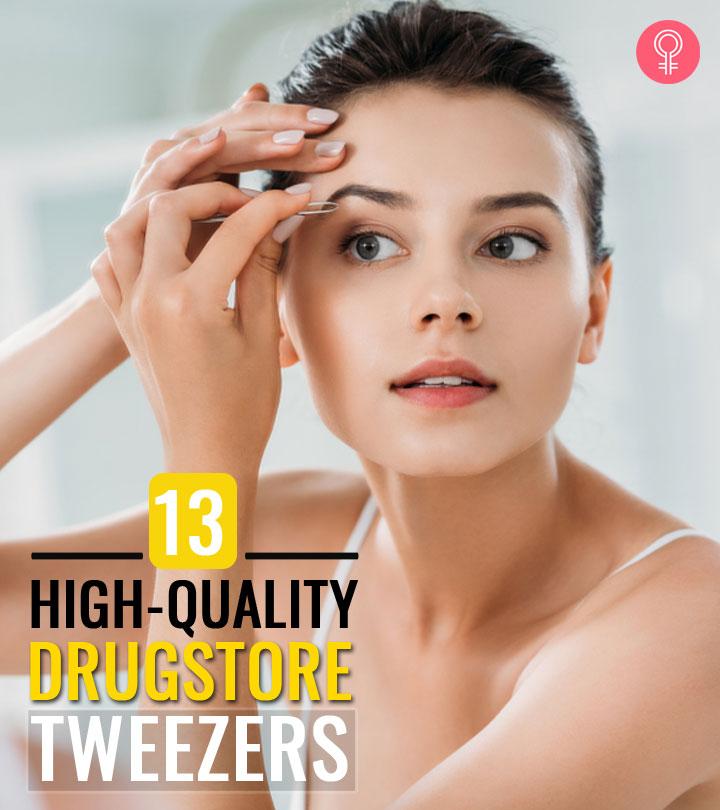 Ingrown eyebrow hair can be irritating, and it's no fun running to salons just to pick out one hair. During those days, a tweezer can come in handy. The best drugstore tweezers are ideal for removing small pesky hair, plucking eyebrows, and eliminating the ingrowths. In addition, they are ideal for removing the tiniest hairs even after shaving.
Try out one of the 13 best tweezers mentioned in this article that help maintain your brows and remove ingrowths. Keep scrolling!
13 Best Drugstore Tweezers
Pros
Easy to hold
Rust-free
Acid-proof
Ergonomic design
Wider thumb rest area
Comes with a tip guard
Comes with a travel-free pouch
Cons
Price at the time of publication: $14.39
Pros
Contain needle-nose pointed tips
Made of stainless steel
Pluck the tiniest of the hairs and foreign objects
Easy to grip
Easy to operate
Hand-filed calibrated for better effectiveness
Cons
Tweezers could be too wide
Heavy to carry
Price at the time of publication: $8.97
These are a 4-piece eyebrow tweezers set that come with a travel pouch. They are made with premium quality stainless steel for long-lasting performance. Their ergonomic flat design with a perfect calibrated tension make them easy to hold. The tweezers offer better control for plucking the tiniest of hairs. The slanted tweezers with a perfect angle and pointed tips help remove ingrown hairs and excess eyebrow hairs. The tweezers gives you a clean look. The leather storage pouch makes the set of tweezers easy to be carried. Its design is appealing to both men and women.
Pros
Made of stainless steel
Pointed hand-filed tip
Smooth design
Sharp angle
25-degree point slant for fluff removal
Non-allergenic
No chemicals used
No dyeing
Never fade
Travel-friendly
Come as a set of four tweezers
Cons
Do not grab small objects
Design could be too thick to some
Price at the time of publication: $5.99
Pros
Made of stainless steel
Easy to use
Allow a firm grip
Effortless plucking
Cons
Price at the time of publication: $5.98
Pros
Have a perfect angle
Made of stainless steel
Easy to clean
Travel-friendly
Available in different colors
Cons
Tips could be too sharp
Bulky design
Price at the time of publication: $13.59
Pros
Ergonomic design
Slant tips for a perfect angle
Easy to hold
Suitable for weak hands
Give an effortless performance
Scissor-style handle
Cons
Price at the time of publication: $5.29
Pros
Made of stainless steel
Long-lasting performance
Durable and sturdy
Easy to grip individual eyelashes
Lightweight
Perfect bend to hold delicate eyelashes
Rust-resistant
Cons
Stiff opening and closure system
Tweezers are too short
Price at the time of publication: $9.99
The Blinkeen Tweezers are ideal for shaping your brows. They also help add volume to eyelashes. They are made of top-grade stainless steel that is durable and rust-resistant. The design of the tweezers allows easy grabbing of coarse hair and as well as the tiniest of hairs. The tweezers are chemical-free and are engineered for precise function. Their pointed tips and perfect edges are 100% skin-friendly. They are non-toxic for even sensitive skin.
Pros
Made of stainless steel
Chemical-free
Skin-friendly
Perfect for removing ingrown hair
Easy to use
Sleek design
Cons
Price at the time of publication: $6.99
Pros
Made of high-quality stainless steel
Effortless removal of unwanted hair
Precise edges
Rust-resistant
Acid-proof
Antimagnetic
Durable
Easy to use
Cons
None
Price at the time of publication: $34.7
The Bason lightweight LED tweezers are made of stainless steel. They come with a convenient push-button on and off switch to operate an LED light. A tiny, in-built LED bulb illuminates the plucking area to make the job easier even in the dark. The tweezers have a 3-button battery for long-lasting performance. The non-slip PVC film ensures a perfect grip and better control over your beauty regime.
Pros
Made with high-quality stainless steel
In-built LED light
Travel-friendly
In-built battery
Compact design
Come with a case
Easy to hold
Cons
Price at the time of publication: $12.99
Pros
Easy to use
Precise design
Pluck ultra-fine hair
Provide an easy grip
Diamond-coated interior for added comfort
Cons
None
Price at the time of publication: $10.18
Pros
Made of stainless steel
Rust-proof
Perfect alignment
Hand-filed calibration
Durable and sturdy
Pluck hair from the root
Hard design
Hassle-free plucking
Provide a sturdy grip
Easy to use
Cons
Expensive
Not for daily use
Heavy design
Price at the time of publication: $59.0
Pros
Free from synthetic chemicals
Made of stainless steel
Durable
Cons
None
Price at the time of publication: $3.0
These are the best tweezers available online that. In the following section, we will look at the different types of tweezers on the market. You may choose which type suits you the best.
Types Of Tweezers
Straight-Tip Tweezers: These provide a firm grip on the hair that needs to be removed. They are ideal for longer hairs. Their edges can easily grasp the hair while the tips can be used for precise plucking.
Slant-Tip Tweezers: These have the perfect tip to grip your hairs without the risk of poking yourself. They are suitable for eyebrow plucking or removing facial hair.
Point-Tip Tweezers: These tweezers are ideal for tweezing ingrown hairs or to remove splinters. They have maximum precision.
Round-Tip Tweezers: These tweezers allow you to grip or pluck many hairs at once. The rounded tip makes them much safer. They reduce the risk of poking yourself.
Arched-Claw Tweezers: Their special shape allows you to pluck extremely short hairs.
The following section helps you select the right tweezers.
Important Features To Consider While Buying Tweezers
Pick tweezers as per your need. If you want to pluck eyebrows or facial hair, pick slant type tweezers. For removing splinters or stubborn ingrown, hair choose point-tip tweezers.
Tweezers should be made of premium quality stainless steel for long-lasting durability and performance.
The type of the tips is very important to consider while going for tweezers. Angled or curved tips would offer the ideal grip.
A narrow tweezer tip offers the perfect precision. But ensure the tips are not too narrow, as they may decrease grip strength.
The closer your fingers are to the tips of the tweezers, the more likely they are to block your view of what you would like to tweeze. Generally, tweezers that are more than 3.5" long are the easiest to handle.
Tweezers are a worthwhile investment to remove ingrown hairs. They are simple to use and are easy on your pocket. Pick your favorite from this list. We are sure they will make a difference in your beauty regimen – for the better!
Why Trust StyleCraze?
Baishali Bhattacharya, the author of this article, is a certfied style and image consultant and has a certification in makeup artistry. She has thoroughly read through user reviews online and curated this list of the top tweezers easily found in your neighborhood drugstore and even online. These tweezers are best for grooming your eyebrows and removing stray hair. Having one of these can reduce the risk of ingrown hair without burning a hole in your pocket.
Frequently Asked Questions
How can I make tweezers offer a better grip?
Pick tweezers with a matte finish and a durable build. They offer better grip.
Does plucking your chin hair by tweezers make it grow more?
No, it doesn't. You can use point-tip tweezers for plucking hair from your chin.
What can I use if I don't have tweezers?
Tweezers are an effective tool to pluck hair. If you don't have them, you may also use a plucking thread to remove the excess hair growth.
Are tweezers good for hair removal?
Yes, tweezing gives you more control and, when done the right way, it prevents hair growth for six weeks.
Are tweezers good for eyebrows?
Yes, tweezers give you more control and help remove tiny growths and ingrown hairs.
Is it okay to remove blackheads with tweezers?
Yes. However, tweezers do not remove the entire blackhead, just the tip of the stuck sebum.
Are tweezers allowed on planes?
Yes, tweezers are allowed on both carry-on and checked luggage.
Are tweezers TSA approved?
Yes, tweezers are TSA approved in carry-on luggage.