13 Best Drugstore Under-Eye Concealers For Beautiful Eyes – 2023
Say goodbye to undereye woes because these effective and affordable formulations have your back.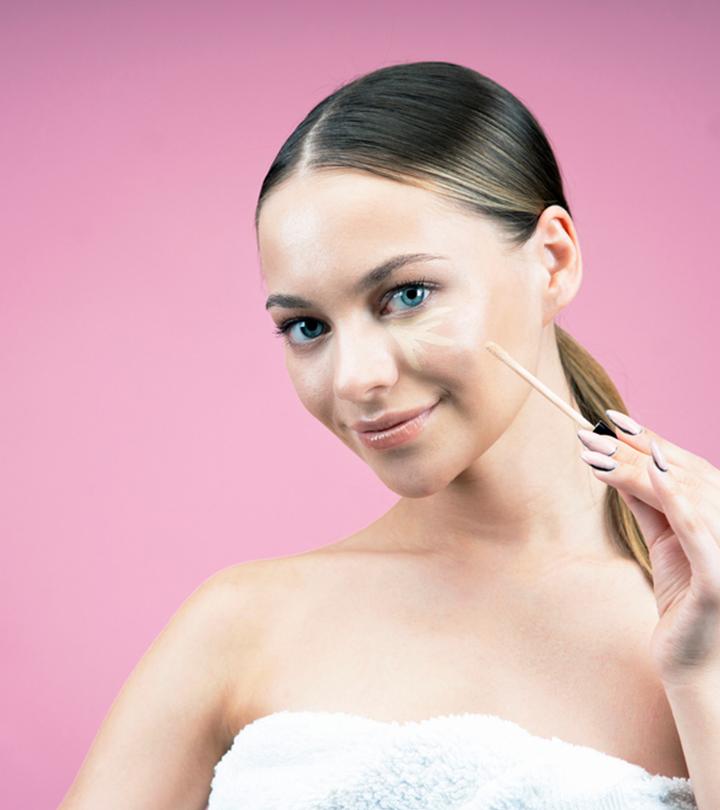 With the best drugstore under-eye concealer in place, you can now say goodbye to under-eye circles that make you look tired and unwell. It is true that under-eye circles are often inevitable. In today's busy life, people find it extremely difficult to maintain a good sleep routine and live a stress-free life. This becomes visible through those under-eye circles. But having them further aggravates the situation, leading to more and more stress and more prominent eye circles. And you definitely do not want those circles! This is precisely why, today, in this article, we want to introduce you to some of the most impactful drugstore under-eye concealers that you must consider right away. No, you do not have to spend a fortune to cover those circles under your eye anymore because we have got your back. "Choose a concealer that is lighter than the skin, (3 shades lighter is what I suggest). Also look for one that gives buildable coverage, and has long staying power. Try a few to make sure it doesn't crease and be sure to set with powder so it stays put after application," suggests Lorrie Pearson, a professional makeup artist. With the products listed below, you can not only conceal your spots and hyperpigmentation but also give your eyes the necessary ingredients required to nourish them from time to time. So, what are you waiting for? Without any more delay, go ahead and check this list out. Get your right fit and flaunt some beautiful eyes. Come on!
13 Best Drugstore Under Eye Concealers In 2023 That Won't Break Your Bank
Maybelline's award-winning Instant Age rewind drugstore under eye concealer is made with goji berries that help strengthen the skin's barrier, improve skin tone, and keep the skin amply hydrated. Additionally, it is infused with Haloxyl, which is a star ingredient that targets dark circles and stimulates blood flow around the eye area, while also reducing puffiness and firming it. Just one swipe with the cushion tip and you can hide dark circles as if they never existed! And the best part is that you can use it all over your face. Not only are you going to look well-rested, your skin is going to appear healthy and even-toned overall, with the disappearance of blemishes, fine lines, and wrinkles. You can also check this video out for a brief review of the product.
Pros
Doesn't settle in creases
Easy application
Can be used under eyes or for the whole face
Contains skin-nourishing ingredients
Buildable formula
Doesn't cake up
Cons
May not offer long-lasting wear
Price at the time of publication: $8.8
A good drugstore under eye concealer like NYX's is exactly what you need in your vanity for efficient color correction. The emollient-laden formula glides like butter to cover discoloration, redness, and dark circles without looking too obvious. And you'll also be happy to learn that this cheap under eye concealer contains ingredients that are kind to your skin. Aloe and coconut oil hydrates the skin while offering anti-aging benefits, and you can count on glycerin to retain skin moisture and keep your eye area looking plump! Additionally, you can use the wand of this concealer to contour your cheekbones and the chin. If you need more convincing, feel free to take a look at this YouTuber's video on the merits and demerits of the product.
Pros
Doubles as a contour stick
Contains emollients that hydrate skin
Formula glides easily
Provides natural-looking coverage
Suitable for all skin types
Cruelty-free
Cons
One might need to use a lot of product
Price at the time of publication: $5.49
It Cosmetics brings to you, what is arguably, the best concealer for under eye dark circles as it's waterproof, so don't have to worry about sweating – or crying! Under eye bags tend to worsen with age and this concealer comes with a unique Expression Proof technology. Infused with vitamins, anti-aging peptides, hydrolyzed collagen, hyaluronic acid, and antioxidants, your skin is in for a luxurious and nourishing treatment. All of these ingredients plump up, firm, and hydrate the skin from within. It Cosmetics' under eye concealer gently softens the look of your wrinkles, spots, blemishes, broken capillaries, lines, and hyperpigmentation to give you youthful-looking skin.
Pros
Richly-pigmented formula
Crease-proof
Long-lasting coverage
Resistant to water, humidity, and sweat
Non-cakey
24-hour wear
Cons
Some may find the consistency thick
Price at the time of publication: $24.65
Revlon's drugstore under eye corrector is designed with High Definition Filter technology that houses photochromatic pigments to reflect light, so you won't have to run away from close-up shots anymore! It blurs out and camouflages spots, pimples, wrinkles, fine lines, and eye bags to make your skin look flawless under any kind of lighting. This might be the best cheap under eye concealer, as it has a creamy consistency that is buildable and the angled stick makes application oh-so-easy. When you're hurrying out the door, a quick swipe of Revlon's drugstore under eye color corrector will have you ready for the day in no time.
Pros
Medium-to-full coverage
Easy application
Creamy consistency
Buildable formula
Can also be used for contouring
Cons
Not available in too many shades
Price at the time of publication: $7.0
Some concealers tend to dry out the skin and this might be hard to deal with if your skin type is already dry. To combat that, this Neutrogena under eye concealer is packed with purified hyaluronic acid, which not only amply hydrates skin but retains moisture to make the skin plump and youthful-looking. This uniquely hydrating stick is exactly what dry skin needs to come back to life. With an oil-free, non-comedogenic formula, oil-skinned beauties can use this too, as it's one of the top drugstore under eye concealers with a non-greasy finish.
Pros
Hydrating properties
Non-comedogenic
Allows for easy blending
Ophthalmologist-tested
Safe for contact lens wearers and sensitive eyes
Ideal for dry, dehydrated skin
Cons
Might not offer full coverage
Price at the time of publication: $9.29
For up to 16 hours, stay worry-free with Dermablend under eye brightener, as it won't smudge or transfer! Made with rich pigments that cover acne, scars, age spots, wrinkles and fine lines, the concealer stick offers a natural finish and makes your skin look flawless. The creamy Quick-Fix Full Coverage Concealer contains kaolin to soothe skin and even out skin tone for better concealing effects. This just might be the best drugstore under eye concealer for dark circles as it offers precise and full coverage and you can also use it to contour and sculpt your face!
Pros
Long staying power
Offers precise, full coverage
Richly pigmented
Evens out skin tone
Soothes skin
Has an illuminating effect
Formulated without parabens, phthalates, SLS, and triclosan
Cons
Price at the time of publication: $28.0
One of the best drugstore concealers for under eyes, the Liquid Camouflage concealer from Catrice will make all your skin insecurities a disappearing act! With an ultra-pigmented, water-resistant, all-day wear, and non-drying formula, this concealer lasts up to 16 hours. The flock tip applicator makes for super easy and precise application even when you're on-the-go, and effectively conceals redness, discoloration, and blemishes. Owing to its plethora of commendable features and an almost weightless coverage, we think this is the best drugstore concealer for under eye circles.
Pros
Long-lasting coverage
Easy application
Cruelty-free
Gluten-free
Alcohol-free
Oil-free
Cons
Price at the time of publication: $5.7
A great pick-me-up for tired eyes, e.l.f's Hydrating Camo Concealer is the best drugstore under eye corrector, which is suitable for normal, dry, and combination skin types. Don't we just love makeup that gets the job done? This concealer goes above and beyond to offer skincare benefits, which is why we absolutely adore it. It is formulated with sodium hyaluronate to give dry skin a chug of hydration, and lock it in for plumper, younger-looking skin. You'll also find rose flower water, which soothes irritated skin and provides anti-inflammatory benefits. Apply this color-correcting concealer to the under-eye area, on spots, wrinkles, and fine lines to get a silky full coverage finish.
Pros
Long-lasting
Crease-resistant
Lightweight formula
Cruelty-free
Vegan
Free from parabens, phthalates, triclosan, and other harsh chemicals
Cons
Might turn slightly cakey after drying
Price at the time of publication: $7
Glowing skin may be your biggest fantasy, and L'Oreal Paris is here to make that a reality, especially for the skin under your eyes! The best drugstore concealer for dry under eyes, the Infallible Pro-Glow Concealer doesn't budge for up to 16 hours to give you a luminous glow and restore your skin's natural shine. With a buildable coverage, the concealer goes on ultra-lightweight and is super easy to blend for the desired finish. And that's not all! You can use the same product to highlight your best features, define your lips, and even your brows! Owing to its versatility, we think it's definitely the best affordable under eye concealer out there.
Pros
Doubles as a highlighter
Lightweight
Easy to blend
Buildable formula
Luminous finish
Cons
Might not be ideal for oily skin types
Price at the time of publication: $4.88
Rimmel's Match Perfection concealer works to not only cover up skin imperfections but also to highlight and illuminate features you're proud of. With its soft brush, you can ensure the gentlest care for your delicate skin around the eyes, and this is what makes it the best inexpensive under eye concealer. Containing a blend of blue sapphire and an oxygen complex to provide moisture and strengthen the skin's barrier, Rimmel's concealer hides all signs of fatigue your under eye area might be showing to give the appearance of bright and fresh eyes.
Pros
2-in-1 concealer and highlighter
Easy application
Contains moisturizing and strengthening oxygen complex
Lightweight formula
Cons
May not provide maximum coverage
Price at the time of publication: $11.6
TARTE's best budget under eye concealer is made of a blend of incredibly delicious ingredients, you might just want to eat it! With shea butter to smoothen skin, mango butter to deep condition, and licorice root for brightening properties, your skin will see a new lease of life after all the stress and lack of sleep it goes through. For 16 hours of concealing, choose this crease-resistant formula that instantly brightens and lifts up your eyes. Tape Technology blurs out imperfections for a softened look and you can easily apply the concealer with TARTE's Jumbo Speed Smoother. For eyes that look more awake with a soft matte finish, this is the best drugstore under eye brightening concealer.
Pros
Vegan
Doesn't contain sulfates, gluten, parabens, phthalates, mineral oils
Doesn't crease for up to 12 hours
Dermatologically-tested
Non-comedogenic
Waterproof
Offers full coverage and smooth texture
Cons
Price at the time of publication: $30.92
Packed to the brim with blurring pigments, FLOWER BEAUTY takes concealing to a whole new level. The weightless formula offers dark circle diffusing illumination for a flawless complexion, and no one's going to know how many hours of sleep you got last night (or the lack thereof!). While it subtly covers up discoloration and under eye bags, it also illuminates your eye area to brighten it and make you look more fresh and ready to take on the world. Just sweep the magic wand under your eyes, and watch how seamlessly it blends in with the rest of your makeup!
Pros
Lightweight formula
Evens out skin tone
Brightens eye area
Blends seamlessly
Can be used to contour or highlight as well
Cruelty-free
Cons
Might need reapplication after a few hours
Price at the time of publication: $9.25
Made with skin-loving, clean ingredients, this cream concealer utilizes triple pigments for natural coverage. As it is infused with bee propolis, you get ample moisturization benefits for a soft and supple under eye area. Not only does this formula work hard to conceal fine lines, wrinkles, and spots, you also get protection against sun damage and redness as the proline helps strengthen the skin barrier. With the presence of honey, you can treat acne while squalene boosts hydration and delays the process of aging. Even if you have sensitive skin, go ahead and use this wrinkle-minimizing Active Propolis Cream Concealer without any worries!
Pros
Cruelty-free
Ideal for all skin types
Made without mineral oils, sulfates, parabens, and phthalates
Uses clean ingredients
Protects against redness and sun damage
Safe for sensitive skin
Provides natural-looking coverage
Cons
Price at the time of publication: $34.01
Now that we've looked at some of the best drugstore makeup for under eye circles, let's dive into how you can choose the right under eye concealer for your needs and skin type.
How To Choose The Best Drugstore Under Eye Concealer
It goes without saying that if you have normal skin, you're one of the lucky ones and probably don't need to scrutinize what kind of under eye concealer to purchase. You can pick any concealer you like according to your preference and get away with it. For those with dry skin, liquid concealers that give a glowy, radiant finish fare better. Keep an eye out for hydrating ingredients like hyaluronic acid, squalene, glycerin, and ceramides. If you happen to have oily skin, under eye concealers that give a matte, non-oily finish will look natural and provide seamless coverage. Ingredients like kaolin, honey, green tea, and aloe vera help control sebum production and unclog pores for oily and acne-prone skin. Sensitive skin folks will do well to pick an under eye concealer with a satin or dewy finish, especially those that come with buildable formulas. Some hypoallergenic ingredients to look out for are chamomile and calendula extracts, aloe vera, and shea butter. All skin types should steer clear of harsh chemicals such as sulfates, parabens, mineral oils, petroleum, phthalates, and other additives which will cause the delicate eye area more harm than good.
If you're looking to conceal your under eye area, going more than 2 shades lighter than your skin tone will be a bad idea, as it can look pasty and quite obvious. Stick to a shade as close to your natural skin tone as possible for a natural-looking coverage. If you want a concealer to cover up blemishes, spots, discoloration, fine lines and wrinkles all over your face, you must choose the same shade as your foundation. You cannot use the same shades for all skin tones.
The Bottom Line
Why Trust StyleCraze?
The author of this article, Srijita De, is a makeup and fashion enthusiast who loves trying out different beauty products. She has curated a list of the best drugstore under eye concealers after researching and reading hundreds of online reviews and trying some of the products out herself. Chaitra's list is perfect for getting rid of under-eye circles as it not only helps you conceal your spots and hyperpigmentation but also provides your eyes with the best ingredients required to nourish them.
Frequently Asked Questions
Should your under eye concealer match your foundation?
No. Ideally, your concealer should be a shade lighter than your foundation.
What is the best under eye concealer for dry under eyes?
The NYX Professional Makeup HD Studio Photogenic Concealer is one of the best products for dry eyes. It is enriched with emollients that offer anti-aging benefits and cover up imperfections.
What color concealer is best for dark circles under eyes?
Pink and peach color concealers are best for fair skin tones, while shades of orange are suitable to hide dark circles in darker skin tones.
How can you avoid under eye concealer creasing?
Begin with a hydrating eye cream and a primer before applying under-eye concealer. You can also invest in a crease-proof formula and set your makeup with a setting powder to prevent any creases.
Can you simultaneously use eye cream and concealer to hide under-eye dark circles?
Yes, applying eye cream before using a concealer offers a smooth finish to your under-eye makeup.
Recommended Articles