10 Best Drunk Elephant Products That Are Safe For All Skin Types
Bless your skin with these rejuvenating formulas and improve its health and texture.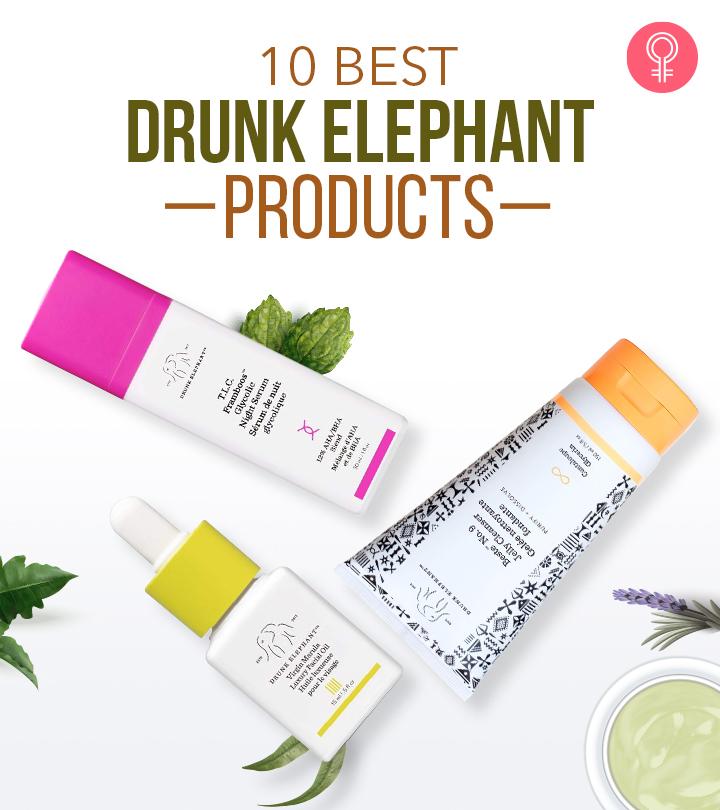 Drunk Elephant has made a splash in the beauty industry. The best Drunk Elephant products are free of harmful chemicals and use only organic ingredients. This brand of clean beauty products avoids the 'suspicious six' components, such as essential oils, drying alcohols, silicones, chemical screens, SLS, and synthetic fragrances and dyes. If that did not grab your attention yet, we have more great news to share! Their products are safe and suitable for all skin types. The Drunk Elephant products contain natural ingredients that rejuvenate the skin, improve skin tone, and preserve formulation integrity. Also, this skin care brand is cruelty-free. Their playful names and natural formulations are sure to catch your eye and entice you to give them a try.
From night serums to lip balms, this article lists the 10 best skin-friendly, effective, and gentle Drunk Elephant products. Scroll down to take a look!
10 Best Drunk Elephant Products
Drunk Elephant's T.L.C Framboos Glycolic Night Serum has rave reviews. This 12% alpha hydroxy acid (AHA) and beta hydroxy acid (BHA) serum is perfect for refining the skin by gently sloughing off dead skin cells from your skin surface to reveal a smoother and more radiant complexion. This helps in the absorption and performance of the serum without drying out your skin. This chemical exfoliating night treatment is formulated with a mix of  AHAs and BHAs such as glycolic, tartaric, salicylic, lactic, and citric acids that help in cell regeneration to give you healthy, even-toned, and glowing skin. To combat sensitization, this serum is blended with extracts of  raspberry, horse chestnut, bearberry, and white tea. This potent hydrating serum helps in reducing fine lines, wrinkles, pigmentation, and discoloration. It also refines pores, controls excess oil production, and soothes acne-prone skin. This resurfacing serum is suitable for all skin types as it is free from silicones, chemical screens, sensitizing colorants, perfumes, or fragrant essential oils. The only downside to this regenerating skin care product is that it may take a long time to show results.
Pros
Suitable for all skin types
Fast-absorbing gel
Prevents sun spots
Easy to apply
Long-lasting product
Cons
Price at the time of publication: $62.0
Drunk Elephant's A-Passioni Retinol Cream is rich in fruit enzymes and vitamins as it is made from extracts of kale, passionfruit, winter cherry, apricot, marula oil, and jojoba oil to nourish and moisturize your skin. It also contains critical antioxidants, zinc oxide, thermal mud, and xanthophylls that  protect the skin from environmental stressors and sun damage. This anti-aging retinol (1%) cream helps in fighting fine lines and wrinkles. The vitamin H in it soothing the skin, so it is suitable even for the most sensitive skin. This cream is made with vegan, gluten-free ingredients that improve the skin texture and uneven skin tone. It is free from silicones, artificial fragrances, essential oils, and synthetic dyes. This product may dry out your skin initially but it is worth including in your skin care routine. This video review will help you understand more about the product.
Pros
Gentle
Daily wear
Suitable for all skin types
Cons
None

Price at the time of publication: $74.0
This gentle face wash and makeup remover is suitable for all skin types. The Beste No. 9 Jelly Cleanser dissolves dirt, grime, excess oil, and traces of makeup on the skin. It has a pH of 6.1 which improves the cleansing efficacy of the ingredients. This non-irritating product also helps in keeping the natural barrier of the skin healthy. Its mild formula is a unique blend of mild surfactants and makeup-dissolving emollients. It also contains nourishing and hydrating ingredients like cantaloupe and glycerin that leave the skin soft and moisturized. It is free from chemical screens, SLS, essential oils, and artificial fragrance. This purifying jelly cleanser is made with ingredients that are cruelty-free, gluten-free, and vegan. It has a slight fragrance that may not agree with everybody. If you are still unsure, check out this honest review.
Pros
Suitable for sensitive skin
Gentle formula
Value for money
Gluten-free
Cons
Price at the time of publication: $32.0
Drunk Elephant's Virgin Marula Luxury Facial Oil is cold pressed from the pip of marula fruit using a patented process that uses unheated water for extraction to maintain the integrity of the oil. This ensures that the oil lasts long and does not lose its nutrient value. It is rich in antioxidants (tocopherol and tocotrienol), phenolic compounds, flavonoids, and omega fatty acids (6 and 9) . Thus, it provides antioxidant protection from environmental stressors. These potent antioxidants, especially vitamin E, help in moisturizing and rejuvenating your skin. This luxury facial oil has anti-aging properties that can improve skin elasticity and reduce fine lines and wrinkles. It gets absorbed quickly and is free from chemicals and fragrances that can irritate the skin. Thus, this soothing oil can reduce redness and blotchiness on the skin. It is a bit on the higher side of the price range.
Pros
Suitable for sensitive skin
Lightweight
Keeps makeup fresh
Non-greasy
A little product does the job
Absorbs easily
Cons
None
Price at the time of publication: $23
Drunk Elephant's Lippe Balm is formulated with an exotic blend of mongongo, avocado, marula oil, and cranberry extract that provide intense hydration to your lips. This luxurious balm also contains a combination of peptides and sea fern algae that moisturize and replenish the lips by restoring collagen in them. It softens rough and parched lips. This buttery balm also makes your lips plump and pouty by providing a better definition to the lip line. It protects your lips from UV exposure and free radical damage as it contains powerful antioxidants like green tea and vitamin C (or L-ascorbic acid). This lip-nourishing product is clean and free of toxic ingredients like sensitizing colorants, perfumes, and essential oils. However, the quantity of this lip balm needs to be increased.
Pros
Offers UV protection
Plumps the lips
Silicone-free
Fragrance-free
Cons
Price at the time of publication: $18.0
The Drunk Elephant E-Rase Milki Micellar Water removes makeup, dirt, pollution, and bacteria from the skin and eye area without any irritation. It is infused with ultra-mild micelles that pull out the water and oil-soluble substances. The gentle formula contains vitamin E, replenishing fatty acids, and antioxidant-rich plant oils (marula, baobab, mongongo, wild melon seed, ximenia seed, passionfruit, and sweet almond) that nourish the skin. This product is free of "suspicious 6" ingredients such as essential oils, drying alcohol, silicones, chemical screens, fragrances, dyes, and SLS.
Pros
Skin-friendly
Hydrating formula
Leaves the skin soft
Non-sticky
Cons
Price at the time of publication: $14.0
Drunk Elephant's Umbra Sheer Physical Daily Defense is a physical sunscreen that provides powerful broad-spectrum UVA/UVB protection. It fights free radicals and defends the skin from photoaging and oxidative damage. It is free of chemical screens, silicones, and artificial fragrances. It is formulated to suit all skin types without causing any redness, irritation, or sensitization. It contains naturally derived zinc oxide that protects the skin from the harmful UV rays and sun damage. It is also loaded with ingredients that provide anti-aging and antioxidant benefits that protect your skin from  premature aging. This mineral sunscreen not only provides antioxidant protection but also hydrates the skin. It helps minimize the look of fine lines and wrinkles.
Pros
Lightweight
Leaves no white residue
Great coverage
Easy application
Cons
Might cause whiteheads
Not sweat-resistant
Price at the time of publication: $36.0
The C-Tango Multivitamin Eye Cream from Drunk Elephant is formulated with a blend of protective antioxidants, soothing actives, plant oils, peptides, and ceramides. This rich, replenishing eye cream contains a combination of 8 peptides and 5 forms of vitamin C that brighten the skin around the eyes. It is also effective in getting rid of dark circles, dark spots, pigmentation, and uneven skin tone. It contains cucumber extracts that nourish and restore the elasticity of the skin, leaving it plump and firm. It can be used as a night treatment product to repair skin damage by restoring the skin barrier. It can also be used in the daytime to refresh the skin for a healthy, radiant look. This product is a little on the expensive side. Click this video to learn more about the product.
Pros
Absorbs quickly
Gentle
Suitable for day and night wear
Efficient packaging
Suitable for sensitive eyes
Environmental-friendly
Cons
None
Price at the time of publication: $64.0
Drunk Elephant's Pekee Bar cleanses and soothes the skin while moisturizing it. This soap-free bar clarifies and balances the skin complexion as it is infused with a blend of moisture-retaining ingredients like honey, blueberry extract, and marula oil. This gentle cleansing bar is formulated at a pH of 6.5 which is best suited for cleansing and detoxification. It is non-irritating as it is made with skin-friendly, fragrance-free, and non-toxic ingredients that leave your skin feeling soft and supple. This clean skin care beauty product improves skin texture and condition. It is suitable even for oily skin. The Pekee Bar is made with natural ingredients that give your skin a youthful glow.
Pros
Gentle on the skin
Prevents acne
Anti-aging benefits
Cons
None
Price at the time of publication: $28.0
This innovative cleansing balm from Drunk Elephant is made with nourishing fruit extracts and oils. Its active ingredients like kalahari melon, marula, ximenia, baobab, and mongongo remove the tiniest traces of water-resistant makeup, leaving your skin hydrated. It dissolves all the grime, product build-up, and excess oils from the skin, leaving it clean and refreshed. It can be used on dry skin after activating it with water. It also contains powerful antioxidants from strawberry seed and kiwi extracts. This melting butter cleanses the skin thoroughly without stripping it of its natural oils. Thus, it imparts a dewy glow to the skin. It is suitable for all skin types as it is made from clean ingredients that are free of toxic chemicals and irritants. An added bonus is that it comes with a bamboo booster (made with bamboo spheres and charcoal powder) for enhanced exfoliation. It also comes with a magnetic spoon, so it is easy to apply and store. However, this product may initially dry out your skin.
Pros
Easy to use a magnetic spoon
Easy to store
Long-lasting product
Cons
Might leave the face greasy
Expensive
Price at the time of publication: $30.6
Why Trust StyleCraze?
As a certified skin care coach, author Shiboli Chakraborti believes Drunk Elephant products have made waves in the cosmetic industry. According to her, you can give up chemically aggressive cosmetics without sacrificing a healthy complexion. She meticulously researched the product reviews and formulations of their products before creating her list of the best Drunk Elephant products. This mild, natural skincare product line can help you naturally maintain your skin's health and beauty.
Frequently Asked Questions
Is Drunk Elephant a clean brand?
Yes, Drunk Elephant is free of toxins and uses natural ingredients in their products.
Who makes Drunk Elephant products?
Drunk Elephant products are manufactured in the US.
Does Drunk Elephant sell on Amazon?
Yes, Drunk Elephant is available on Amazon. However, its official distributor is Quivver.
What does Drunk Elephant help with?
Drunk Elephant provides effective skin care solutions to enhance skin tone and health.
Can you mix Drunk Elephant with other products?
Yes. You can easily mix Drunk Elephant with other products to make an effective skin care routine.
What country is Drunk Elephant from?
Drunk Elephant is a skin care brand from Texas.
Recommended Articles