11 Best Drybar Hair Products Selling All Over World
From influencers to stylists, everyone is a fan of hair care products from this brand.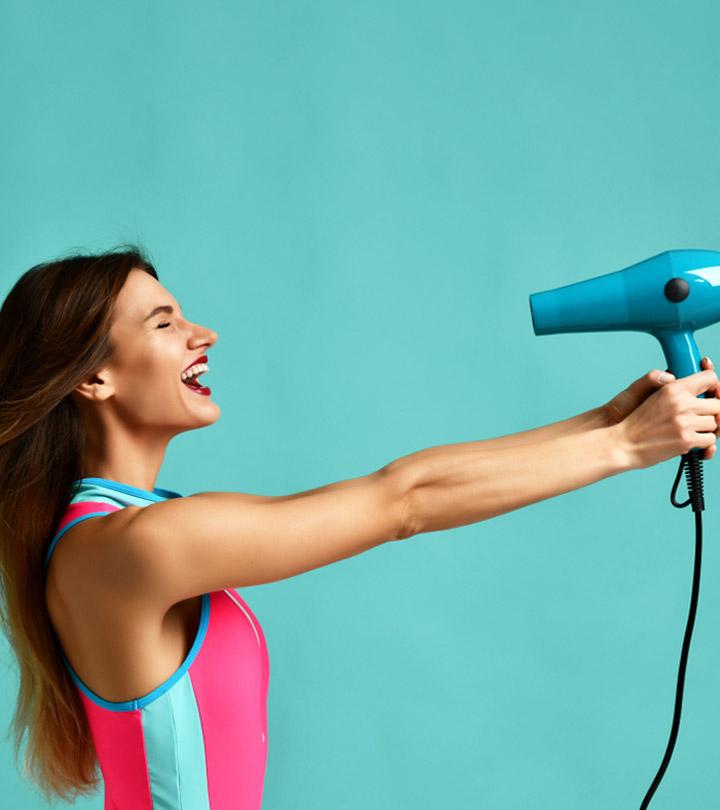 Drybar has made a name for itself for its focus on fabulous and effective hair care, and women all over the world love using their products – from their salons and blow-dry bars to their huge range of hair products. And let us face it. Who does not like a big, fun blowout? But to get the best blowout and ensure good hair health, we also need to take care of our tresses right; that is where Drybar hair products step in.
They have an exciting range of products, from dry shampoos to hydrators that prep your hair and make your mane happy and healthy. Drybar hair products are free from animal testing and cater to all hair types and colors, so you will never have to worry about not finding what you need for your hair. Instead, spruce up your hair and go and get that perfect blowout to make you look and feel like a million bucks! After a careful analysis of attributes and reviews, here are our favorite 11 Drybar hair products to help you better!
11 Best Drybar Hair Products To Keep Your Hair Health On Point Before A Blowout
We all know how difficult it is to find time to wash our hair during a hectic week packed with meetings, presentations, and personal chores. But the pressure of looking good means that Drybar hair products have to be our best friends! Try this dry shampoo that uses a super-absorbent formula that soaks in all the oil and dirt from our scalp and leaves the hair feeling clean, dry, and voluminous. Just spray some dry shampoo on your hair and scalp and get fresh-looking hair in a jiffy. The best part is that this Drybar flexible hold hairspray also adds some lift to your hair so that your hair naturally looks good. This video review featuring the tester's experience will help you learn more about the product.
Pros
Adds volume
Adds lift to the hair
Uses a super-absorbent formula
Absorbs oil and dirt
Makes hair feel fresh
Cons
Might not be suitable for darker hair colors
Price at the time of publication: $26.0
If you want a Drybar hair product that works as hard as you do in your life, pick this 3-in-1 spray that refreshes your hair, adds texture, and amplifies your hair in one go. We all need some help, so why not help your hair too? Spray some of this on and get an air dry finishing with instant volume and texture that makes the volume hold. Get your dream tousled, out-of-bed look with great casual curls with this root-lifting spray that adds the right kind of texture. After styling your hair, you can also spray this on for extra texture and hold.
Pros
3-in-1 spray
Air-dry finishing
Gives instant texture
Gives instant volume
Freshens up the hair instantly
Makes the hair smell great
Can also be used as a finishing spray
Cons
Not suitable for use on wet hair
Price at the time of publication: $29.0
While a blow-dry makes our hair look great, it doesn't make it feel great. However, to mitigate some of the heat damage here is a Drybar hair product that could be your new best friend. Spray this onto wet hair to get a faster, better blowout. This is a styling serum with no silicone, leaving the hair feeling silky and not dry, which is the usual effect of a blowout. However, the best part of this serum is that it is clinically-tested to reduce blowout time and protect the hair from heat, which is the leading cause of hair damage. So get your blowout safely with this very effective Drybar smoothing serum.
Pros
Silky finish
Has no silicone in it
Provides protection from heat
Acts as a great styling serum
Long-lasting smooth finish
Great scent
Cons
Too much product might make the hair feel a little sticky for some.
Price at the time of publication: $29.0
Tired of over-dried and frizzy hair that almost always results from too much styling? Try this Drybar hair product that is made of vegan keratin to give it a smooth look. It helps seal the moisture into the hair and smoothens the cuticles. This also contains neroli oil that controls frizz and makes your hair look super smooth and feel soft to the touch. Murumuru butter softens the hair and makes it manageable without weighing it down. The scent of coconut, vanilla, and amber will make you feel good and fresh all day. Reviewers online state that they are pleased with the silky smooth feel and the enchanting scent.
Pros
Nourishes the hair
Makes it soft
Feels silky
Controls frizz
Does not weigh down the hair
Makes hair manageable
A fresh, beautiful scent
Suitable for all hair types
Cons
May not add shine to the hair
Price at the time of publication: $29
We all need a little help to shine, so why not take some from this Drybar hair product. Spray some of this super fine glossing mist onto your hair and watch how this creates magic and leaves your hair looking shiny and glossy. This breakthrough formula calms and controls frizz and flyaways to make your hair look sleek and shiny. But the best part? This Drybar hair product does not weigh down the hair one bit. So spray some of this shine spray on and get your dream sleek look in a jiffy.
Pros
Adds shine
Makes hair look glossy
Gives a sleek finish
Gives a natural shine
Does not weigh down the hair
Clams flyaways
Manages frizz
Cons
Some might not like the smell.
They say if you have a great conditioner, half of your job is done and this leave-in conditioner is the absolute best as it makes your hair feel good, which, in turn, will make you feel great all day long. Built-in the format of a spray lotion, this leave-in conditioner helps detangle your hair gently and nourish it before you style your hair. A blow-out can often make your hair feel really dry and a leave-in conditioner comes in really handy for this as it hydrates your locks and makes them feel and appear softer and smoother. Ingredients like acai, biotin, and coconut milk act as natural conditioners and nourishers for the hair as they help lock in moisture and protect your hair from heat damage. So enjoy your fab blowout after indulging your hair in this blowout lotion. This video with the reviewer's experience will help you make an informed decision about your purchase.
Pros
Nourishes the hair
Heat protectant conditioner
Smoothens and softens the texture of the hair
Designed in a spray lotion format
Contains nourishing ingredients
Easy to apply
Hydrates the hair
Cons
Might leave the hair feeling sticky if not used in moderation
Price at the time of publication: $26
We have all faced the problem of flyaways and frizz that can beat the point of any great blowout. The good news is that you will never have to worry about it again with this Drybar hair product that promises to give you a great look after finishing. The lightweight formula of this detangling spray gives you great shine and a soft, glossy finish to your fabulous blowout. So say bye to frizz and flyaways and look fab at your next party. Mica is the magic ingredient that reflects light and makes your hair shine while moringa seed oil nourishes your hair and tames flyaways. Finally, Hibiscus extract replenishes your hair and makes it soft and smooth.
Pros
Easy to use
Aids in frizz control
Protects hair from other environmental factors
Lightweight
Paraben-free
Cruelty-free
Nut oil-free
Cons
None
Price at the time of publication: $24
While you scrub and exfoliate the rest of your body, why punish your scalp by not treating it with the same exfoliation process? Try this Drybar hair product made of micro-fine sugar that acts as a gentle exfoliating agent and does not cause damage to the sensitive scalp area of your head. Activated charcoal in the scrub helps deep clean the hair and scalp. Lemon and orange extracts help the dead cells of the scalp to renew themselves, thereby making your scalp feel fresh and clean. Use this Drybar hair product to detoxify and purify your hair to make it feel and look healthy before you style your tresses for your desired look. Reviewers have asserted that the product effectively removes residue and lends an invigorating feeling.
Pros
Detoxifies the scalp
Purifies the scalp
Makes your hair feel healthy
Helps in cell rejuvenation
Cons
Needs thorough rinsing to get the scrub out of the scalp
Price at the time of publication: $32
If you thought that we have nothing on our list for colored hair, you might want to reconsider that. Say bye to brassy hair with this color-enhancing mask formulated with deep purple pigments that offer restorative care and help rejuvenate dry strands of hair and make them look absolutely gorgeous. Neutralize those unsightly brassy tones with this hydrating mask and get great-looking hair before you go out to look your absolute best for your next blow-out. This is a dream for people with blonde, gray, white, and highlighted hair as it brings out the true color of your hair. Watch this video to know about the tester's experience and get a detailed review of the product.
Pros
Nourishes the hair
Takes away the dry look
Neutralizes brassy tones
Has rice protein
Cons
Not suitable for all kinds of colored hair
Price at the time of publication: $26.45
Best to use when paired with Liquid Glass Smoothing Conditioner, this shampoo by Drybar helps make your hair more manageable and soft. It has a lightweight formula that cleanses your hair and scalp without requiring rigorous washing. Expect your hair to transform into frizz-free when you use this shampoo on the regular.
Pros
Lightweight
Frizz-free hair
Gentle
Suitable for all hair types
Cons
Price at the time of publication: $23.45
If you're a brunette and have been looking for a shampoo exclusively made for your hair color, your search ends here. Made for brunettes, this dry shampoo makes cleaning your hair on the go extremely easy. Not only does it give you flawless blowouts, but it also covers grays for even-colored hair.
Pros
Extra volume
Matte finish
Pleasant scent
Contains mineral pigments
Cons
Price at the time of publication: $23
And now that we have looked at our favorite 11 Drybar hair products, let us also make it easier for you to buy them.
What To Look For In Drybar Hair Products?
From shampooing to conditioning, Drybar makes professional-grade products for every need. From washing and exfoliating your scalp to styling and finishing sprays, you can pick what you need, as per your need.
While Drybar formulations are primarily sulfate- and phosphate-free, look for nourishing ingredients in their products according to your hair care needs. Choose hydrating products like murumuru butter in them if that is your goal or use products that add shine to the hair with a super fine mist and mica if that is what you are after.
Time is of the essence as our lifestyles often get in the way of our hair care regime. So pick out something that suits your lifestyle. For example, go for dry shampoos so that you can have fresh hair even when you do not have the time for an elaborate hair wash. Also, go for texture sprays and finishing products so that you can use them to jazz up your hair in an instant.
Why Trust StyleCraze?
Kirtana Divakar, the author of this article, is a hair care fanatic. She believes that the best Drybar hair products control frizz, condition your hair, and add texture to your hair. She browsed various trusted online forums to study the user feedback and product specifications to provide you with the best picks. These products can make your hair appear voluminous, provide instant texture, and offer a smooth finish.
Frequently Asked Questions
Is Drybar bad for your hair?
Drybar is a trusted line of hair products and services and has been popular for many years now.
Does dry bar do natural hair?
Drybar hair products also work very well on natural, unstyled hair.
What products does Drybar use?
From shampoos, conditioners, and hair serums to blow dry styling creams and scalp exfoliators, Drybar has a wide range of products to choose from.
Are Drybar tools worth it?
Drybar tools are very popular with women and are big favorites with many.
Does Drybar style your hair?
Drybar, the salon store, gives you plenty of options when it comes to hair-styling services. And besides that, you can pick from their range of products that can be used for at-home styling such as WHiskey Fix Styling Paste, Southern Belle Volume Boosting Mousse, Jump Start Quick Dry Blowout Serum, among many others.