15 Best Dry Brushes For Head-To-Toe Exfoliation – 2023
Brush off dead skin cells and dirt to flaunt healthy, youthful, and gorgeous skin.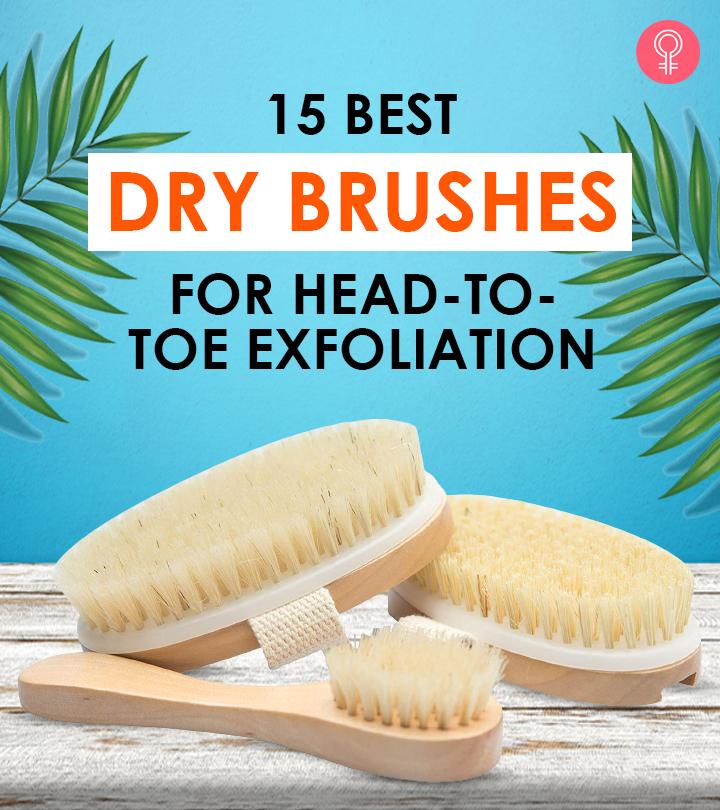 Grab the best dry brush in town and brush your skin to improve your skin naturally! Yes, you read that correctly! Often the word brush is associated with teeth or hair, so the notion of brushing your skin may seem absurd. However, there are several benefits of dry brushing! Dry brushing is a method of brushing the skin in a specific pattern using a dry brush. The skin is brushed upwards from the feet and hands to the heart and chest. It helps remove dead skin cells and cellulite, promote healthy skin, and get rid of ingrown hairs. In addition, dry brushing can help exfoliate the skin, clear clogged pores, and stimulate lymphatic drainage. It may seem like a step beyond your routine, but you should definitely give it a shot. Here, we have gathered 15 of the most effective dry brushes for exfoliating the body from head to toe. Have a look!
Does Dry Brushing Work?
Yes, dry brushing is beneficial for your skin. It can be done as a part of a spa treatment or even in the comfort of your bathroom. Dry brushing exfoliates the dead skin, enhances circulation and promotes healthy lymphatic flow, reduces the size of enlarged pores, detoxifies the body, and improves digestion. It also helps treat keratosis pilaris, a skin condition with small, rough bumps on the upper arms.
Although dry brushing is good for your skin, it is not recommended during the following situations:
If you have sensitive skin, acne, cystic acne, psoriasis, and eczema.
When there's an active skin infection, or you might risk spreading the germs.
Dry brushing on the face can feel too harsh and abrasive. Instead, use a chemical exfoliant or mild scrub for face exfoliation.
Frequent dry brushing may cause dryness, scratches, skin irritation, and injuries. Limit it to once or twice a month.
Read on to know about the 15 best dry brushes that you can buy online.
15 Best Dry Brushes
This double-sided shower brush can be used for both dry and wet brushing. When the bristles are dry, this brush can help tighten and exfoliate the skin. This brush offers deep cleansing by removing dirt and dead skin cells. The hard bristles deeply clean the cut in and blocked pores, improving blood circulation. This brush removes excess oil and residue to make the skin healthy, smooth, and glowing. It features a 40cm wooden handle that easily reaches the hard-to-reach body parts. This product is equipped with a non-slip rubber patch and hanging rope.
Key Features
Hard and soft bristles
Wooden handle
Non-slip rubber patch
Hanging rope
Pros
Double-sided
Long handle
Sturdy
Cons
Not suitable for beginners.
Price at the time of publication: $8.47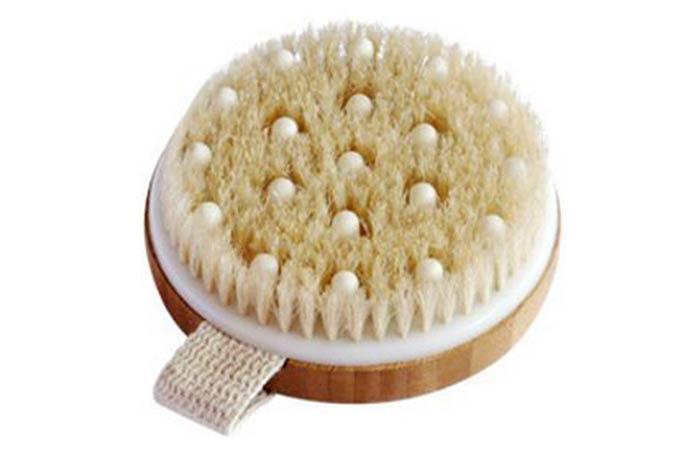 The C.S.M Body Brush has soft bristles that stimulate blood circulation and renew the cells to produce more collagen. The wooden handle and canvas strap provide a firm grip and more control while brushing. The rubber massage nodules soothe your muscles and help you recover faster post-workout. This palm-sized brush is easy to carry and fits in your hands conveniently. Take a look at the tester's experience in this video review to get a thorough understanding of the product and its benefits.
Key Features
Soft bristles
Wooden handle
Canvas strap
Rubber massage nodules
Round, palm-sized shape
Pros
Travel-friendly
Easy to use
Sturdy
Firm grip
Cons
Price at the time of publication: $9.99
The Dylonic Exfoliating Brush has been crafted to remove ingrown hair and prevent razor bumps. Gently massage the skin with this brush to open up the pores, exfoliate dirt, and remove build-up from the pores and hair follicles, as well as stimulate blood circulation in the skin. It pulls out ingrowths and curled-up hair from under the skin. It eliminates irritation caused by waxing or shaving the face, armpits, bikini lines, legs, and arms. It gives the skin a silky-smooth finish. The brush is easy to hold and fits comfortably into the palm. It can be used on dry or wet skin and anywhere on the body.
Key Features
Soft bristles
Ergonomic grip
Custom-made
Pros
Flexible bristles
Lightweight design
User-friendly
Easy to clean
Easy to disassemble
Budget-friendly
Ideal for razor bumps
Cons
None
Price at the time of publication: $5.99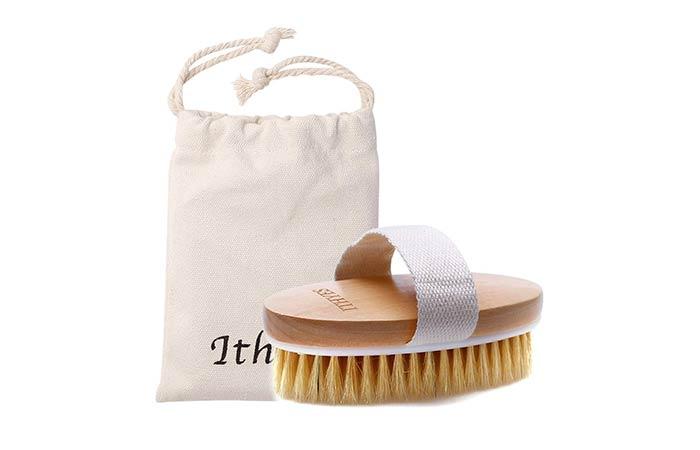 The Ithyes Dry Brushing Body Brush exfoliates the skin, removes dead skin cells, promotes blood circulation, and increases lymphatic drainage. It helps reveal healthy, bright, and smooth skin. This dry brush is made of natural boar bristles and polished wood. It features a canvas hand strap that enables convenient usage and firm grip.
Key Features
Natural boar bristles
Canvas hand strap
Pros
Easy to use and clean
Lightweight
Travel-friendly
Dries quickly
Includes a storage canvas bag
Cons
Price at the time of publication: $6.45
The Belula Dry Body Brush is made of natural bristles that help detox and relax your body. It eliminates dead cells, reduces cellulite, increases blood circulation, and stimulates the lymphatic circulatory system. This dry brush relieves stress and revitalizes your body, restoring the glow of your skin.
The set includes a body brush, a face brush, a pair of shower gloves, and a travel bag. The long handle of the body brush is detachable and has an elastic strap for better grip. The wild boar bristles help exfoliate your skin easily, enhancing the skin texture.
Key Features
Detachable handle
Elastic strap
Pros
Sturdy
Easy to clean
Travel compatible
Ideal for gifting
Cons
The handle may malfunction.
Price at the time of publication: $19.95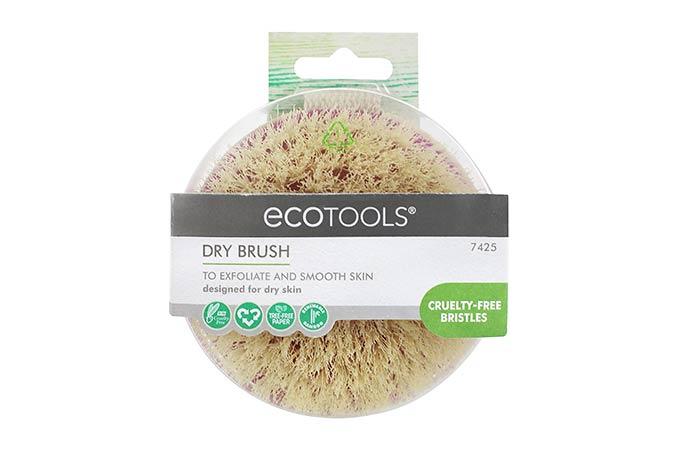 The EcoTools Dry Body Brush is designed with cruelty-free synthetic bristles that exfoliate your skin and boost circulation. It makes your skin soft, healthy, and glowing. The handle is made of renewable bamboo and recyclable materials. The packaging is made of tree-free paper with 20% cotton and 80% bamboo fibers.
Key Features
Synthetic bristles
Bamboo handle
Pros
Cruelty-free
Vegan
Eco-friendly
Recyclable packaging
Easy to use
Ideal for dry skin types
Comfortable grip
Cons
Price at the time of publication: $5.98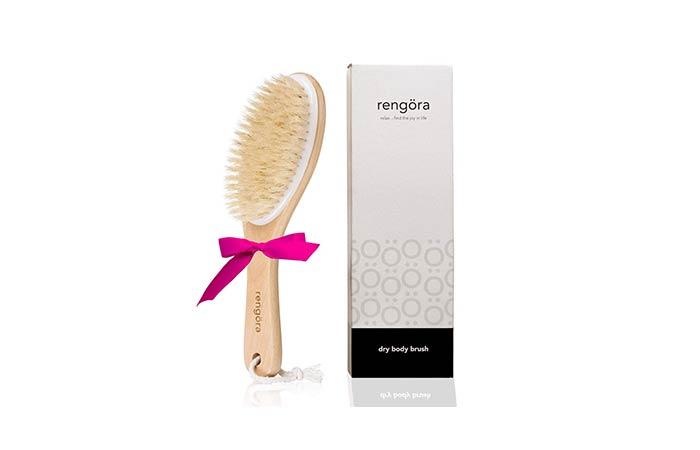 The Rengöra Dry Body Brush features natural boar bristles that are perfect for exfoliating the skin gently. It offers a luxurious spa-like experience while massaging the skin. This body brush improves the lymphatic system, detoxifies your body, enhances circulation, and removes dead skin cells. It also helps open clogged pores, tightens the skin, reduces the appearance of cellulite, and removes ingrown hairs. This product eliminates dry, flaky skin and enables better absorption of moisturizers, oils, and lotions after a shower.
Key Features
Pros
Ergonomic design
Easy to hold
Anti-aging benefits
Offers spa-like experience
Cons
Price at the time of publication: $15.97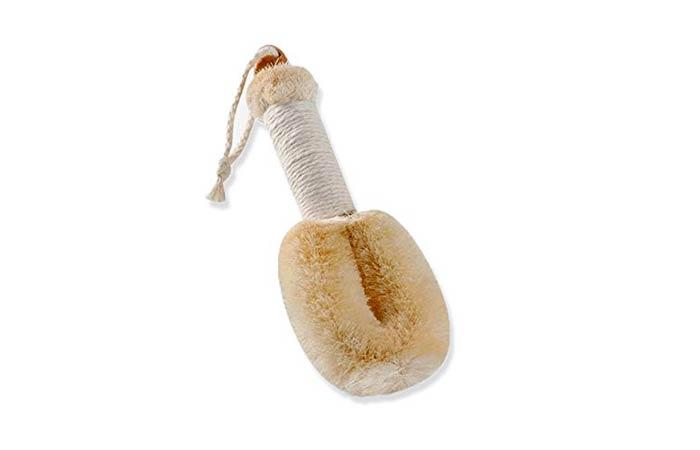 This dry skin brush features natural sisal fiber bristles that rejuvenate and exfoliate your skin and make it smooth. The jute handle ensures a comfortable grip, and the rope loop enables easy hanging. This body brush promotes blood circulation, stimulates the lymphatic system, and removes dead skin and cellulite for overall skin rejuvenation.
Key Features
Sisal fiber bristles
Jute handle
Rope loop
Wooden tip
Pros
Travel-friendly
Long handle
Suitable for daily use
Perfect for gifting
Cons
The bristles might fall out.
Price at the time of publication: $12.49
The Essential Living Dry Brushing Spa Kit eliminates dry and flaky skin. It exfoliates your pores, removes dead skin cells, and absorbs moisture better. Brush 1 is made with soft boar bristles and suitable for beginners. Brush 2 has sisal fiber bristles that reduce the appearance of cellulite and stimulate the lymphatic system. Brush 3,a facial brush, is made of soft boar bristles and ergonomically designed that easily fits in the palm. This dry brushing set for skin detox supports blood circulation and combats swelling and discomfort.
Key Features
Soft boar bristles
Hand strap
Hardwood handle
Interchangeable heads
Pros
Easy to use
Ergonomic design
Durable
Comes with a cotton travel bag
Cons
None

Price at the time of publication: $29.97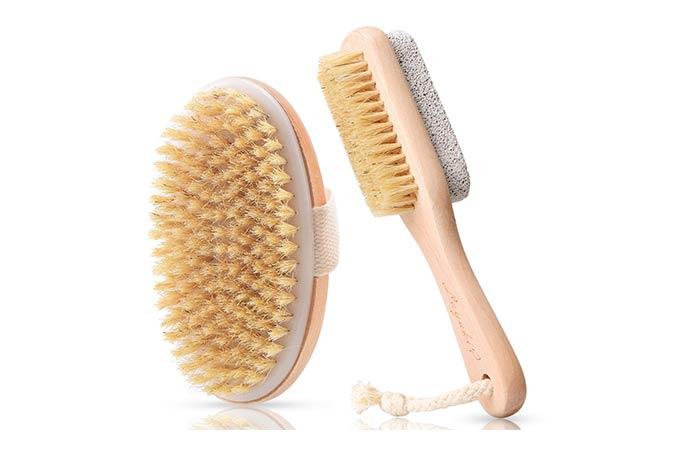 The LAYUKI Body Brush features natural bristles and is suitable for dry and wet brushing. It effectively cleanses pores, aids in dead skin removal, and enhances collagen production. This body brush eliminates toxins, increases lymphatic drainage, and improves blood circulation. The polished, wooden handle provides a natural feeling on the skin. The anti-slip cotton strap and oval, palm-sized head enable a firm grip. This product also features a canvas strap that enables easy storage.
Key Features
Natural bristles
Polished, wooden handle
Anti-slip cotton strap
Canvas strap
Pros
Includes a foot file scrubber
Sturdy
Easy to store
Firm grip
Cons
Price at the time of publication: $9.99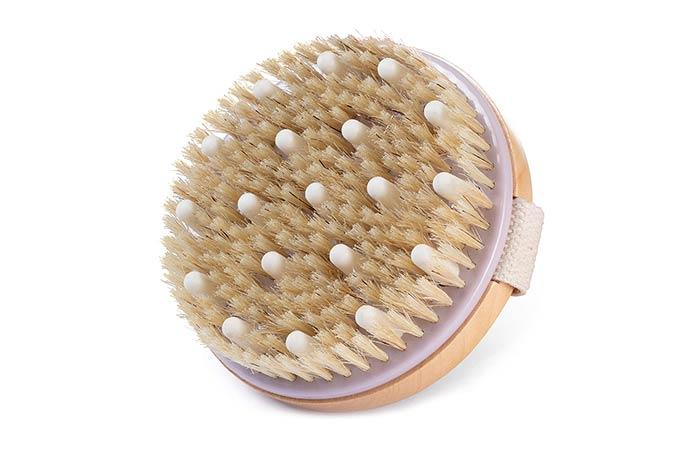 The MainBasics Dry Brushing Body Brush stimulates circulation, boosts lymphatic drainage, and exfoliates dead cells, revealing soft and smooth skin. It features natural boar bristles that heal damage and dryness while making your skin supple. This brush fits perfectly in your palm, and the rubber nodules provide soothing relief and instant relaxation.
Key Features
Boar bristles
Rubber nodules
Anti-slip canvas hand strap
Pros
Durable
Easy to use
Value for money
Cons
Price at the time of publication: $5.99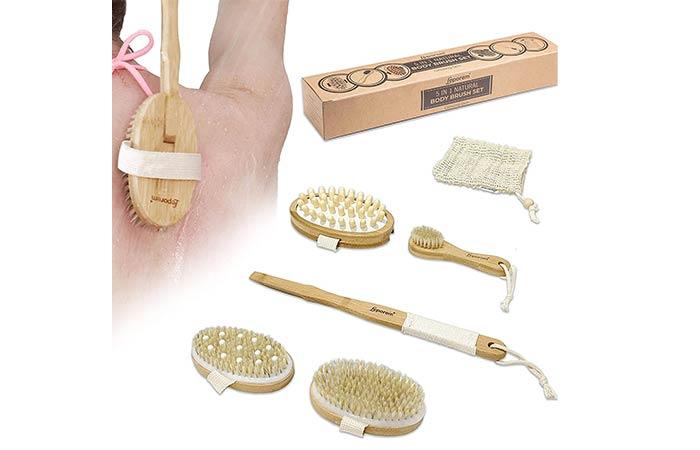 The Leporem 5 in 1 Body Brush Set comes with a non-slip long bamboo handle, ultimate detox brush, lymphatic and cellulite smoothing brush, body exfoliation brush, exfoliating mini facial brush, and sisal bag. The body brush effectively cleanses the skin, improves blood circulation and cellulite, and reduces stretch marks. The brushes are made of high-quality boar bristles that help increase blood circulation, promote lymph drainage, unclog pores, release toxins, remove dead skin, and restore skin tone.
Key Features
Boar bristles
Non-slip handle
Pros
Cons
None
Price at the time of publication: $18.87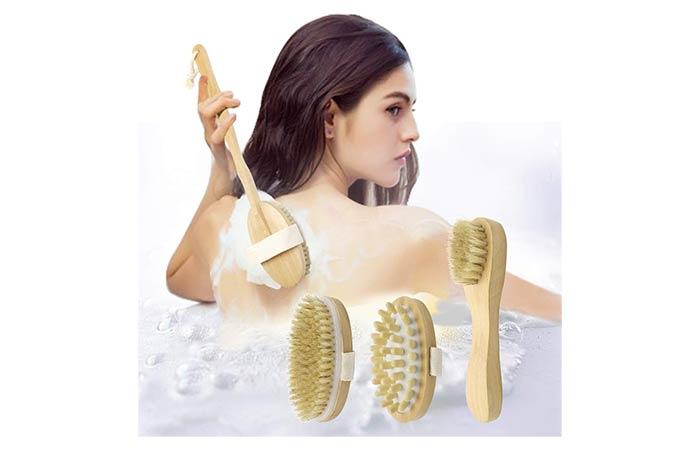 This set consists of a bath brush, a skin and cellulite massager, and a face brush made of natural boar bristles. These products gently exfoliate dry and dead cells, making your skin smooth and soft. The long, detachable handle easily fits in the palm and reaches the hard-to-reach areas. The bath brush features a rope loop that enables easy hanging and storage. It reduces cellulite, stimulates lymphatic drainage, boosts circulation, and promotes healthy skin. The face brush helps eliminate blackheads and removes impurities and make up.
Key Features
Boar bristles
Detachable handle
Rope loop
Pros
Easy to store
Easy to use
Value for money
Cons
None
Price at the time of publication: $16.99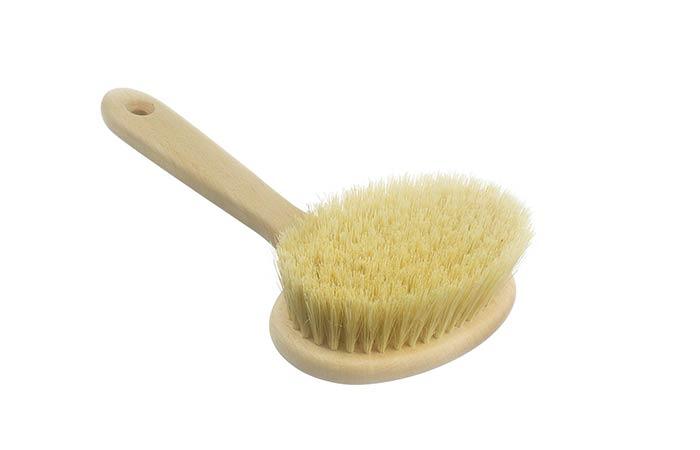 This ergonomically designed brush removes dead skin and prevents ingrown hairs on the arms and legs. The dry brush promotes hygienic skin health, aids in cellulite reduction, and improves blood circulation and lymphatic drainage. The handle fits comfortably in your hand, and the bristles are made of firm cactus and vegetable plants. The long bristles reach deep into the pores and unblock meridians, promoting skin metabolism.
Key Features
Comfortable handle
Firm bristles
Pros
Ergonomic design
Not harsh on the skin
Handmade
Cons
Price at the time of publication: $19.95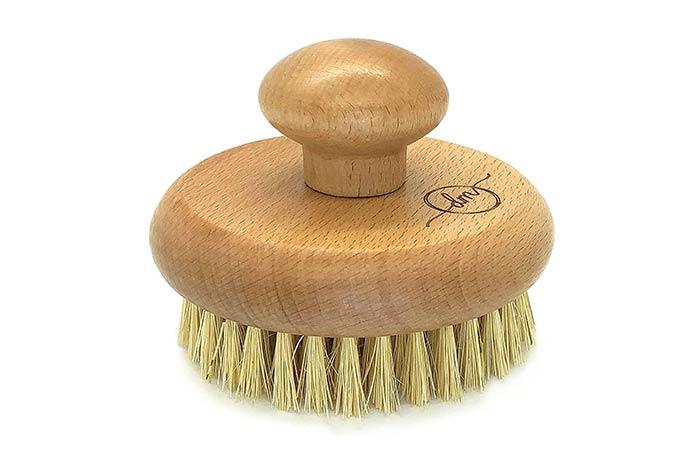 This dry body brush provides a spa-like sensation, stimulates optimal lymph circulation, and reduces unpleasant cellulite. It is made with superior quality wood and natural sisal vegan bamboo bristles. This body brush removes dead skin cells and unclogs pores, imparting a healthy glow to your skin.
Key Features
Polished wooden handle
Bamboo bristles
Anti-slip grip
Pros
Ergonomic design
User-friendly
Durable
Cons
None
Price at the time of publication: $11.99
Apart from providing soft and smooth skin, dry brushing has other significant benefits. Scroll down to know about them.
Benefits Of Dry Brushing
Lymphatic Support: The lymphatic system helps the body fight infections. Dry brushing releases toxins through sweat. The stiff and coarse bristles of the brush stimulate the pores and open them up. This makes the body sweat, which reduces the number of toxins flowing through the lymphatic system. Dry brushing stimulates lymph flow within the body and enables natural detoxification.
Exfoliation: Running the firm bristles of a dry brush on your skin removes dead skin cells and exfoliates the skin naturally. Over the weeks, it makes your skin soft, smooth, and less dry.
Clears Pores: Dry brushing eliminates skin flakes and dead skin cells that could otherwise clog the pores and cause itching. Hence, dry brushing may help prevent acne breakouts.
The next section discusses the right technique of dry brushing for glowing skin.
The Method Of Dry Brushing
Pick The Brush: The right brush for dry brushing is highly subjective. Brushes that have stiff bristles but are not abrasive might be perfect for you. A boar bristle brush is recommended by many. If you are a vegan, go for synthetic bristles. You can also find ionic copper fiber brushes that help detox the body effectively, but they can be too harsh for beginners. To make an informed choice, you can watch video reviews to see how a product works for others.
Prepare Yourself: Dry brushing should be done before a shower, as it lifts the dead skin cells that can be washed right after the process.
Determine The Movement: While dry brushing, use medium pressure and gentle strokes to avoid skin irritation. Long strokes are the best since you are trying to push up lymph fluid.
Start The Process: The prime purpose of dry brushing is to encourage lymph towards your upper torso and chest, where the lymphatic fluid will re-enter the bloodstream. Thus, start with the top of the feet, focusing on the lower leg, knee, and thighs. While working on the thigh's back, treat the butt as an extension of your thigh and continue upwards. For the stomach, some prefer circular motions, while others use long strokes. Go ahead with what feels comfortable for you.
Work On The Upper Body: Start with your hands and move towards the heart. Follow a similar pattern as you did with the legs. Brush the back of your hands, work around the forearm, and then around the upper arm. Ensure that you treat the upper arms with extra attention, as there are many lymph nodes.
Finish With The Neck: Be extra gentle on your neck. You can start with the jawline and move down towards your chest. Finish by going over your heart in a circular motion.
Take A Shower: Taking a shower will help eliminate the dead skin cells that have loosened during brushing. As your skin is already exfoliated, be careful about the products you use while bathing— avoid scrubs and abrasive loofahs.
Moisturize: Hydration is the key to healthy and happy skin. Your body will absorb the skin care products quickly after dry brushing. Apply body oil or lotion to your damp skin to keep it moisturized.
Why Trust StyleCraze?
Oyendrila Kanjilal, the article's author, is a certified skin care coach and takes great interest in staying updated on new and innovative skin care solutions. She went through several user reviews on trusted online forums and researched the products in-depth to curate this list of the best dry brushes for exfoliating the body. The shortlisted products can remove dead skin cells and cellulite without damaging your skin.
Frequently Asked Questions
How long can you use a dry brush?
Replace dry brushes after 8-14 weeks of use to avoid bacterial infections.
Do you dry brush your armpits?
Yes, you can dry brush your armpits and get a relaxing experience as it exfoliates the skin and helps clean it.
How long should I dry brush my legs?
Dry brushing your legs will take at most 3-5 minutes.
Do you dry brush your face?
Yes, dry brushing your face helps exfoliate it and prevents acne breakouts from forming.
How long do you have to dry brush to see results?
Dry brushing your skin twice a month will give you excellent results; you'll see great improvement in your skin's quality.
Recommended Articles