The 11 Best Affordable Flat Irons & Hair Straighteners Of 2021
Top selection of affordable hair straighteners that are easy on your hair and pocket.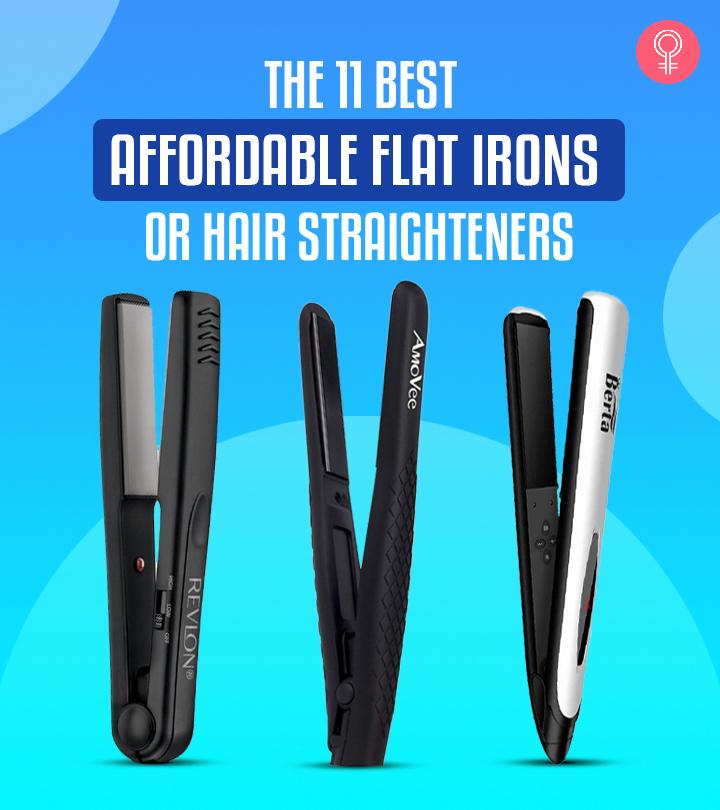 If you are broke as hell and you've got no money to blow on expensive hair straightening tools, you should be looking for the best dry cheap straightener. Let's face it, maintaining your hair can be expensive and in this economy, styling for some is a luxury. Regardless of that, you still need to look presentable, and for that, cheap stuff is the way to go! We've put together a list of 11 flat irons under the $30 budget segment. These offer the most bang for your buck!
11 Best Flat Irons And Straighteners Under $30
The Revlon Ceramic Flat Iron is perfect for achieving any hairstyle, be it waves, curls, or the straight hair look. It has high-quality triple-layer ceramic plates for even heat distribution and preventing hair damage. The thin, 1-inch plate reaches close to the roots for sleek and smooth locks. This straightener heats quickly up to 400°F in a few seconds. There are two heat setting options and a silicone finger grip for a comfortable hold. This straightener also features an auto-shutoff mechanism for additional safety. It is lightweight, easy to use, and travel-friendly.
Key Features
Auto-shutoff mechanism
Triple-layer ceramic plates
2 heat setting options
Silicone finger grip
Pros
Heats up quickly
Easy to carry
Lightweight
Easy to use
Cons
Not durable
Not suitable for heavy curly hair
Price at the time of publication: $10.74
The Skywool Mini Hair Straightener is compact and travel-friendly. It has nano-diamond ceramic tourmaline plates with a PTC temperature control chip that heats up to 410° F in 30 seconds. The 2-in-1 function gives both super straight hair or polished curls without damage or frizz. This straightener features a dual voltage system ranging from 100V to 240V, which can be used anywhere in the world. It is lightweight and easy to store.
Key Features
PTC temperature control chip
Nano-diamond ceramic plates
Dual voltage system
Pros
Travel-friendly
Compact size
Lightweight
Easy to store
Cons
Not suitable for long, thick hair
Price at the time of publication: $11.95
The Andis 67095 Ceramic Flat Iron heats up to 450 degrees and offers 20 different heat settings to meet all your styling needs based on different hair needs. In addition, the ceramic plated clamps hold hair tighter to give the best and long-lasting results. It preserves the hair's moisture, preventing dryness and damage while adding shine to the hair. The straightener heats up as fast as 30 seconds and also has an auto shut-off feature. Take a look at this video to know more about the product.
Key Features
 Auto shut-off
 20 variable heat settings
 30 seconds heat up
 Swivel cord
Pros
 Easy to use
 Lightweight
 Ceramic plates
 Adds shine
 Clamp holds hair tightly
Cons
Price at the time of publication: $17.15
The AmoVee Mini Flat Iron with negative ion technology is perfect for the nape section with bobs, face-framing, bangs, short hair, or minimal touch-ups. The 3D floating plates avoid sticking or pulling the hair and offer long-lasting styling. The ceramic tourmaline technology enables even heat distribution, reducing frizz, and static. This hair straightener is equipped with a safety lock and a 60° flexible swivel cord for a comfortable hold. The 0.79-inch plate maintains a fixed temperature with 410°F high heat. This product comes with a heat-resistant glove. You may check more about this product in this video.
Key Features
Negative ion technology
3D floating plates
Ceramic tourmaline technology
Safety lock
60° swivel cord
Pros
No hair sticking and pulling
Long-lasting results
Unisex
Includes a heat-resistant glove
Cons
Price at the time of publication: $14.39
The Remington Flat Iron features 1-inch floating plates that cover your hair entirely, and the anti-static technology reduces frizz and flyaways by 50%. The titanium coating ensures fast heating, while the long ceramic plates ensure quick styling without any damage. This hair straightener heats up within 30 seconds and comes with six temperature settings ranging from 310°F to 410°F. The LCD screen and digital controls help monitor temperature settings, and the 60-minute auto-shutoff feature ensures safety. The hinge lock helps protect the plates during storage.
Key Features
30-second instant heat-up
6 temperature settings
LCD display
Auto-shutoff feature
Anti-static technology
Hinge lock protection
Titanium coating
360° swivel cord
Pros
Reduces frizz and flyaways by 50%
Glides smoothly
Quick heating
Cons
Price at the time of publication: $17.99
The Conair Flat Iron features a 1-inch double ceramic-coated floating plate that offers straight, shiny, and frizz-free hair. It is equipped with five heat settings that reach a maximum of 410°F. This straightener heats up within 30 seconds. It features a safety lock and a 5-foot swivel cord.  The extra-long floating plates ensure quick styling with less damage and uniform heat recovery. Check out this video to learn more.
Key Features
5 temperature settings
1-inch double ceramic-coated floating plate
30-second instant heat-up
Auto-shutoff
Heat recovery system
Safety lock
5-foot swivel cord
Pros
Lightweight
Easy to use
Heats up easily
Cons
Price at the time of publication: $19.58
The SABUY Flat Iron features an adjustable temperature range of 140°F to 446°F and a dual voltage of 100 V to 240 V. The 3D floating plate holds the hair seamlessly and offers smooth, straight hair. This flat iron is equipped with advanced anion moisture technology that removes frizz and makes your hair shiny and gorgeous.
The 1-inch ceramic plates glide smoothly on small hair sections, creating waves or straightening them. They also release negative ions that impart a silky effect on the hair. The ceramic tourmaline technology helps the iron glide smoothly on the hair without pulling it. This styling tool heats up quickly in 30 seconds, and the 60-minute shut-off timer ensures safety. It is lightweight, unisex, and suitable for all hair types.
Key Features
Anion moisture technology
3D floating plates
Adjustable temperature setting
Dual voltage
Ceramic tourmaline technology
Pros
Durable
Lightweight
Unisex
Suitable for all hair types
Cons
The dual voltage feature malfunctions.
Price at the time of publication: $16.89
The KISS Nano-Titanium Professional Flat Iron is ideal for short and medium length hair. It rolls smoothly on the tresses, and the non-stick, chemical-resistant plate is ideal for keratin application. The ½ inch plate is infused with Nano Titanium technology that ensures even heat distribution with no hot spots and frizz. This technology seals hair cuticles and imparts shine. You can also adjust the heat settings ranging up to 450°F. This hair straightener features an ergonomic handle, an on/off button with a power indicator light, and a tangle-free swivel cord.
Key Features
Non-stick plates
Variable temperature setting
Ergonomic handle
On/off button
Power indicator light
Tangle-free swivel cord
Pros
Suitable for short and medium hair
Easy to operate
Suitable for a keratin treatment
Cons
None
Price at the time of publication: $23.47
The Terviiix Mini Flat Straightener offers three adjustable temperature settings with six indicator lights. The 2-in-1 iron works as a straightener and as a curler. The dual voltage iron has PTC fast heating technology that heats up in 40 seconds and is ideal for fine, coarse, and natural hair types. In addition, the plates are infused with argan oil, keratin, and tourmaline, which nourish the hair and prevent damage. Finally, the iron is equipped with 3D floating plates that don't snag or pull hair, avoiding breakage. The mini iron is travel-friendly and portable.
Key Features
 Auto shut-off at 50 minutes
 40 seconds heating
 Dual voltage
 3 adjustable temperatures
Pros
 Easy to use
 Lightweight
 Travel-friendly
 Heats quickly
 2-in-1
Cons
 Too small
 Ineffective temperature control
Price at the time of publication: $19.99
The Herstyler Superstyler Onyx Flat Iron has 3-in-1 use of straightening, flipping, and curling the hair quickly. The ceramic plates are infused with Nano Ion technology that keeps the hair frizz-free and shiny for a long time. The 1.25-inch ceramic plate heats up to 500°F without any hotspots. The MCH technology enables the straightener to heat up in less than 30 seconds.  This hair straightener also features temperature control, a hook design for easy storage, and a dual voltage system. It is lightweight, travel-friendly, and suitable for daily use.
Key Features
Dual voltage
30-second heat-up
Nano ion technology
MCH technology
Hook design
Pros
Lightweight
Suitable for daily use
Easy to store
1-year warranty
Cons
Price at the time of publication: $27.99
The T3 Micro Lucea Professional Straightener is a 1″ ceramic flat iron. It uses the T3 rapid heat IQ technology that delivers advanced heat evenly in 9 digitally controlled temperature settings. In addition, it controls frizz, giving you a smooth, shiny, and frizz-free hairstyle instantly. It is suitable for all hair types and textures.
Key Features
 9 temperature settings
 1" ceramic flat iron
 Rapid heat IQ technology
Pros
 Suitable for all hair types
 Suitable for all hair textures
 Frizz-free hairstyles
 Makes hair smooth
 Adds shine
Cons
 No digital display screen
 No indicator
Price at the time of publication: $169.99
Consider these essential features before buying a hair straightener to make the ideal choice.
Features To Consider Before Buying A Flat Iron
Plate Size – Go for a flat iron with a plate size of 1.5 inches. This makes the styling process easy and quick. Larger plates cover more surface area and are suitable for people with long hair. People with short hairstyles can go for a medium plate length of around 1 inch.
Plate Material – Most hair straighteners have ceramic, titanium, or tourmaline plates. Ceramic plates are ideal if your hair is thin and weak. They ensure no heat-related damage but are not durable. Tourmaline hair straighteners are a bit costly but durable. They produce negative ions that help moisten the hair and keep it hydrated for a long time. Titanium plates heat up fast and can hold the heat for a long time. They are lightweight, durable, and suitable for thick, dense, and curly hair types.
Cord Length And Rotation – Go for flat irons with long cords to ensure ease of use. A long cord enables using the device at comfortable angles and distances. Choose a hair straightener with 2 to 3 meters of cord length. The 360° swivel cords have higher maneuverability, more rotation, and a greater lifespan.
Temperature Setting And Control – The more the heat control variation, the better the hair straightener. Good quality flat irons have a temperature range from 200°F to 500°F. This enables you to set the temperature as per your comfort and hair type. Thin hair requires less heat than curly and coarse hair.
Auto-Shutoff – Flat irons with an auto-shutoff feature ensure safety if you forget to switch off the device. Most straighteners have a 30 to 60-minute auto-shutoff mechanism.
Advanced Technologies – Many hair straighteners come with advanced features like moisture preservation, negative ion technology, and MCH technology. These features are beneficial for dry or weak hair types. The moisture retention and heat distribution features ensure that your hair remains straight, smooth, and silky.
Size – Ensure that the hair straightener is lightweight and compact so that it fits inside a purse or bag pack for easily portability during vacations or trips.
Warranty – Many brands offer warranties, ranging from one to four years. This ensures hassle-free replacement in case of any damage or malfunctions during the warranty period.
Why Trust StyleCraze?
Shiboli Chakraborti, who authored this article, is a haircare enthusiast and likes to assist her readers in finding suitable haircare items. With this intent, she hunted for the best dry cheap straighteners for her readers. After extensive research and visits to forums to read customer reviews, she curated a list of them. This list consists of products that are not only budget-friendly but have all the abilities to make your hair look gorgeous.
Frequently Asked Questions
Are cheap straighteners bad?
No. Many hair straighteners at moderate price heat up rapidly and have advanced features like negative ion technology and 3D floating plates.
Is it good to straighten the hair once a month?
Yes, but it depends on your hair type. People with frizzy and coarse hair may require straightening every alternate day. Others with smooth hair can straighten once a week. A month maybe too long, but if you have smooth hair, once in a week or fortnight is good.
How often can I straighten my hair without damaging it?
With a good quality straightener, you can straighten your hair even daily without any damage. Check features like ceramic plates, even heat distribution, temperature adjustment, negative ion technology, and MCH technology before buying it.
Why do straighteners pull hair?
If your straightener is pulling hair, there are issues either with the product or the process. A good quality straightener glides smoothly without pulling the hair. Use the flat iron from root to upwards and not the reverse.
Is using a flat iron daily wrong?
No. Ensure that your hair straightener is of good quality, and you are using it correctly.
Does straightening the hair ruin curls?
No. Hair is soft tissue and retains its original shape. Unless you apply excess heat, the curls will not be damaged by flat ironing.
Why do my straighteners smell?
Straighteners smell bad when they are used frequently at a very high temperature.
Recommended Articles