12 Best Dry Conditioners In 2022 For Smooth And Silky Hair
Spritz on these amazing dry conditioners to smoothen and shine up your tresses!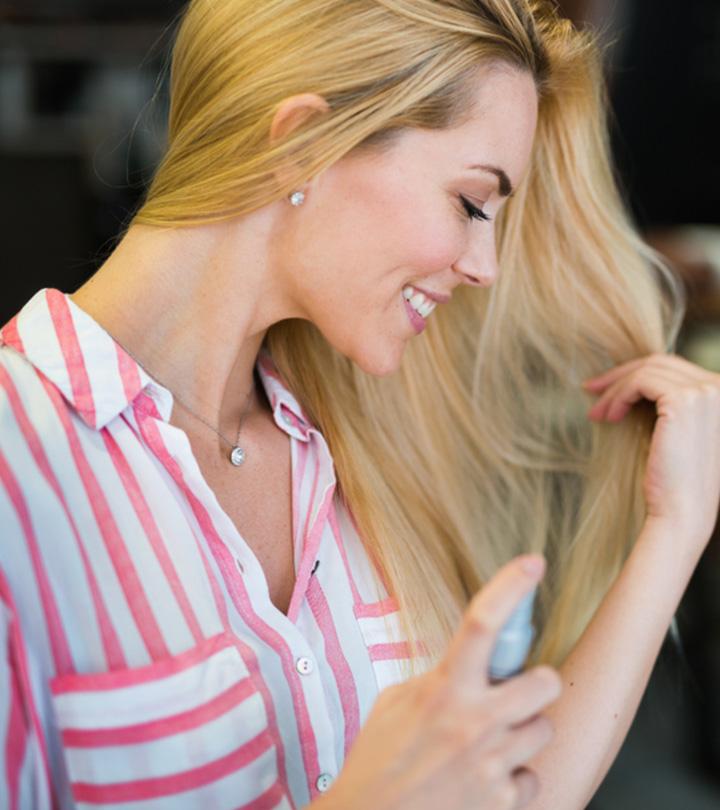 Choosing the best dry conditioner for shiny hair can be challenging, given the sheer amount of brands advocating to be the best for you. However, to make sure you choose the very best for your hair, you need to be a little mindful and not fall prey to the advertising gimmicks. To solve this problem, we've listed some of the best brands for dry conditioners from across major brands that are perfect for your shiny hair. Be sure to check out our list of the 12 top dry conditioners. Dry conditioners are very handy in tight situations like attending an office call immediately after a workout or if you have to head out to a party immediately after work. All you have to do is spray a few spritzes, brush your hair, and voila! You're ready to steal the show!
12 Best Dry Conditioners For Hair That Shines From A Mile Away
This dry conditioner detangles, softens, and smooths hair between washes and instantly eliminates static. Its key ingredient, Provitamin B5 helps promote and restore your hair's bounce-back ability and reduces damages and split ends. It is free of sulfates, parabens, sodium chloride, and artificial colors, making it a safe choice for color and keratin-treated hair. The conditioner is also infused with sea buckthorn extracts, which is high in fatty acids and vitamin E and promotes scalp health. 
Pros 
Detangles hair
Anti-static
Non-sticky
Sulfate-free
Paraben-free
Cons
Some may feel that it isn't quite softening. 
The silk and ceramic elements in this dry conditioner protect your hair from the heat. It's a waterless formula that adds shine and smoothness to your dry locks. The bottle comes with a sliding lock over the nozzle to prevent leakage. It contains vitamin A and sunflower seed oil to promote overall scalp health. If you like to straighten or curl your hair using hot tools like curling wands and blow dryers, you can rest assured that this dry conditioner can also be used as a heat-protectant spray.
Pros
Paraben-free
Gluten-free
Waterless formula
Lockable nozzle
Cons
Some may find the fragrance overwhelming. 
Like traditional conditioners, the Drybar Detox Dry Conditioner hydrates your locks while detangling stubborn knots. Infused with the goodness of argan oil, mango butter, and Tiare flower extracts, the conditioner rejuvenates dry ends, engulfs each strand to nourish it, and adds a healthy dose of shine to your hair. This product is free of parabens, sulfates, and phthalates and is not tested on animals. The best part is that it's ideal for all hair types.
Pros
Suitable for all hair types
Lightweight
Cruelty-free
Hydrating properties
Cons
Some users felt that it made their hair feel slightly stiff after a day.
This conditioner adds the perfect amount of moisture and shine without weighing your hair down. With this conditioner by your side, you don't need to wash your hair to make it tangle-free. It cuts brushing time by half as it reduces frizz by softening the cuticles and gets rid of static. It is enriched with ingredients such as vitamins B5 and C, along with fatty acids to help strengthen and repair your hair while making them soft and shiny. It is also suitable for color and keratin-treated hair.
Pros
Lightweight
Pleasant fragrance
Cruelty-free
Gluten-free
No parabens 
Cons
This conditioner is enriched with argan oil, coconut, and Crambe seed oil to make your hair smooth and voluminous. Hair-loving ingredients like calendula, chamomile, and shea butter are also added to this conditioner to make your hair healthy and happy. These natural ingredients instantly help polish your hair, leaving it shiny and glossy. It can transform stubborn knots without the usage of harsh chemicals. This feather-light formula is cruelty-free and vegan-friendly. Learn more about this product in this video.
Pros
Anti-frizz
Conditions the hair
Cruelty-free
Vegan
Paraben-free
Cons
Some may find the smell too pungent.
With this conditioner, you can take a break from your blow dryer or flat iron. Formulated with black seed oil, the conditioner adds an instant shine to your hair with just a few spritzes. Ideal for daily use, this lightweight conditioning spray adds a new lease of life to dull and damaged hair that looks lifeless. It contains tiny conditioning molecules, which actively work towards hydrating your locks and strengthening them from the roots.
Pros
Ideal for daily use
Hydrating
Lightweight
Formulated with black seed oil
Cons
Some may find it slightly greasy.
As the tagline says, "Tame Hair Gone Wild", this conditioner tames the wildest of locks with ease. It's a non-greasy formula that leaves your hair feeling silky and smooth. It hydrates your hair to make it soft, frizz-free, and helps retain moisture to nourish dry ends. If you're looking to add glamour to your hair, you can trust this conditioner to instantly make your hair shine from a mile away.
Pros
Suitable for oily hair
Adds shine
Non-greasy
Hydrating
Cons
It may not be suitable for dry hair.
If you don't like to wash your hair every day, you should consider this conditioning spray. It is a weightless spray that makes your hair smooth and lends a natural shine. It takes away all the frizz and combats humidity. Formulated with its signature complex (watermelon, lychee, and Edelweiss flower extracts), the spray protects your hair from harmful colors and environmental aggressors. This video will provide you with added insights about the product.
Pros
Microemulsion smoothing system
Polymer complex
Infused with antioxidants
Gluten-free
Cons
Formulated with argan oil, this dry conditioner makes your hair soft, shiny, smooth, and healthy. It is effective in reinvigorating your locks, days after a blowout. The conditioner softens and conditions the hair while protecting the cuticles from damage. Moreover, it is free from parabens and mineral oils. So, if you're tired of finding the perfect conditioner to fight dull, dry, and frizzy hair, you can bank on this conditioner.
Pros
Mineral oil-free
Cruelty-free
Anti-frizz
Hydrating properties
Cons
This dry conditioner packs a lovely fragrance along with some incredible qualities. It leaves your hair feeling fresh, soft, and shiny. A lightweight formula containing hydrolyzed wheat protein, it doesn't weigh your hair down. With this conditioner by your side, you can skip washing your hair for a few days as it absorbs your scalp's natural oils like a pro.
Pros
Compact
Lightwright
Non-greasy
Pleasant scent
Cons
Some felt that it leaves a chalky trail.
This conditioner spray from Warerless is ideal for fine to medium hair and makes your hair soft and smooth. It is specially formulated to detangle your hair, condition your hair, and keep it hydrated. Just spray it on from the mid shaft to your hair ends and feel your hair thanking you! It moisturizes your split ends and is a great option to refresh your hair when you don't have time. You can spray this throughout the day to maintain the conditioning level. In addition, the conditioner doesn't leave any residue.
Pros
Paraben-free
Sulfate-free
Buildable
Easy to use
Suitable for all hair types
Cons
None
This conditioner not only hydrates your locks, but it also moisturises and conditions them. Enriched with ingredients such as Vitamin B5 and Immortelle (their signature ingredient), it seeps into the hair, making it easier to comb and style it. If you're looking for ways to bring your limp and dry hair back to life, a few spritizes of this conditioner can do that for you to manage your hair comfortably without it feeling greasy or sticky.
Pros
Contains vitamin B5
Nourishing properties
Non-greasy
Lightweight
Cons
Now that we've taken a look at the 12 best dry conditioners in 2022 for beautiful and silky hair, here are a few things you should keep in mind before buying one.
How To Pick A Dry Conditioner According To Your Hair Type
If you have fine or limp hair, opt for a conditioner that volumizes your hair.
If you have wavy hair, look for something that is lightweight and won't weigh your hair down.
For those with curly hair, a hydrating and nourishing conditioner is the best choice.
If you like to color your hair frequently, always look for a color-safe conditioner.
For those you like to style their hair using curling wands and hair straighteners, a conditioner that doubles as a heat-protectant spray is the ideal choice.
How To Use A Dry Conditioner
Here's a simple guide to get you started:
Step 1: Settle on a dry conditioner that is well-suited for your hair type.
Step 2: Hold the spray 6 inches away from the centre of your head.
Step 3: Start spraying starting from the centre.
Step 4: Use your fingers to spread the conditioner evenly.
Step 5: Repeat step 3 and 4 in other parts of your head.
Note: Avoid spraying your scalp.
Why Trust StyleCraze?
The author, Vaishnavi Kothuri, is a hair care enthusiast who believes in trying new products that make you feel pampered and luxurious. She has curated this list of the best dry conditioners to help you take your haircare game a notch higher. She has carefully reviewed several customer testimonials, checked product formulations to understand their efficacy and pick only the top-rated ones for the list.
Frequently Asked Questions
Is a dry conditioner good for your hair?
Dry conditioners help retain moisture and detangle dry, frizzy hair. They also keep the hair hydrated and boosts shine, while adding volume..
Is a dry conditioner the same as a leave-in conditioner?
A dry conditioner is a dry formula in a spray form, while a leave-in conditioner is a liquid formula.
What is a dry conditioner?
Dry conditioners do not need water to act on the hair. They hydrate dry tresses, detangle knots, and tame the frizz.
Are dry shampoo and dry conditioner the same thing?
No. Dry shampoo absorbs the excess oil from the scalp and adds volume to your tresses, while a dry conditioner hydrates the hair and tames the frizz.
Can I use a dry conditioner every day?
No. Using a dry conditioner daily can lead to nasty product buildup. In addition, it will turn your hair brittle instead of nourishing the tresses.
Does dry conditioner cause hair loss?
No, dry conditioners are less likely to cause hair loss. Instead, they nourish the strands and promote hair strengthening. However, excessive usage of dry conditioners can irritate the scalp and cause infections.
Does dry conditioner help with dandruff?
Dry conditioners nourish your scalp and reduce dandruff. However, excess use of the dry conditioner can cause product buildup and increase the activities of dandruff.
Should you use dry shampoo and conditioner together?
Use dry shampoo and dry conditioner to achieve voluminous, tangle-free, shiny tresses. However, you can also use them separately as stand-alone products.
Recommended Articles
Best Leave-in Conditioners For Dry And Damaged Hair
Best Conditioners For Dry And Frizzy Hair
Best Deep Conditioners For Dry And Damaged Hair
Best Leave-in Conditioners