6 Best Dry Shampoos That Are Perfect For Red Hair
Give your red-haired tresses the attention, nourishment, and freshness they deserve.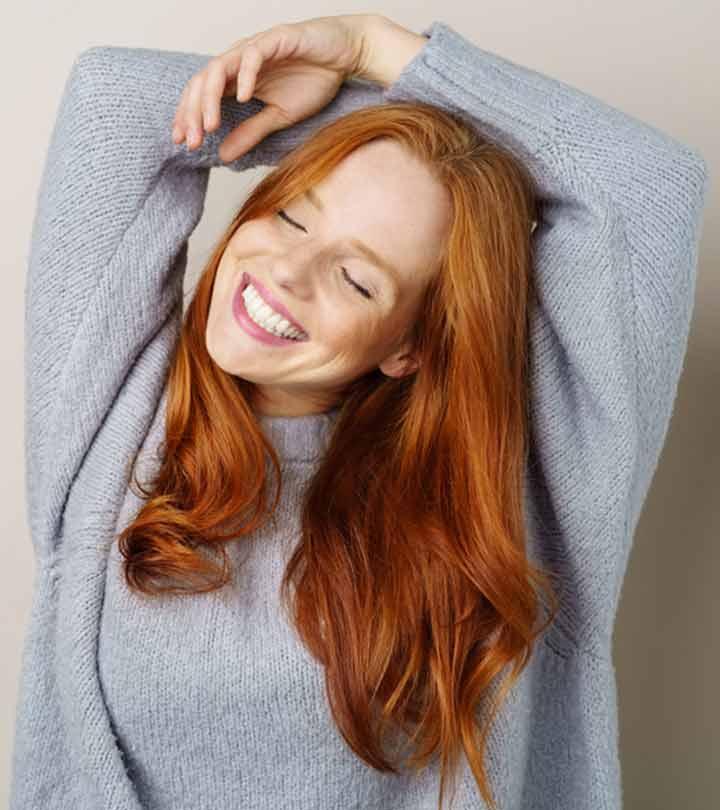 There is something about red hair that attracts everyone to dye their hair in different shades of red. But coloring hair comes with consequences and needs to be treated with exceptional products. If you have been looking for the best dry shampoo for red hair, we have exactly what you need. In your quest to protect the shine and luster of your newly cored red hair, you might have to think twice before using your regular haircare products. When it comes to using unconventional products like hair spray, it might confuse you as to which one will suit your hair and keep the color intact for long. Dry shampoo not only saves time but also makes sure your hair looks fluffy and bouncy always. Here is a list of top brands that have produced dry shampoos specially made for red hair. Go through this list of 6 dry shampoos to select the one you like the most for regular use to make sure everyday is a good hair day!
Top 6 Best Dry Shampoos For Red Hair To Use In 2022
As the label of this dry shampoo says, this clean freak refreshing shampoo helps in cleansing the scalp thoroughly. The product suits all hair types, be it coarse, curly, or straight. This might be the ultimate salon formula for your red hair when you are super busy and just cannot go for a wash. Bonus points go to the odor absorption feature of this refreshing dry shampoo. It even lifts your hair and lets you enjoy a second hair day. If you have frizzy or damaged hair then you can spray this dry shampoo on your red hair and let it work for you. The formula of this dry shampoo is in liquid form which makes it really easy to absorb. If you want to know more about the results, take a look at this review on YouTube.
Pros
Absorbs excess oils
Adds volume
Keeps hair from looking limp
Great fragrance
Cons
Might make hair greasy when overused
Pro Tip
Always shake the container bottle before application as the starch in aerosol formulas can settle at the bottom.
Price at the time of publication: $9.48
Living Proof Perfect Hair Day Dry Shampoo is a unique formula that cleans your hair and helps you get rid of odor, sweat, and oil. The product comes in a spray form and needs to be sprayed at a distance of 6-10 inches. Try and use the product step by step by separating hair strands. Let the formula stay for 30 seconds and then you can massage the formula with your fingertips. You can survive without washing your hair throughout the day. It also gives a fresh scent to your hair. The product is known for its healthy hair molecule that repels dirt and resists humidity. Other than this, this dry powder for red hair also protects it without weighing it down. The formula is free from silicones, phthalates, and parabens, thus making it a great choice of dry shampoo for redheads. You can check this YouTube video for more information about the product.
Pros
Good for chemically treated hair
No itchiness involved
Easily absorbed by hair
Makes hair look fuller
Cons
Pro Tip
Apply at least 6-8 inches away from the scalp and directly at the roots. This allows the the oil-absorbing starch to properly exit and fall evenly on the greasy roots.
Price at the time of publication: $41.0
When looking for a foamy dry shampoo to clean your dirty hair quick and fast, choose this Volume Extend Instant Bodifier Dry Shampoo from Garnier. The name of the product says it all. It immediately revives and refreshes hair. This foaming dry shampoo for red hair can help with adding volume to your lifeless locks. Infused with orange citrus and grape extract, the formulation is great for fine or flat hair. The formula is light and fresh. The powdery fresh smell of this shampoo lets you experience freshness for an entire day. It takes away the grime and oil from the scalp and makes your hair easy to style. You might have to need some extra amount of product on your hair to get long-lasting cleanliness. If you experience dampness in your hair, you can use this product to get rid of it.
Pros
Makes hair thick and full
Smells good
Travel-friendly
Not expensive
Cons
Might be too gentle to remove other products from hair
Pro Tip
Avoid applying powdery formulas directly on the scalp partings as it may appear chalky and get difficult to remove.
Price at the time of publication: $24.99
No products found.

 
Nexxus Dry Shampoo Refreshing Mist is the ideal product to let your hair become clean and enjoy volume, both at the same time. It is a no-rinse shampoo and doesn't need to be washed away like a regular shampoo. Loaded with quality ingredients like pearl extract, jasmine, and water lily, this mist dry shampoo is great for your hair. In fact, it is color-safe and keeps hair fresh and healthy.  Nexxus Dry Shampoo is weightless and can be counted upon as salon-quality volumizing dry shampoo. The best part about this refreshing dry shampoo is its multiple uses. It can be used as a mist to style your hair, add bounce to your red hair, and clean hair without rinsing it out. Styling and hair care is easier with this product and it is even light on your pocket. If you are still unsure about purchasing, you can check out a review of this product on YouTube.
Pros
Makes hair easy to style
Adds volume to hair
Versatile product
Fragrance-free
Cons
Generous amount of product is needed
Price at the time of publication: $17.99
This dry shampoo from Suave Professionals is what you need to keep your red hair clean without washing it every day. Enriched with keratin, this dry shampoo for red dyed hair is perfect for keeping your hair safe from damage. You can expect the product to absorb oil from the scalp and make your tresses manageable. This waterless dry shampoo comes in a spray form and is formulated with Keralock technology. With the use of this dry shampoo, you can make your hair look less greasy without rinsing your hair. The shampoo doesn't leave any white residue on the hair.
Pros
Absorbs oil instantly
Great for colored hair
Great for blow outs
Tames frizzy hair
Cons
Product comes out with a heavy pressure
Price at the time of publication: $6.78
Batiste Dry Shampoo is one of the best dry shampoos for waterless cleaning of red hair. It comes in a quirky cute packaging which fits in your smaller bags. This dry shampoo for red hair works super well on greasiness without weighing your hair down. In fact, this is the ideal shampoo for red hair as it preserves the color and cleans the hair at the same time. The product has a powdery finish and needs to be sprayed just a little. You can use this dry shampoo as a color spray too as the product is orange-reddish in color. This turns out as a good thing for people with red heads but can go wrong for other colored hair. So, it needs to be used very wisely.
Pros
Fresh fragrance
Portable product
Great price
Makes hair easy to manage
Cons
Some may not like its strong fragrance
Regular shampoos can fade out your red hair color if you use them frequently. In this situation, using dry shampoos would be the best option for you. Different dry shampoos have their own pros and cons. Know which dry shampoos will work best for you through the below-mentioned buying guide.
Things To Look For While Buying Dry Shampoos for Red Hair
Dry shampoos are either alcohol-based or starch-based. The best ingredients to look out for in dry shampoos are silica, clay, charcoal, tapioca, and baking soda. These ingredients help keep your hair refreshed and cleaned. If you have a sensitive scalp, you should go with shampoos that are fragrance-free, butane-free, and propane-free. Also, avoid using dry shampoos that include flammable ingredients.
If you have oily hair, go with dry shampoos as they are very effective in absorbing excess oil at the root and making your hair look fluffier. For dry hair, choose dry shampoos with extra moisturizing glycerin and oil ingredients. For curly and wavy hair, you must select dry shampoos that contain vitamin E and panthenol. These dry shampoos boost volume and reduce frizz. If you have fine and thin hair, choose the shampoos with aluminum starch that can add volume and fullness.
Although dry shampoo has several advantages, excessive use might be harmful. A buildup of residue from using too much product might block hair follicles and reduce hair growth. Because of this, the majority of dry shampoos should only be applied once in between washes. In order to ensure that a product matches your needs, you basically need to read the product description carefully, just like you would for any other skin or hair care product.
If you are sensitive to strong fragrances, choosing an unscented dry shampoo formula would be preferable because some dry shampoos are heavily fragranced.
Dry shampoos come in various forms such as powder and spray. Think about whether you prefer powder or aerosol. Although an aerosol can be quick and easy, powders are perfect if you are worried about airborne particles. If you have fine hair, a powdered dry shampoo might work better for you.
As it is, washing hair is not one of the best things for red colored hair. Worst happens when you can't reach out to your colorist. This is why dry shampoos for colored red hair are really useful. Choosing a good dry shampoo for red hair is really important. Consider choosing between powder or aerosol. Where aerosols are quick and convenient, powders are better with absorption. There are certain red hair dry shampoos that have strong scents and odors while the others are fragrance-free or have mild scents. Choose whatever type of fragrance suits you. Also, if you can, please try a test before buying a dry shampoo. 
Why Trust StyleCraze?
Vaishnavi Kothuri loves to write articles related to hair care and in this article she talks about the best dry shampoos for red hair. She has carefully curated a list after reading product specifications and user feedback on trusted online platforms. She prefers using dry shampoos because they not only save time but also make sure your hair looks fluffy and bouncy.
Frequently Asked Questions
Can you use purple shampoo on red hair?
Yes you can use purple shampoo on red hair as it will just tone your hair and not fade it.
Is dry shampoo okay for color treated hair?
Dry shampoo is okay for color treated hair but it is always good to check the quality of the product that you are about to use beforehand. Some dry shampoos leave residue and thus must be chosen wisely.
How do you keep red hair from fading?
Given below are some tips to keep your red hair from fading:
1. Wait for some time before using a shampoo for the first time after you get your hair red colored.
2. Try and use shampoos that are gentle on hair like sulfate-free shampoos.
3. Use hair masks on a regular basis. Opt for deep hair conditioning and keep your hair moisturized.
4. Always try to treat the brassiness of red hair to keep the color from fading.
5. Try and keep your hair safe from the sun. You can opt for scarfs, caps, and hats to do so.
6. Try to wash your hair less frequently.
7. Condition regularly and keep the hair shiny.
8. Always use a professional hair color and get the coloring done by experts.
9. Opt for regular touch ups. This keeps your red hair from fading.
10.Keep the heat down. Refrain from using thermal styling tools frequently and use natural red hair shampoo or dry shampoos to clean your hair.
Can dry shampoo be used on colored hair?
Yes, dry shampoo can be used on colored hair.
Will dry shampoo fade my hair color?
No, dry shampoos do not directly fade your hair color. In fact, using dry shampoo can help you to preserve the color longer as you won't need to wash it frequently. However, do not use dry shampoo as an ultimate substitute for hair washing.
What should you not use on red hair?
If you have red hair, do not use products that contain salt, sulfate, paraben, or artificial color.
Is dry shampoo good for thick red hair?
Yes, dry shampoo can be good for maintaining the color of thick red hair because using regular shampoo frequently can fade the hair color.
Does dry shampoo ruin your hair?
Dry shampoos can contain alcohol and starch. If you overuse dry shampoo it can in fact cause breakage and dry hair.
How long does dry shampoo stay in your hair?
Ideally, you will have to wash your hair 2-3 days after using dry shampoo. Not doing so can lead to build-up on your scalp and cause itching and breakage.
Does dry shampoo make hair look dull?
Yes, overusing dry shampoo will make your hair look dull and dry because the powdery texture of the dry shampoo will create a matte effect on your hair.
How often should you use dry shampoo?
Dry shampoo can be applied 1-2 times a week and no more than 2 days consecutively. Use it between washes to keep your hair refreshed.
Recommended Articles:
The following two tabs change content below.