13 Best Dual Voltage Curling Irons In 2023
Achieve voluminous curls with compact and handy devices that keep your hair healthy.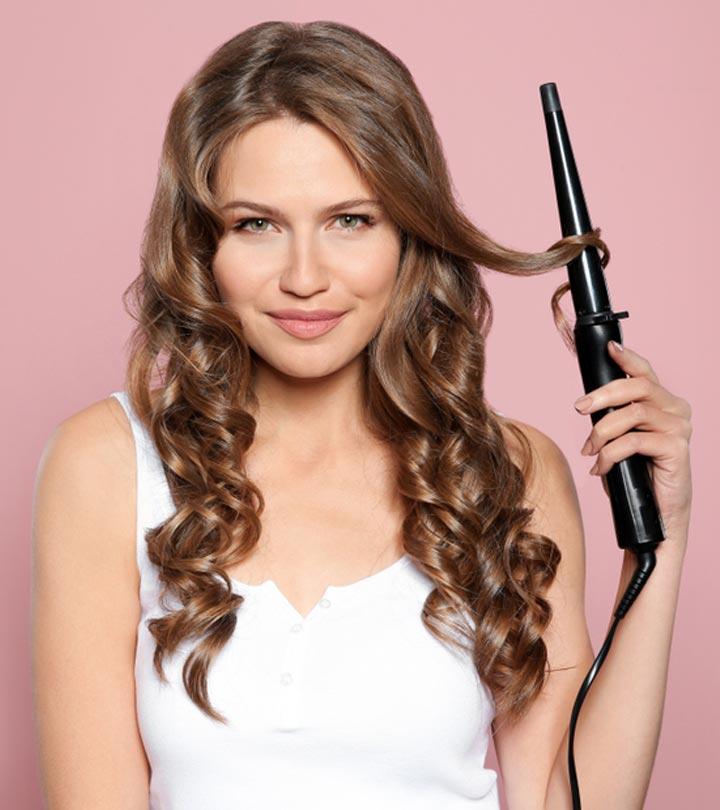 The dual voltage curling iron is every traveler's best friend. Be it a wedding abroad or a vacation at your favorite beach, with the best dual voltage curling iron in your purse, your hair will be one less thing to hit your head about! While packing a bag for your vacation includes clothes, medications, and shoes, a compact, mini version curling iron is the solution to all your travel woes. With various sizes and shapes out there, you can also get a set with its own suitcase. All said and done, a curling iron is a must-have in your hair styling wardrobe.
While a hair straightener has its perks, this product will give you volume, curls, and make you look your stylish best! All those bad trips with burnt hair can all go away with a curling iron at your disposal. All you need is a power adapter to the country you are going to, some gloves, and you're good to go! To help you out, we have curated a list of the top curling irons to pick from. Scroll down to know more!
How Does A Curling Iron Work?
The process of hair curling is not new to us. But let's learn a little more about curling irons.
The concept of curling iron is to use heat to change the shape of your hair. So, how does that work? Keratin is the main component of our hair, which is held together by hydrogen bonds. Simply put, when you are curling your hair, the heat weakens the bonds to give you curls if you have straight hair.
A curling iron is used by wrapping a small section of your hair around the roller and letting it sit for a few seconds. This step is repeated with other parts of your hair until you achieve the desired results. Whether you want soft or defined curls, depends on the size of the roller.
Most curling irons use ceramic tourmaline technology, which means it heats up quickly and evenly distributes heat without causing damage to your hair. It also works to eliminate static electricity, reduce frizz, retain moisture, and leave your locks smooth and shiny. Now that we have understood how a curling iron functions and how it affects your hair, let's scroll down to the list.
13 Best Dual Voltage Curling Irons
Both a hair straightener and a curling iron rolled in one; this 2-in-1 combo will make all your hair styling dreams come true! This 1-inch nano titanium styling tool features nanosilver and tourmaline technology and includes a single temperature setting that will give you sleek or bouncy hair in minutes. It is a dual voltage flat/curling iron, which means it can be used anywhere in the world. All you need is a suitable adapter plug that works in the country you're visiting. This travel hair dryer features a single push button that allows you to switch between 2 different styles without any hassles.
Pros
Compact and portable
Includes a heat-resistant carry case
Maintains constant temperature at 374°F
Easy-to-flip switch to shift between 2 styles
Heats up quickly
Cons
May not defrizz your hair
Price at the time of publication: $29.95
The MiroPure Dual Voltage Curling Iron has a 1.25-inch curling iron that offers long-lasting voluminous curls without any hassle. It is a ceramic curling iron that heats up in 30 seconds and has 410°F as the highest heat setting. It has an on/off control button and an auto shut-off feature. The curling iron has a non-slip grip handle and long cool tip and comes with heat-resistant gloves ensuring safe and comfortable use.
Pros
1.25-inch barrel
Fast heating
Comes with heat-resistant gloves
Ideal for all hair types
360° swivel cord
Cons
The cool tip may not work.
Price at the time of publication: $39.99
This dual voltage travel curling iron will be your go-to styling tool when you're living out of a suitcase! It is medium-sized, has a 100-240 V dual voltage feature, and comes with a stylish carry bag, making this mini flat/curling iron the perfect travel-friendly product. Popular among professional hairstylists, this 2-in-1 styling tool heats up quickly and evenly to help you achieve super-sleek, straight hair or lustrous waves, without causing any heat damage to your fragile hair. It has an additional feature of a constant temperature setting that ranges from 360°F to 420°F and a tangle-free cord.
Pros
Even heat distribution
Travel-friendly
360° swivel cord ensures hassle-free use
Includes a diamond pattern carry bag
One push button to shift from straightening to curling settings
Available in black and white colors
Cons
Price at the time of publication: $59.97
The Xtava 5-in-1 Curling Iron Set is the perfect tool for getting gorgeous, long-lasting curls. This set gives you the power and flexibility of 5 different styling tools and eliminates the need for multiple hair tools. The five barrels feature tourmaline ceramic technology for extra protection and to create curls that won't fall flat. The styling set has adjustable temperature settings, a swivel cord, quick heating technology, as well as an auto shut-off feature. The professional-length barrel ensures even, symmetrical heating through the entire hair shaft. Plus, you can use different wands for different curls in one iron, giving you endless possibilities for styles.
Pros
Quick heating
Long-lasting curls
Good temperature control
Easy to use
Cons
Price at the time of publication: $49.99
This amazing Double Ceramic 1-Inch Curling Iron from Conair offers a fast way to have amazing curls without any hassle. It is designed with higher ceramic content so that it heats up fast. It has 30 heat settings that go up to 375oF and the Turbo Heat boost feature for difficult-to-style spots. It has an easy-to-handle cool tip and an auto-shut-off feature to enhance the safety quotient and save you from accidental burns. With this curling iron, you can easily have beautiful, classic curls without causing any heat damage to your hair.
Pros
Fast heating
Value for money
Multiple heat settings
Long-lasting curls
Cons
Price at the time of publication: $16.99
The Wavytalk Small Curling Iron is the perfect choice for hair styling. Its ceramic-coated barrel seals moisture in the hair and adds shine. The 9 temperature settings give you control over the heat setting to achieve perfect curls while limiting damage. The small barrel heats up to 360℉ within 30 seconds. It also has a 60-minute auto shut-off and temperature setting lock, so you can style with peace of mind without worrying about safety. This lightweight curling wand comes with a tangle-free swivel cord, allowing users to create tight curls and long-lasting styles easily and safely while traveling.
Pros
Long-lasting curls
Good temperature control
Instant heating
Easy to use
60-minute shut-off
Gives natural-looking ringlets
Cons
None
Price at the time of publication: $25.99
Don't forgo your hairstyling routine just because you are traveling! This 2-in-1 combination of a curling iron and hair straightener can be used anywhere in the world if you have an appropriate adapter plug of the country you are planning to visit. This gold styling tool features a concave and convex plate heating surface with tourmaline technology that helps in the even distribution of heat. This, in turn, eliminates frizz, reduces damage, and helps give your hair a smoother and silkier finish. It is compact and lightweight and comes with a storage pouch and a heat-protectant glove.
Pros
Titanium plate technology reduces hair damage
Helps you achieve frizz-free and shiny hair
4 adjustable temperature settings
360° swivel cord
Travel-friendly
Includes a pouch and a glove
Cons
May take longer to curl your hair
Price at the time of publication: $25.99
The Herstyler Grande Ceramic Curling Iron is all you need to create free-flowing, glossy curls. It produces natural-looking results and negative ions to ensure your locks stay sleek, and provides a comfortable, speedy experience. The Teflon barrel is perfect for dry and damaged hair and the 1-inch barrel is suitable for all hair types. This user-friendly curling iron is the ideal tool to achieve your perfect curls with no frizz.
Pros
Easy to use
Value for money
Frizz-free curls
Long-lasting curls
Fast heating
Cons
The handle can be flimsy.
Price at the time of publication: $27.99
From ringlet curls to retro waves, you can curl your hair in a multitude of ways with this dual voltage curling iron set! It comes with 5 barrels of varied sizes, ranging from 0.5 to 1.25-inches. Each barrel features ceramic tourmaline technology that helps seal moisture in your hair, cuts down frizz, and gives you smooth and shiny curls. It has the ability to heat up in just 60 seconds, while the 5 temperature setting feature makes this curling iron ideal for all hair types and textures. Additionally, this set includes 2 hair clips, a protective glove, and a travel case.
Pros
5 easy-to-interchange barrels
LCD screen stops flashing once the desired temperature is achieved
60-minute auto shut off function
UL certified 8-feet fully swivel cord
Thermally insulated tips
Heats up fast and evenly distributes heat
Includes a stand to hold the curling iron
Cons
Price at the time of publication: $36.99
The Mint Professional Extra Long Curling Iron takes styling to the next level. Its 1.25-inch barrel, dual-heater system, and even heat distribution make it a breeze to get the perfect look. It also has an EasyGlide clamp that adjusts at just the perfect pressure and is equipped with adjustable temperature settings that range between 270-430oF, allowing you to style thin, medium, or thick hair safely. This hot iron contains a variety of heat-resistant and protective features. This styling tool features ceramic, tourmaline, and ionic barrels to create a healthy and glossy style. The iron has a 60-minute auto shut-off for your safety and has a color-changing band to indicate when the iron is heated. The grooves in the handle help protect your fingers from the heat. The curling rod is perfect for getting long-lasting beachy waves.
Pros
Adjustable temperature settings
60-minute auto shut off
Best for long hair
Frizz-free smooth finish
Long-lasting results
Cons
Price at the time of publication: $99.97
The Le Angelique Reverse Tapered Curling Wand is suitable for all hair types to create different styles and curls and can last through a night out. This ceramic curling iron provides even heat distribution for beautiful curls and works best on medium-thick hair. It has an extra long 6-inch non-stick barrel and a heavy-duty, long-life heating element which helps avoid overheating and burning. The tangle-proof swivel cord and easy grip handle make it easy to use, while the safety on-and-off switch and the light indicator provide additional safety features. This curling iron also comes with a heat-protective glove and 2 clips.
Pros
Long-lasting curls
Value for money
Easy to use
Heat resistance
Good temperature control
Cons
Takes a long time to curl the hair
Price at the time of publication: $35.99
The Vavoov Ceramic Curling Iron has a 1.2 inches barrel that is perfect for giving you the most desired loose or even tight curls. In addition, it features the MCH heating technology that heats up quickly in just a minute and offers adjustable temperature ranging from 180℉ to 450℉, suitable for styling all hair types. The curling iron has a 9 ft long 360°swivel power cord and features a 60 minutes auto shut-off function. This curling iron also comes with a heat-resistant glove.
Pros
9ft long 360°swivel power cord
Adjustable temperature
Auto shut-off
Easy-glide surface
LCD Display
Fast heating
Cons
None
Price at the time of publication: $32.99
The TYMO CUES 3-in-1 Curling Iron Set makes styling easy and effortless. With its three different sizes of ceramic barrels- 0.5, 1.0, and 1.5 inches – you'll be able to create everything from tight curls to a wave-textured beach look. The NTC intelligent temperature control system and its millions of negative ions ensure that your heat settings stay consistent for smooth, frizz-free results. The thickened ceramic coating on the barrels protects hair strands against breakage. The set also comes with a thermal plug that automatically switches to different voltage levels when you are traveling, as well as a protective glove, two hair clips, and a leather bag to store your styling tool.
Pros
60-minute shut-off
Fast heating
Suitable for multiple hairstyles
Comes with accessories
No mechanical friction
Cons
Not ideal for really thick hair
Price at the time of publication: $69.99
That was our list on the 13 best dual voltage curling irons. Read on to learn more about this versatile device and how to settle on one that is best suited for your tresses.
How To Choose A Dual Voltage Curling Iron 
Dual voltage curling irons come with different barrel sizes. Consider your hair length and the hairstyle you want to achieve before you make your pick. For those with short hair or who wish to have tight curls, 1-inch barrels or smaller will do. If you have long hair and want to get beach waves or loose curls, opt for a bigger barrel. These barrels can go up to 2 inches wide.
Curling irons are generally made of materials like chrome, metal, Teflon, ceramic, or tourmaline. Though metal and chrome are cheaper, investing in a curling iron made of ceramic or tourmaline plates would be the best choice for your hair. They counter the positive ions released by your hair with negative ions and ensure hair is left feeling smooth, silky, and frizz-free.
We are all aware of the heat damage caused by styling tools. Some curling irons do not offer different temperature settings or even temperature distribution. In the long run, this could make hair dry, brittle, and susceptible to breakage. When you buy a curling iron, ensure it has different temperature settings with even distribution so you can choose a setting that works for your hair.
Technology has come a long way, and you can find many useful features in a dual voltage curling iron to make your styling experience better. These include features such as automatic shut-off, long swivel cord, insulated wand tip, a wide LCD screen, and more. Choose curling irons that have most or all of these features to guarantee hassle-free styling.
How To Use A Dual Voltage Curling Iron

Step 1 – Protect your hair with a heat-protection product.
Step 2 – Section your hair in equal portions.
Step 3 – Hold the wand vertically with the narrowest end pointed down and wrap a hair section around the wand.
Step 4 – Hold it for 5-10 seconds before you unwrap it.
Step 5 – Clip it up and set it with hair spray for a longer hold.
Why Trust StyleCraze?
The author, Kirtana Divakar, is a haircare lover constantly on the lookout for products that combine style and comfort with one's love for traveling. She knows that the ideal curling iron can be your best friend at a beach or your best friend's wedding. Kirtana kept all this in mind and went through user feedback on trusted online forums to bring you, the readers, the top curling irons to buy. This list provides a variety of curling irons that is heat-resistant, compact, portable, and affordable.
Frequently Asked Questions
Why do you need a dual voltage curling iron?
Unlike regular curling irons, a dual voltage curling iron works in any country when you are traveling. Most dual voltage curling irons are quick and eliminate frizz instantly.
Is it OK to use a dual voltage curling iron every day?
No, using a dual voltage curling iron daily may damage your hair. Use it twice or thrice weekly to keep your tresses smooth and nourished.
How do you know if a curling iron is dual voltage?
Check the rating of the curling iron on its body. Single voltage curling irons are marked "120V" or "120V 60Hz" power. Dual voltage curling irons have "120V-240V" or "120V 60Hz/240V 50Hz" written on them.
How long should a dual voltage curling iron last?
A dual voltage curling iron lasts between 500 to 1,000 hours. This is approximately 20 days to 40 days.
Can I use a dual voltage curling iron in Europe?
Yes. You may use a dual voltage curling iron of 120V or 125V in Europe with an adapter plug. However, consult an electrician for safety before using one.
Recommended Articles