The 10 Best Duck Boots For Women That'll Keep Your Feet Dry – 2022
Complement your outfit with stylish boots that keep you warm and serve a dual purpose.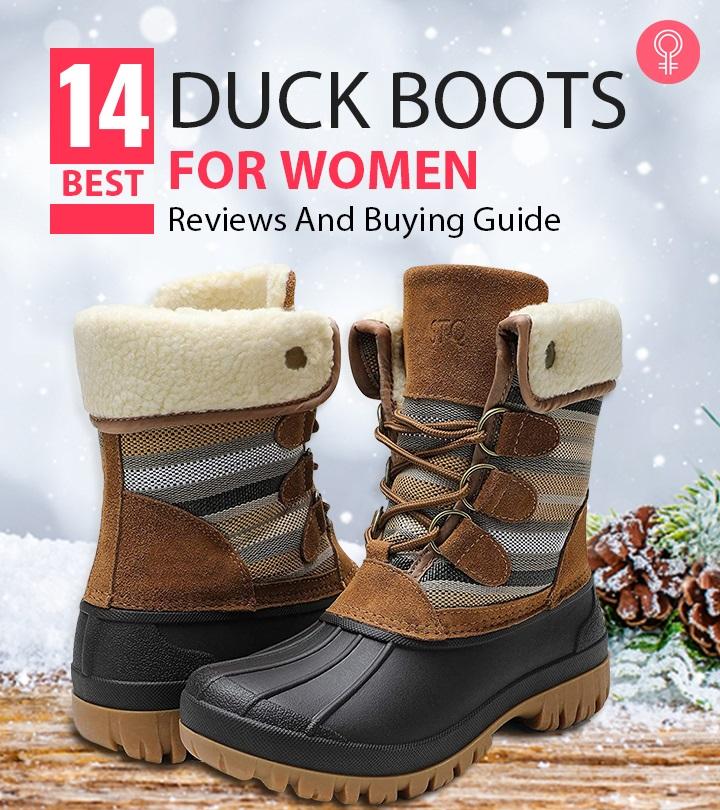 Duck boots are ideal for keeping your feet warm on rainy and snowy days. Unlike olden days duck boots, modern-day duck boots are convenient and sophisticated. The best duck boots for women are ideal for outdoor activities in cold climates. You can play in snow or splash in puddles as they are water-resistant and come with rubber soles for durability. In addition, duck boots provide a good grip. These duck boots come with stylish designs and can create a fashion statement. You can pair them with any outfit. Check out the 10 best duck boots ideal for women. Keep scrolling through!
What Are Duck Boots?
Duck boots are durable and water-resistant boots with rubber lower and leather upper sections. They are great footwear choices for colder and wet regions. Duck boots are sturdy, hardy, and stylish and are designed to fit any outfit. These boots usually fit the bill no matter your routine. Whether you're going on a hike or just walking down your neighborhood in a casual outfit, these boots are an excellent option to keep your feet warm and dry.
Here are the 10 best duck boots for you to choose from.
10 Best Duck Boots For Women – 2022 Update
The Waterproof Women's Duck Boots by STQ are designed to provide the ultimate comfort that your feet need to fight the cold. The boots come in a brown shade and are made of faux lamb wool. The tongue inside and the lacing aglets have the perfect insulation to keep your feet dry and warm throughout the winter. In addition, these boots feature a faux-fur trim at the collar for enhanced comfort and style. The extra warming insulation and soft insole enable these boots to keep you comfortable even in weather as cold as -26o C.
Specifications
Available Colors:Taupe/Tan, Navy/Tan, and Black/Stripe
Available Sizes:6 to 11
Pros
Durable
Good traction
Slip-resistant
Easy fit
Wear-resistant
Faux shearling collar
Waterproof
Cons
None
These Duck Boots by Chenghe feature durable rubber soles that provide excellent traction even on the most slippery grounds. These rubber duck boots for women feature an outstanding design that will give you that royal look you need to make a bold fashion statement. They have a modern and stunning look that will match perfectly even with casual wear. Their round-toe style is enhanced with a lace-up design. Moreover, their comfortable chunky mid heels offer stability and ensure that you can walk comfortably for hours. In addition, the boots have a soft PU suede upper and comfy cotton lining that will keep your feet warm and dry all day. Finally, these boots are durable, best for rainy weather, fashionable, and will go well with skirts and jeans.
Specifications
Available Colors: Fur Lined Brown, Fur Lined Beige, Fur Lined Black, and Fur Lined Dark Black
Available Sizes:6 to 11.5
Pros
Easy snug fit
Versatile design
Soft plush cotton lining
Waterproof rubber upper
Anti-slip rubber sole
Durable
Cons
No insole padding
Not true to size
Dksuko offers yet another excellent pair of duck boots for women. They come with a slip-resistant rubber sole that will enable you to walk safely anywhere. The top-notch construction with a perfect PVC and cotton combination makes these boots waterproof and warm for your feet. In addition, they have a diverse style and outstanding fashion design that will match most of your casual wear. These boots are perfect for a hike in wet and colder regions.
Specifications
Available Colors: Brown A, Grey D, Leopard, Brown C, Black C, Black D, Black A, Blue D, Brown B, Black B, and Blue A
Available Sizes: 6 to 11
Pros
Fit well with thick socks
High-quality construction
Durable
Waterproof
Anti-slip sole
Cons
This pair of duck boots for women by Skechers features a rubber sole with excellent traction and durability. Their synthetic upper and parka nylon fabric create a perfect combination of style, beauty, and durability. Additionally, the boots include memory foam in the interior that is meant to enhance your comfort even when worn for long hours.
Specifications
Available Colors: Black/Charcoal, Black/Black, Natural/Tan, Charcoal, and Navy/Red
Available Sizes:6 to 8
Pros
Easy to wear
Snug fit
Flexible material
Cons
May not be ideal for heavy rains
The Twisted Becca Women's Boots are constructed to withstand heavy snow and rains. They are super cute and stylish with solid and gorgeous contrasting colors. The top of the boots features a faux leather matte finish and a seamlessly made shiny bottom half. This high-quality construction with light nylon and faux fleece lining makes these boots keep water out so that your feet can remain warm and dry.
These winter duck boots for women come with rubber soles, which provide maximum traction so that you can comfortably walk on any surface without the risk of slipping or falling. A soft inner tongue and lining offer warmth and ventilation to enhance comfort. The boots are lightweight and will feel nice even after many hours of wearing.
Specifications
Available Colors: Black/Black, Brown, and Navy
Available Sizes:6 to 11
Pros
Vegan leather
Durable
Non-slip rubber treads
Waterproof
Mud-proof
Lightweight
Cons
Difficult to wear with thick socks
The Women's Duck boots by HZSTAY make a perfect option for enjoying long and steep hikes. Their rubber sole ensures maximum traction to allow you to walk on any surface without worrying about slipping and falling. The upper features cow suede leather reinforced with windproof nylon material. In addition, the boots feature a super soft fur in the interior that adds maximum warmth and comfort without making them heavy. The soft fur on the top-line helps prevent the snow from getting anywhere close to your feet. You can also easily adjust the laces for a custom fit.
Specifications
Available Colors: Gray, Black-Tpr outsole, Tan-Tpr outsole, and Tan
Available Sizes:7 to 11
Pros
Lightweight
Waterproof rubber shell bottom
Windproof material
Can fit thick socks
Cons
Poor stitching around eyelets
The Monoblanks Women's Duck Boots feature a super cute design and state-of-the-art construction that is fashionable and ideal for the rainy season. These duck boots have a high-quality rubber sole that guarantees you maximum traction for safety. In addition, they have a PU leather upper with a soft lining that enhances comfort. These waterproof duck boots are great for outdoor activities in wet climatic conditions. The boots pair well with any outfit, including jeans, skirts, or dresses.
Specifications
Available Colors: Black, Black Stripe, Brown, Leopard, Linen, and Navy
Available Sizes:6 to 11
Pros
Durable zippers
Waterproof
Sturdy material
Steady heel support
Cons
These boots will match well with any outfit that you wear, from jeans to skirts to dresses. These Winley Duck Boots by London Fog are stylish and designed to withstand extreme weather conditions, making them great for regular use. The boots feature a synthetic sole and nylon quilted material on the top. They make a fashion statement without compromising on the durability. The micro-fleece lining on the inside is meant to keep your feet dry and warm to ensure maximum comfort.
Specifications
Available Colors: Navy/Cognac, Brown/Cognac, Yellow/Cognac, Aqua/Cognac, Pink/Cognac, and Black Nylon
Available Sizes:6 to 11
Pros
High-quality stitching
Microfleece lining for added warmth
Cons
None
The Maxmuxun Winter Duck Boots are perfect for making a fashion statement during rainy days. These duck boots for women have a unique look as the faux suede and lace are excellently matched. In addition, they have a rubber outsole that ensures maximum traction and a cushioned insole for maximum comfort. It is easy to slip these boots on and off, and the top-notch outsole offers proper support so that you can take long hikes without worrying about your feet getting fatigued.
Specifications
Available Colors: White-fur Lined, Black-plaid, Camel-plaid, Grey, Black-fur Lined, and Black-2
Available Sizes:6 to 11
Pros
Durable
Waterproof
Convenient design
Non-slip rubber sole
Cons
Not warm enough for cold regions
This great pair of waterproof Quilted Duck Boots by STQ is an ideal choice for women living in colder regions. The boots have a non-marking TPR sole with a wave-and-lugs pattern that offers great traction to ensure safety and comfort while walking on wet grounds. In addition, these boots feature a microfleece lining on the inside that provides warmth and keeps your feet dry and cozy. The quilted synthetic shaft and adjustable laces with rust-resistant eyelets offer a secure fit while maintaining the style and functionality of the boots. It is easy to slip these boots on and off.
Specifications
Available Colors: Black Plaid, Grey Plaid, Navy Brown, and Navy Plaid
Available Sizes:6 to 11
Pros
Waterproof
Zip-up design
Adjustable laces
Non-slip rubber sole
Wear-resistant
Strong grip
Cons
None
As mentioned, duck boots go perfectly with a variety of outfits. The following are just but some ideas on how to wear duck boots.
How To Wear Duck Boots
Slim-Fitting Bottoms: You will look amazing when you put on those tight pants with these large boots. For an outstanding and stylish look, you can try leggings, skinny jeans, or even slim-fitting trousers. You can tuck your pants into the boots to get a seamless silhouette.
Skirt And Leggings: Wintertime can be too cold for your legs, especially when you decide to wear a skirt. You can pair it with leggings and slip these boots on to maintain that casual and simple outfit.
Tops Matching With Boots: You can play with a variety of colors and the boots will still look great on you. You can try matching your coat, blazer, or skirt with the color of your boots. For instance, if you have brown duck boots, pair them with a tan or camel overcoat and look effortlessly elegant.
Oversized Top: Duck boots are designed for cold weathers and so are comfy coats and sweater tops. So, you can pair the boots with an oversized flannel, long cardigan, or a puffy coat to get that excellent chilly day look. The boots can also match well with beanies and scarves when you are looking to keep yourself warm.
There are many benefits you can enjoy by wearing a pair of high-quality duck boots. Some of these benefits include the following.
What Are The Benefits Of Wearing Duck Boots?
Warmth: Duck boots are designed to keep your feet warm and dry on snowy or rainy days. When your feet are kept warm, chances of your body absorbing cold are significantly reduced.
Protection Against Cold Water And Snow: Duck boots are waterproof. They are made with materials that do not allow water or snow through even during heavy rains or snowfall. The boots keep your feet dry and warm in wet and freezing climates.
Good Traction: Duck boots come with high-quality synthetic soles that ensure maximum traction to allow you to walk comfortably and safely. You don't have to worry about slipping and falling while wearing duck boots.
Fashion: Duck boots go well with a variety of outfits, especially casual. They are stylish and excellent for making a bold statement on special occasions like parties, dates, and vacations.
Duck boots are essential for those living in cold and wet regions as they ensure warmth and comfort even in extreme climatic conditions. They offer good grip during steep hikes and keep water and snow from entering the shoes. Here are a few crucial points you must consider while buying a pair of duck boots.
How To Choose The Best Duck Boots For Women
Non-Insulated: If you wish to wear your boots in both snowy and rainy weather, you may want to consider buying a non-insulated pair. The shoes must also have sufficient room to allow for wearing thick socks underneath them.
With Insulation: Insulated duck boots can withstand extreme cold temperatures and ensure proper warmth and safety for your feet.
Water Resistance: Though the shoes are waterproof, they might still get porous. Hence, opt for high-quality waterproofing for extreme climates. Rubber outsoles offer proper water resistance and a good grip.
Durability: Do check the quality of the outsole. It should be sturdy and made of good quality rubber and thread pattern.
Comfort: Make sure you opt for the right fit according to your foot size. The wrong size may lead to blisters as well. Also choose duck shoes with a high collar and a warm lining for protection against extreme cold.
Budget: Duck boots are available at several price points. The durable variants are usually pricey. Hence, set a budget for yourself and go for the best options with maximum features.
Why Trust StyleCraze?
The author, Baishali Bhattacharya, is a certified image consultant who loves to review different fashion products. She has carefully listed these duck boots for women based on user reviews and feedback on multiple forums and brand websites. These duck boots come with stylish designs and create a fashion statement. They are water-resistant and feature rubber soles for durability.
Frequently Asked Questions
Can you wear duck boots in any weather?
Although duck boots are typically designed for winters, you can wear them in any climate. You just need to choose the right pair for your needs. If you put some thought into styling them, duck boots can also become your go-to footwear in summers.
Do you tuck jeans into duck boots?
You're free to tuck the edges of your jeans into your duck boots to attain that polished casual look. This can be done even if the boots aren't as tall as the traditional variants. Alternatively, you can wear a skinny pair of jeans if you don't want to tuck in.
Why are duck boots called so?
Duck boots are called so because their water-resistant design is inspired from rubber duck toes. They usually come with comfortable round toes that don't squeeze the feet.
Are duck boots slippery?
Most duck boots are waterproof and slip-resistant for use in the winter.
Are duck boots heavy?
No, most duck boots are lightweight and comfortable to wear.
How do you maintain duck boots?
First, brush off the dirt and wipe the boots with a damp cloth. You may apply a stain remover and keep it overnight. Next, apply a boot protectant on the leather bits and let it sit for a while. Then, apply a moisturizer on the leather bits l. To clean the inside, use a 50-50 water and vinegar mix and apply a few spritzes to remove any odor.
Recommended Articles