8 Best Ductless Range Hoods – Reviews And Buying Guide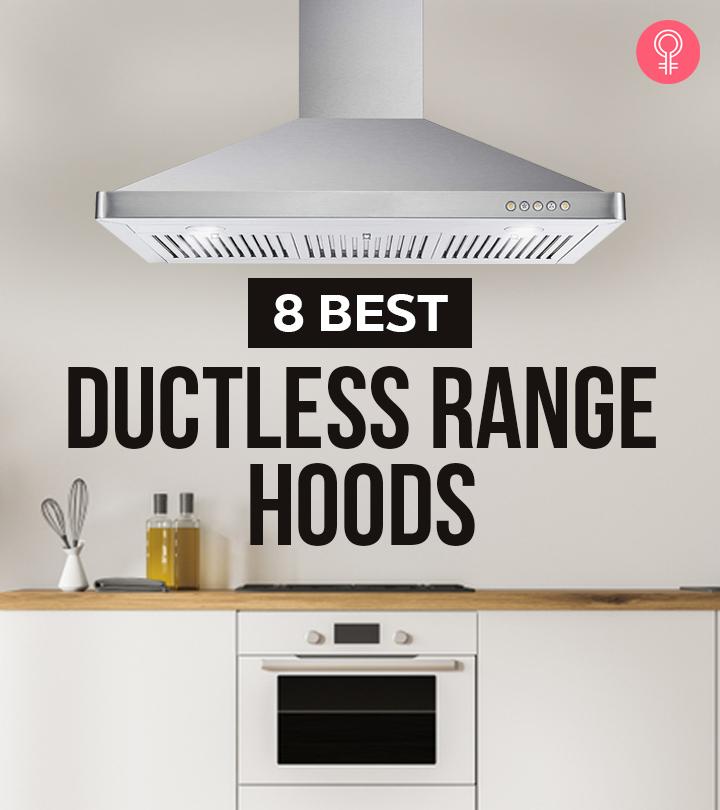 A ductless range hood is a self-ventilating range hood that works like an exhaust fan and sucks in the grease, smoke, odor, and fumes released while cooking. It prevents one from inhaling the pollutants and smoke and creates a healthy and fresh home environment. Unlike the ducted range hoods, these units are vented inside the home above or behind the cooktop.
These units are incredibly economical and keep the kitchen cleaner. If you are looking to purchase one, we have you covered. Choose from these 8 best ductless range hoods available on the market.
8 Best Ductless Range Hoods
The Broan-Nu Stainless Steel Ductless Hood not only improves ventilation but also enhances the lighting over your stove for hassle-free cooking. It features a powerful non-ducted filtration system that effortlessly removes odor and smoke from the kitchen. It comes with a protective lamp lens that evenly distributes light over the cooktop and accepts a 75W bulb. Additionally, its replaceable charcoal filter makes cleaning more effective and quick.
Specifications
Size: 30 inches
Filters: Charcoal
Material: Stainless steel
Watts: 240
Pros
Available in appliance-matching colors
Effective filtration
Lightweight
Easy to install
Cons
The Cosmo Under Cabinet Range Hood comes with 3-speed exhaust fans, reusable filters, and LED lights for efficient use. It can be installed as a ductless hood, and its vent hood effectively filters the air in the kitchen. Its multi-layer filters trap grease more quickly, and the mounting kit and user manual allow easy installation. Additionally, its high-lumen LEDs improve visibility while also being energy-efficient. This appliance is an excellent pick if you are looking for a durable hood as it is made of 20-gauge thickness and 430-grade stainless steel.
Specifications
Size: 30 inches
Filters: Aluminum-mesh filters
Material: Stainless steel
Watts: 160
Pros
Energy-efficient motor
Multi-layered filters
Powerful exhaust
Quiet operation
Effective LED lights
Proper airflow
Cons
The CIARRA Under-Cabinet Range Hood combines style and function. It quickly neutralizes odor with its 3-speed exhaust fan and powerful filters. This slim range hood features a modern design and can be used as a ductless hood with carbon filters. The hood operates quietly, making no more than 65 dB noise, and comes with push-button control for convenient use. It comes with low/medium/high-speed buttons to suit different cooking methods.
Specifications
Size: 30 inches
CFM: 200
Fan: 3-speed exhaust fan
Filters: Aluminium-mesh filters
Material: Stainless steel
Watts: 160
Pros
LED lights
Space savvy
Energy-efficient
Environment-friendly
Easy to clean
Durable
Cons
No proper installation manual
The Cosmo Wall Mount Range Hood will add to the beauty of your contemporary kitchen with its modern looks and design. This hood adds a touch of sophistication to your kitchen with its design that complements varieties of kitchen decorations. It is made using 20-gauge thickness and 430-grade stainless steel. The wall mount range instantly ventilates the kitchen while the 2-watt LEDs illuminate the cooking area for an enhanced cooking experience.
Specifications
Size: 36 inches
CFM: 380
Fan: 3 fan speed
Filters: aluminum-mesh filters
Material: Stainless steel
Watts: 180
Pros
Energy-efficient
Dishwasher-safe filters
Low-maintenance
Easy to install
Durable
Cons
The Air King Ductless Range Hood features a sleek, low-profile design and comes with a dual rocker lighting control switch for illuminating your cooktop. This white steel 2-speed range hood offers powerful ventilation and features 23-gauge steel construction for durability. This space-savvy range hood is an excellent option, especially if you are living in a compact space.
Specifications
Size: 21 inches
Filters: Aluminum-mesh filters
Material: Stainless steel
Watts: 60
Pros
Quiet operation
Easy installation
Versatile
Lightweight and compact
Durable
Cons
None
The Kitchenexus Range Hood removes smoke and odor efficiently from the kitchen with its hybrid stainless steel filters and powerful motor. It comes with a modern, high-quality touch panel display for smooth functioning and full access to different settings. This ultra-quiet hood comes with hybrid filters that are constructed using stainless steel mesh and to capture grease and prevent cooking odor.
Specifications
Size: 30 inches
CFM: 300
Filters: Stainless steel mesh filters
Material: Stainless steel
Watts: 110
Pros
High-lumen LED lights
Dishwasher-safe filters
Durable
High-efficiency suction
Ventless
Cons
The KOBE Brillia Ductless Range Hood is made using 18 gauge stainless steel. This unit is highly durable and features a seamless design with a satin finish. Additionally, it comes with 3-speed push-buttons with low, medium, and high modes for cooking various foods. Its 3W LED lights help illuminate the cooktop so you can cook in a hassle-free manner. This heavy-duty ductless hood is equipped with dishwasher-safe filters and charcoal filters for easy and quick cleaning.
Specifications
Size: 30 inches
CFM: 400 CFM
Filters: Charcoal filters
Material: Stainless steel
Watts: 232
Pros
Easy to install
Excellent air filtration
Long-lasting
Noiseless performance
Powerful suction
Cons
None
With convertible range hoods and heavy-duty stainless steel construction, the EKON Wall Chimney Range Hood is here to impress you. The hood provides an odor- and smoke-free environment while keeping your kitchen fresh. It features a powerful 4-speed motor with 1-15 minutes adjustable timer to effortlessly remove a large amount of odor and smoke from the kitchen. This range hood is quiet when compared to other hoods – it makes no more than 60 dB while functioning.
Specifications
Size: 30 inches
CFM: 900
Filters: Stainless steel filters
Material: Stainless steel
Watts: 230
Pros
Dishwasher-safe filters
Touch control LCD display
Sturdy
LED lamps
Removable, cleanable filters
Remote control
Ductless range hoods are available in a variety of colors, materials, sizes, and prices. Hence, it might seem a tricky task to pick a model that suits you. The following buying guide can make your job easier.
How To Choose A Range Hood
Size and Power: The size of the range hood can be determined based on the size of your stove or cooktop. If you have a bigger and broader stovetop, pick a range hood that covers the cooktop. Also, if you cook using more burners, you will need a range with a powerful suction. Thus, look for these features before buying a range hood.
Filter Maintenance: With a ductless range hood, you will not be venting outside. Hence, you will need an appliance with powerful, removable, and low-maintenance filters. The powerful and removable filters can efficiently capture odor, smoke, and grease. Regular maintenance is needed to improve its efficiency. In such cases, removable and dishwasher-safe filters are the best. You can remove the filters, clean them in the dishwasher, and mount them back.
Mounting Arrangement: Ductless range hoods can be mounted on the wall, between the cabinets, and over an island. Thus, before investing in a range hood, look for mounting kits and make sure that you choose the range hood that suits your kitchen arrangement.
Design: If you are remodeling your kitchen, it is essential to consider the design and style of a range hood. A range hood acts as a focal point of your kitchen, so choose the one that matches your kitchen's aesthetics. There are plenty of color and design options available. Pick the design that matches your kitchen décor.
Price: A heavy-duty and durable range hood does not have to come at a heavy price. You can get a durable and functional range hood at reasonable prices. Just ensure it is made using high-quality materials and comes with long-lasting filters. You can buy a stylish, practical, and low-maintenance range hood within $100.
How Does A Ductless Range Hood Work?
A ductless range hood comes with removable charcoal filters that suck up the heat, smoke, grease particles, and fumes. The unit then filters the air and recirculates it back into the kitchen. Unlike ducted range hoods, it does not release the smoke outside. It can be mounted on the cooktop or the wall behind the cooktop.
What Are The Benefits Of A Ductless Range Hood?
Here are some of the benefits a ductless range hood offers:
Quick And Easy Installation: Unlike the traditional ducted range hoods, the ductless hoods are easy to install. You do not need a metal vent or vent covers to install the hood. The ductless range hood eliminates the hassle of installing an exterior vent and saves time. You can install a ductless range hood in 10 minutes. Simply add a few screws and plug the range hood into the outlet, and you are done.
No Back Drafting Or Air Pressure: Ductless range hoods are self-circulating, and thus, you do not have to worry about the negative air pressure created by standard range hoods. Exterior vented range hoods and ducted hoods can produce carbon monoxide hazards and exhaust them back into the kitchen. The ductless range hood prevents such issues with its self-circulating feature.
Indoor Air Quality: Carbon monoxide and nitrogen dioxide are the pollutants released from cooking. These indoor pollutants can degrade the air quality inside your home. With the ductless range hoods, you do not have to worry about these pollutants and the odor. It improves the air quality inside your home and keeps the air fresh.
Energy Loss: The ducted range hoods may cause energy loss. But the ductless variants do not. The air-conditioned air remains in your home, and there are no signs of leakage with a ductless range hood.
How Do You Install A Top-Quality Ductless Range Hood?
Ductless range hoods usually have a straightforward installation process. You need a few screws and a kit for quick installation. To install a wall-mounted range hood, use a few screws and secure them under the cabinet, behind the stove's wall, or above the stove. Plug the unit into a wall outlet and start using it. For hardwired units, you will need an electrician who can wire the unit into the electrical system. Additionally, all the ductless range hoods come with an instruction manual. Ensure you read the manual carefully. Call an electrician for installation, if needed.
Ducted Vs. Ductless Range Hoods
Ducted range hoods vent outside, and thus, suck the pollutants from the kitchen and release the odor grease and smoke outside. On the other hand, a ductless range hood removes grease, smoke, and smell from cooking. These hoods use a charcoal filter to purify the air. They do not release the smoke outside the home but recirculate fresh air.
If you are remodeling your kitchen and need a low-maintenance and an affordable hood, a ductless range hood is a great pick. You get multiple space locations for installing them. They are easy to clean, as well. Consider the factors such as noise level, CFM, removable filters, etc. for making the right buying decision.
Conclusion
A ductless range hood is the best solution to remove grease, smoke, and fumes from your kitchen and promote fresh air. With several colors, styles, designs, and features available, you can find the right one that caters to your needs. Pick a versatile range hood from this list today.
Frequently Asked Questions
What size range hood do I need for a 30-inch range?
It is recommended to buy a range that is 1-2 sizes larger than your cooktop size. If your cooktop is 30 inches long, buy a range that is 36 inches long.
How many CFM do I need per square foot?
The CFM is estimated based on the size of the stove. For a 10-inch stove, you will need a 100 CFM range hood.
Do recirculating range hoods really work?
Yes. Recirculating range hoods recirculate air inside the house and prevent energy loss. These models are inexpensive, easy to install, and safe to use.
Are charcoal filters effective in range hoods?
These filters are constructed to be effective at removing grease and odor from the hood. These filters are removable and very easy to clean. You can also replace the filters every 4-8 months for sufficient ventilation.
Is a range hood really necessary?
Yes. Cooking produces a lot of indoor pollutants along with smoke, grease, and odor. A range hood efficiently removes the pollutants and odor from home and promotes fresh air and a healthy environment. It also prevents bacteria, germs, and contaminants in the kitchen.
Can you use a ductless range hood with a gas stove?
Yes. A ductless range hood can be used with a gas stove as well as electric cooktops.
Recommended Articles
The following two tabs change content below.

Latest posts by Harini Natarajan (see all)

Harini Natarajan
As Chief Editor, Harini sets the tone and editorial direction for StyleCraze to deliver engaging, interesting, and authentic content revolving around women's health, wellness, and beauty. She has over 14 years of experience in content writing and editing for online media. She specializes in the areas of Beauty, Lifestyle, and Health & Wellness and is proficient in Medical Sciences (Biology, Human Anatomy and Physiology, and Biochemistry). Her background in Biomedical Engineering helps her decode and interpret the finer nuances of scientific research for her team. Harini is a certified bibliophile and a closet poet. She also loves dancing and traveling to offbeat destinations.