The 12 Best Dumbbells To Use At Home (2023) + Buying Guide
For getting in shape easily and effortlessly in the comfort of your home.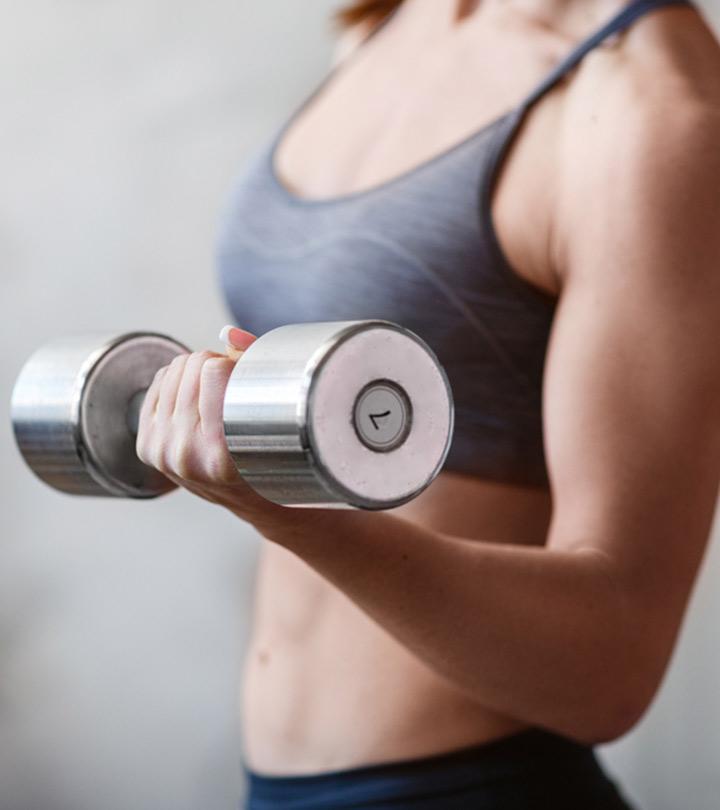 Opting for the best dumbbells means equipping your home gym with an accessory that is easy to use and effectively helps burn calories as well.
Dumbbells help tone specific groups of muscles, and when you're trying to pick one that helps you achieve your fitness goals, our list of the 12 best dumbbells is here to your rescue!
Top Picks
11 Best Dumbbells For Home Gym
Pros
Easy-grip coating
Budget-friendly
Suitable for physical therapy
Attractive color-coded covering
Comfortable to hold
Easy to assemble
Cons
The center of the dumbbells is too thick
The Alta Soft-Touch Weights are made with soft, non-sticky silicone that is easy to grip. These dumbbells are infused with silver, which reduces the chance of infections and prevents bacterial buildup in your hands. They have a smooth finish, and the soft surface enhances your workout experience.
The hexagonal design of these dumbbells not only looks amazing but also prevents accidental rolling. Exercise with these tools and never fear developing calluses in your hands. These dumbbells are ideal for indoor and outdoor use and help you develop toned arms and strong core muscles.
Specifications
Available Weights: 3, 5, 8, and 10 pounds
Material: Silicone
Shape: Hexagonal
Usage: Indoor and outdoor
Pros
Non-sticky
Easy-to-grip handles
Slip-resistant
Cons
None
Pros
Unisex design
Easy to assemble
Durable
Strong grip handles
Adjustable weights
Value for money
Cons
Weight may get stuck at times when changing
Price at the time of publication: $299.99
Pros
Anti-slip handle
Durable
Adjustable weights
Offers noiseless operation
Safety lock
Space-saving design
Value for money
Cons
None
Price at the time of publication: $199.79
Pros
Comfortable grip
Sturdy
Durable
Reduces noise
Value for money
Easy to use for multiple exercises
Easy to store
Travel-friendly
Cons
The handle diameter may be too large for some
Price at the time of publication: $54.99
If you want an ergonomic grip and a lightweight dumbbell set for enhancing your regular workout, the Tone Fitness Hourglass Dumbbells could be the right pick. This 20-pound hourglass dumbbell set is made of neoprene coating to withstand wear and tear. The coating also protects the floor from any damage.
The ergonomic design with a unique shape allows easy hold. The color-coded numbers on the end cap are easy to identify. The versatile design perfectly fits your workout and resistance training regime. The entire set comes with a rack for easy storage.
Specifications
Available Weights: 2, 3, and 5 pounds (set of 2)
Dimensions: 14.25″ L x 10.75″ W x 5.5″ H
Material: Soft neoprene
Shape: Hourglass
Usage: Indoor and outdoor
Pros
Suitable for physical therapy
Wear- and tear-resistant
Safe of any flooring
Easy to hold
Easily identifiable weights with color-coating
Storage racks included
Cons
Chemical smell
Poor quality racks
Price at the time of publication: $46.6
The CAP Barbell Dumbbell Set is a great home-gym gear for toning and sculpting arms, back, and chest. The entire set is made with low-emission cast-iron metal construction with durable protective black plastic coating. The dumbbells are made of rubber-coated material for a long-lasting effect. The handles are made of steel. They are ergonomically designed for a comfortable and easy grip.
They have a baked enamel coating that prevents chipping or dents. The hex-shaped end caps keep the dumbbells from rolling. The A-shaped dumbbell rack offers safe and secure storage. The rack is made with steel and finished with a durable black powder coat with rubber inserts. The corresponding weights of the dumbbells feature as raised numbers for easy identification. Go ahead and check out this YouTuber's video for more details about the product.
Specifications
Available Weights: 5, 10, 15, 20, and 25 pounds (set of 2)
Dimensions: Variable
Material: Rubber coated with cast-iron metal rack
Shape: Hex design
Usage: Indoor and outdoor
Pros
Durable
Do not roll down
Easy to grip
Heady-duty dumbbell rack
Space-saving design
Rust-resistant finishing
Cons
Pros
No unpleasant smell
Non-slip design
Comfortable handles
Durable
Rubber rings to protect the floor/dumbbells
Easy to store
Cons
Expensive
The weights may stick together
Price at the time of publication: $50.9
Tone your body with the INVIGALUX Adjustable Dumbbell Weight Set. The 5-in-1 adjustable dumbbell set offers an adjustment feature where you can switch different weights according to your body weight. These dumbbells come with a comfortable handle with an anti-slip design with rubber material that is tiered and wear-resistant. It is specially designed to increase muscle mass, burn calories, encourage weight loss, and comes with a 30-day money-back guarantee.
Specifications
 Available weights: 2.3, 4.8 , 7.1, 9.5, and 11 pounds
 Dimensions: 11.8 inches x 3.5 inches
 Material: Rubber-coated
 Shape: Round
 Usage: Indoor and outdoor
Pros
 Lightweight
 Slip-resistant
 Easy maintenance
 Fashionable design
Cons
None
Price at the time of publication: $34.69
Pros
Compact design
Durable
Space-efficient
Adjustable
Easy to use
Cons
None

Price at the time of publication: $219.0
Pros
Durable
Provides safe grip
Prevents damage to the floors
Ideal for physical therapy
Suitable for seniors
Cons
Only one dumbbell provided
Price at the time of publication: $9.91
Pros
Variable weight ranges
Solid steel cogs
Collar lock for added safety
Textured-handlebars
Slip-resistant
Easy to assemble
Easy to store
Travel-friendly
Cons
None
Price at the time of publication: $61.86
These are the 12 best dumbbell sets for home gyms that you can buy online. In the following section, we have discussed the different types of dumbbells available on the market. Check them out:
Types Of Dumbbells
Adjustable Dumbbells: These are a single pair of dumbbells with adjustable weights. The maximum and minimum weights depend on the exercise regime. These have a metal bar that bears a cross-hatch pattern in the center to enhance the grip. You just need to slide the weight plates at the end of the dumbbells and secure them with the collars.
Fixed-Weight Dumbbells: These are often used in the gym. These dumbbells are made of cast iron and coated with neoprene or rubber for ultimate comfort. They are available in hexagonal or chrome-plated design.
Selectorized Dumbbells: These dumbbells are specifically engineered to improve core strength and are ideal for a home gym. These have a modern design. You can easily adjust the number of plates during a workout by simply moving a selector or turning the dial.
Benefits Of Dumbbells
Dumbbells can provide two types of overload to build your muscles – mechanical and metabolic overload. Heavy-duty dumbbells can generate mechanical overload, whereas moderate-weight dumbbells can produce metabolic overload.
Dumbbell exercises can create both inner and inter-muscular coordination, leading to larger muscle activation.
Dumbbells can benefit both the contractile and elastic elements of muscle tissue.
Dumbbells ensure a different range of motions and focus on different muscle groups.
If you are a beginner, it is important to understand the right dumbbell weight you must go for. The following section can help.
What Dumbbell Weight Should You Buy?
If you are a beginner, pick the lowest weight to build your muscle strength and stamina. Start with 2-3 lbs and gradually increase the weight ranges. Focus on different muscle groups and improve the range of motions.
But, as a general rule, if you want to increase muscle size, take more weights but try a few reps. Take a recovery break in between the reps. If your focus is to improve cardiovascular endurance as well as resistance, the golden rule is to use less weight with more reps. Do not try heavier weights all too soon as they may cause muscle soreness.
The following buying guide can help you make a better purchase decision.
Picking The Right Dumbbells For Home Gym – A Buying Guide
Purpose: For beginners, fixed dumbbells could be ideal. They are easy to carry, easy to use, and are durable. Pros can go for adjustable dumbbells with higher weight ranges.
Design: A compact design with detachable plates and a storage rack is important.
Weight Ranges: Adjustable weight ranges are easy to handle as per your body's strength and stamina. Choose the range as per your needs and experience. The usual weight ranges are from 10 lbs to 200 lbs.
Material: Rubber-coated design with iron-steel handlebars and a textured-knurling feature is among the best materials with better longevity. If you want a more catchy design with vibrant colors, choose color-coated neoprene material.
Shape: The end-plate of the dumbbell should have a hexagonal design to prevent it from rolling down.
Why Trust StyleCraze?
Aditi Naskar holds a diploma in Health & Wellness and is a fitness enthusiast. She loves to help her readers find the right fitness products to stay healthy. She researched the best dumbbells and made a list of them. The listed dumbells will help you burn your calories, and they are super durable. They are a must-have to achieve your fitness goals.
Frequently Asked Questions
Are dumbbells good for losing weight or building muscles?
Dumbbell exercises are excellent to work your triceps and biceps and tighten the glutes. They not only help build muscle but also trim down excess fat and could aid weight loss.
Which dumbbells are better – rubber or steel?
Rubber-coated dumbbells are better as they provide excellent grip and are also slip-resistant.
Can I build muscles only with dumbbells?
No, you cannot build muscle with dumbbells alone. You also need to include cardio exercises into your routine.
What weights should I use for a home gym?
If you are a beginner, pick the minimum weights to build stamina. You may increase the weight gradually. You may select variable or adjustable dumbbells.
Will a 2-kg weight tone the arms?
A 2-kg weight, along with other body-weight exercises, can tone your arms. You may increase the weight as you build strength.
Are home gyms effective?
Yes, they are effective if you arrange them accordingly. Rushing to the gym on your busy days is difficult. But if you have your studio-type home gym, you do not have to miss your workouts.