Top 10 Dust Masks Of 2023 To Protect You From Dust, Pollution, And Allergies
Cover your nose with these to keep the nasty dust particles away from your nostrils.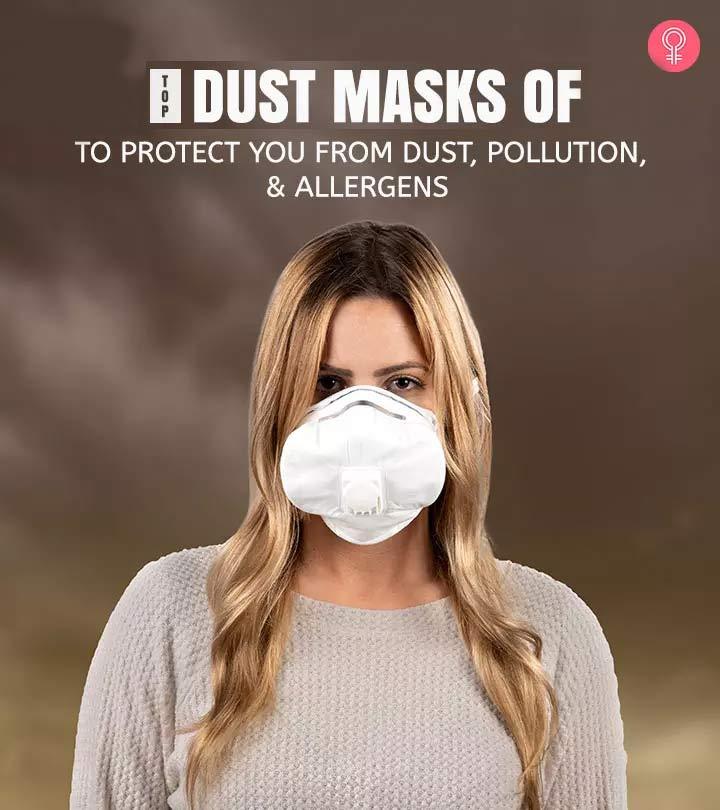 As the years go by, the harsh realities of global warming grow near, and pollution seems to grow out of hand. These days breathing without inhaling dust is quite common in many parts of the world. To protect yourself from dust, make sure you use some of the best dust masks that we've mentioned in our list. Apart from protecting you from dust, these masks may also help prevent some of the other respiratory issues caused by dust. Given that they are abundantly in supply and are inexpensive, using them daily becomes relatively easy and cost-effective.
This article lists out the top 10 dust masks of 2023 to help you choose smartly. But before that, keep scrolling to know what dust masks are, how they work, and how they are different from respirators.
What Is A Dust Mask? How Does It Work?
A dust mask is worn to protect oneself from inhaling dust that contains toxic elements, which can be dangerous for your health. It restricts the entry of pollutants, allergens, dust particles, and other particulates with the help of filters. It is a pad that is held over the nose and mouth by elastic or rubber straps.
This mask can be used as protection against dust from construction or cleaning activities. Dust masks can be worn for comfort against dust, which a person might inhale during gardening, mowing, sweeping, and dusting. Remember, these masks are not respirators and don't provide protection against toxic dust, gases, or vapors.
The typical household dust mask tends to work best by slowing down the flow of air. This slowing down is critical for trapping tiny particles in the mask's filter fiber. Fast breathing can reduce the filtering efficiency of the mask significantly. However, some dust masks, especially those used while cycling, running, or any other task that requires high and fast breathing, are constructed in such a way that they can still filter particles effectively.
Dust masks are constructed with non-woven fibrous filters. The fibers make a crisscross pattern, which, in turn, creates a web of layers. It helps to capture particles that flow through the filter as air is inhaled. The tighter the layers are, the harder it is to breathe.
When particles travel in the air and are inhaled into the mask, they get trapped in the fiber of the mask. This is how the construction helps to trap particles, allergens, and pollutants so that you inhale clean air and keep health issues at bay.
Dust masks and respirators may seem to be the same thing, but they're fundamentally different.
Dust Mask Vs. Respirator
Dust masks are used to filter out dust particles you encounter when you are grinding, sanding, cutting wood, etc. To filter out any chemicals, always use respirators as anything else is ineffective.
Dust masks are not NIOSH approved disposable filtering facepieces and should not be mistaken for NIOSH approved N-95 respirators. To distinguish the two, look for a NIOSH label printed on the box or mask. Also, if the word "respirator" is mentioned on the box, it may indicate that it is a NIOSH approved respirator.
Let's now look at the best dust masks.
10 Best Dust Masks Of 2023
The Base Camp M Plus Dust Face Mask is made of nylon and features EAPI (Electrostatic Adsorption & Physical Interception) Filter Technology. The 6-layers of protection with advanced nanotechnology eliminate up to 99.4% exhaust gas, pollen, dust, particles, and smoke. The AEB system holds the mask in place without slipping. The valves ensure high air filtration and the flexible nose clips prevent fogging. This dust mask is 11.3% more breathable than regular masks and enables supreme air circulation. Watch this video for more information about the product.
Pros
Durable
6-layer filtering structure
Breathable
Adjustable
Lightweight
Washable
Replaceable filters
Includes reusable zip lock packaging bag
Cons
None
Price at the time of publication: $21.99
The Fightech Dust Mask is designed for comfortable protection against non-toxic dust, fumes, pollen, mold, common airborne irritants, and other non-oil based pollutants. Its earloop design helps the mask from slipping off. The dust mask is fashioned to reduce heat build-up inside the respirator.
This mask is equipped with an active carbon filter and is made of comfortable, skin-friendly, breathable fabric. The Fightech Dust Mask is available in many colors and comes in two sizes: youth and adult.
The mask is made of elastic, which makes it easy to adjust to meet most head types. The valves and filters are interchangeable and reusable dust mask and last longer when compared with other respirators and dust masks.
Pros
Elastic material
Adjustable
Reduces heat build-up inside the respirator
Skin-friendly fabric
Earloop for a comfortable and secure fit
Interchangeable and reusable valves and filters
Cons
Causes your safety glasses to fog up
Price at the time of publication: $3.99
This anti-flu and sawdust mask are made from 100% cotton. It is very soft and breathable. You can use this dust mask for camping, cycling, and hiking. It protects your face and mouth from dust, cold, pollen, ash, flu, fog, haze, vehicle exhaust, passive smoking, etc.
The mouth cover unfold measures 21 cm/ 8.5 inch in width, 14 cm/ 5.5 inch in length. The strong elastic loop provides a secure and comfortable fit. Its filter membrane blocks 99.997% of airborne dust, block allergens, pollen, and airborne contaminants down to 0.1 microns and reduces moisture loss by 88%. This mask is ideal for ash, allergies, crafts, dust, gardening, pollen, pollution, smoke, and travel. This mask is washable and reusable.
Pros
100% cotton
Soft and breathable
Protects your mouth and respiratory system from various allergens
Earloop designs make for a comfortable and secure fit.
Cons
May fog up your safety glasses
Price at the time of publication: $6.99
The AstroAI Reusable Dust Face Mask is suitable for home and professional use. This mask can be used while running, cycling, or other outdoor cleaning activities, like mowing, gardening, grinding, sawing, sanding, sweeping, and dusting.
This mask is designed to protect you against particles, such as coal, flour, wood, pollen, iron ore, pet hair and dander, and certain other solid substances devoid of oil. This dust mask facilitates easy breathing due to the 2-way exhalation valve, which helps to decrease heat, moisture, and fogging buildup inside.
It guarantees the best protection during extreme conditions with its 2-way breathing valves and double coating. The adjustable noseband and fastening straps make the mask comfortable to wear. It can be adapted to any face shape. You can even use this dust mask with glasses, safety helmets, ear muffs, or goggles.
Pros
2-way discharge valves
Replaceable filter
Soft nose pad
1-year warranty
Adjustable nose clip
Affordable
Lightweight
Cons
Price at the time of publication: $12.99
This mask is designed to protect the wearer from non-toxic dust, pollen, mold, dander, and common airborne irritants. Honeywell Nuisance Disposable Dust Mask is a lightweight and humidity-resistant mask. The filter media offers lower breathing resistance.
It is made of soft, odorless, and non-irritating material. The adjustable nose bridge and single strap construction make for a secure and customized fit. The one-size design fits the majority of facial sizes and shapes. The disposable dust mask is latex-free and hence works without the risk of allergies. It is cheap enough, so replacing it not be an issue.
Pros
Affordable
Latex-free
Lightweight
Humidity resistant
Odorless
Secure and customized fit
Universal size fits most
Cons
Not to be used with toxic chemicals and mists.
Price at the time of publication: $13.33
If you are looking for a mask constructed with high-quality materials, the MoHo Dust Mask is the right choice for you. It is made of nylon and spandex and is lightweight and comfortable to wear. The materials used ensure soft texture, quick-drying, and breathability.
This dust mask comes with an adjustable nose clip and a hanging ear design, which makes it hard to fall off. The unique ventilation offers excellent permeability. The distinctive ventilation features an opening valve that prevents resistance every time you exhale. It also has a double air breathing valve. Both of these features facilitate easy and smooth breathing.
This mask prevents the development of respiratory ailments by combating the dangerous particles that you may breathe in when exposed to a harmful environment. The filter can isolate a large amount of dust, fight the haze of sand dust weather, and prevent the occurrence of respiratory diseases. This dust mask is stretchy and adjustable and is hence suitable for most people. This mask has built-in carbon filters hence it is the best face mask for dust. This video helps you know more about the product.
Pros
High-quality nylon and spandex
Lightweight
Ensures quick drying
Breathable
Facilitates easy and smooth breathing
Cons
Smells of chemicals during the first few wears.
This activated carbon dust mask filters out 99% of exhaust, pollen, chemicals, fumes, and other irritant dust. This mask can be used in all dirty and dusty environments and protects your respiratory health. It readily conforms to the facial features, and its fully formable nose clip ensures an effective seal.
The mask shell is made of neoprene, while the inner cover material is activated carbon and non-woven. It offers premium-grade particulate filtration. The adjustable nose clip and earloop help the mask stay in place and make it more comfortable to wear and adjust the size.
The rapid exhalation valves come with multiple holes and a double air breathing valve that offers maximum ventilation without compromising filtration. This multipurpose anti-pollution mask is suitable for allergy woodworking, mowing, running, cycling, and other activities. It can be used for day to day wear and haze day protection. The neoprene dust mask shell and valves are washable and reusable. The N99 filter is also replaceable. Check out this video to know more about this product.
Pros
Activated carbon dust mask
Low breathing resistance
Durable
Readily conforms to the face features
Fully formable nose clip ensures an effective seal
A rapid airflow valve system
Cons
The ATTICA Dust Face Mask is made of nylon and equipped with EAPI Filter Technology. The 5-layer protection filters up to 99.5% of dust, exhaust gas, and pollen particles.
The double breathable valve and mesh enable air circulation, comfort. This face mask features nose clip fixes and adjustable velcro buckle that fit the head optimally.
Pros
Breathable
5-layer protection
Ergonomic design
Washable
Durable
Replaceable filters
Environment-friendly
2-way breathing valve
Cons
None
Price at the time of publication: $4.21
Infityle carbon activated dustproof mask is constructed from premium quality nylon, which lends excellent permeability. The thick and full carbon filter makes the filter layer cleaner and sanitary.
This mask separates 98% of the dust, chemicals, smoke, and particles and can be used for dust, anti-vehicle exhaust, anti-pollen allergy, and for cycling, hiking, skiing, and other outdoor activities.
Its perfect ventilation design with a plurality of holes offers excellent permeability. The filters are convenient to replace. This product includes one activated carbon mask, two valves, and filter cotton. The mesh cover of the mask can be washed to keep it clean.
Pros
Carbon activated
Made with premium quality nylon
Convenient to replace filters
Separates 98% of the dust, chemicals, smoke, and particles
Cons
Muryobao Anti Pollution Mask uses military grade filtration technology to filter out nearly 100% of pollutants. The primary material used for the construction of this mask is comfortable cotton fabric. The high-grade packaging box features a military-grade N99 mask and five filters.
The mask and the filters are individually sealed. This mask is washable, and the filters are also replaceable. The filter can be used for 48-72 hours, depending on the level of pollution it is used in. The mask can be used for a long time as the filters are replaceable.
This mask has a great filtering effect because of the four layers of filters. The first layer of the filter is made up of skin-friendly cotton and is also anti-static and antibacterial. The second layer is a silica gel layer, the third layer is made of pure cotton lining, and the fourth and final layer is a filter with three layers of filter.
This mask, unlike other dust masks, doesn't fog your safety glasses. The adjustable nose bridge allows you to adjust the mask based on your nasal type to promote a better fit and increase the product sealing effect.
Pros
Cotton fabric
N99 filtering material
Washable
Adjustable nose bridge
Ensures hassle-free breathing
Filters out almost 100% of pollutants
Cons
Price at the time of publication: $16.99
A dust mask is an important device that ensures your respiratory health if you are exposed to a polluted environment. You can use it at home or outside. We have compiled the above list of 10 best dust masks after a careful and thorough assessment of all the products available on the market. However, choosing the right one will depend upon your intended purpose of use.
Buying Guide
Now that you know why dust masks are a necessity when exposed to hazardous conditions and how they work, it's time for you to begin your search for a dust mask that will shield you against a variety of safety hazards. Here's a list of some key factors that you need to keep in mind when shopping for a dust mask:
This is the most important factor that determines your purchase. You need to choose a mask depending on your purpose and the kind of protection you aim to achieve.
If you plan to wear a mask for particular activities, a disposable mask capable of filtering particulates may suit you. But if you plan to wear a mask frequently because of constant exposure to pollution, exhaust, and other airborne dangers, you need to use a dust mask of more permanent quality. Hence, your intended purpose of wearing the mask is the key to identifying which mask you should buy.
To know about the life of the mask, you need to check the packaging or the instructions provided by the manufacturer. Disposable masks can be used only once. Remember, even the replaceable filters and cartridges have expiration dates.
If you are going to use a mask with open filters or cartridges, storing it in an airtight container or package is a must. If you stored the mask in direct sunlight or it got wet or got exposed to dust and debris, check its inside thoroughly to identify any visible signs of damage or harm.
You can differentiate between different types of dust masks by looking at the filters used – if they are disposable or replaceable. The ones with disposable filters have to be carefully used and only until a specific period.
Masks that come with replaceable filters feature two components – the body of the mask and the filter or cartridge used. In such masks, the filter can be replaced. Hence, it improves the durability of the mask.
The decision to buy a dust mask also depends on the coverage you are looking for. Dust masks come in two options – a half mask that only covers your nose and mouth, and a full-face mask.
The half-face mask is ideal if your work setting does not have contaminants that can harm your skin or eyes. But if you want to protect your eyes and skin, a full-face mask is a wise choice as it protects your face and eyes from hazardous substances.
The dust mask should have a contour fit design and sit on your face properly and securely. The dust mask, regardless of its quality, is only effective when it fits you properly. Hence, always go for one that fits you well for it to work efficiently.
We hope that our list and buying guide has given you a clear idea of what kind of dust masks work for what purposes. Choose one among the listed products, try it out, and let us know about your experience in the comments section below.
Frequently Asked Questions
Does a dust mask protect against the virus?
Yes, especially an N95 dust mask protects against viruses. This mask offers protection from tiny particles found in air, which might have viruses in them.
Are dust masks good protection against fire smoke?
Yes. An N95 dust mask provides you protection against fire smoke. It is best to avoid using a single-strap paper mask as it might not give your lungs the protection they need from fire smoke.
What is an N95 dust mask?
An N95 dust mask is a safety device that covers your nose and mouth and protects the wearer from inhaling any hazardous substances. It protects you from breathing in small particles in the air, such as dust and mold.
How long can you wear a dust mask?
You can wear a dust mask for up to 8 hours. Make sure to replace it after that or before it looks dirty.
Can we use a dust mask while painting?
No, masks for painting fumes are different from dust masks. Dust Masks are used for filtering out particulates. Do not use a dust mask to filter out any chemical, including spray paint. Use a dust mask if there is physical dust in the air.
Recommended Articles