11 Best Ear And Nose Hair Trimmers Of 2023 (Buying Guide)
Snip away those embarrassing, unsightly hairs that peek out of your nose and ears.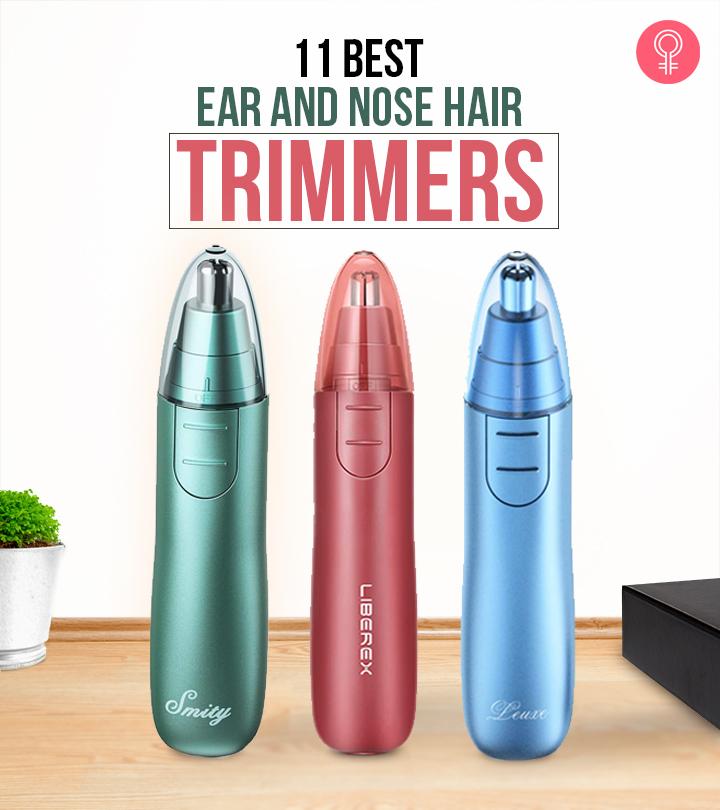 Out of all our problems, one of the most annoying ones to us and others around is the hair that peeps out of our noses and ears. They may grow due to hormonal changes, but they certainly give a blow to our self-esteem and confidence. You must invest in the best ear and nose trimmer to keep such embarrassment at bay. They help you keep these areas neatly groomed so you look your best at all times. While there are many options to choose from in the market, only a few make the cut! Check our list of the 11 top-rated trimmers and pick one best suited for your needs.
Top Picks
How Do Ear And Nose Hair Trimmers Work?
Ear and nose hair trimmers are battery-operated, much like the beard trimmers that men use. The blades of these trimmers are encased in a cylindrical plastic or metal guard. The guard has long slits that allow the longer hair to be trimmed. This guard helps preserve the natural nose hair. It also can be used to trim excessive hair growth near the exterior of the ear cavity.
Do You Need To Use An Ear And Nose Hair Trimmer?
Regular nasal hair does not need trimming. However, if the hair in your nose or ears is getting longer and sticking out, you may need to use a trimmer. The following top trimmers can help you make a better choice.
11 Best Ear And Nose Hair Trimmers
Pros
Has a non-slip grip
Includes two comb attachments
Easy to use
Includes a built-in light
Cons
Price at the time of publication: $9.69
Pros
Lightweight
Water-resistant
Hypoallergenic blades
Easy to use
Cons
Price at the time of publication: $13.99
Pros
Gentle
Suitable for thick hair
Hypoallergenic
Durable
Ergonomic design
Noiseless operation
Travel friendly
Charges quickly
Waterproof
Cons
Price at the time of publication: $21.99
Pros
Includes 2 eyebrow combs and a nose/ear attachment
Cordless
Easy to use
Cons
Price at the time of publication: $13.99
The AmElegant Premium Facial Hair Remover is made with anti-allergic blades that are safe for all skin types. The trimmer removes hair gently and painlessly. It does not cause any redness or skin irritation. The trimmer has a one-button design that makes it easier to be used. It is rechargeable and comes with a built-in USB charging port. It is waterproof and works great for everyday use.
Pros
Waterproof
Painless trimming
Anti-allergic blades
Rechargeable
Safe for all skin types
Cons
Price at the time of publication: $12.99
Pros
Multipurpose
Washable
Detachable head
Cordless
Portable
Travel-friendly
Cons
None
Price at the time of publication: $15.9
Pros
Easy to Clean
Non-Slip Grip
Battery-operated
Can be used on dry and wet hair
Waterproof
Cons
The blades get very hot after some time of use
Price at the time of publication: $14.74
Pros
Easy to use
Easy to clean
Lightweight
Has a protective skin guard
Trims without pulling facial hair
Cons
Price at the time of publication: $39.95
Pros
Smart tweezers for precise hair removal
Cleaning brush and protective cap for a clean trimmer
In-built light improves visibility
Cons
Price at the time of publication: $16.99
Pros
Cleans automatically
Powerful motor
Cordless
Charges quickly
Hypoallergenic
Gentle
Easy to use
Cons
Price at the time of publication: $21.99
Pros
Waterproof
Easy to clean
Easy to maneuver
Lightweight
Noiseless operation
Dual-edge spinning blade
Cons
Price at the time of publication: $12.99
These are the top 11 ear and nose hair trimmers. The following are the points you should keep in mind if you are to buy one such trimmer. 
Ear And Nose Hair Trimmers – A Buying Guide
Power – There are 2 kinds of trimmers available on the market – battery-operated and manual. A manual trimmer demands more work from the user as you have to remove every ingrown hair manually. However, a battery-operated trimmer is convenient and does most of the job by itself.
Design – Design is also an important factor to consider while getting a trimmer. A lightweight and compact design is ideal. Such a trimmer is easier to handle and carry around
Dual Edge blades – Dual edge blades are essential as they maximize the device's trimming power.
LED Light – A trimmer equipped with an LED light is great for highlighting hairs in hard-to-reach areas.
Why Trust StyleCraze?
Oyendrila Kanjilal is a certified skincare coach with a deep interest in reviewing new entries and emerging products in the beauty industry, especially related to skincare and grooming. She has conducted in-depth research to find the best nose hair trimmers, taking into consideration design, durability, and safety rating. The products she recommends can help you efficiently, easily, and safely fine hair growing out of your nose or ears. Besides listing the pros and cons of the shortlisted products, she has also included a buying guide in this article to help our readers make the most appropriate choice.
Frequently Asked Questions
How often should you trim your nose hair?
It is ideal to trim your nose hair once every two weeks.
Is using a nose hair trimmer painful?
Using a nose hair trimmer does not cause pain. It is a convenient way to remove your nose hair.
Will trimming nose hairs make you more susceptible to diseases?
No, trimming your nose hairs will not make you susceptible to diseases.
Can you use a nose trimmer for ears?
Yes, you can use a nose trimmer for ears. Before trimming, make sure that your device is clean and that your ears and nose are free of any mucus or wax.
Can you use a nose hair trimmer on your eyebrows?
Yes, you can trim your eyebrow hair with the nose hair trimmer.
Are electric nose trimmers safe?
Yes, electric nose trimmers are one of the safest options for removing nose hair. Cutting with scissors or plucking can cause injury and ingrown hairs. Also, If you are comfortable trimming the hair yourself, you can always find a groomer/barber to take care of it.
Recommended Articles: