13 Best Easter Dresses For Women To Look Stunning – 2023
Flaunt these gorgeous and comfortable clothes to make a great style statement.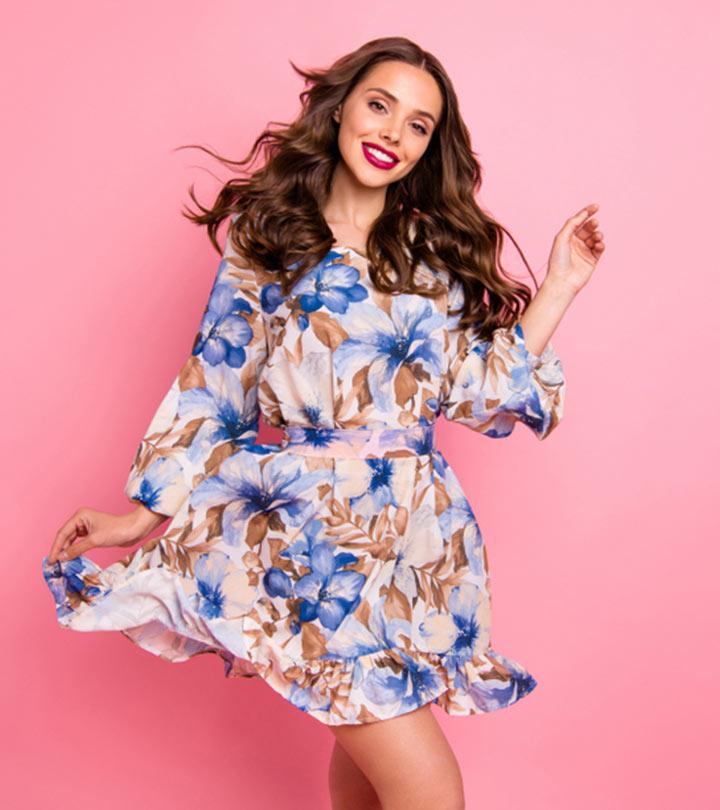 Easter is that particular time of the year when nature is vibrant and lively while the mesmerizing scent of blooming flowers fills the air. During this time, it is obvious you want to look your best when dressing for the fashionable Spring holiday. With all the endless options out there, choosing the best easter dresses for women might not be very easy. Before picking up the perfect dress for this occasion, you need to be aware of the different activities that take place on Easter. You have the Easter Sunday church service, kids' Easter egg hunt, and the family brunch. Keeping all these activities in mind, you need to pick the right attire according to the series of events. If you are confused about what to wear this Easter, you have come to the right place. Here, we have listed the 13 best Easter outfits for women to help you stand out. Scroll down to look unique this Easter!
Get Gorgeous With The 13 Best Easter Dresses For Women In 2023
Look nothing less than perfect this Easter with this maxi dress! It is made from a luxurious blend of rayon and spandex and comes with a relaxed fit ideal for springtime. Whether it's frolicking around, hunting for Easter eggs, visiting the church with the family, or sitting down and enjoying a delicious meal, the soft and stretchy material of this pretty easter dress will keep you comfortable. Machine and hand-washable, it comes in a dazzling set of colors and patterns.
Pros
Comfortable and airy fit
Machine and hand-washable
Short sleeves with a V-neck
Made from rayon and spandex
Available from sizes X small to XX large
Comes in more than 30 colors and patterns
Cons
The pockets on the dress may seem bulky for some.
Price at the time of publication: $25.99
The HUHOT Women Casual Flared Midi Dress is a casual, floral-printed, lightweight dress that is designed with skin-friendly fabric like 95% polyester and 5% spandex. This breezy dress is as comfortable as wearing your favorite joggers but it looks way more chic. It is available in a variety of colors and different prints and you can wear it for any occasion. The dress features side pockets. It fits you and accentuates your curves perfectly.
Pros
Comfortable and airy fit
Available in different prints and sizes
Short sleeves with round neck
Suitable for any occasion
Cons
Quality might not be that great
Combining flattering hemlines with delightful fabrics, tea dresses are reminiscent of the simpler times. With a fitted top and an umbrella bottom, it enhances your curves and compliments your figure. Truly a creation worth appreciating, it is crafted with cotton and nylon and comes with a concealed zipper. It also comes in 10 sizes and 40 different colors and patterns for the perfect fit. The A-line silhouette and sleeveless boatneck top will ensure that all eyes are on you, regardless of where you go.
Pros
Concealed zipper
Flattering silhouette
Made from a cotton and nylon mix
Available in 10 sizes and 40 different colors and patterns
Cons
May not be machine-friendly
Price at the time of publication: $36.99
Channel your inner Marilyn Monroe with this must-have vintage easter dress. Tailored to fit, this timeless piece has a contoured top and flared bottom skirt. It is made from cotton and elastane that ensures the dress sits perfectly on any waist. The graceful silhouette, defined hemline, with a pretty bow accent will have you reaching for this dress whenever you're in the mood to stand out and steal the show. It comes in bright, bold colors, deep pleats, and classic designs that never go out of style.
Pros
7 sizes
Zipper closure
Over 40 colors and patterns
Made from cotton and elastane
Cons
The material may be prone to wrinkling.
Price at the time of publication: $29.99
If finding the perfect Easter maxi dress has been keeping you up all night, rest-assured you can finally go to sleep! Made from a material that's as smooth and luxurious as silk, this maxi dress will have everyone complimenting its flattering style and fit. Perfect for the summers, it is lightweight and flowy with a stretchy, tie-up waist to enhance your natural figure. The A-line button-up style will keep you comfortable, and a simple belt or straw hat will make this a perfect outfit for any and every occasion.
Pros
Tie-up waist
Available in 5 sizes
A-line button-up maxi
Made from 100% rayon
Machine and hand-washable
More than 40 colors and patterns
Cons
The hemline may be slightly uneven.
Price at the time of publication: $38.99
Walk into summertime looking as radiant as a flower with this floral print midi dress. Its rounded neck, hidden back zipper, and 3/4th sleeves are a perfect addition to every wardrobe. It sports a light, breathable material made from 100% polyester and an elegant waistline for a snatched waist. It comes in 13 different colors with richly decorated prints that make it a pretty Easter dress for a warm summer's day.
Pros
5 sizes
100% Polyester
Concealed zipper
13 different colors
Cons
The sizes of this dress may run small. It is advisable to size up.
Price at the time of publication: $33.99
An underwhelming Easter dress may lead to many sleepless nights, but why waste precious sleep when you can find the perfect one here? There isn't a single person or body type who could not pull this dress off with a plunging neckline and vibrant floral patterns. Made from a high-quality polyester and spandex mix, this is one of the best spring Easter dresses that come with a hidden side zipper, elastic waistband, and wrap-on belt. If affordable easter dresses are also a priority, then look no further than this one.
Pros
Plunging neckline
25 different colors
Come in 6 sizes
Durable and breathable
Cons
Colors and patterns may slightly differ from the pictures
Price at the time of publication: $28.04
A treat to sore eyes, this Easter dress is all you need this time of the year. With lightweight material and comfortable, flowy fabric, this one comes with a skillfully embroidered waistband. It comes in several colors and patterns so that you can make your pick and 2 options of sleeve lengths. Tailored at knee length with a secure back zipper, this dress will have you go from drab to fab in minutes.
Pros
Available from sizes 4-12
Machine and hand-washable
Polyester and spandex mix
More than 25 colors and patterns
Comes in 2 different sleeve lengths
Cons
The dress may shrink after the first wash.
Price at the time of publication: $29.99
A brand known for its expert craftsmanship, Romwe cannot be left behind when we talk of the best women's Easter dresses. This particular one has statement flutter, flowy sleeves with a flared skater bottom and comes in a wide array of fresh, spring colors. The polyester and spandex blend offers stretch without compromising on comfort or quality. Suitable for today's modern woman, it has an invisible secure zipper and a flattering scoop neck.
Pros
Polyester and spandex mix
Comes in 6 different sizes
More than 10 colors available
Invisible zipper and scoop neck
Cons
Some may find the material a bit too thick or stiff
Price at the time of publication: $34.99
You can thank us later, but we're sure you'll win the game of who has the best family Easter outfit of this year! The gorgeous rayon material falls beautifully on your silhouette to enhance your most treasured assets. It comes with a reliable button clasp and a V-neck with a split in the middle. Light and airy, this maxi dress with eye-catching patterns and colors will have you feeling like a warm summer breeze.
Pros
Lightweight
Machine and hand-washable
Made from high-quality rayon
Comes in 6 sizes and 9 colors
Cons
Some sizes may run small.
Price at the time of publication: $42.99
If comfort and good-quality materials rank high on your list of top priorities for the best boutique Easter dresses, you must breathe a sigh of relief. Take a chance on this sleeved mini shirt dress made of viscose and elastane with a unique and flattering feminine drape. Ideal for a casual outing, this dress shows off a scooped neckline and an A-line cut that has remained in the trendy section for decades. Just try this dress blindly, and get ready to be the talk of the town with this in-vogue piece.
Pros
Machine and hand-washable
Made from viscose and elastane
Scooped neckline and an A-line cut
More than 10 colors and 5 sizes
Cons
The hems may feel uneven for some.
Price at the time of publication: $21.8
Want to invest in a classic summer dress that will always be fashionable and trendy? Don't worry, we've got you! Designed with chic styles in mind, this Easter dress parades clean, striped lines, ruffled sleeves, a tied waist, and a heathered swing skirt. Appreciated and applauded for its comfortable and casual fit, this dress in colorful stripes is made from a durable and breathable material.
Pros
Chic, flattering design
Ruffled sleeves, a tied waist
Machine and hand-washable
Comes in 12 colors and patterns
Cons
Price at the time of publication: $29.99
We saved the best for last! Let us introduce you to the one dress that puts all other fancy easter dresses to shame with its flattering shirring and smoothing matte fabric that creates an awe-inspiring drape. The polyester and elastane blend with a tie-up wrap helps the dress to sit perfectly on every waist. Show off your curves as this statement dress hugs you in all the right places, revealing an hour-glass figure.
Pros
Machine and hand-washable
Polyester and elastane blend
Over 20 colors and patterns
Available in 5 sizes
Cons
The tie side wrap may not be flattering all body types
And that was it for our list of the 13 best Easter dresses for women. But don't let our list overwhelm you. Take a look at our helpful buying guide and select the perfect one for yourself.
What Should I Wear For Easter This Year?
Easter is the season in fashion where versatile summer dresses take center stage. While the styling options are endless, here a few ways to wear and style the perfect Easter dress.

Easter is a time of family celebrations, and what better way to enjoy the festivities than to enjoy a delicious meal together? For formal dinners, a long maxi with a V-neckline would be your best bet. To take the outfit up a notch, you can accessorize your dress with luminescent earrings or a belt for a snatched waist. If you have one during the day, make sure you wear comfortable, flowy, and airy dresses to keep you feeling and looking your best. You can pick from materials like cotton and spandex that allow for a relaxed fit and vibrant, fresh colors for a beautiful brunch look.

A glamorous party deserves a stunning dress to go with it. For a cocktail event where you want to be the shop-stopper and center of all the attention, choose a dress of any length with darker, bolder colors that would leave a lasting impression. It is advisable to choose materials like spandex and polyester, which look luxurious and sit comfortably on different silhouettes.
Easter Day is not complete without going on a trip to the church. While dressing to visit this place of worship, it is recommended you wear something modest. A midi or maxi dress with an appropriate neckline can be sported to the church. You can also pair this with a matching handbag and maybe even a beautiful hat to enhance the entire look. There are many Easter Sunday dresses on our list like the Grace Karin Boatneck Sleeveless Vintage Tea Dress and the Vintage Clothing Women's Floral Maxi Dress that would make suitable options.
An important aspect of Easter is to give back. Whether you're volunteering at an animal shelter, a nursing home, or serving the needy, it is recommended you wear comfortable clothes with suitable shoes. We suggest you pick mini or midi dresses to allow for an easy moment with fabrics such as cotton, spandex, and polyester to keep you feeling comfy.
Why Trust StyleCraze?
The author of this article, Chaitra Krishnan, is a fashion enthusiast. She loves to research fashion trends and keeps herself updated with the latest information. The list of best easter dresses for women is compiled after extensive research and reading reviews on various trusted online platforms.
Frequently Asked Questions
What are good Easter colors to wear?
Good Easter colors would include bright blues, pinks, greens, and yellows that would go with the season's bold, vibrant, and lively colors. Floral patterns and eye-catching styles would also make great Easter outfits.
Are special clothes worn on Easter?
In the spirit of new beginnings, many people prefer to wear formal dresses and skirts, suitable for festive events.
Can you wear white for Easter?
Absolutely! Easter is the time of joyous celebration and all colors are welcome.
Why do people wear easter dresses?
Easter is when you dress up for numerous activities and events, such as Easter brunch, cocktail parties, and church. People wear easter dresses to celebrate this wonderful occasion and look festive.
Can you wear black on easter?
Yes, you can wear a black dress or skirt on Easter for casual outings.