5 Best Great Eco-Friendly & Clean Hair Sprays Of 2021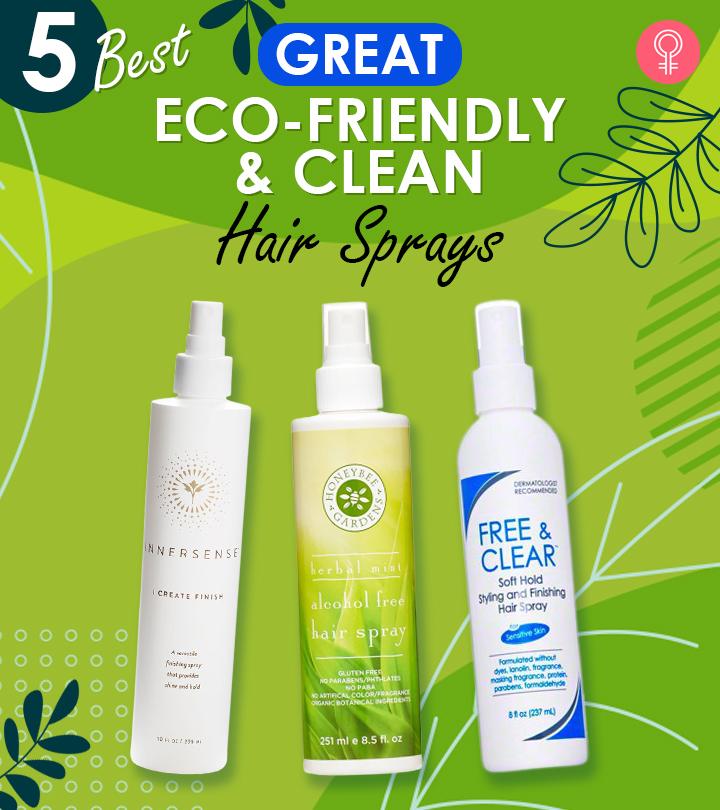 Ethical consumption and sustainable practices are flourishing and the grooming industry too is eager to induce clean ingredients in their products. Products like hairsprays are mainly aerosol-based, containing CFCs or chlorofluorocarbons, which are proven to be contributors to global warming. But, if you cannot give up using hairspray, you should look for brands that are clean and sustainable. Green or eco-friendly hairsprays are successfully replacing the old and harmful aerosol-based sprays. Eco-friendly hair spray alternatives are made from safe ingredients that do not harm the environment. To help you take a step towards a greener future, we have compiled a list of the 5 best green or eco-friendly hair sprays on Amazon, that are gentle on your hair and the planet.
5 Best Green Or Eco-Friendly Hair Sprays On Amazon
The Honeybee Gardens Herbal Mint Alcohol Free Hair Spray has a minty scent and suits all hair types. It has an alcohol-free formula to keep your strands soft by preventing dryness. This non-aerosol-based hair spray contains a botanical blend of organic ingredients like chamomile, aloe, sunflower seed, organic chestnut extract, rosemary, and lavender to enhance shine with strong and natural hold.
Key ingredients: Chamomile, Aloe, Sunflower seed.
Pros
Non-drying
Strong and natural hold
Refreshing scent
For all hair types
Paraben-free
Cons
Innersense's finishing hair spray is a lavender-scented eco-friendly hair spray for all hair types that provides a flexible hold. It contains honey, a natural humectant, for moisturizing the strands without irritating the scalp. Suitable for sensitive skin, this hairspray also contains rice amino acids for hair conditioning and promoting shine. Rooibos tea in the formula has anti-aging properties for repairing and healing. Moreover, the lavender essential oil induces calmness while neutralizing both oily and dry scalp.
Key ingredients: Honey, Rooibos tea, Rice amino acids.
Pros
Non-irritating
Light and flexible hold
For all hair types
Lavender fragrance
SLS-free
Paraben-free
Cons
Not for thick hair
Causes frizz
This hair spray from Captain Blankenship is enriched with essential oils of rose geranium and palmarosa to give a tropical scent and fresh feel to your strands. Its nourishing formula contains organic sea kelp extract and aloe vera that are rich in minerals, vitamins, and antioxidants. They nourish the scalp without irritating or leaving behind any residue. The spray also contains Atlantic sea salt that works with organic aloe vera to prevent frizz and add volume to your hair. It works for all hair types and textures, including colored hair.
Key ingredients: Organic sea kelp, Aloe vera, Atlantic sea salt.
Pros
Naturally scented
Paraben-free
Sulfate-free
Can be used on colored hair
Cons
This eco-friendly finishing hairspray from Free & Care has a lightweight and safe formula that suits sensitive scalp. It makes the hair soft and smooth without feeling sticky. You can create natural-looking curls with a soft hold using this hair spray. The formula is free of offensive, irritating, and other harmful ingredients.
Key ingredients: Purified water, Citric acid
Pros
Long-lasting hold
Lightweight
No residue
Suits sensitive scalp
Non-sticky
Cons
Requires too much product
The BWC Volume Plus Spray Gel provides a long-staying flexible hold to your hair while making your strands strong and voluminous. It contains pro-vitamin B5 with a blend of botanical extracts of ginseng, lavender, rosemary, cucumber, and panthenol to condition, protect, and improve hair manageability. This gentle spray makes styling easy and adds shine to your strands without making them look stiff.
Key Ingredients: Vitamin B3, Ginseng, Lavender, Rosemary, Cucumber, Panthenol
Pros
Long-lasting soft hold
Volumizing
Conditioning
Gentle formula
pH balancing
Cons
Switching to eco-friendly, non-aerosol-based hairspray is not only good for your hair but also for the environment. Choose the one that addresses your hair care needs and flaunt your lustrous mane every time you head out!
Recommended Articles