The 13 Best Body Washes And Soaps For Eczema – 2023
Steer clear of itchiness and infection with body washes that treat sensitive skin.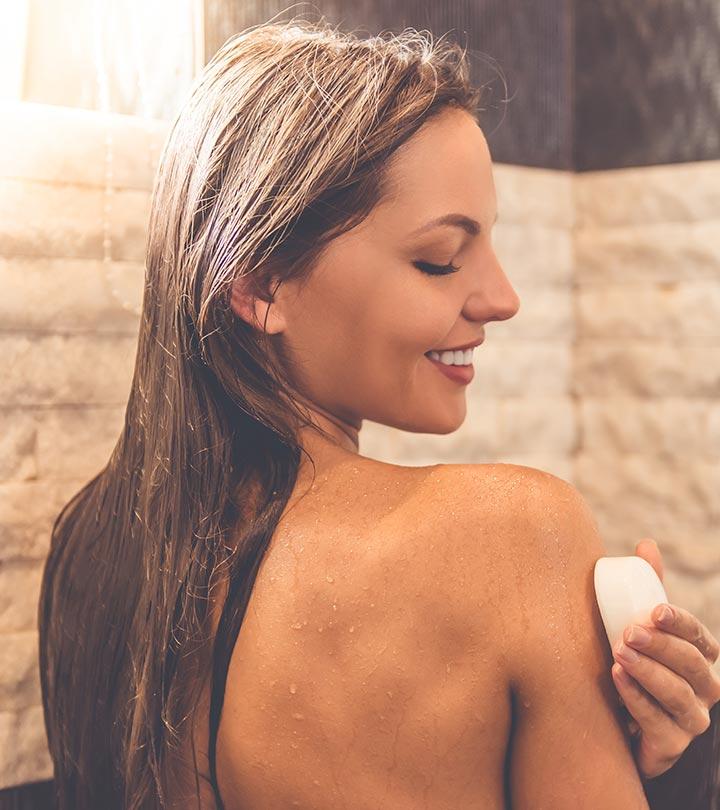 Achieving clean and glowing skin is something that we all love. But, it takes a lot of time and effort to make that happen, especially if you have eczema-prone skin. For starters, you should start using the best eczema body wash to treat eczema and be mindful of the ingredients that go into them. Eczema characterizes red patches, unusual breakouts, itchiness, cracks, and inflammation. Though it is a common skin condition, you should not overlook it.
The good news is that, nowadays, multiple brands have come up with dermatologically-tested products for eczema-prone skin. So, if you are overwhelmed with so many choices and don't know where to start, we have got you covered. This article lists the 13 best eczema body wash that will deliver instant results to treat this condition. Keep scrolling to check out the list!
The 13 Best Body Washes And Soaps For Eczema – 2023
One of the reigning brands in the market, CeraVe Eczema Body Wash, is a wonder product for those looking for a body wash for eczema-prone skin. This dermatologically-approved body wash has been tested on eczema-prone skin and can calm, cleanse, and heal the skin naturally. It reduces skin irritation as it is formulated using three essential ceramides. It hydrates the skin and restores the natural skin barrier. What's more? Omega oils in this body wash soothe inflammation, thus leaving your skin soft and supple. As we mentioned, it's an ultra-gentle product for dry skin!
Pros
Itchy skin relief
Free from parabens and sulfates.
Fragrance-free.
Three essential ceramides restore natural skin barrier.
Ultra-gentle on skin.
Cons
The brand doesn't have any minuses, but if you like scented body wash then CeraVe is fragrance-free.
Price at the time of publication: $16.99
The TriDerma Eczema Fast Healing Body Wash is a maximum-strength, medicated formula with clinically-proven ingredients that relieves minor skin irritations, treats inflammation, and reduces redness. This fragrance-free oatmeal-infused formula refreshes your skin, while the TriDerma AP4 aloe vera, shea butter, and essential botanicals moisturize and aid redness reduction. This dermatologist-recommended body wash forms a gentle lather that acts quickly on the affected body parts without leaving any residues.
Pros
Gentle
Provides deep hydration
Leaves no medicinal smell or residue
Dermatologist-tested
Fragrance-free
Coal tar-free
Paraben-free
Cortisone-free
Steroid-free
Sulfate-free
Mineral oil-free
Petrolatum-free
Phthalates-free
Cons
None
Price at the time of publication: $19.99
The Marie Originals Eczema & Psoriasis Soap is specifically formulated to heal and soothe skin inflammation and keep eczema and psoriasis at bay. This organic product contains an anti-inflammatory blend of noni fruit and organic oat bran that soothes redness and nourishes the skin.
It is also enriched with the powerful bentonite clay that helps get rid of toxins, pollutants, and irritants from the skin to reduce flare-ups and breakouts. This soap also contains vegetable glycerin infused with essential oils that locks the natural oils in the skin. THis offers visible results if used twice daily and makes your skin softer and smoother.
Pros
Anti-itch formula
Organic ingredients
Reduces eczema
Controls breakouts
Non-drying
Calms itchiness
Soothes the skin
Gluten-free
Non-GMO
Petroleum-free
No artificial fragrance
Phthalate-free
Dye-free
Paraben-free
SLS-free
Cons
None

Price at the time of publication: $7.99
The world is going organic, so why shouldn't your body shampoo, right? Puracy Natural Body Wash's ultra-gentle formula and plant-based and biodegradable ingredients make it so skin-friendly that it is recommended for babies as well. Powered by everything natural, this doctor-recommended shampoo for eczema screams vegan all over. We recommend you switch to this body wash for eczema for the super silky and smooth results after every use. Plus, the citrusy and sea salt elements add a pleasant fragrance that elevates the whole experience of bathing.
Pros
Vegan-friendly
Therapeutic and anti-bacterial
Cleanses, hydrates, and moisturizes.
Is pH-balanced and free from sulfates and parabens.
Gluten-free, cruelty-free, and hypoallergenic.
Cons
There are no cons for this product.
Price at the time of publication: $11.99
Do you know your skin well enough to make sure you've picked the right body wash? People tend to be extra cautious when it comes to selecting products for the face but neglect the rest of the body. Cetaphil dry skin body wash is a clinically-tested, soap-free cleanser that removes impurities without disturbing the moisture or the natural skin barrier and is highly recommended by reviewers. It has a unique filaggrin complex, with clinically proven results, that soothes and nourishes the skin leaving the it smooth, silky, and hydrated.
Pros
Suitable for sensitive skin care.
Moisturizes dry skin.
Itch relief
Suitable for kids and toddlers.
Cons
The product contains sulfates.
Price at the time of publication: $32.98
Super soft, baby-like skin is no longer a dream! Big thanks to the Wild Naturals' Eczema & Psoriasis Body Wash. It is made with the goodness of nature and science and contains ingredients like manuka honey that promotes collagen growth, calms redness, and reduces the appearance of scars and blemishes. The formula also is enriched with organic aloe vera, cehami, and vitamin E which moisturize the skin and protect it against free radical damage. The body wash is perfectly pH balanced at 5.5, so it will not strip away the natural vital oils or weaken your skin's natural barrier. It offers visible results in just a few weeks and soothes irritation, redness, and itchy or irritated skin and helps you flaunt a natural, hydrated glow! It is an absolute must for dry and dehydrated skin, as it locks in moisture for long hours.
Pros
Prevents eczema flare-ups
pH-balanced
Suitable for all skin types
Cruelty-free
SLS-free
Paraben-free
Dye and fragrance-free
Alcohol-free
Synthetic fragrances-free
Cons
Price at the time of publication: $19.95
Are you concealing your skin more than you'd like because of eczema patches? Flaunt that skin and let it breathe as Eucerin Skin Calming Body Wash has soothing ingredients that calm your skin. This body wash is mild and retains skin's essential moisture as it is composed of Omega oils giving you flawless and young-looking skin. The ultimate skin-healer, Eucerin's uncompromising commitment to quality for over 100 years has made it a favorite amongst dermatologists all over! So if you are looking for a dermatologist-tested, fragrance-free, and soap-free product that is highly recommended by reviewers, this one fits the bill!
Pros
Soap, dye, and fragrance-free.
Contains natural and omega oils to soothe and moisturize.
Dermatologist-recommended.
Cons
This product contains sulfates.
It has a mild lather and may not foam as much as other body shampoos.
Price at the time of publication: $7.97
Dove Beauty Bar is a daily body soap that truly cares about you. It is mild on skin and gives the soft and happy glow you need. The gentle cleansing formula is validated by leading dermatologists and has moisturizing ingredients, it is hypoallergenic, and its creamy lather feels soft against the skin that is suitable for eczema-prone skin. So if dryness and cracks on your skin are bothering you, this soap maintains the natural moisture level of your skin, thus giving you the enviable glow you desire to wake up with.
Pros
Hypoallergenic and soap-free.
Dermatologist-tested.
Cons
The product may not work on acne-prone, oily, or irritable skin.
It is not organic-based.
Price at the time of publication: $17.99
The Botanic Hearth Tea Tree Body Wash is a plant-based formula that eliminates impurities and body odor, conditioning the skin. It is enriched with 100% pure tea tree oil, sea buckthorn, and peppermint oils that relieve skin irritations. This body wash treats athlete's foot, ringworm, jock itch, acne, and toenail issues. Tea tree oil is not suitable for all skin types. so a patch test is recommended before using it
Pros
Cruelty-free
Paraben-free
Removes dirt and impurities
Fight acne
Suitable for all skin types
No harmful chemicals
Cons
None
Price at the time of publication: $16.94
Blocked pores and acne breakouts getting on your nerves? Eucerin Advanced Cleanser has a 2-in-1 solution for you! Mild on your body, this product is validated by leading dermatologists and is milder on your face owing to its pH-balanced formula! It is non-foaming and locks in the moisture making your skin look healthy and clean. What's more, it's non-comedogenic and has received multiple positive reviews! Say goodbye to those adamant blocked pores forever. Formulated for normal to dry and sensitive skin, if your skin is eczema-prone or itchy, Eucerin Advanced is what you need!
Pros
Non-comedogenic and fragrance-free.
Can be used on the face and body.
Recommended by dermatologists.
Cons
Not recommended for oily skin.
Price at the time of publication: $9.79
The Dermasolve Eczema Medicated Body Wash is a scientifically formulated, low-foaming cream-based formula that effectively cleanses and moisturizes the skin. Infused with 2% colloidal oatmeal, this body wash repairs and soothes skin flare-ups, relieves itchiness, and eliminates redness. The body wash is also formulated with Ovasome technology that imparts your skin with the necessary proteins and prevents the recurrence of irritations. Safe for daily use, this non-greasy body wash is free of steroids, parabens, and synthetic dyes.
Pros
Suitable for daily use
Non-greasy
Gentle
Dyes-free
Fragrance-free
Paraben-free
Steroid-free
Cons
Price at the time of publication: $19.99
Eczema is a condition, which if not taken seriously, can worsen with time. Sensitive skin needs extra care and one needs to be highly cautious before using products on eczema or psoriasis-prone skin. Cetaphil is one brand validated by leading dermatologists that doesn't fail to deliver what it promises. Cleanse, restore, repeat! Its extremely mild formula is creamier than ordinary foaming soaps. Clinically tested, give your skin the gentle therapy it needs before it's too late with the Cetaphil Restoraderm Pro.
Pros
Allergy-tested
Paraben and fragrance-free.
Cons
Suitable only for dry skin.
Its non-soapy formula may not satisfy those used to foaming cleansers.
Price at the time of publication: $1453.0
What is wild but gentle at the same time? Yes, it's Soapberry! The organic elements dial down the inflammation and itchiness to a great extent. Increasingly becoming a favorite amongst Millennials, this body wash eliminates dirt and moisturizes the skin. Ethically sourced ingredients ensure a gentle healing process for your skin. Dermatologist-tested and sustainably harvested in the eco-reserves of Taiwan, it works wonders on eczema or psoriasis-prone skin.
Pros
It's vegan, paraben-free and cruelty-free
Nourishing formula
Has a pH-balanced formula.
Suitable for all skin types.
Cons
May cause your skin to become dry.
Price at the time of publication: $35.98
How To Choose A Body Wash That Is Suitable For Eczema?
We have answers for you! Read along.
Surfactants are a complete no-no –
If your skin's protective barrier has one crucial enemy, it is surfactants. Although it is an essential cleansing element, it is incredibly harmful to skin and one of the leading causes of dryness, irritation, and inflammation.
Harsh cleansers are to be kept at bay –
Harsh chemicals like sulfates and paraben cause the softness of your skin to reduce with every use. Sadly, they are found in most face cleansers, body washes, and soaps today. They not only damage the skin's protective barrier but also drain out the proteins and the natural oils.
pH balanced formulas are ideal –
Maintaining the correct pH balance of the skin is equally important. It should neither be too acidic nor alkaline. Including alkaline products in your skincare regime may damage your skin. Hence, maintaining the right pH balance is crucial.
Look for non-soap cleansers –
Though non-soap cleansers are recommended for extremely dry or sensitive skin, body washes with non-itchy surfactant elements can be used on eczema-prone skin. Look for an antioxidant-rich formula with plant-based extracts like chamomile extract, or lavender essential oil. These act as natural remedies and are great for restoring the skin barrier.
NEA's Seal of Acceptance is a must –
Keep an eye out for the National Eczema Association's Seal Of Acceptance on the product before buying. The seal proves it has been tested for eczema-prone skin and is safe
Do you have any queries or suggestions? Do reach out to us in the comments below
Why Trust StyleCraze?
The author, Medha Deb, has a deep interest in skin care. She has a passion for unearthing incredible skin care products from creams to body washes. Using the wrong body wash when you have eczema can worsen the condition. Instead, she recommends using these body washes to relieve eczema. These products were selected after conducting thorough research and scanning through various product reviews. The products mentioned on the list contain skin-nourishing ingredients, free of any harsh elements like parabens.
Frequently Asked Questions
Is ivory soap good for eczema?
If your condition is extreme, we'd recommend you skip ivory soap as it contains sulfates that cause dryness and redness. Also, the pH value of most ivory bars is 9.5, which is not recommended for eczema-prone skin.
Which natural soap is suitable for eczema?
Organic or plant-based soaps that are free from harsh chemicals like sulfates, paraben, etc., and non-surfactant, non-comedogenic, with NEA's Seal of Acceptance, are suitable for eczema and psoriasis-prone skin. Read the label carefully before choosing the product.
Which type of body wash triggers eczema?
Body washes that contain ingredients like propylene glycol, salicylic acid, and formaldehyde can trigger and worsen the condition of eczema.
Which is better, bar soap or body wash, for eczema?
A gentle cleansing formula body wash that is free from harsh surfactants and toxins can be safe for eczema. It will moisturize the skin post-cleansing. In contrast, the harsh surfactants in a bar soap strip natural oils from the skin.
Does coconut oil help with eczema?
Yes. Coconut oil has anti-bacterial properties that kill and control the bacteria in the eczema-affected skin. They also moisturize the skin and reduce inflammation.
Recommended Articles