15 Best Eczema Creams To Heal Itchy Skin And Rashes – 2023
Invest in fast-acting, gentle anti-itching creams that keep your eczema issues at bay.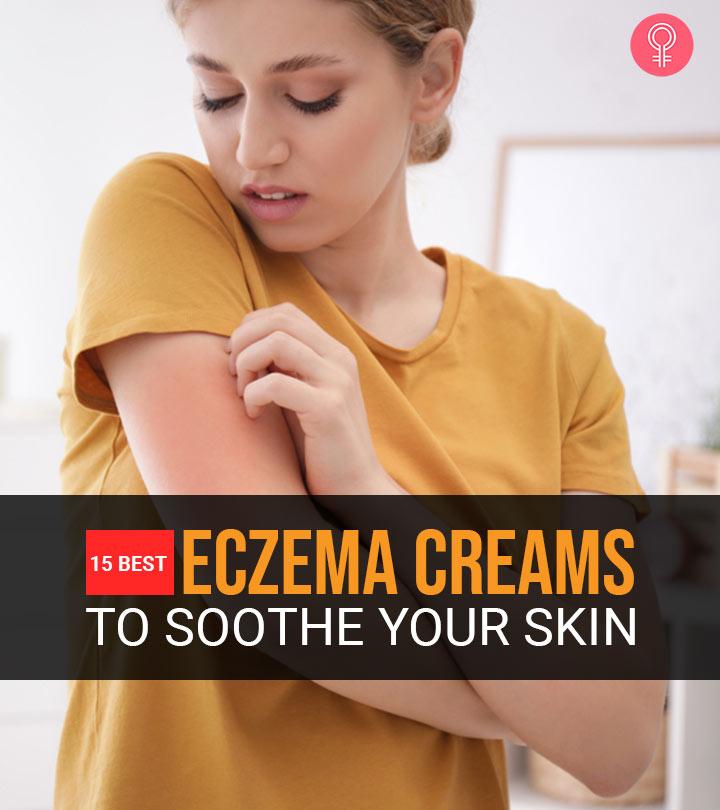 If you suffer from the dreaded skin condition of eczema, all you need is the best eczema cream by your side. Eczema is a standard non-chronic and noninfectious condition that leads to skin inflammation, rashes, redness, and itching (1). Among them, Atopic Dermatitis affects up to 3% of adults and 20% of children (2). Experts always suggest starting with a primary treatment to heal the itchy skin and rashes. In addition, there are skin-protecting creams and humectants to control the flare-ups and treat the symptoms accurately. Here are the dermatologist-recommended 15 eczema creams to ease discomfort and bring relief to your skin.
15 Best Eczema Creams
The Aveeno Eczema Therapy Daily Moisturizing Cream is a clinically-proven formula that soothes dry, itchy, and irritated skin. It reduces inflammation and redness associated with eczema. The moisturizing formula contains oatmeal, glycerin, and petrolatum that make skin smooth. The ceramides and fatty acids in the product create a protective shield on the epidermal layer of the skin. They also seal the skin moisture and make it soft and supple. The active oatmeal formula maintains the skin's pH levels and helps heal the dryness. This video review featuring the reviewer's experience will help you learn more about the product.
Key Ingredients: Colloidal oatmeal, ceramides
Pros
Dermatologist-recommended
Approved by the National Eczema Association
Allergy-tested
Clinically-proven
Steroid-free
Free from artificial fragrances
Best for daily use
Gentle for babies and children
Cons
The EmuaidMax First Aid Ointment is a fast-acting cream that provides relief from resistant skin conditions like eczema, fungal infection, and psoriasis. It reduces fungus, bacteria, and molds on contact and eliminates 99.9% bacteria within a minute. It contains Argentum Metallicum, a topical antiseptic, analgesic, anti-inflammatory, anti-bacterial, and anti-fungal ingredient that soothes the skin. The natural calming formula contains Bacillus ferment, tea tree oil, and vitamin E that moisturize the skin and reduce inflammation, itchiness, and redness. The ointment is made in an FDA-registered homeopathic medicine facility and is meant to heal target cells naturally. So, go ahead and test it out now! 
Key Ingredients: Argentum Metallicum, tea tree oil, Bacillus ferment
Pros
Dermatologically-tested
Eliminates 99.9% of bacteria
Fast-acting ointment
Safe and natural ingredients
Penetrates immediately
A strong healing power
Gently exfoliates and cleanses the skin
Cons
None

The Eucerin Eczema Relief Cream is formulated with colloidal oatmeal, ceremide-3, and licorice root extract that relieve the skin itching and dryness associated with eczema. The ultra-nourishing, anti-bacterial formula breaks the itch-scratch cycle of eczema, and soothes and heals the skin. This is a lightweight, fast-absorbing formula that strengthens the skin's protective barrier. This excellent cream has been tested and trusted by various dermatologists and is safe for daily use. It is suitable for both infants (3 months and older) and adults. The product is clinically-proven and successfully combats eczema symptoms.
Key Ingredients: Colloidal oatmeal, ceramide-3, licorice root extract
Pros
Keeps you flare-free for 6 months
Suitable for infants, kids, and adults
Steroid-free
Fragrance-free
Supports skin barrier repair
Free from synthetic dyes
Offers a protective shield
Paraben-free
Dermatologist-tested
Dermatologist-recommended
Delivers 24-hour hydration
Cons
None
The MG217 Eczema Body Cream is a clinically acclaimed eczema cream. It is infused with clinically-proven ingredients such as 2% colloidal oatmeal that acts as a skin protectant and targets explicitly and relieves the common symptoms of eczema like irritation, redness, and itching, by imparting intensive moisturization. This lotion is formulated with the SalSphere Skin Repair Complex that restores your skin's natural moisture and helps relieve flare-ups and associated itching. The cream's avocado oil and shea butter also moisturize your skin, reduce cracking, and soothe inflammation. It is a fantastic biometric formula that promotes younger-looking skin! And, if you require further convincing to invest in this excellent product, then simply check it out on Amazon and witness countless reviewers praising its quality and leaving positive feedback and reviews.
Key Ingredients: 2% Colloidal Oatmeal, Avocado oil, and Shea butter
Pros
Hypoallergenic
Acts quickly
Long-lasting effect
Non‐stinging
Paraben-free
Artificial fragrance-free
Approved by the National Eczema Association
Cons
May not be suitable for kids
The E.RaOrganics Relief Cream is a 15-in-1 moisturizing product that temporarily heals extremely dry, cracked, and itchy skin. It contains natural and organic ingredients like blue-green algae, hemp seed oil, cocoa butter, shea butter, Manuka honey, and aloe vera. It soothes eczema, skin rashes, hives, psoriasis, dermatitis, and other similar skin conditions. Dr. Schwarzburg, a cosmetic dermatologist says, "Aloe Vera is a natural ingredient suitable for anyone with dry and sensitive skin. As a main ingredient in E.ra Organics, this hypoallergenic product offers calming effects to reduce the dryness and itchiness that comes with your rash or eczema outbreak. Its balancing and restorative formula maintains the skin's pH at 5.5 for rapid healing. The non-greasy formula keeps skin moisturized for up to 12 hours and strengthens the skin fibers. The anti-bacterial, anti-inflammatory, and anti-aging properties of the natural botanical extracts restore skin health. This video will help you make an informed decision about your purchase.
Key Ingredients: Aloe vera, MSM, Manuka honey, shea butter
Pros
Keeps skin moisturized for 12 hours
Boosts healing
Instant, long-lasting relief
Non-GMO
Cruelty-free
Paraben-free
Non-toxic
Hypoallergenic
Non-greasy
Contains natural ingredients
Protects against free radicals
Alcohol-free
pH-balanced
Steroid-free
Cons
May not be ideal for treating psoriasis
Unpleasant smell
The Cetaphil Pro Restoraderm Moisturizer is specially designed to soothe and calm eczema-prone skin. It is formulated with a unique combination of colloidal oatmeal, ceramide, and patented Fillagrin technology that hydrate and calm itchy, eczema-prone skin. The product contains a combination of Pyrrolidone Carboxylic Acid (PCA) and arginine that strengthens the skin's protective layer and helps retain moisture. It is also infused with 15 emollient moisturizers and vitamins B5 and E that deeply hydrate and nourish the skin. It provides long-lasting relief from inflammation, swelling, redness, and pain. The dermatologist-recommended moisturizer is easily absorbed deep into the skin. It improves the skin's ability to restore vital nutrients.
Key Ingredients: Colloidal oats, ceramide, vitamins
Pros
Offers long-lasting relief
Approved by the National Eczema Association
Safe for babies and older adults
Paraben-free
Nut oil-free
Steroid-free
Free from fragrances
Gentle on the skin
Clinically-proven
Made from a non-irritating formula
Suitable for chronic dry skin
Cons
May not be suitable for very sensitive skin
The Thena Natural Wellness Healing Cream is a plant-based product. It contains natural ingredients that heal cracked and extremely dry skin. It soothes the symptoms of eczema and penetrates the skin layers quickly, offering instant relief. The plant-based healing ingredients contain essential fatty acids, aloe vera extract, organic shea butter, elixir blends of essential oils, MSM, and Manuka honey that repair and rejuvenate the skin's moisture barrier. These ingredients help prevent eczema flare-ups.
Key Ingredients: Botanical extracts, elixir blends of essential oils, organic shea butter
Pros
Made of natural ingredients
No artificial fragrances
Cruelty-free
No mineral oil and petrolatum
Protects against infection and future outbreaks
Steroid-free
Cons
The Dermaced EC Deep Therapy Cream is an advanced, natural formula that fights the symptoms of eczema and soothes associated skin irritation. It is infused with 1% colloidal oatmeal that is high in beta-glucan, which seals skin moisture, protects the skin, and reduces skin inflammation. The cream's anti-itching property softens the skin and accelerates the healing process. The jojoba seed, sunflower oil, and sweet almond oil in the cream are rich in essential fatty acids. These nourish the skin and act as protective barriers that repair damaged skin.
Key Ingredients: 1% colloidal oatmeal
Pros
Helps repair damaged skin
Contains essential oils
Hypoallergenic
Kills irritating bacteria
Ultra-nourishing
Rich in antioxidants
Gets quickly absorbed
Cons
None
The Gold Bond Eczema Relief helps prevent itchiness and treat eczema. It is packed with 2% colloidal oatmeal, seven moisturizers, and three vitamins that relieve the five signs of eczema – itchiness, dryness, scaling, roughness, and redness. The steroid-free formula contains vitamin E and aloe. Vitamin E enhances the moisture retention ability of your skin to keep it hydrated. Aloe helps soothe your dry and itchy skin. This lotion is clinically tested and accepted by the National Eczema Association.
Key Ingredients: 2% colloidal oatmeal, vitamin E, aloe
Pros
Clinically-tested
Dermatologist-tested
Fragrance-free
Steroid-free
Value for money
Cons
Sticky
Leaves a white residue
The Sorion Herbal Cream is highly effective in soothing psoriasis and eczema-prone, dry, and flaky skin. It is made with natural ayurvedic oils such as coconut, neem, turmeric, etc. that thoroughly nourish the skin, soothe the irritation, and protect it. The gentle formula is safe and easy to use.
Key Ingredients: Coconut Oil, Neem Oil, Turmeric Oil
Pros
Paraben-free
Silicone-free
Steroid-free
Safe to use
Gentle
Soothes dryness
Cons
Expensive
Unpleasant odor
The Orellis Eczema Relief Fast-Acting & Soothing Relief Cream reduces the major eczema symptoms such as redness, itching, dryness, and irritation. It contains calendula, hydrocotyle, lappa major, and propolis that show quick and visible results within 24 hours.
This creamseals the natural skin moisture, rejuvenates your skin at the cellular level, and repairs damaged skin. It provides long-lasting relief from eczema flare-ups and skin inflammation. This product is approved by Health Canada for treating eczema in both adults and children
Key Ingredients: Calendula, hydrocotyle, lappa major, and propolis
Pros
Long-lasting
Contains natural ingredients
Non-greasy
Fragrance-free
Steroid-free
No artificial colorants
Cons
None
The Amélie Monnier DermaCalm is a clinically-tested SOS therapy cream. It is infused with 8% urea, yogurt probiotics, and hyaluronic acid. The urea increases the skin's water content by 97.8% and soothes rashes and other symptoms of eczema or psoriasis. The yogurt probiotics improve and balance skin health by increasing the good bacterial count and fortifying the skin's natural barrier. They soothe the skin and aid in itchiness, inflammation, and redness reduction. The hyaluronic acid replenishes skin moisture, accelerates wound healing, and protects the skin from UV damage. The cream is lightweight and gets quickly absorbed into the skin.
Key Ingredients: 8% urea, yogurt probiotics, hyaluronic acid
Pros
Seals skin moisture
Nourishes and protects the skin
Non-sticky
Free from artificial fragrances
Paraben-free
Steroid-free
Cruelty-free
Free from preservatives
Gluten-free
Hypoallergenic
Clinically tested
Offers UV protection
Accelerates the healing process
Gentle on most skin types
Cons
May cause a burning sensation on sensitive skin
The Eau Thermale Avéne XeraCalm Lipid-Replenishing Cream restores the skin's barrier function. It has a unique, high-performance formula called I-Modulia complex that provides itch relief and stimulates the skin's defenses. The cream's 100% sterile formulation nourishes and soothes the skin. It helps restore the skin's microbiome and softens the skin.
Key Ingredients: Patented I-Modulia
Pros
Non-greasy
Restore the skin's barrier function
Sterilized formula
Free from preservatives
Paraben-free
Free from toxic chemicals
No artificial fragrances
Cons
May not be suitable for sensitive skin
The CeraVe Eczema Creamy Oil soothes eczema-prone skin and moisturizes it to prevent excess dryness. It is formulated with ceramides 1, 3, and 6-II, along with hyaluronic acid, which help retain the skin's moisture. The safflower oil and nicotinamides in the oil act as the skin's protective barrier. This creamy oil is suitable for extra dry skin and helps accelerate the healing process. The oil is gentle on the skin, developed by dermatologists, and is approved by the National Eczema Association.
Key Ingredients: Three types of ceramides, hyaluronic acid, nicotinamides
Pros
A natural barrier cream
Hypoallergenic
Fragrance-free
Recommended by dermatologists
Provides deep hydration
Fragrance-free
Lightweight
Approved by the National Eczema Association.
Cons
None
The Dove DermaSeries Dry Skin Relief Body Lotion is a clinically-proven formula. It offers relief from extremely dry, itchy skin. The unscented formula gets quickly absorbed into the skin and helps ease eczema soreness and inflammation. It contains a unique blend of hydroxystearic acid and glycerin that soothe dry, flaky skin. The amino silk protein and the PPAR technology in the lotion moisturize the skin and boost its appearance. The replenishing lotion offers long-lasting relief from dry, dull, and dehydrated skin.
Key Ingredients: Glycerin, hydroxystearic acid
Pros
Dermatologist-tested
Protects the outer layer of the skin from irritants
Provides a long-lasting effect
Lightweight
Fragrance-free
Fast-absorbing
Non-sticky
Hypoallergenic
Cons
These are the 15 best eczema creams that can be applied topically to soothe skin irritation. The following section helps you choose the right eczema cream.
How To Choose The Right Eczema Cream
Choosing the right ingredient is important to treat eczema. It is crucial to pick the right humectant (like hyaluronic acid), emollients (like glycerin ) and a skin moisturizer and protectant (like colloidal oatmeal or ceramides) to nourish and hydrate the affected area.
A lightweight and fast-absorbing eczema cream is effective in providing quick relief.
The cream should be free from all chemicals, artificial fragrances, colorants, and exfoliants (like glycolic acid, salicylic acid, and lactic acid). Natural ingredients or creams with botanical blends can protect the skin from further irritation.
Why Trust Stylecraze?
The writer of this post, Oyendrila Kanjilal, is a skincare expert. She holds expertise in this field and has created a list of the best eczema creams. She has done thorough research on this topic and the kind of products that can be used to cure eczema. Her information is backed by expert recommendations and reviews from people specializing in this industry.
Frequently Asked Questions
Will eczema subside?
Yes, eczema is treatable. Choosing the right cream and consulting a dermatologist helps understand and treat the issue better.
Which vitamin is good for treating eczema?
Vitamin F (essential fatty acids) may help. In addition to that, evening primrose oil and borage seed oil could be effective treatments for eczema. The deficiency of fatty acids can aggravate eczema symptoms (3).
What foods trigger eczema?
Citrus fruits, soy, tomato, and nuts could often trigger eczema.
Does eczema get worse in different seasons?
Excessive dry weather traps the skin's moisture and aggravates skin irritation. Hot, humid weather also aggravates eczema.
How often should you apply lotion for eczema?
Apply a lotion for eczema two to three times a day. But, if your skin is dehydrated, use it more often.
Does an eczema cream expire?
Yes. Eczema creams usually have a shelf life of two years.
Is eczema a fungal infection?
Yes. Fungi are responsible for causing infected eczema. Such infections take the form of red, scaly, and itchy rashes with occasional pustules.
Is Vaseline good for eczema?
Yes. Vaseline moisturizes the skin and treats eczema flare-ups. In addition, it soothes irritations and alleviates pain.
Is it better to keep eczema dry or moist?
Moisturize your skin and keep the eczema-infected area moist. Moist skin heals faster. On the other hand, dry skin deteriorates the condition of eczema and boosts flare-ups.
Does eczema spread if you scratch it?
Yes. Scratching the skin triggers the release of inflammatory substances and spreads the infection.
How long does it take for eczema flare-ups to go away?
Eczema flare-ups take one to three weeks to go away completely with proper treatments and daily moisturization.
Does eczema worsen with age?
Yes. With growing age, the skin loses its potency to moisturize naturally. So, the skin dries, and the condition of eczema worsens.
Does drinking water help eczema?
Yes. A high water intake increases your skin's hydration level and keeps it moisturized.
Recommended Articles